38 Views
Best Warm and Cozy Gifts for Dogs
September 15th, 2021 12:00 AM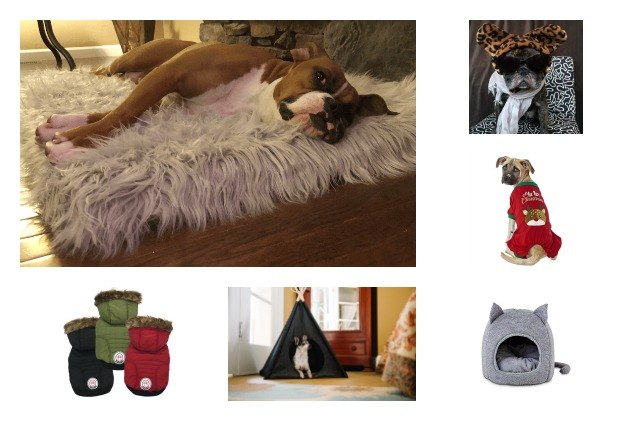 The days are shorter and the temps are dropping, but there are lots of products that can make sure your dog stays nice and toasty all winter long. Here are our top pet products for a warm and cozy holiday season.
1. Editor's Pick: Treat A Dog Faux Fur Orthopedic Bed
This bed is the bomb-diggity. It's oh-so-soft, and the memory foam insert cradles your pup like a soft cocoon. For dogs with arthritis or joint pain, it's uber comfortable and it looks gorgeous in front of a nice and toasty fire. You might find yourself snoozing with your pup… and we wouldn't blame you! Additionally, this warm, comfy bed comes in a curved form as an alternative to the classic rectangle, and in plenty of different colors to suit any interior. The best part is – you get to save 10% with the Coupon Code PETGUIDE10.
Here's another one you'll want to steal from your pup and again, and we wouldn't judge. These super soft and comfy hats will keep your pup from becoming a pupsicle, and she'll look adorable too. There's a wide strip of velcro that keeps it on and makes it picture (and temperature) perfect! To boot, this adorable dog hat comes in small and medium, and 7 vibrant colors and patterns.

3. Best Tent: P.L.A.Y. Teepee
4. Best Leggings: Walkee Paws Pet Leggings
Baby it's cold outside… and most likely wet and snowy too. You don't like standing out there in that cold, do you? Neither does your dog, and that's why these leggings from Walkee Pets are fantastic. They are easy to put on, cute as a button and they'll keep your pupster's paws from becoming frozen to the ground as she looks around to do her business. If your dog is like mine and HATES boots, try these babies out. They'll quickly learn that these leggings mean they get to be outside without being miserable and who doesn't want that?
5. Best Bed: Bedsure Cat Bed
So your kitteh wants to enjoy the festivities of winter but can't be bothered to do it in the cold? (Can you blame her?) This igloo-shaped bed is the perfect cozy cat solution, with its cozy interior and soft cushion-like bed. The pillow inside is removable for easy clean (machine washable!) and it'll give your cat a private place to relax in the hectic season. It is designed to serve as a tent for a comfy hideaway, or if you pull out the cushion and put it on the top, it can be a classic pet bed for your kitty. The combination of high density foam and durable, soft microfiber makes for a sturdy bed-tent that looks and feels great! It measures 15" x 15" x 15" and suits cats up to 11 lbs.
6. Best Pajamas: Lanyarco Christmas Pajamas for Dogs
Nothing says Christmas cutie like these adorable Christmas pajamas from Lanyarco. The soft, cuddly pajamas are perfect for tucking your little pup in at night before Santa comes with some special treats. They are made with high-quality, soft and breathable cotton. The neckline and the ankles have a little bit of elastic so they stay in place, too.
The Lanyarco Christmas pajamas for dogs come in a variety of sizes to fit every pup from your tiny pugs all the way up to your German Shepherds and Rottweilers. They have sizes XS up to XL. And if you can't just get one pair, don't fret. The Lanyarco Christmas Pajamas come in different styles for the holiday season including this snowman print as well as beige plaid, red plaid, pink plaid, red owl snowflake, and pink rainbow unicorn. Your little pooch will be warm, cozy, and comfortable in their new holiday pajamas (and they will make a great Instagram pic for Christmas morning!).
7. Best Jacket: Vecomfy Dog Puffer Jacket
Even though you want to stay inside by the fire, the reality is that sometimes you've just got to go outside. So, if you gotta, you want your little pooch to look cool while staying warm. And this puffer jacket is just the thing to keep those furry bodies warm and cozy. Lined with warm, fuzzy polyester faux fur that is soft to touch and keeps your pet toasty, and filled with lightweight but heat-trapping polyester filler, the jacket is suited even for extra cold weather. Plus, it has a hoodie as well, so you can make sure that your pooch is snug as a bug when the temperatures drop! There are 6 sizes to choose from (from X-small to XXX-large) and 6 modern colors for your furry fashionistas.
8. Best Cave: Ethical Pet Cuddle Cave
If your cat or dog basically wants to tell winter to go to hell, this is the way to do it. The Cuddle Cave from Ethical Pet is a warm hug every day of the winter season and will do it in an earth-friendly way. The lining is 100% recyclable and so soft, and the manufacturing processes are ethical. The cuddle cave lets dogs and cats burrow in for the winter in luxury and comfort. Yes, please! And as the cave measures 22" by 17" by 10", it is best suited for puppies, cats, or small breed dogs.
9. Best Snow Suit: Ultra Paws Snow Suit
Say you have a dog that LIKES to be out in the winter wonderland. They'll need to stay warm, and this snow suit from Ultra Paws is just the suit to make that happen. It has an ultra-heat reflective thermal liner to keep heat inside, and has openings in just the right places for ease of whatever needs to go outside going outside. Wearing this, your pup can make snow angels for hours… if you can last that long! The suit comes in petite, XX-small, small, medium, large, and XX-large size, so any pooch can find a match.
10. Best Mat: HYDGOOHO Warming Mat
And when the day is done (or your pet just needs to warm those bones) this warming mat will be just the thing! It's waterproof and has durable material for keeping your pets nice and warm, without worrying about safety–it's anti-electric shock. It also has a power-off protection temperature control so you can be sure your dog won't get too warm and it's the perfect thing for arthritic dogs and cats who need some extra pampering in the winter season.

Published September 15th, 2021 12:00 AM