832 Views
Best Puzzle Games for Cats
October 28th, 2021 12:00 AM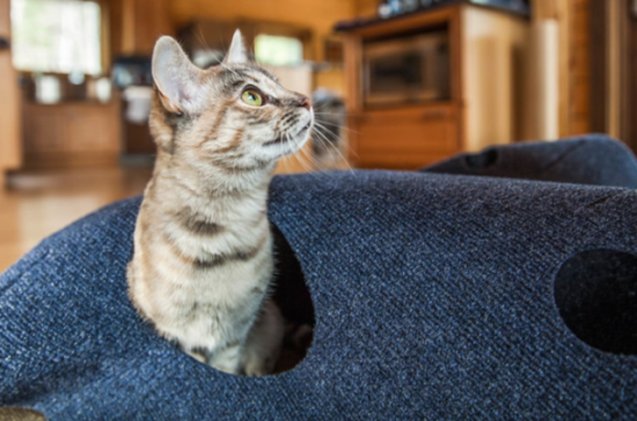 How do you keep your cat entertained and out of trouble? If you want to train his brain, try one of these puzzle games for cats.
Your cat is smart, so why not give him a toy that won't merely give him physical exercise, but also exercise his mind as well? Puzzle toys, in particular, are perfect for keeping kitties entertained, especially when you can't interact with them or when they are home alone. You can fill these toys with treats so your cat has to work on figuring out how to get the goodies on his own.
With so many puzzle games for cats on the market, figuring out which one to purchase can be tricky. The list below should help narrow down your choices.
1. Editor's Choice: Catit Senses Food Maze
The Catit Senses Food Maze is sure to entertain your kitty and get him thinking as he works on figuring out how to get his treats through each level of the toy until they fall out at the bottom for him to devour. And when your cat figures it out, you can even increase the difficulty level to keep him guessing and coming back for more.
2. Runner Up: Ito Rocky Interactive Food Puzzle Toy
Not only will the Ito Rock Interactive Food Puzzle Toy help to eliminate boredom and provide mental stimulation, but the two-stage design will also slow down even the quickest eaters. Place your cat's favorite food (or treats) in the top portion of the feeder, then watch as they have to work to release the food into the dish below. If your cat does manage to release too much food all at once, the slow-feeder-style dish will prevent them from eating too quickly, which can help to prevent unnecessary health complications that can be experienced by rapid eaters.
The puzzle toy has been made from high-quality food-grade plastic which is BPA-free and completely safe for your pet to be eating from. The food-dispensing portion of the toy can be adjusted to accommodate different heights, making it a great option for cats of all sizes. The two-sided design also makes it a great option for multi-cat households.
3. Best Cardboard: Cat Amazing
If you don't want to put treats into your cat's puzzle game, you can instead let your kitty work on removing toys from the puzzle instead with a product like the Cat Amazing. It even has three levels of difficulty so you can always keep your cat guessing and interested in playing (ideal for cats that get bored easily after playing with the same toy for a while).
4. Best Unique Design: Ripple Rug
Designed to meet your cat's natural instincts, the Ripple Rug offers your kitty a safe haven, a predatory play space, and an environment that allows positive human interaction. This interactive cat toy is made in the USA using 100% recycled plastic bottles – it's strong, durable, soft, so it's perfect for kitty claws or teeth. Its varied sized holes act as tunnels and hideouts, and the rug can be reshaped to offer new adventures. Thanks to its unique design, the Ripple Rug is ideal for homes with multiple cats. This is a puzzle that needs to be tackled by a cat gang!
5. Honorable Mention: Grass Patch Hunting Box
The Grass Patch Hunting Box is like other puzzle boxes designed for cats, but it features a really cute grass top design to bring a little bit of nature into the mix. The grass texture will also entice your cat to scratch, keeping him away from your furniture. Simply place small balls, toys, and treats inside and watch as your cat puts his paws through the holes to strategically move the "prey" out of hiding.
Even though this list is a great place to start if you're in search of the right puzzle game for your kitty, just remember that every cat is unique. Some cats simply won't play with puzzle toys, while others will be fascinated by them. And some may like one particular style of puzzle toy over another, so you may need to experiment to see what your cat prefers. No matter what, these toys can provide hours of fun for your precious pet. If you have a houseful of kitties, don't worry about entertaining them all at once – the Grass Patch Hunting Box is ideal for that role! With over 2000 ratings and 4.4 stars, it's clear that this cat puzzle is one of the favorites out there. It even got the Amazon's Choice reward – which is enough of a guarantee for its quality!
Are puzzle toys good for cats?
There's no secret about it – cats are super energetic. When they aren't snoozing, that is. Cats are very smart, inquisitive, and require a lot of stimulation in order to be happy and entertained – and that's why puzzle toys are super important for kitties! A good puzzle toy can keep your cat entertained for hours, allowing them to keep their brain sharp, and their energy well spent. A cat has a natural need to hunt and toy with its prey, and a good puzzle can imitate that and satisfy these natural needs. Of course, it is also a great way to keep your feline friend in shape, and avoid obesity and lethargy.
What to consider when choosing puzzle games for my cat?
One of the best things to consider is the overall design – something overly simple can bore your cat way too quickly. Simple toys are quickly tossed in the corner, just because they don't offer enough stimulation. Look for something innovative, with hidden details and plenty of brain tests that can keep a cat occupied for hours. Another great thing to look for is features that play into your cat's natural instincts. Find things that can simulate a cat chasing prey and toying with it – toys with bright feathers, dangling details, and rolling balls are all great options.
How do I get my cat to use a puzzle feeder?
A puzzle feeder is a clever toy that makes a cat work for its food. But often enough, you'd be surprised that your cat gets it right from the get go – that's all because cats adore brain stimulation. What is more, it is likely that your kitty is super bored with its everyday activities, especially its perpetually full food bowl – where's the fun in that. So, given the opportunity to work a bit in order to get its snack, a cat will quickly rise to the task. If you, however, notice that they aren't keen on using it, try making it a bit simpler to use – feeders with large holes require less work, so start off with these ones.
What types of treat dispensers are there for cats? How do I choose the best type of dispenser for my cat?
Treat dispensers are varied in their designs and can suit any kitty. All you need to do is make the choice for them! Is your cat a fan of complex puzzles? Find a treat dispenser that doubles as a tricky maze! Self-orienting treat balls are a great choice for cats that are a bit more lazy! A simple knock is all it takes for the treat to fall out, but the ball won't roll away – it simply re-orients itself back into position. A lazy cat's dream! There are many unique choices out there, so you can adapt to the needs of your feline friend. Of course, if your cat is struggling with excess weight, you'd want to pick a treat dispenser that is a bit trickier to operate and gets them moving a bit more.
Additional resources:
We are committed to finding, researching, and recommending the best products. We earn commissions from purchases you make using the retail links in our product reviews. Learn more about how this works.

Lisa Selvaggio
Lisa Selvaggio is a freelance writer and editor, and our resident cats-pert, with certifications in pet nutrition and pet first aid. An advocate for better treatment of all animals, she enjoys producing content that educates others, helps them understand animals better, and inspires them to help, whether that means volunteering at a shelter, fostering strays, or simply giving their own pets a safe and happy home to live in.
More by Lisa Selvaggio
Published October 28th, 2021 12:00 AM