43 Views
December 10th, 2021 12:00 AM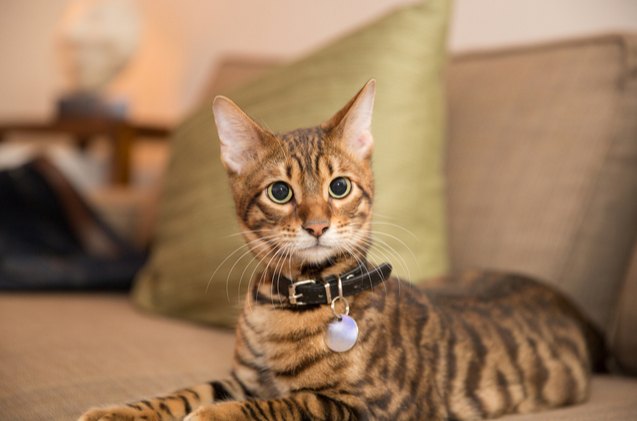 Cat collars are not just a stylish accessory for your pet – they can signal that your pet is not a stray and provide contact information in case your pet gets lost. Here is our selection of the best cat collars for your feline friend!
It's a necessity for dogs to have collars, but cats often get overlooked when accessories are considered. Of course, there's no reason for this as cat collars ensure safety and offer a touch of style to felines, so it makes sense to get one for your cat too. Not only are they a cute accessory, but can really bring the safety standard up to par. They include reflective strips for nocturnal visibility, safety bells for sound warnings, quick release clasps, and nifty D rings for leashes if you want to take your pet for a walk. And, naturally, they are ideal if you want to make your cat even cuter than it already is with a fashionable accessory- that actually won't bother them as outfits might do.
Of course, there is a great variety of unique designs out there. Various patterns, styles, additions, and safety features can make your choice somewhat difficult. To that end, we have gathered the best cat collars on the market to make your choice much easier!
1. Editor's Choice: Taglory Reflective Cat Collars
Here is a great way for your kitty to both look fabulous and to stay safe! This unique cat collar is perfectly designed to hide a nifty safety feature in plain sight. When looks are concerned, your cat will be nothing short of charming, thanks to the incredible selection of bright and happy colors, a unique paw-print pattern, and a cute cat-head emblem. The collar is made from durable nylon material that is great for daily wear and tear. Of course, the best feature of this design is the reflective material. It allows you to always spot your cat – even in the dark. As an added safety feature, there is a little bell. It makes a sound whenever your cat moves, giving you- and the wildlife- the much-needed heads up. And best of all, it is small enough not to be annoying. A superb and balanced design.
Pros
Durable
Reflective material
Adjustable size
Cons
Cat ears on the buckle are sharp
2. Runner Up: Extodry 14-pack Breakaway Cat Collars
If you are looking to stock up on cat collars – or have several kitties that need one – this multi-pack will be a great money saver. Quality-wise, these collars lack no features. The material used here is highly durable nylon – it can withstand virtually anything your cat puts it through. Of course, it is fully adjustable to fit any cat, and also features a safety clasp in the shape of a cartoon cat. Safety is also a big feature here: the included reflective strip will help you spot your feline friend even in pitch darkness. And, if that isn't enough to put your mind at ease, then you can rely on a nifty little bell. This design comes in a variety of colors, and also has an included little metal pill case. This is worn on the collar and can contain valuable information rolled on a paper: in case your curious cat gets lost.
Pros
Great for families with multiple cats or cats that frequently lose collars
Reliable design
Vital information casing
3. Customer's Choice: Joytale Bowtie Cat Collar
Your beloved feline friend is adorable: there's no doubting that. But a fun accessory could make them look even cuter! With this fabulous bowtie collar, your little kitty will look like a complete sweetheart. Joytale offers this quirky and unique design, both for male and female kitties. It is made from quality 100% cotton fabric and sports a lovely plaid pattern. You have several color combinations to choose from, and the signature bow ties match them. The bowtie can also be moved around if you want to experiment with different looks. For added safety, there is a quick-release clasp, as well as a little bell to warn you of any exploratory movements. And, of course, the collar is fully adjustable for size.
Pros
Safety clasp
Great color selection
Stylish and charming
4. Best Escape-Proof: WAAAG Pet Collar
Some kitties can be quite thorough in their attempts to get rid of their collar. But it's there for their own safety, and it needs to stay on. This highly durable cat collar will not yield to even the hardest kitty-beatings. These collars are handmade in the USA and really thick and durable, woven with hardy nylon fabric. They are fully adjustable and come with a safety breakaway buckle. One great feature is their unique design. Bring out your cat's true feline nature with charming inlaid moon and star decorations that even glow in the dark a little. A cute crescent moon with a cat pendant makes this collar a true charmer. Additionally, each collar comes with a decorated gold bell – for some extra safety – and you get a variety of colors to choose from. What's not to love?
Pros
Durable
Added safety bell
Beautiful design
5. Best for Kittens: SCENEREAL Natural Sceneries Pet Collar
Everyone and everything needs more color in life! Plain old single-color cat collars are quickly getting dull and unimaginative. Treat your feline friend with one of these unique and super cute collars. Highly durable and made from 100% polyester, these collars come with embroidered natural sceneries. Accentuate your cat's style with patterns that resemble mountains and forests, sunlit horizons, sea creatures, or simple geometric patterns. Either one is simply irresistible. These collars are not just cute – they are fully adjustable and come with a quick-release safety clasp, so they can fit kittens and lean adults both. A sturdy metal D-ring allows you to attach a leash if you want to, and a nifty little bell will warn you of all your pet's movements. Beautiful and functional combined into one!
Pros
Metal D-ring
Soft but sturdy
A solid choice of prints
Cons
Safety buckle could be sturdier
6. Best Spooky: stpiater Halloween Cat Collars
It doesn't have to be Halloween for your pet to be in the spirit of all things spooky! However, if you want to include your pet in the holiday but they are not cooperative about wearing costumes, this Halloween-themed collar is just the thing. You can make the eerie transformation simple and quick with this unique Halloween cat collar. This economy 3-pack offers you a range of different spooky patterns: critters, spiders, skulls, Jack-O-Lantern pumpkins, and cobwebs. All the goofs a proper Halloween needs. Your cat won't feel left out. As far as the collar is concerned, the quality is superb, thanks to a sturdy nylon fabric build. There is a quick-release safety buckle, as well as a nifty little warning bell. Now you can bring your feline friend trick-or-treating with you! Boo!
Pros
Great quality
Thin and tough
Fun and stylish
7. Best for Female Cats: BoomBone Flower Cat Collar
Do you love elegant and feminine floral designs? There is no reason not to transfer that passion onto your cat pet. These superb collars are a true breath of fresh air – and are endlessly elegant as well. Each collar is adorned with a lovely floral pattern done in pretty pastel colors. A special detail is an attached flower charm. Similar to a bowtie, it will make your cat the true star of the show. Each collar is made from high-density polyester webbing with durable stitches. The material is stretchy and can be fully adjusted to meet your needs. The design also includes a quick release buckle, and a safety bell as well. This offer comes as a 3-pack, with each collar included having a different floral design. This is true feline elegance!
Pros
Warning bell
Elegant design
Stretchy material
8. Best Leather: CollarDirect Leather Cat Collar
When it comes to pet collars, nothing beats good old leather. It is flexible, very tough, and feels natural against the skin. This unique cat collar design holds true to that concept. It is made from soft genuine leather and is hand-stitched for extra durability. A great feature is the added elastic strap. Not only that it makes it more comfortable and highly adjustable, but it also helps you take the collar off quickly if your cat gets stuck on something. And with the included quick-release clasp, this is super fast. It is important to mention the included safety bell that is brightly colored. Collars come in a variety of easy-to-spot colors as well. All in all, this is a simple but very efficient design that really makes your cat easy to spot.
Pros
Easy to spot anywhere
Added elastic strap
Durable leather
Cons
Elastic can stretch out after a while
9. Best Bling: EXPAWLORER Cat Collar
Nothing says "style" like some sparkly bling! If you want your feline friend to really feel royal, then you need these diamond-studded collars. Each one is made from durable and thick velvet material that is super soft and comfortable for your cat to wear. The collars are hand-stitched for extra durability, and feature adjustment buckles and a quick release. Of course, their biggest feature is the faux diamonds! These shiny rhinestones are easy to spot and super stylish – your cat will quickly stand out from the crowd. Each option comes as a 2-pack, and you can choose from three colors, pink, purple, and black. All are equally grand!
Pros
Breakaway buckle for safety
Great durability
Sparkly bling!
Cons
Only three colors to choose from
What to Look for in Cat Collars
You'd think that a cat collar is a simple accessory that isn't particularly needed for practical purposes, but that couldn't be further from the truth. Cat collars are not just about style, which means that there are many other important features you need to consider besides the design. Features designed for your pet's safety and the safety of wildlife are the most important elements to consider- this is what to look for in cat collars.
Quick Release
Quick-release clasps and buckles are a must on all cat collars. They are not just a means to secure the collar around your pet's neck – they are a means to quickly get it off too. This becomes especially important if your cat gets stuck somewhere, or snagged. In any case of trouble, you can react quickly and get the collar off before trouble occurs. When every second counts, this little feature becomes a lifesaver.
Reflection
One of the foremost safety features that can be found on some cat collars is the reflective strip. This unique fabric becomes really bright in total darkness. And, as we all know, cats can be quite the explorers. But exploring at night can turn to trouble quickly. You can always spot your mischievous cat in the darkness thanks to the little strip of reflective material on its collar.
Sound warning
Almost all cat collar designs on offer will come with a little bell attached. At first glance, this might seem like a simple decoration item. But it's much more than that. Thanks to the bell, you can always know your cat's movements around the house. And, depending on the sound itself, you can know if something is amiss. In the case that your cat gets lost, you can go a-searching and guide yourself by the bell sound. It can make a big difference in certain situations. Another important factor is, if your pet goes outside, a bell will scare off their prey and make sure that the ecosystem stays in balance and isn't disrupted by your little predator.
We are committed to finding, researching, and recommending the best products. We earn commissions from purchases you make using the retail links in our product reviews. Learn more about how this works.

Angela Vuckovic
A proud mama to seven dogs and ten cats, Angela spends her days writing for her fellow pet parents and pampering her furballs, all of whom are rescues. When she's not gushing over her adorable cats or playing with her dogs, she can be found curled up with a good fantasy book.
More by Angela Vuckovic
Published December 10th, 2021 12:00 AM