50 Views
December 31st, 2021 12:00 AM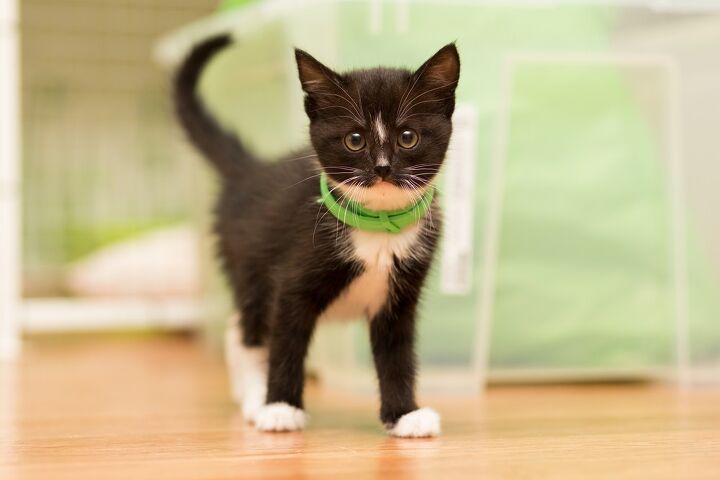 When it comes to fleas, you want to keep them in their place – and off your kitty and home! For control you can count on, check out our list of the best cat flea collars.
Keeping fleas off of your cats, and out of your home, is important, but it's equally important to find a product that will repel and/or kill fleas in a safe and effective manner. After all, there is nothing so pesky and annoying as fleas! These little micro critters are the bane of every cat and dog- not to mention their owners. Appearing seemingly out of nowhere, they can become a true nuisance and cause irritation and further issues through excessive scratching and your pet's search for relief. Thankfully, fleas can be controlled with a whole host of remedies, and flea collars are some of the best solutions out there.
In addition to flea products that are designed to be taken orally or applied topically, flea collars are an option that many pet owners turn to. They aren't all created equal, though, so we have compiled a list of 10 of the best flea collars that are currently available, and that you might want to talk to your veterinarian about using on your cat. Check them out below, in no particular order. Relief is a click away!
But First, A Note About Flea Collar Safety
Keep in mind that some of the ingredients that are used on flea collars might be detrimental to your pet's health, as well as to human health, so it's wise to consult with a veterinarian and do your own research before selecting the right product for your pet. Luckily, plenty of brands rely on tried and tested ingredients that will cause no side effects or reactions. Of course, all natural flea collars are very rare, as the ingredients need to be potent enough to deter those elusive fleas. Still, with a reliable balance of ingredients used, efficient control and no side effects are guaranteed.
According to WebMD, the Natural Resources Defense Council (NRDC) reported that some over the counter pest control products made for pets contain ingredients that might be harmful. They also discovered that high amounts of pesticide residue might stay on a kitty's fur for weeks after you put a flea collar on your pet, and that may pose a risk to humans as well.
When shopping for your pet, it's best to search for flea products that have been proven safe, that have received a lot of positive reviews from customers, and that are recommended by vets. Don't let price be the only factor when selecting your cat's flea treatment, and keep in mind that some essential oils might be harmful to felines as well, so even "natural" products might not be the ideal choice. Then, once you've made your selection, follow the directions on the package closely to be sure you're using the product correctly.
Also, read through any information that a manufacturer has provided about their flea collar. This includes not only how to use the product safely and correctly, but also what adverse reactions and side effects to watch out for. Keep an eye on your kitty after you put the flea collar on her, and if your cat ends up experiencing any side effects, remove the collar and contact your veterinarian right away for advice on what to do next. Still, don't let all these factors deter you: most brands nowadays rely on solutions and ingredient combinations that are totally safe for your cat. That means that with proper use and for a certain period, a good flea collar will help solve the issue with no harmful side effects!
Some Flea Collars to Consider for Your Cat:
1. Editor's Choice: Seresto 8 Month Flea & Tick Prevention Collar for Cats & Kittens
The Seresto 8 Month Flea & Tick Prevention Collar for Cats & Kittens is recommended by veterinarians, and is formulated specifically to not only repel, but also kill, fleas on contact. Fleas don't even need to bite your kitty before they are affected by this flea medicine. The formula is water-resistant and will keep on protecting your pet even after bathing and sun exposure.
This is an odorless and non-greasy flea collar that contains two active ingredients. They are imidacloprid, which controls flea infestations, and flumethrin, which repels and kills larvae, nymphs, and ticks. These ingredients are found inside a polymer matrix that allows them to work together and provide protection for up to eight months.
This flea collar is designed to be used on kittens and cats of all weights, but they need to be 10 weeks or older. It is adjustable, and it has a quick-release feature, along with visibility reflectors, to help keep your kitty safe. After you put it on your cat, it will start repelling and killing fleas within 24 hours. Plus, the formula that is used is water-resistant, so it will keep working even if your cat is bathed or gets wet.
Seresto recommends keeping this flea collar in its original packaging until you are ready to use it on your cat. Apply it carefully to ensure the right fit, and check the fitting periodically to adjust it whenever necessary while your cat is wearing it for extended periods of time.
2. Runner Up: Mercola Herbal Flea, Tick & Mosquito Repellent Collar for Cat & Kitten
The Dr. Mercola Herbal Flea, Tick & Mosquito Repellent Collar for Cat & Kitten might be a good choice if you are looking for a more natural product that can help protect your feline friend from pests like fleas. The active ingredient on this collar is geraniol (from geranium oil), and inactive ingredients include wintergreen oil and almond oil.
According to the manufacturer, this is an all-natural insect-repelling product that uses essential oils to get the job done, so there aren't any harsh chemicals or toxins in this flea collar. You can use it on kittens 4 months and older, as well as adult cats, and the protection that it provides can last for four months.
All you have to do is put the collar on your cat, which is easy to do, and then let the ingredients repel fleas, mosquitoes, and ticks. And, even if your cat ends up getting wet, this water-resistant flea collar will keep working.
3. Best Natural Choice: Only Natural Pet EasyDefense Flea, Tick & Mosquito Cat Collar
The Only Natural Pet EasyDefense Flea, Tick & Mosquito Cat Collar is yet another possible option if you are looking for a more natural alternative to other flea collars on the market that use chemical-based, synthetic ingredients to control pests. It has been scientifically tested and vet approved, which is a plus.
This nylon, water-resistant flea collar is phthalate-free and PVC-free. It uses the active ingredient, geraniol, to provide up to four months of protection. Other active ingredients include peppermint oil and thyme oil.
The package provides instructions on how to use this collar at first to determine if your cat is sensitive to any of the ingredients. Basically, you increase the length of time that the collar is worn before you put it on your kitty for continuous wear. That way, you can see if adverse reactions occur and if you need to stop use of the product.
Keep in mind that this collar will only be able to repel fleas, so this might not be the right product for you if you are searching for something that will kill fleas. But, if you are looking for a product that can help prevent a flea infestation before it occurs, it might be worth it to check out this flea collar.
4. Customer's Choice: Vet's Best Flea and Tick Repellent Collar for Cats
With the Vet's Best Flea and Tick Repellent Collar for Cats, you can give your pet long-lasting protection against pests that lasts several months. This is a proven effective formula that can be used on cats and kittens 4 months and older, and the active ingredients include cedarwood oil and peppermint oil. These steam distilled oils are certified as 100% natural and picked for their potent pest-fighting properties. Therefore, this might also be a good way to go if you want to use a product that contains more natural ingredients, rather than one that relies on chemical ingredients to get rid of pests like fleas and ticks.
This flea collar is adjustable, so you can find the perfect fit for your kitty's comfort. Once on your cat, it will work on repelling adult fleas and ticks, so it might be a great choice if you also want to avoid having to use monthly topical products that combat fleas and ticks. It is made in the USA with US and globally sourced ingredients.
The packaging gives you the instructions that you can follow to use this product properly, along with information on what you should do if your pet is sensitive to its ingredients or has an adverse reaction.
5. Best Full-Body Protection: TropiClean Natural Flea & Tick Cat Collar
The TropiClean Natural Flea & Tick Cat Collar is designed to provide your pet with full body protection against fleas and ticks. Its purpose is to repel these annoying pests, so it might be an option if you are looking for a product that can prevent fleas and ticks from making their home on your feline friend.
This collar contains natural ingredients, so it might also be ideal for pet owners who want to repel fleas and ticks without the use of chemicals that might be toxic. It uses cedarwood oil and peppermint oil as its active ingredients. It does not contain any artificial colors, artificial fragrances, Pyrethrin, or Permethrin. And it can be used on cats and kittens 4 months and older.
This nylon, breakaway, waterproof flea collar can provide up to four months of protection against pests, but the manufacturer recommends replacing the collar every three to four months for maximum protection. Also, you should look for signs of sensitivity. If any adverse reactions occur, you should stop using the collar right away.
6. Best Year-Long Protection: CRUZYO Cat Flea and Tick Prevention Collar
The CRUZYO Cat Flea and Tick Prevention Collar is one of the most effective flea prevention collars for cats. It can be used year-round and is long-lasting. It has been tested on over 1,000 felines to ensure safety and efficacy, so you can be sure that putting this flea and tick prevention collar on your pet will help prevent unwanted pests.
The CRUZYO Cat Flea and Tick Prevention collar is adjustable so it can fit cats of any size. It is long-lasting — for up to 8 months — and is made with essential oils to naturally deter fleas and ticks. It is an economical, low maintenance option for your furry friend. The adjustable designs and surging locking system will ensure that it stays in place, and it can be used with regular collars as well. It is waterproof and durable, and is highly rated by other pet owners. Made in the USA, too.
7. Best Essential Oils: Primova Pet Products Flea and Tick Collar for Cats
If you really want to stick with a flea collar that contains natural ingredients, you might be interested in the Primova Pet Products Flea and Tick Collar for Cats. This waterproof, non-greasy, and adjustable flea collar is hypoallergenic and made without harmful chemicals. It contains natural essential oils that can help keep fleas and ticks, as well as flea eggs and larvae, mosquitoes, and lice, off of your kitty. Active ingredients include lemongrass oil, thyme oil, castor oil, clove oil, and peppermint oil.
This product is designed to protect your pet for up to eight months, so it is yet another long-lasting product to consider. Basically, the ingredients that are stored within this flea collar will be released slowly in low concentrations over your pet's skin and fur.
Even though the manufacturer claims that this product is safe for humans and pets, and that it can work well on cats that have sensitive skin, it is always best to follow the directions on the packaging closely and keep an eye out for any adverse effects anyway. After all, every kitty is unique, so your pet might react to a flea collar differently than another cat would.
8. Best Botanical: Arava Flea & Tick Prevention Collar
Another flea collar for cats that contains natural ingredients is the Arava Flea & Tick Prevention Collar. Rather than relying on any chemical ingredients, it boasts essential oils and herbal ingredients that can help protect your pet for six months.
This manufacturer uses what is known as micro-injection technology, which infuses essential oils into the collar so that they can be released through the pores in the collar slowly, helping to ensure the effects are long-lasting. Plus, this product is considered safe for humans and pets, and this flea collar for cats and kittens is adjustable and waterproof.
The active ingredients in this flea collar can repel nearly 500 species of insects. Ingredients include geranium oil, clove oil, citronella oil, rosemary leaf oil, castor seed oil, cedarwood oil, peppermint oil, and thyme oil, among others. While these ingredients can repel pests, they won't be effective at killing them, so keep that in mind. Basically, the scent that is released by the essential oils works on repelling fleas and ticks, so it might work well at preventing an infestation. As an added bonus, most of the ingredients above have a natural basis, which is a welcome change from chemical flea deterrents.
9. Best Eco-Friendly: Petsvv Cat Flea Prevention Collar
The Petsvv Cat Flea and Tick Prevention collar is a safe and eco-friendly option for your cuddly feline. It is made with all natural ingredients and is completely hypoallergenic to both your and your cat. The Petsvv Cat Flea and Tick Prevention collar is long asting, too. It will last up to 8 months in typical conditions, which is more than enough for solving your pet's flea problem. It starts working to eliminate fleas the moment you open the double packaging of aluminum and plastic, which ensures that the collars effectiveness isn't lost from the time of production to wearing it.
The Petsvv Cat Flea and Tick Prevention collar is made with natural plant essential oils. The smell is mild and not irritating to your cat, so they will not have a problem wearing it and it can be used safely around your pets, children, and your family. It is also waterproof so you do not have to worry if it gets wet from a bath (either one you give them or one they give themselves!), rain, or from playing. This flea and tick prevention collar will help keep your kitty free from harmful parasites and your family free from pests.
10. Honorable Mention: Only Natural Pet EasyDefense Flea, Tick & Mosquito Dog & Cat Collar Tag
Something a little different is the Only Natural Pet EasyDefense Flea, Tick & Mosquito Dog & Cat Collar Tag, which is based on years of research. Unlike traditional flea collars that contain synthetic or natural ingredients which can give off slight scents and odors that bothersome pets and their humans, this is a tag that you can place on your cat's collar to repel insect pests like mosquitoes, ticks, and fleas naturally, without the use of any pesticides, oils, radioactivity, magnetics, chemicals, or electricity.
This tag contains silicon dioxide particles that have been encoded with frequencies that deter insects. After you set the tag on your cat's collar, the frequencies are emitted to repel pests. The protection can last for a full year, and this product is considered safe for animals and humans. However, the protection starts three weeks after placing the tag on your pet's collar, so you do need to be patient at first. You may want to purchase another type of flea and tick collar like the ones listed here to be used in the meantime.
Also, this product is scientifically proven, but it only really works at repelling fleas- not getting rid of an infestation. So, if your cat already has fleas, this tag might not be able to help on its own, and you will likely need to use another product to get rid of the fleas that are already there. On the other hand, if there aren't any fleas and you want to prevent an infestation, this tag might be worth trying if you want to take a natural approach. After all, it is a smart and modern design that really changes the way we experienced flea collars until now.
Remember to Shop Wisely for Flea Collars for Cats!
Hopefully, this list will help you as you start looking for the right flea product for your furry friend. Whether you end up purchasing a product that utilizes chemical ingredients or natural ingredients, you want to be sure it will be both safe and effective, so take your time as you consider your options. Whatever your choice, effects should be pretty fast to observe – and relief for your furry four legged friend is fast approaching!
As mentioned above, however, keep in mind that side effects and adverse reactions might be possible, especially when a product is not used as directed. If you choose carefully, though, you should not be worried about dangerous side-effects. In the end, most cat flea collars on the market today are totally safe to use for a certain period of time, and will in the end prove to be an invaluable helping hand for your cat. And, as always, when in doubt, consult with your cat's veterinarian to figure out which path you should take in order to keep those pesky fleas away. After all, your vet knows best – they can often be the voice of reason and recommend one of the established brands and an efficient flea collar for your pet. Remember that their advice is always helpful- and the most reliable you can get.
Either way, cat flea collars are a modern, tried and tested way of dealing with the reappearing flea infestation problem. It is one of the simplest and quickest ways to offer relief for your itchy friend, and also one of the most affordable ways to do so. It might not be the most natural way to deter fleas, but it is nonetheless super effective – as proven by millions of happy kitties that live their lives free of fleas! Still, if you find that the flea problem has turned into a proper flea infestation, collars might not be enough, and you will need to find a permanent, professional solution. Until then though, one of these nifty accessories will be an ideal solution.
When should a cat wear a flea collar?
It all depends on the manufacturer and the formula used for the flea collar, but most flea collar for cats are safe for kittens over 3 months or 12 weeks of age. Before using one, though, be sure to check the specific instructions on recommended age for use. A flea collar should be used from a young age, both to allow your pet to get used to wearing one and to provide early protection from blood-sucking parasites, as fleas don't discriminate: they can attack even newborn kittens.
Which is better: flea collar or drops for cats?
It all depends on your preference. Collars usually offer longer protection, lasting up to several months, whereas drops offer a few weeks of protection, usually under a month mark. However, some cats don't like wearing collars or lose them all the time, so they can't be an option – this is where the drops come into play. Before deciding on a flea-repelling product, be sure to research all your options and get the option that will best suit your cat's individual needs – after all, all kitties are unique!
Do flea collars work if my cat already has fleas?
Some will, some won't – it depends on the formula. Some cat flea collars are designed to only repel fleas, not kill them, so they are used as a preventative on pets that don't already have fleas, or after the fleas were eliminated with another method previously (e.g. flea shampoo or drops). Of course, there are also more potent flea collars for cats that will both kill and repel fleas, so if you want a 2-in-1 solution, go for one of these.
How do you put a flea collar on a cat?
The same you would any collar, with one difference – cutting it down to size. You should place the open collar on your cat's neck, thread the collar through the buckle/loop until it fits comfortably, meaning you can fit two of your fingers between your cat's flea collar and their skin. The collar shouldn't be too tight but not too loose, either, as it can slip off. Once you have a good fit, you should use the scissors to cut the remaining collar pieces (anything an inch longer from the buckle) if there is some left over. If your pet is squirmy, it's best not to use scissors while they are wearing the collar – mark the spot for cutting, take off the collar, cut off the excess and then put it back on your cat again.
Additional resources:
We are committed to finding, researching, and recommending the best products. We earn commissions from purchases you make using the retail links in our product reviews. Learn more about how this works.

Lisa Selvaggio
Lisa Selvaggio is a freelance writer and editor, and our resident cats-pert, with certifications in pet nutrition and pet first aid. An advocate for better treatment of all animals, she enjoys producing content that educates others, helps them understand animals better, and inspires them to help, whether that means volunteering at a shelter, fostering strays, or simply giving their own pets a safe and happy home to live in.
More by Lisa Selvaggio
Published December 31st, 2021 12:00 AM