219 Views
Best Hypoallergenic Cat Food
October 21st, 2021 12:00 AM
We're committed to finding, researching, and recommending the best products. We earn commissions from purchases you make using links in our articles. Learn more here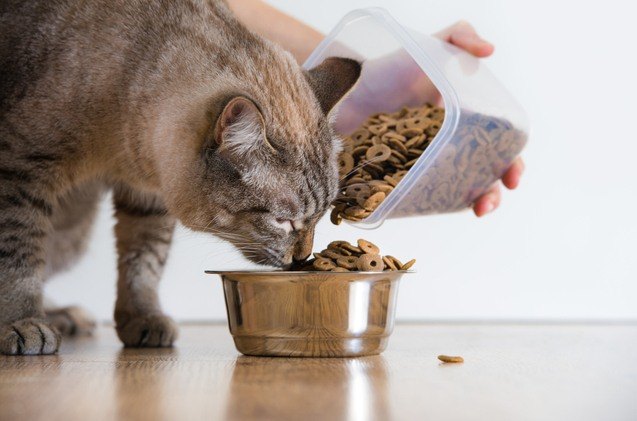 Hypoallergenic cat food is formulated to meet the needs of cats with food sensitivities and eliminate common allergens from the mix. This way, your pet can get all the nutrients they need without getting skin irritations or gastrointestinal issues in the process.
A well-balanced diet is a starting point for any pet- making sure that your cat gets all the essential nutrients in the right ratio can significantly improve their health and make it less likely for certain issues, such as obesity or UTIs to arise down the road. But sometimes, even when you take great care to choose the best food for your cat, they can become allergic to certain ingredients, which causes a range of health issues. Symptoms such as chronic skin itching and inflammation or gastrointestinal upset can be indicators of food allergies in cats- which means that a food trial will probably be the next course of action.
Hypoallergenic cat food is formulated to exclude common allergy triggers from their formula, such as grains, dairy, or swap common protein sources for exotic protein. However, despite being designed not to cause an allergic reaction, no food is universally hypoallergenic. Allergies in cats can be triggered by different ingredients, so it might take some trial and error before you find the formula that suits your cat. To help you narrow down your choices, we've rounded up the 10 best hypoallergenic cat food options out there.
1. Editor's Choice: Blue Buffalo Hydrolyzed for Food Intolerance for Cats
Formulated particularly for cats that have a food intolerance, this dry food relies on hydrolyzed protein to deliver the nutrients without causing a flare-up. Hydrolyzed protein, in this case, salmon, is protein broken down into small parts, so not only that it won't cause an allergic reaction, but this type of protein is also more easily digestible. Blue Buffalo Hydrolyzed for Food Intolerance for Cats contains no corn, wheat, or soy, as well as no artificial preservatives or flavors, and no chicken or poultry by-products. To boost your pet's immune system, this dry food is enriched with essential fatty acids, antioxidants, and vitamins E and C. Nutritionally complete and easy on the tummy, this kibble is a great choice for kitties that experience food intolerance.
2. Runner Up: Solid Gold – Winged Tiger Dry Food for Cats
When in doubt, opt for a formula that has limited ingredients or a novel protein, as it will usually help you quickly learn what's triggering your pet's sensitivities. A good choice for cats that are sensitive to grains or common proteins such as chicken or beef, Solid Gold – Winged Tiger Dry Food for Cats is made with quail as its primary protein source. Grain-free and gluten-free, this dry food for cats is also made with superfoods such as pumpkin that soothes digestive issues, antioxidants, and essential amino acids for an immunity boost and healthier skin and coat, as well as live probiotics to improve gut health. Opting for a protein source new to your cat can be all it takes to eliminate irritation, so it's worth a try if you're suspecting chicken or beef to be the culprit.
3. Customer's Choice: Purina ONE Sensitive Systems Adult Dry Cat Food
This easily digestible formula is designed for kitties that have problems digesting regular kibble and experience food sensitivities. Made with real turkey as the first ingredient, Purina ONE Sensitive Systems Adult Dry Cat Food has 34% protein content and will meet your cat's dietary needs and ensure they develop healthy muscles and maintain a strong immune system. The source of healthy carbs and fiber in this formula are rice and peas, and the food is also fortified with essential fatty acids, vitamins, and minerals necessary for your cat's wellbeing. To boot, the rich fiber content will promote better digestion and help with the expulsion of hairballs, as well.
4. Best Wet: ZIWI Peak Canned Wet Cat Food
Some kitties simply prefer the texture and the taste of canned food, whereas others need to eat primarily wet food because of health issues, such as UTIs or loss of teeth. Luckily, for cats that have to or need to eat wet food but have food sensitivities, there are appropriately adjusted formulas such as ZIWI Peak Canned Wet Cat Food which is ethically and sustainably made to meet feline nutritional needs while maintaining a limited ingredient list. This yummy chunky pate is 92% free-range lamb, organs, bone, and New Zealand green mussels, which makes it protein-packed and rich in moisture. Additionally, it contains no potatoes, grains, fillers, sugars, glycerin, artificial preservatives, gums, or BPA. A clean and tasty formula that will have your pet licking the bowl!
5. Best for Kittens: Halo Natural Dry Kitten Food
Even the youngest cats can suffer from food sensitivities, whether as an allergic reaction or as the result of the fact that their digestive system is still adapting to anything other than their mom's milk. Halo Natural Dry Kitten Food boasts a holistic recipe tailored to the needs of kittens with sensitive stomachs: it is made with Marine Stewardship Council (MSC) certified salmon and whitefish, as well as non-GMO fruits and vegetables. This easily digestible kitten food also contains no grains, artificial colors, flavors, or preservatives, nor any cheap fillers such as meat meal. Additionally, it is rich in DHA, which is essential for the healthy physical and cognitive development of kittens. Everything your furry baby needs to thrive!
6. Best Grain-Free: Natural Balance L.I.D. Limited Ingredient Diets Dry Cat Food
Cats are obligate carnivores, which means that they do not naturally require grains in their diet. However, for some cats, the situation is a bit different: not only do they not need grains, but grains can actually cause an adverse reaction. Natural Balance L.I.D. Limited Ingredient Diets Dry Cat Food boasts a formula free from any grains and with a single source of protein, which is ideal for kitties that have sensitive stomachs. Made with duck meat and green pea, this kibble is packed with protein and essential amino acids, as well as all the minerals and vitamins needed for your pet to stay healthy and happy. In addition to being free from corn, wheat, or soy, this dry food for cats also contains no fillers or potatoes.
7. Best for Skin Allergies: Hill's Prescription Diet d/d Skin/Food Sensitivities
Itchy skin that causes chronic scratching, inflamed skin or even lesions on the skin can all be caused by food sensitivities and allergies. Your kitty doesn't have to suffer through incessant scratching and irritating itching if you switch their diet to a food that doesn't contain triggering allergens, and one of the more popular choices among pet parents is Hill's Prescription Diet d/d Skin/Food Sensitivities. Made with a single protein source and limited ingredients, this kibble is optimized for cats with sensitive skin and stomachs. The combination of venison and green peas eliminates the most common allergens from the mix and provides an optimal blend of protein and fiber to nurture your pet's nutritional needs. To boot, this dry food is enriched with antioxidants to boost the immune system and omega 3 and 6 fatty acids to promote healthier skin and coats.
8. Best Freeze-Dried: Feline Natural Grain-Free Freeze Dried Cat Food
Freeze-dried food is a popular choice for cats with food sensitivities as it is nutritionally dense yet made from healthy, limited ingredients. The trick is finding one made with protein that doesn't trigger your cat sensitivities! Feline Natural Grain-Free Freeze Dried Cat Food is made from 99% fresh meat, fish, and organs, and the remaining 1% is New Zealand green-lipped mussel, vitamins, minerals, and essential oils. The process of freeze-drying preserves nutrients and flavor and the unusual texture is bound to be a hit even with picky cats. The available options are chicken and lamb, beef and Hoki, and lamb and salmon- choose according to your cat's sensitivities.
9. Best for Seniors: Forza10 Wet Hypoallergenic Cat Food
Senior cats have different nutritional needs from active adults or young kittens, and when you pair that with food sensitivities, it can be difficult to find the perfect formula for your elderly cat's needs. Forza10 Wet Hypoallergenic Cat Food is soft enough that even older cats with teeth issues or no teeth can easily eat it, and it is full of important nutrients that will help boost their immune system. Made with lamb, this wet food is enriched with turmeric, papaya, and pomegranate that provide anti-inflammatory and immune-stimulating properties to the formula and can be very beneficial for older and younger cats alike. This food contains no grains, GMOs, by-products, artificial colors, or flavors.
10. Best Treats: Vital Essentials Vital Cat Freeze-Dried Rabbit Bites
We all want to pamper our pets- a yummy treat as a reward for good behavior or as an occasional indulgence is a normal occurrence for all cats, but when your cat has food sensitivities, you might be hesitant to give them treats. Even a bite of wrong food could propel them into scratching or cause a vomiting or diarrhea episode. Vital Essentials Vital Cat Freeze-Dried Rabbit Bites is made with a single source of protein- the only ingredients in these treats are freeze-dried rabbit meat, rabbit liver, rabbit kidney, and rabbit heart. No sneaky artificial ingredients, common proteins, or grains lurking in there! With all nutrients preserved and high levels of protein without any common allergens in the mix, these treats make a great choice for all felines that suffer from food allergies.
How Do I Know if My Cat Has a Food Allergy or Intolerance?
Cats can be sensitive to certain ingredients in food, but that doesn't mean that they are allergic to it. Food allergy triggers an immune reaction but a food sensitivity doesn't- the issue is that the main symptoms overlap. To be sure what is causing your cat's symptoms, you should take them to a veterinarian to eliminate any other medical issues that could be causing your cat's distress and to consult on what your next course of action should be. These are the most common symptoms of reactions to food, whether allergic or not- so if your pet starts experiencing any of these, be sure to consult a veterinarian. Sometimes, symptoms of other health issues can be mistaken for allergies, so it's crucial to get the right diagnosis.
Gastrointestinal issues- vomiting, diarrhea, or gassiness
Itchiness and chronic scratching
Hair loss
Skin inflammation or lesions
Recurrent ear infections
Respiratory issues such as coughing, sneezing, or wheezing
What Food Is Good For Cats with Allergies?
If your cat has a food sensitivity, there are some common culprits that could be causing or exacerbating their symptoms. The best type of food for cats with allergies would be nutritionally complete, rich in protein and fiber, but with some small tweaks that eliminate known allergens. These include corn and wheat, dairy, soy, preservatives and artificial coloring, eggs, but also common protein sources such as chicken, beef, or fish. Naturally, your cat might be intolerant to just one or more foods, so it's difficult to say which hypoallergenic formula would work best until you try it. The safest bet is to go for limited ingredient diets, which, as the name suggests, have a limited number of ingredients and narrow down the "suspects" that could be irritating your pet. Foods with novel or exotic proteins are a good choice for cats that are allergic to chicken, beef, or fish, grain-free kibble or wet food helps cats irritated by corn or wheat maintain healthy digestion, and organic and natural cat food is often the go-to choice for kitties sensitive to artificial substances such as colorings, flavors, and preservatives.
We are committed to finding, researching, and recommending the best products. We earn commissions from purchases you make using the retail links in our product reviews. Learn more about how this works.

Angela Vuckovic
A proud mama to seven dogs and ten cats, Angela spends her days writing for her fellow pet parents and pampering her furballs, all of whom are rescues. When she's not gushing over her adorable cats or playing with her dogs, she can be found curled up with a good fantasy book.
More by Angela Vuckovic
Published October 21st, 2021 12:00 AM