22 Views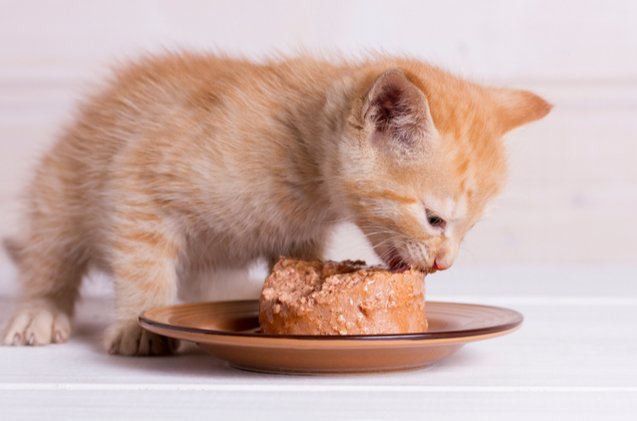 Kitten food helps your tiny tiger grow into a healthy, happy adult- be sure to choose a formula tailored to meet their unique needs. These are the best kitten food options on the market: read on to learn more!
Kittens – we all love them, and none of us can resist the cuteness overload that they bring. But as much as they are cute, kittens can be quite fragile and vulnerable. Plenty of care is needed in those early days in order to ensure that the kitties grow up to be healthy and graceful felines. Of course, when nursed by their momma, kittens will get all the important nutrients from the milk. But the period when they need to transition towards whole foods can be tricky, and they'll depend on the owner's care. And that is why a proper choice of kitten food can be so, so important. Setting a solid foundation early on and making sure that your kitten has a great source of nutrients, vitamins, and proteins from the get-go can really transform their life for the better.
We all know that cat food comes in all shapes and sizes, with hundreds of brands out there. But not all of them offer the same benefits for your cat, and many can include artificial sweeteners, flavors, preservatives, and other unnatural ingredients. These cheap, industrial cat foods can do more harm than good, and won't offer the same benefits as a healthy formula customized for your kitten's needs/ That's why it is always best to invest in quality, vet-approved foods that contain the best quality ingredients and nutrients. Taking care that your kitten eats measured amounts of food and has a balanced intake of vitamins and proteins can solidify a good immune system and set your kitty on a path of spotless health.
Editor's choice: Blue Buffalo Healthy Growth Kitten Food
Blue Buffalo ensures that their dry kitten food is rich with all the important nutrients needed for healthy development in the early stages of your pet's life. With real meat as the basis of this food, a rich protein intake is guaranteed – and that is crucial for healthy muscle development and steady growth. Blue Buffalo Healthy Growth Kitten Food contains the beneficial DHA and ARA for eye and brain development, as well as Taurine, which helps with maintaining great heart health. Of course, their iconic chicken and brown rice flavor will be irresistible to voracious little kittens. What is more, this food contains the brand's special LifeSource Bits – a mix of vital vitamins, minerals, and antioxidants that ensure your cat's wellbeing. Here is the quality that your pet needs!
Runner up: Fussie Cat Protein Rich Cat Food
Whether you are a proud owner of a fussy cat or not, this dry, grain-free, and protein-rich cat food will become an irresistible delicacy for your pet through all stages of life. This Market Fresh food relies only on the high-quality, natural ingredients that ensure healthy development for your wee kitty. These recipes are physiologically correct and ensure a great intake of protein and a low-carb diet. The food is also free from potato, grain, corn, wheat, soy, or any artificial sweeteners or preservatives. Fussie Cat Protein Rich Cat Food comes in a few great flavors, like the quail and duck formula, chicken and turkey, guinea fowl and turkey, salmon, and chicken and salmon. Find the perfect irresistible taste for your kitten and guarantee a healthy diet – early on!
Customer's choice: Purina Pro Plan Wet Kitten Food
Made with real poultry or fish, this kitten-oriented wet food is one of the foremost choices on the market, and will provide all the important nutrients to your little feline friend in its yummy formula. This 24-pack of 3-ounce cans is good to last a while and contains three distinct flavors with 8 cans of each flavor. There is chicken and liver, ocean whitefish and tuna, salmon and ocean fish, and several other variations. Purina Pro Plan Wet Kitten Food is easy to consume by kittens and contains the much-needed DHA for healthy cognitive development – besides the other vital nutrients. This quality food ensures a solid immune system development and is certainly amongst the very best foods your kitten can have.
Best Pate: Merrick Purrfect Wet Kitten Food
Advertised as the food for kitties who desire the finer things in life, this pate-style wet cat food is easy to consume and super tasty! The finely ground pate texture is irresistible to kittens and adds some much-needed moisture into your cat's diet. Merrick Purrfect Wet Kitten Food does not contain any grain, wheat, corn, or soy, and is quite rich in protein. The main ingredient here is real deboned chicken, which ensures that your cat gets only the best from real whole foods. Merrick offers other flavors as well, ranging from poultry to beef, rabbit, fish, and others. Cooked in the USA and without any artificial flavors, preservatives, or colors, this is one of the best kitten foods on the market.
Best for weaning: Royal Canin Mother & Baby Cat Ultra-soft Mousse
Very early on in a kitten's life, proper food is crucial. It lays down the foundation for healthy development in the future. Royal Canin's special formula for new kittens and mother cats is designed as an ultra-soft mousse that is super easy to consume and as such suited for weaning kittens transitioning to solid food from their mother's milk. It is also filled with important nutrients such as an exclusive complex of antioxidants and vitamins that support healthy immune system development. Perfect for orphaned kitties, or babies that are making a big step towards independence!
Best on a budget: IAMS Proactive Health Kitten Dry Food
IAMS Proactive Health Kitten Dry Food showcases that budget-friendly kitten food doesn't have to be unhealthy and lacks nutrients. Quite the opposite! It contains an optimal balance of protein and natural fibers but also supplements all the other important nutrients as well – many of which are found in the mother's milk which provides the earliest and most complete nourishment. With plenty of Vitamin E and Omega 3 DHA, you ensure good cognitive development and a great immune system too. Chicken meat as the first ingredient is also a great choice, as it provided protein and kittens love the taste. Another great addition to the formula is prebiotics to support your pet's digestive system- and make their stool a little less stinky.
Best for picky eater: Sheba Perfect Portions Pate Cat Food
Some cats are just picky from the get-go and their choosy nature is not a product of being spoiled. Luckily, there are some foods that most kitties find hard to resist and one of them is Sheba Perfect Portions Pate Cat Food. This pate-style savory kitten food is filled with important nutrients thanks to a real whole food chicken protein and also comes in other flavors, including turkey and beef. These packets are designed as single-serving portions and come in packs of 48 servings. These nifty little portions are so easy to use – just snap, peel, and serve! Made without any grains, corn, wheat, or soy, or any artificial flavors or preservatives, this kitten food is the great choice for a healthy diet early on, without compromising on flavor.
Best gravy: Hill's Science Diet Wet Kitten Food
This savory, premium kitten food in gravy is not just remarkably delicious – but super healthy as well. If you want to establish a healthy diet from the start, this is the way to go. Vet recommended, Hill's Science Diet Wet Kitten Food contains all those key nutrients and proteins that a growing kitty needs smothered in a tasty gravy no kitten can resist. It contains clinically proven antioxidants, and also a complex of C and E vitamins, supporting healthy growth and nourishment. With added amino acids, this food will boost your kitten's immune system to the max and make sure they thrive under your care.
Best for all life stages: Nulo Adult & Kitten Dry Food
If you have an older kitten and want food that you can continue giving them as they reach adulthood, or have both adult cats and kittens in the household, this food will be your best choice. In order to help you save some money and make things easier, Nulo offers this premium dry cat food that is great for all life stages. Nulo Adult & Kitten Dry Food has a small disk shape, which makes it easy to consume by kittens, and a formula that will support any cat's overall health. This kibble formula contains no grains, white potatoes, and tapioca or artificial flavors, colors, and preservatives. With the added BC30 probiotic, this kitten and cat food also promotes a healthy digestive system – which is the root of good and functioning health. You can choose between turkey and chicken formula as both use real whole foods as the key ingredient- the only difference is your cat's preference.
Best grain-free: Wellness Natural Pet Food Kitten Pate
Grain in kitten food is never a good thing- these act as cheap fillers and usually mean that there's not enough protein in the mix. Wellness is a brand that combines the grain-free approach with pate-style kitten food, making for an easy to consume and easy to digest food that's packed with nutrients. This moist and tasty pate food is great for hydration and for overall support of the immune system. Wellness Natural Pet Food Kitten Pate uses the healthiest possible ingredients, including lean meat, healthy fats, vegetables, and fruits – without any artificial flavors, colors, or preservatives. Vet approved, this kitten food comes in a ton of different tastes, so you can find exactly which one your kitty loves.
What to Know About Kitten Food
When you first start caring for a little kitten (or a few!) things can seem overwhelming. How can you possibly care for that little fragile ball of fur? Well, plenty of patience is involved, certainly, but diet can play a huge role as well. As soon as they stop relying on their mother's milk, kittens will need to be introduced to a healthy and balanced diet. Good digestive system health and a sturdy immune system are crucial in the lives of cats, and that's where food comes into play.
You should not be surprised to know that kittens can be much needier than adult cats and often have much higher energy needs. In those first few weeks of their lives, kittens will grow rapidly and have high activity levels. Of course, all that growth needs to be supplemented with quality nutrients.
To meet these high-energy needs, your kitten will need to eat a few times a day. The best approach is around four balanced meals per day. You can often find special portioned kitten foods on the market – they can save you some trouble by providing carefully measured and ready-to-go meals. Either way, those four daily meals will need to be jam-packed with all the healthy bits. Kittens need those good fats and fatty acids, and a lot of proteins, vitamins, and amino acids. All these ingredients support healthy development and can keep up pace with your kitten's quick growth.
Always be on the lookout for the approved brands and certified cat foods that meet the dietary needs. Some cheaper offers simply advertise certain benefits without actually providing them. That is why you always want to read the tiny print: make sure that all certificates are listed. Keep an eye out for labels such as "Meets the nutritional requirements of kittens established by the American Association of Feed Control Officials (AAFCO)." These, and similar certificates ensure that your kitten will be getting the nutrients that are advertised on the package. It can make a big difference in the long run.
Kitten foods come in several different styles and can be suited for the varying stages of feline growing up. For that very early period, when your kitten is transitioning from milk, you can opt for mousse kitten food. Moist and soft, it is easy to consume and quick to digest, ensuring quick absorption of all those healthy nutrients. Soft and palatable pate form is also a great choice for this early period. At later stages, you can opt for small-sized kibble, little cubes in gravy, or minced/shredded meats – all these will be quickly mastered by already well-developed kittens and their tiny chompers.
We are committed to finding, researching, and recommending the best products. We earn commissions from purchases you make using the retail links in our product reviews. Learn more about how this works.

Angela Vuckovic
A proud mama to seven dogs and ten cats, Angela spends her days writing for her fellow pet parents and pampering her furballs, all of whom are rescues. When she's not gushing over her adorable cats or playing with her dogs, she can be found curled up with a good fantasy book.
More by Angela Vuckovic
Published July 21st, 2021 12:00 AM