58 Views
Best Unique Gifts for Cat Lovers
November 24th, 2021 12:00 AM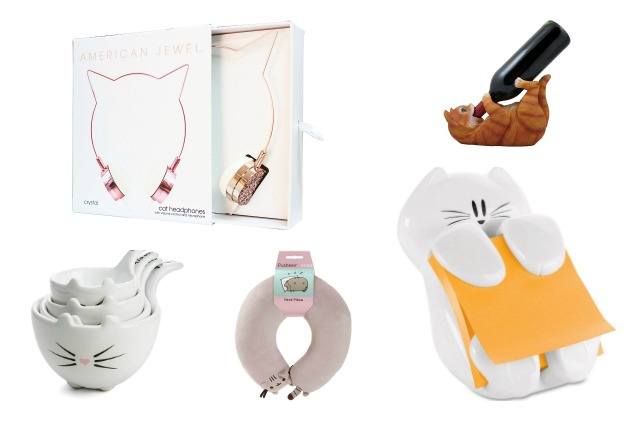 What do you get for that special crazy cat lady (or guy) in your life? Don't fret – we've done all the work for you with out best unique gifts for cat lovers list.
Are you searching for the purrfect gift for a cat lover in your life? Well, you don't have to work too hard to find a variety of fun products that any cat enthusiast will be happy to receive, but there are certain options that are more attractive than others. So, if you don't want to give the same old type of presents to the pet parents that you care about, check out our list below of 10 of the best unique gifts for cat lovers.
To organize this list, we've divided some of the top gift ideas for cat parents into three main categories: for the kitchen, for the office, and just for fun. As you can see, there are a host of products that can be functional in everyday life, and there are also some that are just for kicks because sometimes the best gifts are the ones that can be used purely for entertainment.
Hopefully, the gift options below will help you if you've been struggling to come up with any ideas, or they might be just the inspiration you need in order to come up with a brand new gift idea that you know your recipient will love.
Cat people who spend a lot of time in the kitchen might appreciate a gift that not only showcases their love of felines, but can also come in handy when preparing their favorite meals, drinks, and desserts. Sure, there are plenty of cat themed mugs, oven mitts, and kitchen towels to choose from, but you already knew that, right? If you are looking for something a little different that will surprise your recipient when they open up their gift, take a look at the following products as a few examples of what is possible when shopping for a purrific present.
1. Best for Bakers: Ceramic Cat Measuring Cups
When you give this gift to your favorite cat lover it is kind of hard to hide what you are really saying. Your gift screams, "Bake me some cat cookies!". But who wouldn't appease you after getting such an adorable set of nesting cat measuring cups. Each cup is a different colored cat and they have their cup size hand painted on to their extended cat tail. The set comes with 4 bowls: ¼ cup, 1/3 cup, ½ cup and 1 cup. Each one is made of hand painted glazed ceramic. Like all of your favorite things give them the attention they deserve and hand wash them so that you can take care of their detailed tails. So whether you are baking alone or with a young kitchen helper you know there are going to be a lot more cookies around with these adorable ceramic cat measuring cups!
2. Best for Wine Lovers: Decorative Tabby Kitty Cat Wine Bottle Holder Sculpture
My mother told me never show up at a party without a hostess gift and now I will never be able to show up with just a plan bottle of wine after seeing the Tabby Kitty Cat Wine Bottle Holder! This is a great way for your cat loving friends to put their favorite wine on display as it makes for an excellent table center piece as well! This decorative wine bottle holder is an individually hand crafted poly resin cat reclining oh-so comfortably on its back downing a nice bottle of Merlot (or Pinot, as the wine is not included). Measuring 9.5 x 4.38 x 6.38 inches. This adorable and unique wine bottle holder makes a fabulous gift for both wine lovers and cat enthusiasts. Just make sure you put it out of site when not in use as you don't want Mittens picking up any bad habits!
3. Best to Accessorize: Decorative Black & White Kitty Cat Glass Salt and Pepper Shaker Set with Holder Figurine
Another gift idea for a cat lover who likes collecting kitchen accessories is the Decorative Black & White Kitty Cat Glass Salt and Pepper Shaker Set with Holder Figurine. Unlike your average salt and pepper shaker set, this one comes with a little statue of a black and white cat that is sitting on its hind legs so that it can hold the glass salt and pepper shakers in its paws. It is really cute, and quite unique, making for a conversation-starting accessory at any dinner party.
This product measures 4.6" x 4.5" x 7.2", and it weighs 1.6 pounds. Each one is individually handcrafted from cold cast resin, which means the colors might vary a bit from one figurine to the next. No spices are included, but you do get the two glass shakers.
Note: If you think that your gift recipient would prefer an orange cat statue instead, you can get the same product in a different paint pattern that features an orange tabby print.
4. Best Reminders: Post-it Pop-Up Note Dispenser Cat Shape
You might not be able to bring your cat to work, but having a reminder of your feline friend at your desk might make your day a little brighter. Or, you might want to decorate your home office in a way that shows off your love of kitties. That's why there are some adorable feline themed gifts to choose from for the office as well. Here are a few of our favorite picks.
The Post-it Pop-Up Note Dispenser Cat Shape is a great gift for anyone who uses Post-It Notes a lot, whether at their desk at home or at work. Plus, this is a neat little way to personalize your desk with something that reflects who you are, which is why cat parents are bound to like this gift.
Measuring 3" x 3", this weighted sticky note dispenser will easily fit on any desk and make keeping notes easier. You can grab a sticky note quickly with one hand, without having to worry about the entire dispenser moving out of place.
This dispenser is painted white, so it will fit in with just about any design scheme. It is crafted in the shape of a cat holding a pad of sticky notes, and it has a cute little kitty face painted in black as well.
5. Best Co-Worker Gift: Moodycards for your Office Mate
Calendars are so passé since we track everything on our phones these days. So how do we get all those cute cat photos into the office? With the Moodycards book of cat memes! With 20 different hysterical cat memes that will express to the office your colleague emotions for the day. From "Bad Hair Day" to "That Was Due Today?" these are the best office cat memes now in one place and no need to share your phone. It comes in a spiral book (5 x 5 x 2 inches ) that easily sits on a desk and still provides plenty of room to get work done. The gift is priced right no matter if you work in the mail room or have the corner office. It is a perfect pick up for the cat lover in your office for any Secret Santa, holiday or birthday gift. Plus, even when you give it away you can still enjoy the "No More Carbs" cat meme as you pass your friend's desk on your way to the break room.
6. Best for Cellphones: Black Cat Smartphone Stand
There are cat themed cell phone cases to consider as gift ideas, but you need to know what your recipient's smartphone model is to be sure you purchase the right size. And, if they ever upgrade their phone, they might not be able to continue using that particular case. So, rather than getting your friend a cell phone case, how about getting them a smartphone stand instead? Here's why you should consider this gift idea:
Do you know someone who needs to keep their smartphone in a safe place while they work so it doesn't get mixed in with any of the clutter on their desk, or so they don't end up accidentally dropping it on the floor? Then the Black Cat Smartphone Stand could make the ideal gift, as it will securely hold a smartphone, while adding a little bit of feline flair to a desk's décor.
Shaped to look like a cat that is stretching after taking a nap, this smartphone stand is made of polyresin, and it measures 4.33" x 1.77" x 3.15". Unlike the other products on this list that feature a white cat with a black face painted on, this kitty is black with white eyes, mouth, nose, and whiskers.
It is important to note that the details on this smartphone stand are hand painted, so each piece might look a little different, and there might be some uneven texture or coloring.
7. Best Gag Gift: Kikkerland Cat Butt Magnets
For the friend or family member who has a great sense of humor, there are a lot of amusing gifts made for cat lovers. And, even though these might be purchased purely for laughs at first, the truth is that they do come in handy in a variety of ways. A few examples are below, but there are many more where these came from, so it will be easy to find the gift that is sure to make your recipient smile, while giving them something that they'll be able to use on a daily basis.
If you had to choose your cat out of a police line up would it be easier for you to recognize your cat's face or his butt? Let's face it, we spend a lot of time looking at your cat's fluffy butt. That's why these humorous cat butt magnets make such a great gift for the cat lover in your life because they will just get it. The pack comes with a pack of 6 silly cat's behinds including American Blue, Siamese, Black, White, Orange Tabby and a Calico. They would be a great addition to a fridge which of course is the place where every cat we know likes to hang out in wait.
8. Best Household: Evelots Over The Door Hanger Hooks: Kitty Cat
If you have a little kitty lover in your house that loves to play with their cat but not hang up their coat, then these adorable Evelots Over The Door Hanger Kitty Hooks might just keep those jackets off the chairs. Made from durable metal, these attractive black cat cut-outs hang over your door and keep your coats organized in their paws. It is easily installed in just seconds as all you need to do is hook it over your door with absolutely no tools necessary. They are covered in a rust free coating and the iron construction is made to last.
The door hanger measures 9.84" x 6" X 1.75" and can hold up to 20 pounds. The door hook will fit doors up to 1.5" wide. You can hang two objects from each hanger as both of the cat's paws have a useable hook. The company offers an easy 30-day return policy and a 100% customer satisfaction guarantee! This is a great gift for any cat lover, even ones who always hang up their coats.
9. Best for Music Lovers: SOMIC G951s Stereo Cat Ear Headphones
If you know a gamer or a music lover that also loves their kitty cat, then the Somic G951s Stereo Cat Ear Headphones will make them the perfect gift! These lightweight headphones have soft cushiony ear pads so that you can wear them comfortably for long periods of time. They have a 360-degree flexible, high sensitivity microphone for the very best in sound pick up. They can be used while listening to music at home, working on your computer in the office, playing games while you travel, or they can even be used as noise cancelling headphones.
The 40mm high quality stereo speakers provide high, medium, and low frequency in detail for more realistic sounds for gaming and they can be compatible with Xbox one, Nintendo switch, PS4, computer, laptop, iPad, and your iPhone. The have an in-line control box that allows you regulated the volume and mute your microphone during games. The easy volume control panel makes it a snap to manage your tunes or turn your microphone turn on/off.
You can chose from three available colors: black, pink or purple. Our one issue with this set is that the adorable cat ears are detachable. For the life of us we can't imagine why anyone would want to every take them off!
10. Best for Travelers: MathewArt Cartoon Cat U-Shaped Plush Soft Pillows Neck Pillow
This is a super soft neck pillow that features a sleek, all black design with a hood stitched in for extra comfort and privacy. It's a nice tool that you can use to travel in comfort and arrive feeling refreshed at your destination if you can only sleep in the dark. Whether you're going on a long road trip, a ride on a plane, or you're taking the train, this travel pillow can easily go with you, and its huggable material can help you feel more at ease even in the most cramped spaces.
Another great feature is the fact that this pillow incorporates a hidden zipper so you can remove the lining and throw it in the wash for simple and easy cleaning. The pillow measures 12.6 inches by 11.8 inches and is curved to support your head and neck as you rest while you travel. So if you have a traveler on your gift list, and they are also feline fanatics, this little pillow might be the perfect surprise.
11. Honorable Mention: Cavertin Women's Novelty Socks with Gift Box
Nothing says "holiday time" better than colorful and goofy Christmas socks. Just like those iconic "ugly" sweaters, Christmas socks are part of the festive fun and make a great stocking stuffer. If you want to surprise your cat-loving friend (or yourself) with a unique present during the holidays, these novelty socks can be ideal. Adorable and fun, the socks are patterned with quirky, glass-wearing kitties. But the real deal is on the soles – each sock has a different sole inscription, which makes up the sentence: "I can't get up right now, the cat is on my lap". Which is a sentence any cat owner has said a few times in their lifetime! When your feet are the only thing poking out from under the blankets, you can let everyone know why you are so awkwardly still- your cat's comfort is far more important than the Christmas party, after all.
As much as these socks are a novelty gift, they are still comfy and cozy. The socks are made with 76% cotton, 21% nylon, and 3% spandex, combining warmth and elasticity. Of course, they can be machine washed, without any fear that the goofy messages and images will wear off!
12. Also Consider: Basepaws Cat DNA Test Kit
With just a simple cheek swab, this DNA test can answer all your questions as to why your cat is the way it is, as well as outline valuable information on their health.
Curious about your feline friends' breed composition? Maybe you want (or need) to know more about their health history so you can cater to their specific health needs.
Whatever the case may be, this Basepaws Breed and Health Cat test is one of the most advanced cat DNA tests on the market.
From screening for 70 health markers, discovering your cat's trait markers and access to a dental health report, this kit is just as beneficial as it's fun!
So Many Unique and Entertaining Gifts to Choose From!
Whether you know someone who works in veterinary medicine, in rescue, or in a pet supply store, or if you know someone who just loves animals—and cats, in particular—there are a variety of unique, inspiring, and funny gifts for cat lovers that you can choose from for any special occasion. From birthdays and anniversaries, to graduations and everything in between, the ideal gift is out there, and you can find it surprisingly easily, especially when shopping online.
We are committed to finding, researching, and recommending the best products. We earn commissions from purchases you make using the retail links in our product reviews. Learn more about how this works.

Lisa Selvaggio
Lisa Selvaggio is a freelance writer and editor, and our resident cats-pert, with certifications in pet nutrition and pet first aid. An advocate for better treatment of all animals, she enjoys producing content that educates others, helps them understand animals better, and inspires them to help, whether that means volunteering at a shelter, fostering strays, or simply giving their own pets a safe and happy home to live in.
More by Lisa Selvaggio
Published November 24th, 2021 12:00 AM