63 Views
Best Crazy Catnip Toys for Cats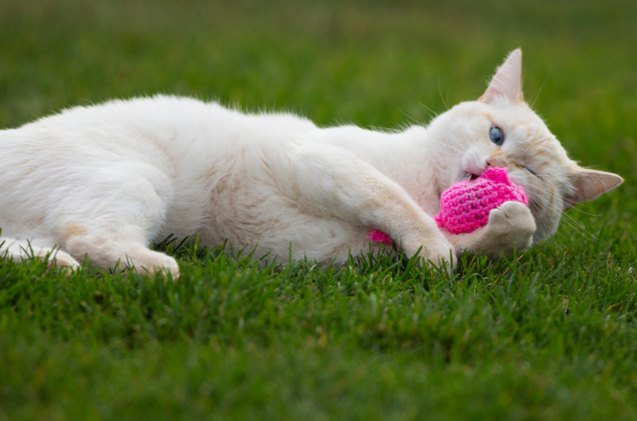 Catnip and toys – the two go perfectly together. There are so many catnip toys available, but here are six of our faves.
If your cat is one of the many felines who go crazy for catnip, there are a variety of catnip toys on the market that will let your furry friend have some fun.
Below are ten of the best catnip toys available, but remember that every kitty is unique, so you may need to go through some trial and error before you find the type of catnip toy that your frisky feline prefers best.
1. Malier Rotatable Edible Licking Catnip Toy
It is a well-known fact that catnip is the greatest thing in the eyes of a cat- the very whiff of the herb makes them go absolutely bonkers and helps spend up all that extra energy. Catnip can have plenty of benefits for your cat, and quirky toys are the best way to let them enjoy them fully- and this unique design will entice even the pickiest of cats. Easily attached with a few adhesive stickers, Malier Rotatable Edible Licking Catnip Toy can be placed at a spot in the house your cat frequents. The stickers are great for glass and tiles!
The balls are made with 100% natural catnip, with no added preservatives or additives. Each ball has a protective cover that stops dust from accumulating and adds to longevity. The balls rotate and add to the fun, and with the combined effects of the catnip, can be great for treating depression and lethargy in your cat. All in all, if you are looking for reliable, affordable, and efficient catnip toys for cats, Malier Rotatable Edible Licking Catnip Toy is worth considering.
2. Kong Refillable Catnip Toys
Kong has an entire line of refillable catnip toys. These small stuffed animals have resealable pouches, and they come with a tube of catnip so you can open up the toys and fill them up with fresh catnip whenever you wish. It's like giving your kitty a brand new catnip toy every time. Fun shapes include a fuzzy slipper, a carrot, and animals like mice, hedgehogs, a squirrel, a turtle, and more.
3. SmartyKat Organic Catnip Toys
SmartyKat is an eco-friendly company that not only uses recycled materials in its products, but also ensures its catnip is organic. Plus, the company makes a variety of different types of catnip toys, including those that are pre-filled with catnip and those that are refillable. You can even find compressed catnip toys that are sure to get your pet excited. Fun shapes include rodents, bugs, balls, sticks, and more so you can find the ones that your kitty likes best.
4. Pawbreakers Edible Catnip Toys
Pawbreakers are edible catnip toys by Edible Animal Treats (E.A.T.s.). The catnip is shaped into a ball, and there are several varieties that you can choose from. For example, the Pawbreakers Original is made of certified organic catnip and it is manufactured in the USA. Cats can bat it around and play with it and then eat it, so it is a toy and a treat in one. You can also find Pawbreakers that contain added vitamins to give your kitty a bit of extra nutrition during play.
5. Petstages Dental Chews Catnip Toys
Petstages has created a line of catnip toys that are specifically designed to help your kitty maintain his dental health. These toys are small and lightweight, so your cat will find it easy to toss them into the air and bat them around. But when your cat goes to chew on his toy, the netting material that covers it will help massage the gums and remove soft tartar from the teeth. While not a replacement for proper dental care, these toys could be a good addition to your routine.
6. OurPets Cosmic Catnip ™ Toys
OurPets company has a line of toys for cats filled with their premium, North-American-grown catnip. Their proprietary aromatic herb is 100% natural, and according to the manufacturers, "scientifically formulated to be the strongest, most potent catnip ever". The potency of the Cosmic Catnip by OurPets might be the secret behind the success of their catnip toys, which have garnered thousands of stellar reviews from please cat pawrents. Their line includes various mice and small furry animals filled with catnip, catnip toys shaped like fruits and veggies, as well as bubbles infused with catnip oil.
7. Petlinks System Catnip Toys
Petlinks offers a range of toys for cats, the majority of which are catnip toys. The catnip they use is grown without pesticides or harsh chemicals, so it's completely safe for your feline friend. Their toys are innovative and eco-friendly, and are designed to entice your kitty. For instance, their parrot shaped toy is sound activated, so it will produce tweets when your cat paws at it, and their Catnip Spin is pure compressed catnip. The best part is most- if not all- Petlinks Catnip toys are fully refillable, so Fluffy's favorite toys don't have to go to trash when the catnip loses its potency with time.
8. Ethical Pets Toys with Catnip
People at Ethical Pets know that catnip is a sure win with our feline friends, so they developed various different types of toy that contain this fragrant herb. Some of the fan favorites are its colorful fluffy rattling mice, plush critters that also have a crinkly filling in addition to the catnip, or just go with the compressed catnip candy if your pet is a catnip fiend. Either way, you can't go wrong- there is a style of toy to suit every finicky feline's taste.
Your cat will go bonkers for Mad Cat toys, so their name is totally appropriate. Not only that these catnip toys stand out for their wacky and unique designs, but their filling is unusual as well. In addition to the catnip, Mad Cat toys contain silvervine, too- a potent alternative to catnip which many cats prefer. So these have to be a win-win with every cat. Even if your pet doesn't get excited by catnip as much as before, silvervine is bound to dazzle them. And you'll enjoy the shapes which range from taco, chicken and waffles, and bacon to ninjas and unicorns.

The industry's giant doesn't lag behind its competitors- there are numerous popular cat products made under the Hartz brand, catnip toys included. The Kitty Frenzy catnip mice are rumored to have the interest of even the most indifferent cats, and their interactive and teaser catnip toys are guaranteed hits. To boot, they also have a silver vine and catnip combo filling in some of their toys, just in case your pet has grown bored of sniffing the same ol' herb for years.
Again, these are just a few of the many, many catnip toys that are available to keep your kitty content. Whether your cat prefers a ball of compressed catnip or a stuffed animal that's been refilled with fresh catnip, there is definitely something out there that is perfect for your feline friend.

Lisa Selvaggio
Lisa Selvaggio is a freelance writer and editor, and our resident cats-pert, with certifications in pet nutrition and pet first aid. An advocate for better treatment of all animals, she enjoys producing content that educates others, helps them understand animals better, and inspires them to help, whether that means volunteering at a shelter, fostering strays, or simply giving their own pets a safe and happy home to live in.
More by Lisa Selvaggio
Published May 11th, 2021 12:00 AM