741 Views
Best Dog-Themed Baby Gifts For New Parents
October 28th, 2021 12:00 AM
We're committed to finding, researching, and recommending the best products. We earn commissions from purchases you make using links in our articles. Learn more here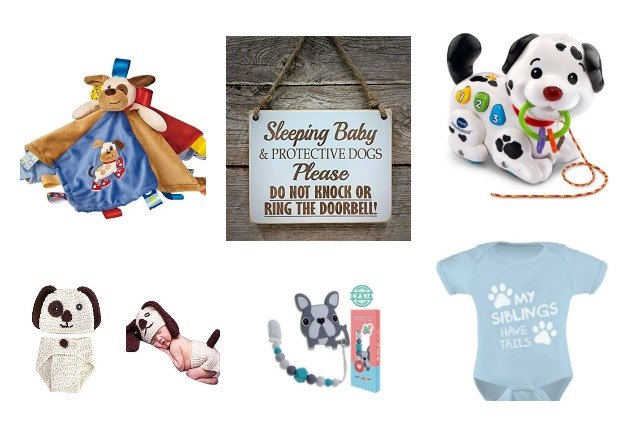 Your dog-loving pals are bringing a new pup into the pack, but this one is human! Here is our list of awesome dog-themed baby gifts for new parents.
For many of us, our pets are our first (and forever!) babies. When I was pregnant with my first son, we'd already planned that he and our dogs would be the best of friends. So much so that if there was ever anything baby and dog combined? It was ours! Now, it's fun to buy those things for our dog-loving friends, and here are some of our favorite dog-themed baby gifts!
1. Editor's Choice: My Siblings Have Tails Onesie
Truth is truth, right? Go ahead and get the message out from the start and let everyone know that the new baby is definitely part of a furry sibling band! These adorable onesies are made from 100% cotton which is soft and gentle on the baby's sensitive skin, and they feature a snap closure for easy and fast dressing and undressing. There are 5 sizes to choose from, from 0 to 24 months of age and 4 colors – black, grey, navy, or pink.
2. Runner Up: Dog Newborn Photo Props
You know those adorable newborn pictures everyone plasters all over social media where the baby is decked out in some ridiculously cute hat and diaper cover set? Yeah…you're gonna go ahead and want this right now for just. that. purpose! (Don't forget to post all over Insta!)
3. Best Blanket: Taggies Buddy The Dog Blanket
So, you'll probably want to buy two of these because you don't want baby to fall in love with this taggie blanket, lose it at the airport and then make the new parents desperate to find another identical one. (Hypothetically speaking, of course!) Seriously, though, babies love taggies and doggies so this'll be a hit. We're not joking about buying two–when these things get lost? It's meltdown city!
Made from soft and plush polyester, this doggie blanket is machine washable and easy to keep clean (and we all know how important that is with babies). In addition to being soft and cute, this design is also quite fun for babies as it features patented looped ribbon tags that babies love to explore and rub. The blanket square measures 13.5" and it's made to strict quality standards to meet or exceed US toy safety requirements.
4. Best Clothing: Kidscool Dog Overalls
Just get ready to hear that the new parents dress their baby in this on the regular because it's so stinking cute. Bound to be a favorite outfit that makes it in the 'keep for grandbaby' bin, it's perfect for little girls or boys!
5. Best Pacifier: Dog Pacifier Holder
You know how easy it is to misplace a pacifier? You'd be surprised by how many of those little things parents go through in a month, let alone year. Well, with this cute and nifty pacifier holder, you can rest assured that no dummy will ever go missing again! Made from soft, machine-washable material, this plush bulldog will keep the pacifier easy to notice but also help with the development of your baby's motor skills – it's the perfect size for the baby's tiny hands to grab at. To boot, it comes with a pacifier itself, but you can use it on any pacifier your baby likes as it is easy to remove and attach – it can be even attached to a teether once the baby reaches that stage.
6. Best Decor: Sleeping Baby Sign
This is the gift that no parent knows they need until the first time baby is taking a nap and the dogs go BONKERS and wake baby up because someone knocked at the door or rang the bell. Trust us. The new parents will keep this sign on the front door for years to come!
7. Best Toy: VTech Pull and Sing Puppy
Oh.yes! This VTech toy will be one of baby's favorites with the cheery puppy, bright colors and lights and oh–the sounds! Babies pull the cord and the puppy talks and laughs, and best? It grows with baby to toddler!When the baby pushes or pulls the puppy by using the cord, it will activate music and help build gross motor skills at the same time, but that's not all. As your baby grows, this toy will introduce them to numbers, colors, and parts of the body, promoting language development in a playful way with fun music and puppy sounds.
The light-up flashing nose and all the sound effects are bound to keep your little one engaged and enticed for a long time to come! The toy is intended for ages from 6 to 36 months, and requires 2 AAA batteries to operate. With all that in mind, it really doesn't come as a surprise that this is a highly popular baby toy rated 4.7 stars with over 30,000 ratings.
8. Best Book: Baby Touch And Feel Book
Babies love books and new parents love reading them to their babies. Especially ones that have sensory input for the baby! This touch and feel book is sure to be a well-loved and read favorite. The book is filled with real-life photos of all kinds of puppies and features various textures that a baby can stroke, tickle, or touch. This makes it a perfect book to encourage your baby to develop fine motor skills by exploring, not to mention that it will set up a great early learning foundation that will benefit the child immensely later on. Who thought something so cute could be so sneakily clever and practical?
9. Best for Swaddling: Dog Print Baby Swaddle Blanket
If you want your gift to be both practical and cute, you can't go wrong with this dog-themed swaddle blanket. Soft, durable, and low maintenance, this blanket is made from cotton muslin, featuring print inspired by the man's best friend – you can choose between Labrador Retriever, Golden Retriever, Bulldog, Dachshund, Frenchie, Goldendoodle, Poodle, or Terrier print. Generously sized, the blanket measures 47" by 47" and will be just perfect for those first months of baby's life. Machine washable, the blanket gets softer with each wash – and to boot, it comes in a gift-worthy packaging, already folded and bound with a printed twill ribbon.
10. Honorable Mention: Baby Milestone Chart
Speaking of growth, the newest trend is to have baby milestone blankets that let you keep track of how each month for that first year goes. Dog-loving parents will love this fun and different dog-themed milestone blanket for their newest bundle!
Additional resources:
We are committed to finding, researching, and recommending the best products. We earn commissions from purchases you make using the retail links in our product reviews. Learn more about how this works.

Published October 28th, 2021 12:00 AM