874 Views
Best Mattresses For Sleeping With Your Dogs
November 9th, 2021 12:00 AM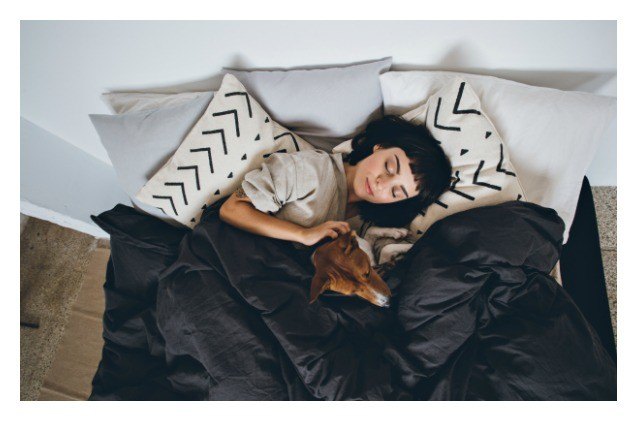 Do you feel bad forcing your dog out of the bedroom and telling her that she isn't allowed to spend the night sleeping in your cozy bed? Maybe you're worried about how comfortable you'll be, or how clean and odor-free you can keep your mattress.
Well, it turns out that there are several great mattress choices for pet owners, and our picks for the best products are listed below. So, go ahead and start sharing your bed with your furbaby to enjoy some prime snuggle time.
1. Editor's Choice: Brentwood
Brentwood mattresses are a smart choice when you want to have your dogs sleep on your bed with you. And you have quite a few options, so you can select the mattress that will work best for you.
Their Oceano Mattress, for example, contains what's known as CertiPUR-US certified cooling gel memory foam, so you can rest assured you'll remain cool and comfortable throughout the night, even with your warm dog lying next to you. The Ojai Mattress is another option, with its cooling gel memory foam. Or, you could opt for the Cypress Bamboo Gel Mattress, which is also constructed of materials that are designed to keep you cool while you sleep.
And it doesn't even end there, as other mattress models include the totally vegan Crystal Cove Mattress and the eco-friendly Cedar Natural Luxe Mattress.
Another brand offering a host of mattress choices for pet owners is Dreamfoam. These high-quality mattresses are known for their comfort, as well as their ability to help you maintain a comfortable temperature throughout the night.
When it comes to finding a mattress that will make resting with a pack of canines a comfortable experience, consider Dreamfoam's Arctic Dreams Cooling Gel Mattress. It contains a memory foam known as Energex, which is resistant to dust mites. It's also mold and mildew proof, antibacterial, and hypoallergenic. Plus, this mattress even features TitaniumGel, which can help keep you cool. And, as a cherry on top, this mattress comes with a 10-year warranty and a 120-night risk-free trial!
3. Best Eco-Friendly: Zenhaven
Anyone in search of a mattress made of eco-friendly, natural materials should definitely check out the Zenhaven Mattress. The Talalay latex in this mattress will respond to your body—and your dog's body—to provide ultimate comfort that you can all enjoy. The latex that is used in the Zenhaven is several times more breathable compared to other latex types. It will let air circulate in a way that can help keep you cool as it counters your body's heat.
Beyond comfort, the Zenhaven Mattress is also resistant to microbes, dust mites, and mold, so it is also a fantastic choice for those searching for a hypoallergenic product. Plus, the moisture-wicking layer of organic wool provides breathability for added comfort. And if you are looking for a risk-free, hassle-free purchase, you'll love Zenhaven's policy, as well. This mattress comes with a 180-night home trial so you could test out if it suits you and your pet, free in-room delivery and setup, and a 20-year warranty for unparalleled peace of mind in the long run. A deal that's hard to pass on!
4. Best Affordable: Loom & Leaf
Yet another good choice in the world of memory foam mattresses is the Loom & Leaf. Comparable to a Tempur-Pedic mattress, yet more affordable, this might be just what you have been searching for if your current mattress isn't helping you get the restful sleep you need, especially when your dogs are also on the bed.
Several layers make up the Loom & Leaf Mattress. There is an eco-friendly, dual-layer foam that boasts airflow channels for breathability and temperature control. And there's also a top memory foam layer that is eco-friendly and cool.
Plus, there's an additional feature that can help keep you comfortable and cool while you sleep: the proprietary Spinal Zone Gel. And a layer of organic, breathable cotton covers the top of the mattress.
Tired of dealing with a mattress that makes you feel hot and gross while you share your bed with your pets? Then it's worth considering the Cocoon by Sealy. Their Chill Mattress is designed to absorb and dissipate heat so that your body will remain cool, and so that even the mattress will remain cool to the touch.
The proprietary Phase Change Material, which is found in the stretch-knit cover of this mattress, is what helps prevent you from overheating while you're asleep. However, in addition to the cooling technology, you can also expect that the durable memory foam in the Cocoon Chill will help you feel totally supported throughout the night.
6. Best for Multi-Pets: Douglas
The Douglas Mattress is designed to keep you comfortable, regardless of what position you prefer sleeping in, and regardless of how many dogs sleep on your bed with you every night.
This mattress boasts three layers of foam that can help relieve pressure, while keeping you cool even if you have a big furbaby lying right beside you. The support foam layer also prevents your pets from disturbing your sleep because it helps to eliminate motion transfer. Plus, there's the ecoLight cooling gel foam layer that is responsive and durable. And then there's the CoolSense Cover layer, which is washable and capable of drawing away moisture to keep you dry and cool.
To boot, this mattress comes with free shipping and returns and a 120-night sleep trial, so if it doesn't end up being a good fit for you and your canine, you can simply return it, hassle-free. And if you do fall in love with this comfy mattress, you get a 15-year warranty, which speaks volumes about its durability and quality.
7. Best Supportive: Nest Alexander
The Alexander Signature Series by Nest is a flippable mattress that combines breathability and durability. It also features what's known as Thermic Phase Change Cooling Fabric, so you can feel comfortable, supported, and cool all night long.
The Alexander Signature Hybrid combines memory foam and pocket coils, and it has Thermic Phase Change Cooling Fabric, too. This mattress will help you stay asleep even if your furry friends move around or jump on and off the bed throughout the night. And its top layer of foam is what's breathable and airy, further promoting all-night comfort.
8. Best Temperature Controlled: Eight Sleep Pod
The Pod Mattress by Eight Sleep is one that will actually warm up or cool down while you sleep, so you can always remain at the ideal temperature for ultimate rest and relaxation. And it features Active Grid technology, along with four layers of foam, so you and your canine companions can sleep through the night with ease.
This mattress can also help relieve pressure points, as well as support proper alignment, while you're lying down. And because it allows for maximum airflow, you can rest assured that everyone on your bed will be comfortable.
The great thing about the Pod is the fact that you can personalize the temperature of each side of the mattress, so you and your partner can stay cozy, and never feel too hot or too cold. Plus, this unique mattress's thermo alarm will adjust the temperature of the surface so you can naturally and gradually awaken without needing an alarm. How neat and high-tech is that?!
9. Best Airflow: Sealy Response Performance Firm Mattress
The Sealy Response Performance Mattress in a firm setting is yet another option when you are shopping for a new mattress that you and your furbabies will love resting on. The fabric encased coils will respond to your every move, but it also will allow you to get a good night's rest even if your bedmate (i.e., fur baby, human baby, human adult, or all of the above) moves around a lot a night.
The materials that are used in this product boast good airflow, softness, and comfort. The ComfortLoft cover draws moisture away making sure that you don't get too hot. Like any great mattress, the Sealy Response Performance Firm Mattress can also help reduce motion transfer. This means your sleep won't be disturbed if your pets shift position often throughout the night or choose to jump on or off the bed in the middle of the night.
Extra Tip: Guard Your Mattress Against Moisture with a Mattress Protector
When it comes to being waterproof or water resistant, the majority of the mattresses out there aren't really going to be able to withstand moisture the way you'd want them to. So, regardless of what mattress you pick, consider also purchasing a high-quality mattress protector that is waterproof. Simply place it snugly on your mattress, and rest assured that, if messes and accidents do happen, your mattress will remain nice and dry.
A Variety of Mattress Choices for You and Your Dogs!
These days, there's no shortage of mattresses that feature high-quality materials that are also eco-friendly and better for your health, so narrowing down your choices can be tough.
When it comes to the best mattresses for sleeping with your dogs, opt for those that will reduce motion transfer, provide comfort while relieving pressure, and keep you cool so you don't overheat, no matter how many furbabies you share your bed with. That way, you can all get the rest that you need to feel rejuvenated by the morning, when you can set off on your next adventure together.
Is it bad to sleep in bed with your dog?
No, sleeping with your dog in bed is not bad – in general. There are some exceptions, though. If your dog is sick or has fleas, or if you have allergies, it might be better if everyone has their own bed. The same goes for light sleepers whose sleep quality could suffer if they share a bed with a pet, especially one that is a restless sleeper. Provided that you are both healthy and you're not a light sleeper, then snooze away! Feel free to share the bed with your four-legged friend: it will only make them happy to be close to you.
Are mattresses good for dogs?
Dogs spend a good chunk of their time sleeping, so they have to have a supportive, comfortable surface underneath them when they are napping. A proper mattress will help relieve existing joint pain in senior dogs, and a supportive sleeping surface from their early life can postpone these issues if not completely reduce the chances of them happening. This is why it is important to ditch cheap, non-supportive pet beds and prevent your pooch from lying on cold, hard floors – a mattress of their own, or a one they share with you, is a much healthier option.
Do dogs like sleeping with their owners?
Every dog has their own personality, likes, and dislikes, but in general, dogs love sleeping with their owners. They love the feeling of closeness and warmth because it reminds them of sleeping with their littermates and because you are their favorite person, they'll love snuggling up to you. However, if your pooch is one of those that don't like sleeping in your bed, don't worry – it's not that they don't love you, it's probably just that they're too hot or don't like the mattress you have.
Do dogs prefer hard or soft beds?
The perfect dog bed is somewhere in between the two sides of the spectrum – not too soft and not too hard. This medium firmness ensures optimal support and comfort for your canine friend, as it helps align their body properly and relieves pressure from key stress points, such as hips and joints. Soft dog beds are never a good idea because they lack supportiveness and will not hold your pet's body properly, and beds that are too firm might feel uncomfortable and put additional stress on the joints.
Should pets be allowed to sleep in your bed?
If your pet is healthy, doesn't have trouble getting into the bed, and likes doing so, there's no reason not to allow them to sleep with you. They'll love snuggling with you and sharing the warmth, and unless you're a light sleeper, you'll also enjoy those pooch snuggles at the end of a long day. Just be sure to provide safe access to bed if your pet wants to sleep with you – a ramp or pet stairs are a great choice, especially for taller beds and mattresses.
We are committed to finding, researching, and recommending the best products. We earn commissions from purchases you make using the retail links in our product reviews. Learn more about how this works.

Lisa Selvaggio
Lisa Selvaggio is a freelance writer and editor, and our resident cats-pert, with certifications in pet nutrition and pet first aid. An advocate for better treatment of all animals, she enjoys producing content that educates others, helps them understand animals better, and inspires them to help, whether that means volunteering at a shelter, fostering strays, or simply giving their own pets a safe and happy home to live in.
More by Lisa Selvaggio
Published November 9th, 2021 12:00 AM