42 Views
Top 10 Ugly Christmas Sweaters For Dogs
December 7th, 2020 12:00 AM
We're committed to finding, researching, and recommending the best products. We earn commissions from purchases you make using links in our articles. Learn more here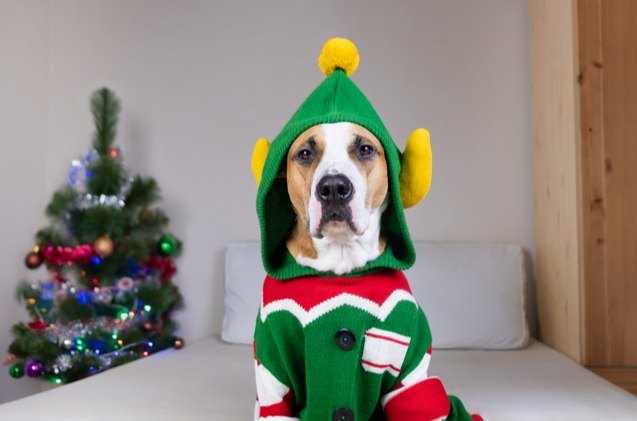 The time of year has arrived for eggnog, shopping… and horrifically ugly sweaters. The ugly sweater is an essential part of the Christmas culture, with people barraging thrift stores hunting for the vilest of the vile. It's the one time of the year when style is completely thrown out the window and we happily don the gay apparel grandma knitted for us. And we couldn't be happier that this trend has made its way to our pets. Are you looking to humiliate your dog by including them in this weirdly tacky tradition? Of course you are! So here they are – our Top 10 adorably ugly Christmas sweaters for dogs.
Tito's Ugly Sweater For Dogs
Okay, so they *say* it's ugly, but if we're honest, it's pretty dog-goned cute. But even better, Tito's uses purchases of this sweater and their supporting line to help fund incredible charities like nonprofits Emancipet, Team Rubicon, Ocean Conservancy and James Beard Foundation). And we're not talking they just give a portion of the proceeds. Oh no. They give it ALL. So not only are you dressing your doggo in something pretty fantabulous, you're helping pets and the planet in the process. That's a win.
Bobibi Jingle Elf Sweater
Is it really Christmas if you don't dress your doggo in a holly, jolly Elf/Court Jester costume? We think not. And we love the simplicity in not really working hard to be ugly. It just is. It's an acrylic sweater that ranges from X-Small to XX-Large, and won't fail to put a big smile on all the faces your dog will see.
Uni-Llama Holiday Sweater
What says, "Merry Christmas!" better than a festive, winged llama-unicorn (a llamacorn? Unillama?) plastered on your dog's back? Not much, that's fur sure. This acrylic wonder comes in small, medium and large, and is guaranteed to be the talk of the party. Or at least the talk of all the dogs wondering what the heck your dog is sporting. Sizes run from xx-small to large.
But if you'd prefer to have no-drama with a llama…then just go ahead and pick this Alpaca sweater up for your Pup. And then, make sure you argue with every person you see about the difference between an alpaca and a llama. Because you know that this sweater will invoke that discussion. Then no one will make note about how ugly it is, though, so there's that. You can connect your dog's d-ring collar in the small, medium or large sizes offered.
PetCare Rockin' Snowman Sweater
Here's the one that will make people ask, "Why is the snowman on your dog's back high?"
Because though he's supposed to be happy and merry, he looks a bit more stoned and zoned and if that doesn't say, "Happy Holidays!" we're not celebrating this year! It comes in x-small through x-large and is machine washable since it's possible your dog may get into a fight defending his street creds in this.
No one wants to be alone for the holidays and so you've gotta put yourself out there to be sure it doesn't happen. That's why #followme's Ready to Jingle qualifies as tacky but purposeful in the same wear, and we can't deny that we love efficiency when it comes to ugly Christmas sweaters. It's machine washable and comes in sizes xx-small to xxx-large, and if this doesn't garner your dog a mingle and jingle date? Well, tough luck. At least you tried.
Frisco I'd Melt For You Hoodie
Though technically a Hoodie and not a sweater, this I'd Melt For You ensemble is just cheesy enough to qualify with legit creds in any Ugly Sweater battle. It comes in several sizes from x-small to xx-large, and it's machine washable as well. The hole in the back is perfect for leashing and since it's a snowman, you could feasibly take the season all through the winter. Cheesy and economical –just how we love them.
Bite Me! Gingerbread Sweater
This Frisco Bite Me! Gingerbread Sweater pretty much resembles how we ALL felt this year, and so what better way to represent the ugly sweaters than with the sentiment we all feel in our soul. Still, even the ugliest sentiment on a dog makes for pretty adorable. Available in x-small to xxx-large, it's machine washable acrylic pullover that we won't tell if you pull out to try and wear yourself.
Reindeer Pom Christmas Sweater
It's official. Any sweater that has pom poms on it automatically qualifies for Ugly Christmas sweater and this one has them all over the place because they're each reindeer's nose. So that's ugly multiplied, making it so ugly it's cute. Coming in xx-small to xxx-large, it's pullover acrylic that will make you smile every time your dog wears it. Despite how much he may roll his eyes at you.
It doesn't get hollier and jollier than turning your dog into a living, breathing Christmas tree with a sweater-coat. Worderful always has fun apparel for dogs, and this one fits but fun and horrifically ugly when it comes to Christmas sweaters. So much so that no dog actually volunteered for the picture and so they put a stuffy in to suffer the indignity. But your dog told us he'd wear it, so go ahead and get ready to deck your social media with this hilarity.

Published December 7th, 2020 12:00 AM