31 Views
Designer Dog Clothes From Global Pet Expo
February 27th, 2013 12:00 AM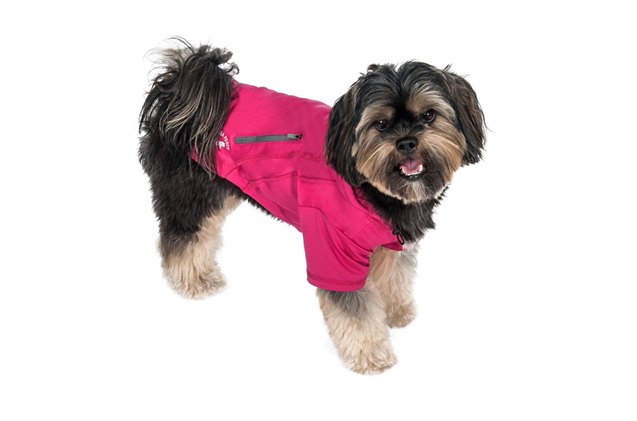 Pup style hits the dog park with designer dog clothes straight from Global Pet Expo
We were on cuteness overload at this year's Global Pet Expo. There were so many adorable designer dog clothes to choose from. Watch for these doggy duds to hit runways this year.
If you've got a downward dog, you'll want to put him in a Canada Pooch Zen Hoodie. The first yoga hoodie for dogs, the Zen Hoodie is made from the same light-weight stretch fabric used on human yoga wear. It comes with functional zipper pockets for treat and bag storage and a reflective logo for nighttime visibility.
California Costumes Pity the Bull
We know that Halloween is a few months off, but we couldn't resist this Pity the Bull costume. Get your dog on the A Team with an outfit that comes complete with a wig and costume vest with muscles. It comes in four sizes, so there's no reason your dog can't get in on the fun.
Chic canines are dressed from head to toe in the latest fashion – like this full-body dog suit from Zippy Dynamics. Designed to keep your pup warm, dry, dirt-free and fabulous, this suit is great for play or social time. Offering comfort and flexibility, the suit follows your dog's movements. And getting in on is a breeze, thanks to a lined and protected zipper that runs along the top of the suit.
Aloha! Your surfer dog can chill out in the Luna Blue Ukulele Hawaiian Shirt. Sporting a ukulele motif, this shirt is handmade with 100% cotton fabric. It features paw print coconut buttons and a high-cut bodice area so that you don't have to worry about boys that may make a slight mess.
It's cold outside, but your dog will stay warm with the Kumfy Tailz Coat. But it's more than just a coat – it comes with a Kumfy Pax. This is a puncture-resistant nylon/pvc enclosure filled with special UltraGel that you warm up in the microwave. It warms up your dog's core while you brave the cold outdoors. Making even more handy is a built-in closure and D-ring. This snugly jacket even comes with a flip-up collar for those windy days.
Your dog loves to chase them, and now he can wear them! The Fab Dog Squirrel Sweater is more than just distractingly cute – it's also practical. When it gets dirty, just throw it in the wash. Perfect for chilly spring and fall days in the dog park.

Amy Tokic
Amy Tokic, Editor of PetGuide.com, is a passionate animal lover and proud pet parent of Oscar, a Shih Tzu/Chihuahua cross, and Zed, a Japanese Chin. Her love of animals began in kindergarten, when she brought her stuffed dog Snoopy into class with her every day. Now, she writes about her adventures in pet ownership and tirelessly researches products, news and health related issues she can share with other animal enthusiasts. In her free time, Amy loves perusing used book and record stores, obsessing over the latest pet products available and chasing squirrels with wild abandon (a habit attributed to spending too much time with her pooches).
More by Amy Tokic
Published February 27th, 2013 12:00 AM