31 Views
Top 10 Etsy Gifts For Dog Moms On Mother's Day
April 21st, 2021 12:00 AM
We're committed to finding, researching, and recommending the best products. We earn commissions from purchases you make using links in our articles. Learn more here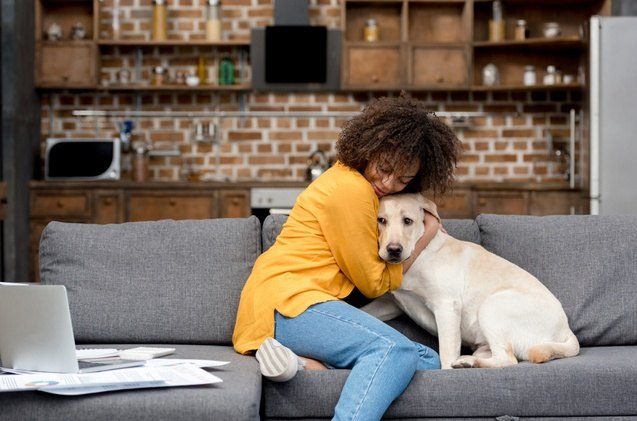 There's no love like a dog mom's love. No, a dog mom pours all her heart into her little (or huge) ball of fur, and it's because she knows the world's a better place with her fur-baby in it. And, since Mother's Day is right around the corner, we figured we'd share our favorite Etsy finds for dog moms on Mother's Day because nothing says "I Ruff You Mom!" better than a homemade gift with love. But we're not talking any of this macaroni necklace nonsense! These gifts are sure to be mom's favorites forever because they're bought backed my love, and made just the same!


Is there anything stinkier than a dog's fart? No, we think not. Unless you have a couple of dogs, and then, lucky you but….whew, smelly too. But not with this custom candle from Bold Coast Candle! Made from 100% soy wax and able to be scented with several different options, it's sure to be not just a conversation starter but a nostril-hair keeper when your sweet little fur-baby rips one like it's his job.
Every Dog Mama needs these tributes to their doggos in the form of tootsie treasures. They come in two different women's sizes and are a high-quality polyester/acrylic/nylon/spandex sock dog mamas everywhere will love. Why? They have cushioned bottoms and pictures of your best pal all over them, of course! You can even add additional pretties like paws, bones and heart shapes and they're so stinking cute, why wouldn't you?
Who wants to go on a walk? Who? Who? Dog moms love taking their best boys and gals on walks of course, but…those walks can make ya thirsty, can't they? That's why every dog mom needs to have a gorgeous stainless tumbler like this to let the world know who she is. You can choose from tons of colors and the personalization is printed sublimation, not vinyl. That means it's on forevah. Dog moms can even use them for hot drinks up to 212 degrees!
Want mom to take a well-deserved rest on a comfy pillow personalized with the names of her favorite pup(s)? Then look no further! This customizable pillow wishes Mother's Day appropriately to the Best Dog Mom ever, and with the love and affection of your very own pooch. It's a polyester linen filled with cotton and it'll be every dog mom's treasure.
Personalized Canvas Photo Portrait
Holy gorgeous art! Talk about something every dog mom will want to have front and center for all to see. This personalized photo portrait can be wrapped beautifully on canvas or done on fine art paper, or you can have the file sent to you digitally to do whatever you please–mugs, shirts, etc. Taking a picture and turning it into fine art with your best friend is the perfect way to immortalize the love you and your dog share.
Personalized Dog Bangle Bracelet
This beautiful stamped aluminum bracelet will have the name of your dog stamped and a paw print, along with the best title in the world, of course, "Dog Mom". It comes with the dog bone and paw print charm and the stainless and aluminum is lightweight and won't tarnish. You can have the names of a handful of dogs if you like, and all bracelets come in a ready-to-go gift box to make it easy to make Mother's Day special.
Mother's Day From The Dog Card
If you're 'that' dog mom (and come on, it's so much fun to be that mom!) or you know that dog mom, then this is clearly the card for them. Printed on heavyweight white matte card stock, this folded greeting card with the matching kraft envelope is the perfect way for every dog mama to show they relate to their furry girls in a way that only gals can. We gotta stick together, right?
Want to spoil the dog mama in your life (yourself included!) with an awesome Mother's Day gift that you can totally say is from the dog? This Dog Mama gift box is customized to literally appeal to you (and your dog) with adorableness. It has a mini wood house, a terra cotta pot with a paw print for your favorite sniffer, a Dog Mom T-Shirt, a Bath Bomb made of natural essential oils, a 'Dog moms are the best moms' sticker, five additional dog stickers, a card to personalize and TREATS! A Hersey's Chocolate Bar (for the dog mama) and a personalized tie bandana for the dog. So stinking cute, and all the hard work of choosing the perfect gift is done!
Let's not forget if it wasn't for the Dog Grandmas and Nanas of the world, there'd be no Dog Moms! Honor and celebrate the special dog Nana or Grandma in your world with these super soft and cozy customized shirts that come in several different gorgeous colors. We're partial to this Heather Dusty Rose, ourselves but you'll love the options of the cotton colors you can choose from, and the dog Grandmas/Nanas of the world will feel special every time they wear it!
Want to have your sweet fur-baby with you everywhere you go? (Of course you do; we always do, don't we?)

With this beautiful dog paw print charm, you can. You simply send your pet's paw print in either by picture, or a picture of their paw print on a surface or even in clay, as is sometimes done before (or after) our sweet babies cross the Rainbow Bridge. It'll be put on a sturdy and quality stainless steel pendant with incredible integrity, and whether your fur baby still walks with you every day or you just carry him in your heart, you'll always have him with you whenever you wear this piece. A perfect way to keep your love where it belongs–near your heart always.
Whether you know a special dog mama or you ARE a special dog mama, any of these customized Etsy gifts are sure to be just what you deserve this Mother's Day (and every other day too, are we right?).

Published April 21st, 2021 12:00 AM