1.2K Views
Best Snuffle Balls for Dogs
December 30th, 2021 12:00 AM
We're committed to finding, researching, and recommending the best products. We earn commissions from purchases you make using links in our articles. Learn more here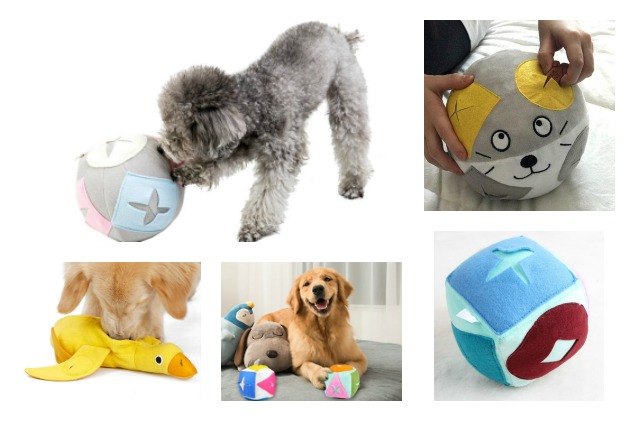 Looking for a way to stop your dog from wolfing down his food? We've compiled a list of the best snuffle balls for dogs that'll come in handy.
Similar to a snuffle mat, a snuffle ball is a great toy that can make your pet's day a little more fun…especially around meal time. These soft toys come in various sizes and shapes, and they feature little pockets that you can hide kibble and treats in, just like you would do with a snuffle mat. Simply fill the toy with your dog's food and then let him sniff and work his way towards his tasty reward. It's an easy way to prevent boredom, as well as slow your dog down if he tends to eat too quickly.
There are a lot of snuffle balls to choose from, but they all work the same. Which one is the right one for your pooch? To help you out, we've compiled a handy list of 10 of the top snuffle balls for dogs that you can purchase online at affordable prices.
1. Editor's Choice: Pet Race Snuffle Mat Interactive Dog Toy
A great choice for mental stimulation and slower feeding, this snuffle ball toy will keep your pet's nose occupied and their senses alert. The dense ruffles or folds can hold numerous treats or kibble your pet is supposed to sniff out and use their nose or paws to reach them from the hiding spots. Made from polar fleece material, this snuffle dog toy is soft to touch yet holds its shape even after washing (and it can be washed in the washing machine) and your pet's relentless pawing and sniffing. The vibrant colors will entice your pet to forage and as the diameter is 8.26″, the ball is considered a medium-size one that is suited for dogs of all breeds and ages.
2. Runner Up: beetoy Dog Snuffle Puzzle Toy
Does your pooch need more of a challenge for his curious nose? Don't worry, this snuffle ball toy will keep your dog engaged and entertained for hours on end. Shaped like a caterpillar, this enrichment toy features 7 treat pouches you can stuff with kibble or treats – and then roll the caterpillar into a ball to increase the difficulty level of reaching treats in its inner parts. The caterpillar sticks with Velcro so your pooch won't have an easy time disassembling it back to its original form. When flat, the caterpillar measures 26.7" which makes for a 9.4" by 7" by 6.3" ball that will suit medium and large breed dogs best. To boot, this snuffle toy has 3 hidden squeakers to make the experience even more fun for your pet! You can machine wash this innovative snuffle ball for easier maintenance.
3. Customer's Choice: iKiKin Pet Snuffle Feeding Toy
This adorable turtle-shaped snuffle feeding toy is a great option to make mealtime fun by encouraging your dog to use their natural hunting and foraging skills to seek out hidden food and treats. Made from high-quality washable fabric and stuffed with polyester stuffing, this adorable toy is non-toxic and soft to the touch. This makes it perfect for dogs of any breed, age, or size. To boot, you can use it indoors or outdoors, so you can bring this toy with you on adventures and walks.
Small pockets are located all over the back of the turtle's shell, on its legs, tail, and head. This gives you many different hiding places to change up 'the hunt' each time. The process of searching for your dog's food will help to alleviate stress and boredom, provide both mental and physical exercise and you're your dog's eating down to allow for proper digestion. When all the hidden goodies have been discovered, it can then be used as an adorable cuddle toy for your dog's next nap time. Since this snuffle toy can be either hand washed or machine washed, it's super easy to keep clean – and that's a priority with snuffle mats and toys as your pet is eating and drooling all over them. To make sure this snuffle feeding toy is bacteria-free and safe for your pet to use, wash it twice a week.
4. Best for Small Dogs: Pethouse Interactive Dog Plush Snuffle Ball Toys
A plushie that has pockets for treats? Where do I sign up? This snuffle cube toy is made from thick and soft flannel with cotton and fiber fill, so it is completely-pet safe yet very durable and will withstand your pet's curious poking and sniffing. On all sides of the cube are located fun appliques which are actually pockets you can stuff treats or kibble in, and it's up to your pet to figure out how to forage them out. Fun for hours on end! What's more, this cube has a handle sewn in so you can join in on the fun and turn foraging play into a game of tug-of-wars when you want to switch things up a bit. With dimensions of 6" by 6" by 6", this snuffle ball toy can be a good match for any dog, but particularly small and medium-size breeds.
5. Best with Ruffles: Generic Snuffle Ball
How about some distraction for your clever little pooch? Instead of foraging through folds to reach the yummy reward inside, this design takes your pet to a different direction: the fluffy, soft ruffles are there to challenge them, but the treats are actually hidden underneath them, inside a TPR ball. This will take things up a notch and encourage your pet to use their nose more actively and mentally stimulate them to figure out how to get to the treats more effectively. The ruffles are made from skin-friendly polar fleece that is gentle on the nose and fun to rummage through, and the ball itself is fully machine washable for your convenience. Measuring 8″ x 8″ x 8″, this snuffle ball toy is a good universal choice for dogs of all sizes and ages.
6. Best Felt: Mollybox Dog Toy
Will sniff for treats! Between the many folds of this snuffle ball, you can hide all kinds of goodies for your pet to find – thanks to the size of the folds, this snuffle ball can hold even bigger treats with ease, allowing you to pick and choose whatever yummies your pet prefers. Made in bright, vibrant colors that will catch your pet's eye in an instant and felt cloth fabric which is durable, soft, and holds its shape well, this snuffle ball is also very easy to keep clean – it's machine washable on a delicate cycle or you can wash it by hand. Lightweight and versatile, this snuffle ball toy is suited for dogs of small and medium sizes.
7. Best Fleece: ARRR Noseworks Snuffle Ball
If you're in search of a larger snuffle ball, this product might be what you need. The ARRR Noseworks Snuffle Ball measures nearly 8" from top to bottom. It is made of 100% fleece fabric, so this snuffle ball will be light and soft. This snuffle ball helps your dog to focus on their olfactory instincts and can help to reduce your pet's anxiety. Simply stick a few treats inside the tiny pockets of the ball and let your dog get to work! It is a great option to give your pet some play time if they are inside most days or on days when the weather isn't great and they can't get their daily sniffs in during a walk. It is also a good option for hyperactive pets and pets who have separation anxiety.
The cover of the ARRR Noseworks Snuffle Ball can be removed and washed to keep it looking and smelling (pun intended) like new!
8. Also Consider: ICEGREY Snuffle Toy
Made of soft, smooth polyester, this colorful snuffle toy is shaped like a square, so it's another good way to add some variety to your dog's collection of snuffle balls. This product features large pockets that are perfect for hiding plenty of treats for hours of playtime.
9. Best Interactive: Alpha Dog Series Nose Work IQ Treat Ball
Available in two sizes, small and medium, this snuffle ball features hidden slots that make it a snap to hide treats and kibble for your pooch. And, thanks to its firm stitching, it's built to withstand even the most playful pups. Plus, it's easy to clean whenever necessary.
10. Honorable Mention: Ablechien Snuffle Ball
To switch things up, you can give your furry friend this snuffle ball that consists entirely out of ruffles or ribbons. It's the same design as a snuffle mat, just bundled up in a ball! Made from non-toxic, durable, and odorless polar fleece, this snuffle ball is soft and easy to keep clean, despite its many foraging nooks and crannies. Just toss it into the washing machine and it will be good as new and ready for a new round of seeking treats! To boot, as it is colorful and vibrant, it will easily attract your pet – although, in all honesty, the scent of tasty treats that it hides would do the job of enticing perfectly well on its own.
Consider Buying More Than One Snuffle Ball
When looking for snuffle balls for your pooch, consider getting a few that you think your pet will like. Because there are snuffle toys that come in different shapes and sizes, purchasing more than one for your dog is a great way to keep things interesting and help prevent boredom every day. Plus, if you have a few different snuffle toys, your companion will always have one that he can play with, even if you need to take one away to wash it because it's gotten dirty from use. The list above can point you in the right direction towards snuffle toys that will grab your fur baby's attention and get him excited to "hunt" down his food, so you can start shopping right away.
How do you use a snuffle ball for dogs?
The goal of all snuffle toys, including balls, is to promote nosework, stimulate your pet's senses, and provide mental enrichment – in addition to offering treats and slowing down their eating speed. Snuffle balls are easy to use as all you have to do is fill them with treats or kibble and let your pet do the work – sometimes it's pockets, other times it's ruffles, but the principle of "loading" the snuffle ball is the same. Just fill it with yummies and give it to your pet: their sense of smell will tell them that the reward is waiting inside, and the foraging will start right away.
What is a snuffle ball for dogs?
Snuffle ball is a treat-dispensing toy made from soft, plush materials. It features multiple nooks and crannies in the form of tiny pocket cut-outs or ruffled ribbons you can use to hide kibble or dry treats in, and your pet is supposed to rely on their instincts to forage for the tasty reward hidden within the snuffle ball. These toys are not only beneficial for a dog's mental health, but they are inexpensive, easy to clean, and suitable for dogs of all breeds and ages.
Does my dog need a snuffle ball?
Most, if not all, pets need some form of enrichment and mental stimulation to stay happy and healthy. Dog's sense of smell is their strongest sense and ties in with all essential instincts, so offering them a productive way – a snuffle toy – to engage their senses and act on their instincts is very beneficial for them, in more ways than one. In addition to providing enrichment and mental stimulation, a snuffle ball can be a great choice for greedy eaters as it can help slow down their feeding speed – they'll have to forage to get to the kibble instead of snarfing it all up in seconds.
Can I make a snuffle ball for my dog by myself?
If you are crafty and love DIY projects, making a snuffle ball for your dog shouldn't be too challenging. The main factor to consider is your choice of materials (they should be durable and pet-safe) and the quality of the make: it needs to be sturdy enough to stay in shape while your pet rummages through it, so no weak threads, easily ripped pockets, or loosely tied ruffles. There are plenty of tutorials for DIY dog snuffle balls on blogs and YouTube, so if you're not sure how to make one, start there!
We are committed to finding, researching, and recommending the best products. We earn commissions from purchases you make using the retail links in our product reviews. Learn more about how this works.

Lisa Selvaggio
Lisa Selvaggio is a freelance writer and editor, and our resident cats-pert, with certifications in pet nutrition and pet first aid. She enjoys producing content that helps people understand animals better so they can give their pets a safe and happy home.
More by Lisa Selvaggio
Published December 30th, 2021 12:00 AM