162 Views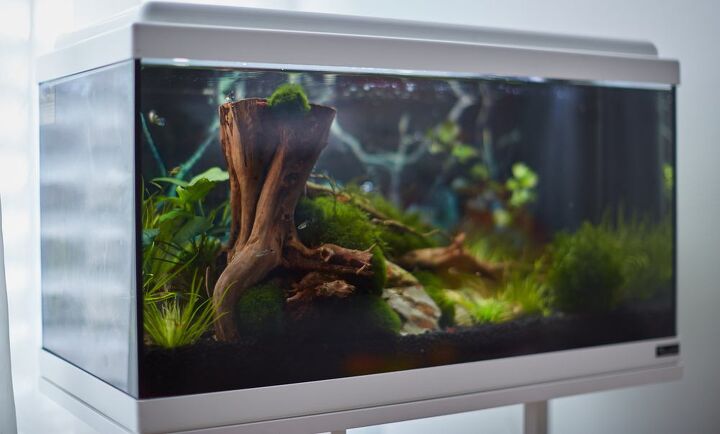 Don't just think about the design of your tank – you also have to remember the practical elements. With that in mind, here are our picks for the best aquarium hoods.
The beauty of keeping a home aquarium is that you have complete control over how you choose to decorate it. You can be as creative as you like or stick to something more natural. However you choose to design your tank, it's important to consider the practical elements of keeping an aquarium as well – things like lighting, filtration, and maintenance. These are all essential things to consider when choosing the hood for your tank – the lid that goes on top.
Having a hood on your aquarium isn't always necessary, but it can certainly beneficial – especially with certain types of lighting. In this article, we'll talk about some tips for choosing an aquarium hood and you'll see our top 10 picks for the best aquarium hoods.
Best Aquarium Hoods
Your choices for aquarium hoods may be limited depending on the size and shape of your tank. For this reason, it's a good idea to shop for aquarium hoods at the same time you're choosing your tank. Making these decisions together will also help you make sure you choose the best option to accommodate essential tank equipment like filtration and heating units.
Here are our top picks for the best aquarium hoods:
Marineland LED Light Hood
Available in three sizes, this LED light hood is a great option for any aquarium. This hood includes LED lights that create a natural shimmering effect to mimic sunlight as well as a different night setting. It has two sets of hinges to fit popular sizes.
Aqueon Aquarium Black Fluorescent Deluxe Full Hood
This all-in-one aquarium hood is a classic choice that works well for most freshwater tanks. The hood is custom fit to sit on the inside lip of the aquarium frame to reduce evaporation and you can choose your tank lighting.
If you're looking for a sleek, low-profile option this LED aquarium hood could be the perfect fit. It is highly energy efficient and has cutouts in the back to accommodate different sizes of aquarium filters. Choose from 16, 20, 24, or 30-inch sizes.
Deluxe Bow Front Fluorescent Full Aquarium Hood
Finding a hood for a bow front aquarium can be tricky but this model is the perfect complement. It features a classic design that fits all major brands of aquariums and sits on the inside lip of the frame to reduce evaporation.
Marineland Recessed Full Fluorescent Light Hood
This aquarium hood is designed to help your tank look its best. It comes fully assembled and is made with a built-in reflector to bounce more light back into your tank.
Aqueon Aquarium Versa Top
For a simple but effective aquarium hood, this glass top is a great choice. It helps limit evaporation and keeps your fish from jumping out of the tank without limiting your access during feeding time. It can also be cut to fit your accessories as needed.
All Glass Aquariums Fluorescent Deluxe Hood
If you want something a little more powerful than LED light, this fluorescent hood is a great fit. It is designed to fit on the inside lip of the tank frame and includes three 15-watt lights with an aluminum reflector. It also comes with a very energy efficient electronic ballast.
Aqueon LED Background Hood
Give your aquarium the shimmer of natural sunlight with this LED background hood. It produces virtually no heat and consumes little electricity, making it a practical and efficient solution to your lighting needs. It comes in four different sizes.
All Glass Aquariums Versa Bow Front Top
Another option for bow front tanks, this glass top helps reduce evaporation and keeps your fish in the tank where they belong. This aquarium hood features a clear vinyl strip on the back you can cut as needed for your tank equipment.
Zilla Fresh Air Screen Cover
If you're looking for an inexpensive option to cover your tank because you're using canopy lights or internal filtration, you could go with this simple screen cover. It comes in a variety of different sizes, just keep in mind that it doesn't have openings for equipment so you'll need to remove it to feed your fish.
Tips for Choosing an Aquarium Hood
When it comes to aquarium hoods, there are a few different designs to choose from. The classic design for an aquarium hood is one that incorporates lighting, generally fluorescent or compact fluorescent bulbs. You can also find aquarium hoods that act more like a lid on the tank, though you should think about access to essential equipment and openings to be able to feed your fish.
Here are some things to consider when choosing a hood for your aquarium:
Think about the size and shape of your tank – you may have trouble finding a hood for large or oddly shaped tanks.
Consider whether you plan to incorporate lighting into the hood or simply use it as a top for your tank.
What kind of materials do you prefer? Most aquarium hoods are glass or plastic, but you may be able to choose a color that matches your aquarium trim.
Think about the design and whether you need openings in the back to accommodate tank equipment like a hang-on filter or aquarium heater.
If you're choosing an aquarium hood that incorporates lighting, be sure to choose one with splash guards over the electrical connections.
When shopping for aquarium equipment, it's important to consider the big picture. The hood you choose for your tank does more than just provide a lid for your tank – it also houses your tank lighting which impacts those decisions. Think carefully about the factors mentioned above when shopping for an aquarium hood and consider our top picks reviewed above.

Kate Barrington
Kate Barrington is the loving owner of two cats (Bagel and Munchkin) and a noisy herd of guinea pigs. Having grown up with golden retrievers, Kate has a great deal of experience with dogs but labels herself a lover of all pets. Having received a Bachelor's degree in English, Kate has combined her love for pets and her passion for writing to create her own freelance writing business, specializing in the pet niche.
More by Kate Barrington
Published May 13th, 2020 12:00 AM