10 Views
Top 10 Dog Father's Day Gifts
March 18th, 2021 12:00 AM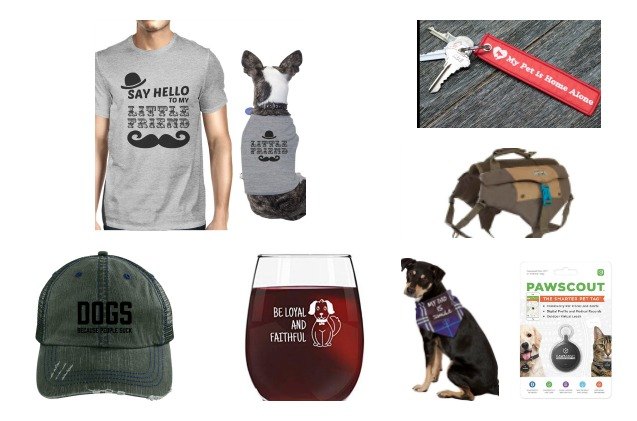 When a canine is your dad's best friend, a gift for the dog is really a gift for your dad. Here are a few of our favorite picks that celebrate your dog-loving daddy-o while also keeping Fido in mind.
If your Dog Dad always pampers his pooch with some awesome new toys and treats, this monthly subscription of goodies and chew toys will deliver many happy surprises. Each month has a different theme (so if you have human children, they dig Bark Box too).
2. Best Dog Dad Ever Shirt
We know you know it, but how about let the world know it too–that you're the best dog dad ever? It's made of 100% preshrunk, ringspun cotton so it's super soft and cozy, and the message just has to be heard. Period.
3. Pawscout Smarter Pet Tag
The Pawscout Smarter Pet Tag revolutionizes dog tags and for barely more than a traditional bone-shaped piece of metal costs. It provides safety and security for your pet, as well as helps keep track of their walks and their medical records. You can create a digital profile of your pet that has all sorts of vital information for everyone from the vet to the groomer to your dog walker.
Pawscout has several amazing features that every dog dad will love. If you have a large yard or open space around your home, or your dog is a runner, you can set a perimeter around your location and Pawscout will let you know if your pup is out of that area. You can also track your walks, or track the walks their caregiver gives them each day. And with the Pawscout app, you can share photos, arrange playdates, and even alert neighbors and friends to pet hazards and pet-friendly places to visit. There are no monthly or activation fees, so you can get started with Pawscout as soon as you get it.
It's Father's Day, right? So treat yo' self (or a dog daddy you love) with the Furbo Dog Camera. Yes, Daddio can check in on his pupster at any time remotely on his smart devices (or Alexa!) but better? They can play together because Furbo is also a treat tosser. It allows two-way communication and engagement so neither daddy nor doggy have to suffer separation anxiety when apart.
5. PawScout Smarter Pet Tag
The PawScout Smarter Pet Tag revolutionizes dog tags and for barely more than a traditional bone-shaped piece of metal costs. It uses Bluetooth to help find your pet, and a huge community of Pawscouters will rally together to bring Fido home. You can create a digital profile of your pet that has all sorts of vital information for everyone from the vet to the groomer and you can even install a virtual pet leash for outdoors that lets you know if your pet has left perimeters you've set.
6. My Dad Is Single Bandana
Are you a single dog dad on the prowl (or do you know one)? Because if so, this bandana was made for you. We all know that dogs are the most magnetic mate attractor there is, so why not go ahead and get rid of the awkward, "Are you single?" questions with your friendly, furry best friend taking care of that right up front. It's machine washable and adjustable with its tie so you can make sure your pooch is snazzy as he scouts out a new pet pawrent for himself.
6. My Pet Is Home Alone Key Tag
We make all sorts of plans for emergencies, but do we make a plan for our pets if we are stuck in an emergency? Would your pet be okay if you were unable to tell someone they were alone? Now dog dads won't have to, because Rover giving him this for Father's Day is a gift for the both of them–peace of mind and safety. Plus, every purchase buys meals for shelter dogs, so it's a win-win.
Dog dads love taking their pups out on adventures, but don't necessarily love all the left behind dog fur and dirt. That's why this 100% waterproof mat of heavy-duty oxford fabric is perfect for those outs and abouts dogs love to take with their pet papas. There are side flaps to protect your car from scratching and hair and if you want to take the human children along for the ride, you can because there's a zip that allows for partial coverage as needed.
Let's just be real. Dogs. Because people *do* suck. Not all of them, we know, but enough to make this hat very true for lots of doggo dads everywhere. It's six-panels, with a 100% cotton herringbone front and a velcro closure, and it's the perfect hat for dads who just can't even. They won't have to with this. It's another gift that'll feed shelter animals, so it's proof that not all people suck.
We love this set of stemless drinkware for wine or any other drink doggy dads want to call their own. They're machine washable and full of daily inspiration and advice to take naps, learn new tricks and dig life. Get it? Dig life? The set of four is perfect for dad and his buddies as they commiserate about #dogdadlife
10. Outward Hound Dog Backpack
What do dog dads love doing with their good boys (and girls)? Adventuring! Yes, adventuring and so this backpack from Outward Hound is the perfect gift for dog dads (and their furry friends). They make sure that pups do their share of the work (and they love to, because they're such good doggies, yes they are!) and help make memories for both doggo and dad. They come in an assortment of colors and styles, so there is sure to be the right one for every dog dad and his best friend.
We are committed to finding, researching, and recommending the best products. We earn commissions from purchases you make using the retail links in our product reviews. Learn more about how this works.

Published March 18th, 2021 12:00 AM