441 Views
February 4th, 2022 12:00 AM
We're committed to finding, researching, and recommending the best products. We earn commissions from purchases you make using links in our articles. Learn more here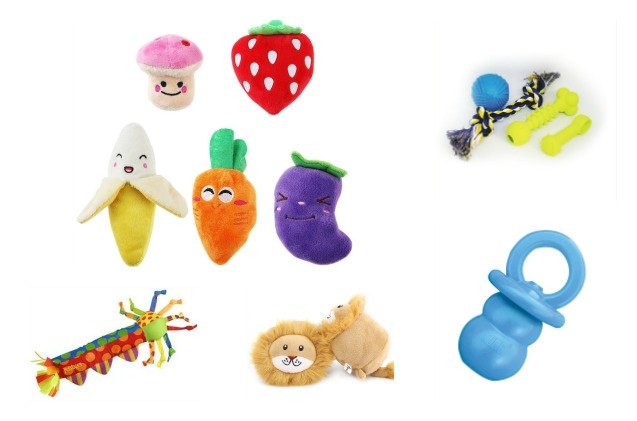 Shorkies are a fabulous mix of Yorkshire Terrier and Shih Tzu. So how do you make sure your Shorkie has the right toys for his size and personality? Check out our Best Toys for Shorkies.
1. Eco-Kind Yak Cheese Dog Chews.
You want to keep your Shorkie happy and healthy, and chewing is a great way to keep their teeth nice and clean of course. But not just any chew will do, and that's why we think they'll love these Eco-Kind Yak Cheese Dog Chews. They're a premium organic chew that will keep your pup busy cleaning teeth as they enjoy chewing. Made of natural material that's 100% digestible (no worrying about plastic or other junk in their tums) and they are made in and imported directly from Nepal. Why Nepal? Why that's where the Yak milk with no artificial ingredients, chemicals or preservatives comes from. They are gluten-free and lactose free, which makes them gentle on your dog's stomach. Did you even know that dogs have a time processing dairy? It's true because of the lactose, which makes these super nutritious and gentle on their digestive system.
One chew should keep them occupied for anywhere from 6-8 hours and that's excellent teeth and gum cleaning you could never do yourself! Each stick is about 6-8" in length (watch as they get smaller just so they don't choke) and weighs about 16. oz, so they're nice solid treats your Shorkie will go ga-ga for!
2. PetStages Cool Teething Stick.
While this is a great teether for Shorkie Puppies, it's also a great toy for Morkies in general as you can repeatedly cool it to entice your Shorkie to gnaw on it. It helps tender gums and also keeps them clean, while is bright and colorful enough to pique their curiosity in play.
3. Creaker Cotton Rope Chew Toys.
These cotton rope chew toys are adorable, yes, but they serve the purpose of getting the chew out of your Shorkie while also helping keep teeth clean in a natural way. The cotton is 100% pure cotton and the toy also has a natural rubber that uses non-toxic dye should your pup give it a good gnaw.
4. Toozey Puppy Toys for Small Dogs
We love the Toozey Puppy Toy Packs for your Shorkie because they are the perfect size. Each toy ranges from 4 to 8 inches except for the larger tug rope that is meant for the two of you to play together. As you know, just because your pup is little doesn't mean they aren't as destructive to toys as larger breeds. With this pack of 12 assorted toys your Shorkie will have the pick of the litter to try to pry apart. Included in the pack there are 8 different 100% natural cotton stuffed squeaky plush toys and 4 natural cotton rope toys. For your dog he will just see the basket of fun but you will know you chose right as the toys are durable, non-toxic, bite-resistant, safe and washable. Thousands of customers agree, you simply can't go wrong with the Toozey Puppy Toy Pack.
Is there anything cuter than your Shorkie with a binky? We'll bet you think not after you see yours with this adorable 'binky' treat toy from Kong. You can use food kibble or treats and it'll stimulate your dog's gums and give them something to do and chew on at the same time.
6. PetStages Mini Bone Tug Toy.
This Tug Toy from PetStages is the perfect size for you and your little Shorkie to play tug with. It's got rubber grip they can really sink their teeth into, and because they are fragile, it's small enough for you to not worry too much about too hard a tug. It's bright and fun so don't be surprised when they play on their own too!
7. JW Durable Non-toxic Chew Toy.
We love this spiral-shaped, non-toxic chew toy from JW because it's a unique design and your Shorkie can really get into it–literally, watch it work at it with its little paws! It can make a great teether or all-the-time toy.
8. Ethical Pets Sensory Ball.
This awesome ball from Ethical Pets appeals to your Shorkie's senses, with a sound bell and squeaker, and beef-scent and taste. There are different textures all over the ball to encourage chewing and the bright colors are inviting.
9. Pawaboo Eco-Friendly Stuffies.
These stuffies are plush and soft, and have a squeaker to get your Shorkie's curiosity growing. They're eco-friendly, with minimal seams and stuffed with environmentally friendly PP and when they're well-loved, you can throw them in the washing machine to make them good as new.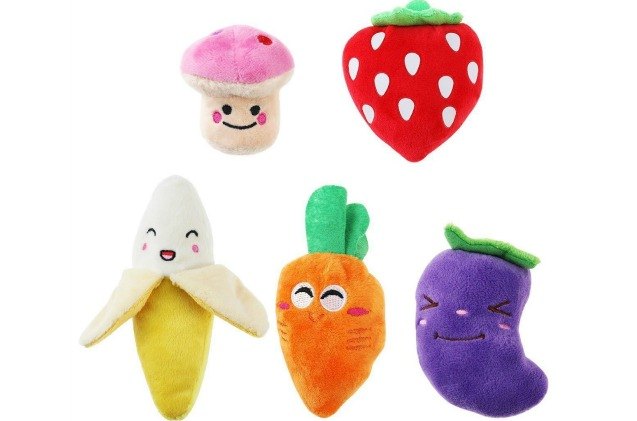 10. Ueetek Veggie Toys. Make sure your Shorkie gets his fruits and veggies with these chew toys from Uteek. They're non-toxic and with squeakers so if your pup gets zealous in chewing, no worries. They're also machine washable!

Published February 4th, 2022 12:00 AM