26 Views
October 14th, 2021 12:00 AM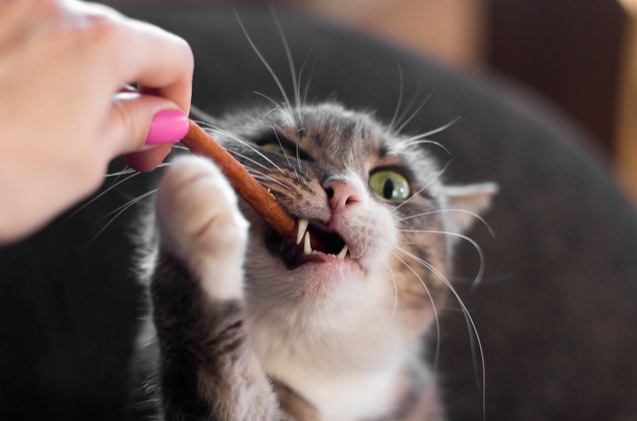 Cat treats are an excellent way to reward your four-legged friend for their good behavior – or just pamper them like they surely deserve. From treats that promote good oral health to those formulated to complement special diets, there's a treat for any good kitty out there.
Nothing rewards good behavior like a well-earned treat. Likewise, nothing motivates a lazy kitty as much as a crunchy little bite to eat. Quality cat treats are nutritious, healthy, and great for positive reinforcement training- and, if chosen properly, they can make a big difference in your cat's dental hygiene. Needless to say, considering their many benefits, cat treats should be a part of your pet's daily routine and diet. (And no, no cats were holding me at gunpoint to write this.)
Having in mind the age-old fact that cats can be super stubborn and natural-born troublemakers, it's easy to see that cat treats can be a big helping hand in correcting any unwanted behaviors. When used as tasty rewards and a way of positive reinforcement, cat treats become a valuable training tool that helps us make a willful kitty into a model pet. Besides this, they can also help deepen the relationship you have with your pet- I mean, who wouldn't love you more if you bribe them with yummies?
However, finding adequate treats for your cat can be a challenge. They need to have optimal nutritional values, healthy ingredients, and a limited amount of calories so all that pampering doesn't make your cat a big chonk of a kitty. To help you with your choice, we found the best cat treats on the market that can make your feline friend happy and healthy to boot!
1. Editor's Choice: Purina DentaLife Cat Treats
No kitty treat is good if it ruins the teeth! And a cat without healthy teeth is quite vulnerable to a range of health issues. Purina DentaLife Cat Treats ensure that those chompers stay healthy and sparkly white! These cat treats are scientifically tested to remove dental plaque and to help maintain clean and healthy teeth. Crunchy and with a porous texture, these delicious treats are made without any artificial flavors or sweeteners and contain good amounts of protein, fiber, and calcium. They come with an irresistible savory salmon flavor, which is guaranteed to become your kitten's new favorite taste. Great for maintaining a healthy diet for your cat and also preserving oral hygiene!
2. Runner Up: VitalEssentials Freeze Dried Vital Cat Treats
There is no better snack for your cat than real, unprocessed food, and Vital Essentials delivers exactly that: the best, healthiest, and most important nutrients in their raw and pure form. You can choose from a variety of foods: from Ahi tuna bits, whole chicken hearts, whole minnows, all the way to duck liver, chicken, or rabbit bits. Each of these foods was not processed and has simply been freeze-dried for 48 hours to preserve flavor and nutrients. VitalEssentials Freeze Dried Vital Cat Treats contain no artificial preservatives, flavors, or colors and are a great choice for sensitive stomachs and picky eaters.
3. Customer's Choice: Sheba Treats Meaty Tender Sticks
Did someone mention meat? There is no kitty in the world that doesn't adore meaty treats- after all, they are obligate carnivores. Sheba Treats Meaty Tender Sticks contain no corn, wheat, soy, or any artificial flavors, and are based entirely on meaty ingredients. There are three available flavors: chicken, tuna, and salmon. The rest of the ingredients making up the sticks are pork, turkey, livers, pork rinds, and others. Needless to say, these treats are filled to the brim with important vitamins and protein, all of which are important for your cat's health. They are individually wrapped and vacuumed, ensuring maximum freshness with every meal. The sticks have special grooves, which help you to break off parts at a time and portion out their yummy rewards.
4. Best for Positive Reinforcement: Rachael Ray Love Bites Nutrish Cat Treats
Chicken flavor usually makes cats go nuts, so it doesn't surprise that chicken treats make for a perfect bribe. Rachael Ray Love Bites Nutrish Cat Treats are packed with flavor and small in size, making them a great reward for a job well done. Pure chicken breast meat is the number one ingredient of these treats, and there are no artificial flavors or poultry meat by-products. This ensures that only the best quality ingredients make way to your cat when you're treating them to a yummy bite. The treats are designed with a crunchy outer shell and a meaty, soft filling in the center. The shell helps remove dental plaque and preserve healthy teeth and gums, while the soft core makes for an irresistible treat.
5. Best for Picky Eaters: Blue Buffalo Wilderness Cat Treats
Kitties are notorious picky eaters- they won't eat just anything as most dogs would. If your pet is among those with a refined palate, try Buffalo Wilderness Cat Treats. Real chicken is the primary ingredient in the formula, making the treats delicious and rich in proteins. The flavor is full and will entice most kitties with ease. These treats contain no soy or grain, no poultry by-products, and no artificial flavors whatsoever. A great source of fiber and healthy fats, these treats are all oven-baked. This process gives them that iconic crunch that cats can't resist. Another plus on the list of criteria those pickiest of eaters seem to have!
6. Best Freeze-Dried: PureBites Freeze Dried Chicken Breast Cat Treats
Chicken breast is one of the best things you can offer to your pet. Rich in proteins, this delicious meat is extremely important for cats – but it isn't easy to transform into cat treats that are easy to store. PureBites Freeze Dried Chicken Breast Cat Treats make sure your pet gets all the nutrients and all the flavor of chicken breast without compromising on convenience. Pure chicken breast pieces are freeze-dried and all the good stuff is preserved. With no extra ingredients and artificial additions, and with an average of 2 calories per single treat, these tasty bites are some of the healthiest on the market! A healthy solution, these treats are great for cats of all ages (seniors especially), and can be a healthy alternative to high calorie treats that diabetic or obese cats can't have.
7. Best Wet: Hartz Delectables Lickable Stew Treats
Some cats might appreciate it when nibbles are not so…crunchy and hard! Senior cats in particular can have sensitive teeth (or have none anymore), and these wet treats are ideal in such cases. A combination of a rich and flavourful sauce and finely chopped bits of chicken, tuna, or whitefish meat, Hartz Delectables Lickable Stew Treats provide the perfect balance between nutrition and easy eating. Delectables come in small, 12 ounce packets, which makes them ideal for a quick and tasty little snack. Plenty of unique flavors are available, including tuna, whitefish, shrimp, chicken, and others. There is also a special variety made specifically for senior kitties, which contains more sauce and helps with digestion and kidney health.
8. Best for Overweight Cats: Fruitables Crunchy Cat Treats
Fruit is a very underrepresented ingredient in pet foods in general. With plenty of vitamins and important nutrients, fruit needs to make a big comeback into pet treats. Fruitables aims to do exactly this, and offers crunchy, delicious meat-based treats with plenty of fruits added! They come in three irresistible combinations: salmon and cranberry, chicken and blueberry, and tuna and pumpkin. The end result is a low-calorie, tasty treat with just the right amount of proteins and vitamins without any of the bad stuff that would make your pet even fluffier. There is limited use of any other ingredients, with an emphasis on only quality foods. To that end, Fruitables also don't use any animal by-products in their tasty treats- and each treat is less than two calories as a result.
9. Best Grain-Free: Whole Paws Grain Free Treats
Grain is not always a good addition to cat treats. It can lead to obesity, diabetes, and plenty of other issues. That's why it is always important to go for treats that have little to no grain added! Whole Paws offers a fantastic and healthy zero-grain treat that also includes veggies into the mix. This delicious chicken and peas treat contains only the very best ingredients and is made with quality poultry meat. Also added is a healthy mix of flaxseed, pumpkin, apple, and carrots, which boosts up those vitamins and balances out your cat's nutrient intake. All of these aspects are crucial for maintaining great health and a functional diet, which makes these meat and veggie treats a great choice for most cats.
10. Best for Dental Care: Feline Greenies Dental Cat Treats
For every pet, dental care is an absolute must! Healthy teeth ensure the healthy functioning of everything else. Quality treats such as Feline Greenies Dental Cat Treats will also ensure that your kitty's teeth are sparkly clean and plaque-free. These dental treats are a number 1 veterinary recommendation when it comes to good dental hygiene. Made with only natural ingredients, they help freshen the breath, clean the teeth, and remove tartar buildup. With chicken and salmon being the main ingredients, you know your cat will be getting the very best nutrients from each treat. They are also quite light on calories, with less than 2 per treat. This makes them great for ensuring a balanced and healthy diet. Feline Greenies are packed full of vitamins and essential nutrients, which make them an all-around favorite for many!
What are the Benefits of Cat Treats?
Cats are willful creatures. Every kitty owner is familiar with that incredible stubbornness that a cat can have, and their desire to do only what they want and whenever they want it. But they usually depend on you for one very important thing: their food. Gone are days of mouse-hunting cats that eat whatever they can hunt. Most pet cats today live indoors and depend on you to get their food. Taking this into consideration, we can make treats work for us in a number of ways- in addition to being a yummy treat for our cats.
Dental Care
One of the major benefits of healthy cat treats is their ability to contribute to and maintain your cat's dental health. As we all know, a set of healthy teeth is a cat's major strength. Without them, the quality of life decreases significantly. Many cat treat brands found a great solution for maintaining good dental hygiene. Crunchy treats help remove plaque and tartar, while some also freshen the breath and add that sparkly white shine. Certain brands also incorporate important vitamins and added calcium, which can also help oral hygiene. However, senior cats whose teeth are already gone due to old age or that have painful gums will benefit more from soft, wet lickable treats. Hard and crunchy nibbles can do more damage in these circumstances
Great for Training
Training is not often thought of as an activity for cats, but felines also benefit from some basic training and can be successfully trained at that. And the number one aspect of a successful training process is positive reinforcement. Reward your cat for positive results and milestone achievements. Cat treats are an ideal solution for this reward system. Your cat will be quick to listen and respond to training, knowing that a tasty, crunchy treat is waiting in the end. And that makes cat treats the secret superweapon of every owner.
Good for Digestion
Indigestion and gastrointestinal issues can be a big problem for cats and all other pets. Often enough, these problems arise from an unbalanced diet and unhealthy foods. It is imperative to find the foods that can benefit your cat in the long run. Cat treats are most often made with chicken meat as the number one ingredient, and usually contain no grains and no artificial flavorings, and similar ingredients. This makes them an ideal snack that won't harm your cat's digestion and can contribute to a balanced gastrointestinal system.
Healthy Diet
And that brings us to an important aspect of your cat's wellbeing: diet. It is imperative to offer your pet all the important nutrients that will ensure balanced health in all aspects. Quality cat treats that rely on good ingredients are certain to contribute to a balanced diet. Most contain a solid amount of proteins, vitamins, calcium, fiber, and other vital nutrients. What is more, cat treats are usually quite low on calories. If you are trying to maintain a diet that will lower your cat's weight, low-calorie treats are a great helping hand.
We are committed to finding, researching, and recommending the best products. We earn commissions from purchases you make using the retail links in our product reviews. Learn more about how this works.

Angela Vuckovic
A proud mama to seven dogs and ten cats, Angela spends her days writing for her fellow pet parents and pampering her furballs, all of whom are rescues. When she's not gushing over her adorable cats or playing with her dogs, she can be found curled up with a good fantasy book.
More by Angela Vuckovic
Published October 14th, 2021 12:00 AM