20 Views
September 29th, 2021 12:00 AM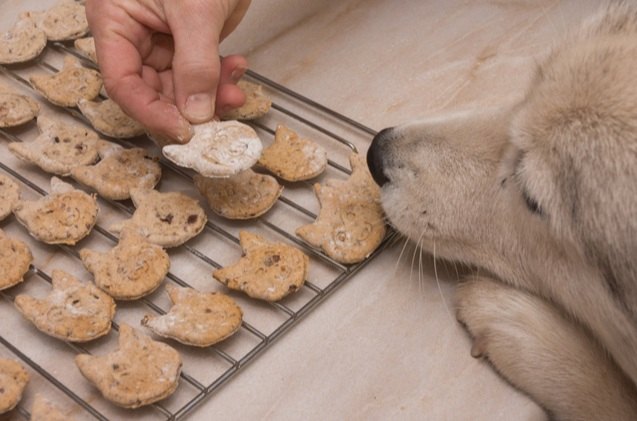 Dog treats are much more than snacks for your pooch: you can use them in training, as a supplement, or to keep their teeth squeaky clean and their breath fresh. Whatever your pet's needs are, you'll find a perfect match in our list of best dog treats below!
Treat yo' pooch- they deserve it. Dog treats are not just an always-welcome snack but can be a valuable tool in the training process, a way to supplement your pet's diet or keep their oral health up to standards. There are dog treats in every flavor, size, and texture out there, and while the diversity is great, it can make it more difficult for you to narrow down your choices. But, it's important to do your research before doling out goodies to your four-legged bestie. Go for dog treats that have clean ingredients and won't do more harm than good, as well as those that are appropriate for their size and age category. Sometimes, you need dog treats to be a bit more than a reward for good behavior, and you want a snack-sized goodie that will actually help promote a healthier gut, reduce inflammation, or keep your dog's teeth plaque-free and their breath smelling less like eau the doggy and more like minty goodness. We got you: our list of 10 best dog treats includes everything from 100% natural dog treats to dog toothpaste in the form of a treat, so read on to pick the best for your pet!
1. Editor's Choice: Three Dog Bakery Assort Mutt Trio
Can anyone in the world say no to soft-baked cookies? I didn't think so. Well, your pooch now gets in to see what all the fuss is about as Three Dog Bakery Assort Mutt Trio offers a wholesome and delicious alternative for pooches. These soft-baked cookies for dogs come in 3 flavors: oats and apple, peanut butter, and vanilla, and all are made from all-natural, nutritious ingredients and slow-cooked in small batches in the USA. Needless to say, these are so good that you'll be tempted to take a bite yourself! (But don't- while your four-legged bestie will go bananas for them, they'll taste too bland to you.) The soft crumbly texture makes these treats suited for dogs of all sizes and ages- even puppies with small teeth and seniors can enjoy munching on Three Dog Bakery Assort Mutt Trio cookies. The best part? They are a healthy treat to boot!
2. Runner Up: Full Moon All Natural Human Grade Dog Treats
With a simple question- "if you wouldn't eat it, why would you feed it to your pet?" Full Moon sums up why their dog treats are so great. Made from human-grade ingredients in the USA, these kitchen-crafted treats meet strict USDA standards fit for human consumption and contain no fillers, artificial flavors, preservatives, and colors. Additionally, Full Moon All Natural Human Grade Dog Treats contain no harmful fillers such as glycerine, corn, wheat, or soy- just natural goodness inside. These jerky treats are available in chicken flavor which is made from USA-grown, cage-free, antibiotic-free chicken and beef jerky made from USDA approved beef raised on family ranches. And not only that these human-grade dog treats are made from clean ingredients, but they also have an irresistible flavor and a chewy texture that will keep your pupper occupied for a long time!
3. Customer's Choice: Milo's Kitchen Dog Treats
Bite-sized, wholesome, and yummy- what more could any pooch want? Milo's Kitchen Dog Treats are made in the USA with real chicken as the first ingredient and meet the applicable standards and specifications of the USDA, the FDA, and the AAFCO, so you don't have to worry about dubious ingredients lurking from the back of the bag. The treats don't even contain any artificial flavors or coloring! Thanks to their size, these "meatballs" can be used as a reward in training or to treat your pet to an occasional snack. And if you have a puppy or a small dog, you can easily break the treat in two to make it easier to chew on and to make the bag last longer. Soft, chewy texture makes them a favorite with pups of all sizes and ages, and the savory chicken meatball flavor will have your pooch's tail wagging!
4. Best for Chewers: Wild Eats Natural Ear Dog Chews
If you have a dog that's an enthusiastic chewer, you already know how hard it is to find treats and toys that will last longer than one afternoon- in the best-case scenario. Wild Eats Natural Ear Dog Chews are a great choice for pets that need a treat that's a bit more challenging to destroy and one treat that they'll actually get to savor. These one-ingredient chew treats are made from grass-fed, free-range water buffalo ears and contain no preservatives, additives, hormones, or any of that icky stuff. These exotic protein-packed treats boast 14% more protein and 89% less fat than beef rawhide and 28% more protein than pig ears and are not just nutritious, but a good choice for dogs that need to reduce the calorie count in their diet or have food allergies. Not to mention that they are tough and chewy – and will pose a challenge for most pooches!
5. Best for Bad Breath: Perfect Poop Digestion & Health Supplement for Dogs
Bad doggie breath should be treated at the source and not just masked with fresh-smelling treats. Perfect Poop Digestion & Health Supplement for Dogs relieves digestive issues and establishes a healthy gut flora- which, in addition to clean teeth- is the very thing that can improve your pet's breath. GI imbalance can lead to foul-smelling breath even if your pet gets their teeth cleaned regularly, so if that's the case with your pooch, you'll love these. And your pet will, too- the yummy chicken-flavored bits are tasty and nutritious. These treats are also grain-free, gluten-free, non-GMO, and packed with immune-boosting and digestion-balancing ingredients such as pumpkin and prebiotics.
6. Best for Sneaking Pills: Greenies Pill Pockets Natural Dog Treats
Getting your pet to take their meds can be a daunting task- especially if they are onto you. So what better way to sneak in their pill than in a pocket made out of treats? Greenies Pill Pockets Natural Dog Treats are designed to house tablets and capsules and at the same time, mask the smell and the taste of the medicine so your dog will be none the wiser. The yummy peanut butter flavor is a favorite with all pooches so it will be hard to resist even if your doggo suspects something is going on. Just put the pill inside the pouch, pinch it and give it to your pet- it's as easy as that. Low-fat and made with natural ingredients, these pill pocket treats can make your life so much easier.
7. Best for Puppies: Wellness Natural Grain Free Puppy Training Treats
Puppyhood is an exciting time in a dog's life- it is a period of life where they learn all of the important skills they'll need throughout their life. For their owners, this means a lot of training, and a lot of treats to be used as a reward for good behavior. Wellness Natural Grain Free Puppy Training Treats are a perfect choice because they are so tasty that they'll instantly motivate your pupper to put in the work to earn a yummy treat and their small size makes them suitable for puppies to enjoy. They are also a natural source of DHA, which is important for healthy cognitive development, and will make sure that your pooch has no problem catching up with the training. Available in lamb and salmon flavor which are soft treats, or carrot and chicken with a crunchy texture- a little something for everyone!
8. Best for Sensitive Stomach: Natural Balance L.I.D. Limited Ingredient Diets Dog Treats
Dogs with food allergies or sensitive stomachs might have a reaction to generic dog treats, so if you want to avoid gassiness, vomiting, or even rashes, it's best to go for dog treats with clean and limited ingredients. Natural Balance L.I.D. Limited Ingredient Diets Dog Treats contain no fillers, artificial preservatives, flavors, or colors, and no added corn or wheat. The main ingredients in these crunchy dog biscuits are potato and duck, sweet potato and bison, sweet potato and chicken, sweet potato and venison, sweet potato and fish, or brown rice and lamb- there are 6 tasty flavors you can choose from. And the best part is that these are great for all life stages and breeds- any pooch can enjoy them equally.
9. Best for Small Dogs: Old Mother Hubbard Classic Original Assortment Biscuits Baked Dog Treats
Petite pooches need tiny treats (despite what they may think) and Old Mother Hubbard Classic Original Assortment Biscuits Baked Dog Treats are the perfect size for small breed dogs and puppies. These bone-shaped treats have crunchy texture dogs love and the assortment bag includes 4 flavors so no need to worry your pooch will grow bored of them. Slowly oven-baked and made from natural ingredients such as chicken, oatmeal, sweet apples, carrots, and cheddar, these dog treats don't just taste good but are good for your pet. Plus, the 3 lb bag goes a long way for a small breed dog, so these are also great value for money!
10. Best for Dental Health: Ark Naturals Dog Brushless Toothpaste Dental Chews
Teeth brushing can be an ordeal- for the pet and the owner alike- but that doesn't mean you should neglect your dog's oral hygiene. A good way to stretch out the time in between brushings for a day or two as well as to boost your regular dental hygiene routine is to introduce dental treats that will help fight away the plaque and keep your dog's breath fresh. Ark Naturals Dog Brushless Toothpaste Dental Chews are a 4-in-1 dog treat: the outside ridges clean teeth and mechanically reduce plaque and tartar, they freshen the breath, are tasty, and fun to chew, and they have a toothpaste center. Additionally, they are corn-ree, soy-free, wheat-free, and have no artificial colors or preservatives in the formula. A great treat by all accounts!
What to Look For and What to Avoid in Dog Treats
Just because they taste good to your dog, it doesn't mean that they are good for them! Unfortunately, not all dog treats are made from wholesome ingredients that nourish your pet's health- many contain additives, artificial substances, or are laden with fat, fillers, sugar, and essentially can be considered junk food for pets. Avoid dog treats that don't have transparent labeling and those that contain cheap fillers (such as corn or wheat) as well as artificial flavors, colors, or preservatives. Go for trusted brands that either have certificates and approval from relevant institutions or make their treats locally in the USA.
Choose treats according to your pet's size, life stage, and preferences- it might be a crunchy or a chewable treat, or a soft biscuit that gets your pet's tail wagging and the same goes for flavors. What you need to look for is real meat in the ingredients, preferably natural and human-grade ingredients in the formula, and if your pet is on a diet, a low-fat and low-kcal dog treat should be your first choice.
We are committed to finding, researching, and recommending the best products. We earn commissions from purchases you make using the retail links in our product reviews. Learn more about how this works.

Angela Vuckovic
A proud mama to seven dogs and ten cats, Angela spends her days writing for her fellow pet parents and pampering her furballs, all of whom are rescues. When she's not gushing over her adorable cats or playing with her dogs, she can be found curled up with a good fantasy book.
More by Angela Vuckovic
Published September 29th, 2021 12:00 AM