4.3K Views
Best Vet Recommended Dog Food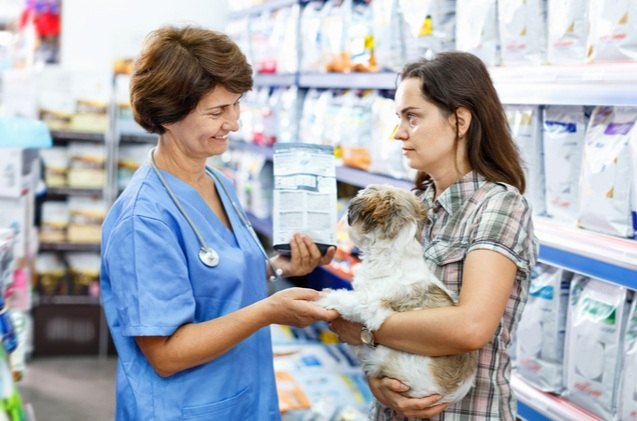 Vet recommended dog food comes with a seal of approval from those that know best what's best for our four-legged companions. Read on for the list of dog foods that veterinarians recommend as the best choices for pets of all shapes and sizes.
A healthy diet is essential for your dog's overall well-being. Not only that feeding the right type of food will make sure they are healthy, full of energy, and maintain optimal weight, but food can influence a myriad of common issues such as allergies or digestive problems. But how should you know which type of dog food is ideal for your pet? The safest bet is going for vet recommended dog food as these formulas have been either created by veterinarians or widely approved by them. This means that you've at least eliminated one big issue before narrowing down your choice- you'll know that the food you've picked is something that an expert would advise you to give your pet and that there are no potentially problematic ingredients or lack of important nutrients.
Next, you'll have to further customize the choice by considering your pet's tastes, medical history, and your own budget. Some pooches prefer wet food, others love kibble, and some might need their diet to help them recover or keep in check a certain health problem, such as diabetes or obesity. To help you make the best choice, we've rounded up the best recommended dog food out there- all you have to do is pick one that will suit your pet's requirements the best.
The name says it all: This veterinarian-recommended dog food will provide multiple benefits for your pet's health. Hill's Prescription Diet w/d Multi-Benefit is formulated to support your pet's weight management journey while helping maintain optimal glucose levels, and keeping their bladder and digestive tract healthy. This formula is ideal for overweight and obese dogs or those that need to keep their weight in check: It contains vet-authorized levels of L-carnitine which may help your dog metabolize fat faster and more efficiently while building lean muscle. Additionally, this is a low-fat, low-kcal food that may help reduce weight gain and will keep them feeling full thanks to soluble and insoluble fiber.
If your dog has been struggling with frequent UTIs, ask your veterinarian if this food could be a smart choice because of its S+OXSHIELD TM. You can get Hill's Prescription Diet w/d Multi-Benefit formula as dry food or wet food, so no matter which type your pet prefers, they'll get to reap all the benefits of this veterinarian-recommended dog food. And remember, you need to consult your veterinarian before getting any vet-authorized food.
2. Runner up: Royal Canin Medium Breed Adult Dry Dog Food
In case you have a healthy adult pooch, chances are you won't need any special formula to keep them happy and thriving- but that doesn't mean they should eat any type of kibble you find. Royal Canin Medium Breed Adult Dry Dog Food is tailored to the needs of dogs that weigh between 23 and 55 pounds and are over 12 months of age up to 7 years old. In other words, adult dogs that could be considered medium-sized will have all their nutritional needs met when eating this kibble.
Combining easy-to-digest proteins with healthy fibers, this dry food for dogs will make sure that your pet gets everything they need from the food to stay energetic and in good shape. Furthermore, the formula is enriched with EPA and DHA to keep their skin and coat healthy and shiny, as well as a mixture of antioxidants and prebiotics which support their overall immune system.
3. Customer's choice: Purina Pro Plan with Probiotics
Tasty AND healthy, this vet recommended dog food might be just the thing for picky dogs. The secret of Purina Pro Plan with Probiotics is that it combines hard kibble with tender shredded pieces so their food has an appetizing texture that dogs seem mad about (the savory chicken flavor also doesn't hurt). This dry dog food boasts a high protein formula with real chicken as the first ingredient and rice as a healthy source of carbohydrates, so it's a good choice for most pooches. It is also fortified with essential fatty acids for dander-free skin and a glossy coat, as well as live probiotics to promote better digestion. All in all, this is a solid choice for most dogs without any health issues or dietary preferences.
4. Best fresh food: JustFoodForDogs PantryFresh Dog Food
What do vets recommend for dogs that don't eat dry food? Not all dogs love eating kibble, but that doesn't mean that there aren't any healthy alternatives. There is plenty of vet recommended wet foods out there, even fresh ones such as JustFoodForDogs PantryFresh Dog Food that are vetted by experts. If you want your pet to eat natural, homemade meals but lack the time or the skill to prepare them, this is a fantastic alternative. Made from human-grade ingredients in a USDA kitchen, it is gluten and grain-free (beef flavor only), as well as free of artificial preservatives and colors or any feed-grade ingredients.
Your pooch can choose between a few tasty options, including beef and russet potato, chicken and white rice, lamb and brown rice, and turkey and whole wheat macaroni. This food is a good choice for active, large dogs that burn off a lot of energy- it could cause a weight gain in a couch potato, so be careful.
5. Best grain-free: ORIJEN Dry Dog Food
Just like people, some dogs might be sensitive to gluten and grains, so the only logical choice is switching to vet recommended grain-free dog food to eliminate the issue. ORIJEN Dry Dog Food has a protein-rich, biologically appropriate formula that is made with fresh region ingredients and combines multiple protein sources into one. This kibble is made from meat, organs, cartilage, and bone of free-run chicken and turkey and wild-caught fish, further enriched with cage-free eggs.
Another great thing about this kibble is that it strives to be as close to raw food as kibble can be: with 15 fresh or raw ingredients in the formula, it will naturally support your pet's immune system. There might be no carbs on this list, but the ingredients pack a powerful punch- and will make sure your pet's grain-free diet doesn't lack any of the important nutrients.
6. Best for large breeds: IAMS Proactive Health Large Breed Dry Dog Food
Big dogs have big appetites and it's important to satiate their hunger with high-quality food to keep them healthy and in top form. IAMS Proactive Health Large Breed Dry Dog Food is tailored to meet the needs of large and active dogs and fortified with all the essential nutrients to support their strong bodies. This vet recommended food has real farm-raised chicken as its first ingredient to make sure your pet gets all the protein they need and is enriched with vitamins and minerals needed to support joint and bone health, which are the two things big dogs often struggle with if they don't have a healthy diet and plenty of exercise. Additionally, the formula includes fibers and prebiotics to support your dog's immune system and promote better digestion- which is much needed when your big doggo snarfs up kibble in seconds.
7. Best for sensitive dogs: Blue Buffalo Natural Veterinary Diet Hydrolyzed for Food Intolerance
Allergies, intolerances, and sensitivities to food are common among dogs and require a special diet to avoid irritation and reactions. Blue Buffalo Natural Veterinary Diet Hydrolyzed for Food Intolerance is a medical vet recommended dog food that uses hydrolyzed protein (salmon) to eliminate potential allergens from the formula. This type of protein is easy to digest and contains all the necessary nutrients without the potential for irritating your pet's sensitive tummy. To boot, this formula also excludes grains that could have your pet itching and having digestive issues, so the chances of a reaction are minimal. Enriched with essential fatty acids, vitamins E and C, and antioxidants, this vet recommended food will boost your pet's immune system and help with their food allergy symptoms.
8. Best organic: Castor & Pollux Organix Organic Small Breed Dry Dog Food
A lot of pet parents want their dog to eat organically and holistically, and many veterinarians agree that is a good choice for their pet's health. Castor & Pollux Organix Organic Small Breed Dry Dog Food is one of those dry dog foods made from organic ingredients that veterinarians are happy to recommend- not only that it is certified organic by USDA but it also has a healthy formula that will support your dog's overall health. With organic free-range chicken as the first ingredient and no grains, GMOs, artificial preservatives, flavors, or colors in the formula, this tasty kibble is a great choice if you want to go organic with your pet's diet.
9. Best for puppies: Eukanuba Puppy Dry Dog Food Lamb & Rice
It is important to start with a healthy diet from the very beginning and that's why veterinarians recommend offering your puppy high-quality kibble as soon as they are able to eat solids. One of the vet recommended foods for puppies that pooches seem to love is Eukanuba Puppy Dry Dog Food Lamb & Rice, loved for the tiny size of the kibble and yummy flavor. The formula is perfected for dogs under 12 months of age and contains all the nutrients needed to support their growing bodies, including the very important DHA in optimal levels for cognitive development- which will help with puppy training, as well.
10. Best for digestion: Forza10 Intestinal Active Dry Dog Food
Some dogs have sensitive stomachs and most foods cause bouts of diarrhea, gassiness, vomiting, bloating, and so on. Not only that it affects their quality of life but it can also make it more difficult for their bodies to absorb nutrients from food, which in turn causes a myriad of different health issues. Forza10 Intestinal Active Dry Dog Food is vet recommended and vet formulated complete nutraceutical food for dogs with gastrointestinal disorders. It is created to eliminate the cause of the inflammation by excluding antibiotics, wheat, gluten, soy, corn, and GMOs from the list of ingredients. Instead, it uses healthy protein from wild-caught Iceland anchovies and therapeutic plants and fruits to support your pet's digestion while providing complete nutrients to boost their overall health.
What to Look for in Vet Recommended Dog Food?
While it's certainly a big advantage for dog food to be recommended by a veterinarian, that doesn't mean that all vet recommended foods are a great choice for your pet. There are tons of different formulas out there, each tailored to suit the needs of different dogs, whether it's because of their age, size, or health status. This is why you'll still have to do some research before settling on a brand- after all, you want to make sure your pooch is getting the best there is!
Formula
The first and foremost thing to consider is the formula. Grain-free, limited ingredient, organic, medical- there are options for every dog, so choose accordingly. In case your pet doesn't have any medical issues that should be helped with the right food or isn't on any special type of diet, then pick the vet recommended dog food according to their age or size (e.g. kibble for puppies or that meant for large adult dogs).
Flavor
Some dogs can be really picky so the taste of the food matters as much as its healthiness! Vet recommended dog foods come in a range of flavors from chicken and turkey to beef and fish, so you'll easily find a match for your dog's refined palate.
Ingredients
No matter if your pet is sensitive or not, there are some ingredients to avoid as a rule of thumb. This includes artificial colors, flavors, and preservatives added sweeteners or cheap fillers such as byproduct meal. Depending on individual cases, of course, this list might grow to exclude certain types of protein your pet is allergic to, grains, fats, and so on.
We are committed to finding, researching, and recommending the best products. We earn commissions from purchases you make using the retail links in our product reviews. Learn more about how this works.

Angela Vuckovic
A proud mama to seven dogs and ten cats, Angela spends her days writing for her fellow pet parents and pampering her furballs, all of whom are rescues. When she's not gushing over her adorable cats or playing with her dogs, she can be found curled up with a good fantasy book.
More by Angela Vuckovic
Published July 26th, 2021 12:00 AM