321 Views
September 19th, 2021 12:00 AM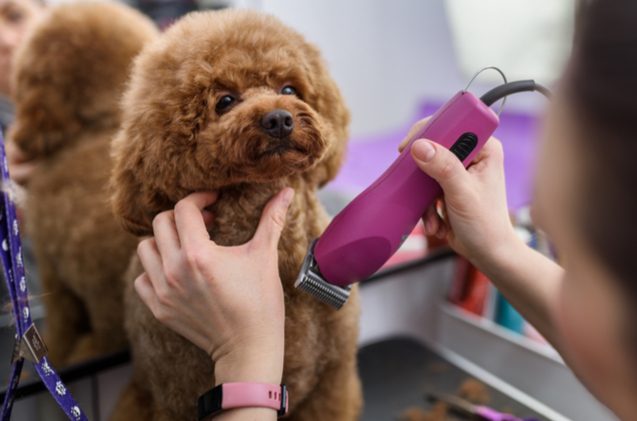 Dog clippers allow you to trim and groom your pet's coat from the comfort of your home. Not all of them live up to standards, though, so read on to learn more about picking out the best dog clippers for your pet's hair type!
It's not just about the looks- many dogs need regular trimming for a variety of reasons. The coat needs to be thinned out to help with the heat in summer and to prevent your dog from overheating. Mats and tangles can be difficult to brush out and the process can be painful for your pet. And yes, some dog breeds such as Poodle have a coat that is ideal for some truly pawesome doggy hairstyles. In any case, however, reliable dog clippers will be a must-have tool.
Now, there's always the option to pay to have your pupper professionally groomed at a salon. But this is often costly and time-consuming and can turn into a real challenge if your dog is not accustomed to the process. Luckily, with good dog clippers at your disposal, and just a bit of patience and practice, you can trim or shape your pet's coat with as much quality as the professional. So, no need to travel across town, pay hefty amounts for grooming, and stress out your doggo – it's time to take things into your own hands!
But before you make your selection, there are plenty of things you need to know. A good clipper has a lot of features that can make or break the grooming process. Also, there are certain aspects that can make the process much easier for you, even if you're a beginner. To help with the choice, we've rounded up the best dog clippers for anyone's needs and summed up all the important features quality dog clippers should have.
1. Editor's choice: Andis UltraEdge Dog Clippers
With a professional, high-end design and heavy-duty specs, this Andis UltraEdge Dog Clippers will give you everything you need to professionally groom your pet at home- this simple and powerful design will bring the salon grooming experience into your own house. With 120V of power, these clippers boast a much more powerful motor than some other design. To boot, it is very quiet and a true silent runner. Another superb feature is a detachable blade, allowing for quick and easy change and cleaning. The rotary motor offers you two variable speeds for achieving the best results and runs at 3400 and 4400 RPMs. A corded design, it boasts a 14' heavy-duty cord that emphasizes ease of movement and a tough build. A professional gadget through and through, this clipper will be an irreplaceable tool for pet owners, especially those that have a pet with a long or thick coat.
2. Runner up: Oster Clipmaster
Thick coats, matted coats, long wiry hair- nothing is too much to handle for the powerful Oster Clipmaster. A proper heavy-duty clipper, the Clipmaster boasts a sleek design and a powerful high-speed motor. With 45 watts of power and a powerful rotary motor with 2,100 strokes per minute, this clipper can plow through any coat and hair. It has an A5 detachable blade system, allowing easy replacement and quick cleaning. It also features a Cryogen X blade, which boasts a special cryogenic treatment for exceptional sharpness and durability. The housing on this model is chew-proof and ensures next to no motor wear over time. And even though it is a corded clipper, it still allows for plenty of maneuverability and flexibility. A great solution for everyday use with quality results.
3. Customer's choice: ElectriBrite Dog Clippers and Grooming Kit
When looking for reliable dog clippers, it is important to find a great balance between power, versatility, and good quality. ElectriBrite's design incorporates all of these – and then some! Great for all types of dog hair and coat, these clippers feature a high precision, sharp ceramic blade which also boasts a self-sharpening feature. Its powerful 36V motor has a high rotating speed of 6000 RPM which ensures that it won't have any trouble with even the thickest of hair. You also have plenty of adjustment to the blade length. These clippers come in a kit with plenty of other grooming goodies, including several guide combs, nail clippers, brushes, scissors, and files for keeping everything nice and sharp. So, if you are looking for an all-in-one kit that won't leave you disappointed, this is the one to go for!
4. Best Quiet: Miserwe Cordless Pet Clippers
Doggos that are not used to the whole grooming process are most likely to be frightened by the noise of the clippers. In these cases, it is best to rely on a clipper that is as silent as possible. Miserwe's unique professional design prides itself on a low noise output. With its precision and low vibration motor, Miserwe Cordless Pet Clippers easily offer ample power while remaining quiet. One of the great features of this clipper is its cordless design. Thanks to a rechargeable battery that utilizes a nifty USB charger, it can run for 70 minutes on end with just 3 hours of charging. With the cord eliminated, you can now use the design's full potential and reach every corner of your pet's body, including those hard-to-reach crevices. Of course, the design comes in a package with all the important goodies: you get the nail clippers, scissors, combs, and various comb guards to help you keep your pooch in top shape.
5. Best on a Budget: Oneisall Dog Clippers
When you want to take care of all those delicate and hard-to-reach hairy spots on your dog, it is good to have a lighter, versatile clipper close at hand. Oneisall Dog Clippers has a modernized design that covers all the crucial aspects of a reliable dog clipper while boasting a budget-friendly tag. This design is cordless and boasts a powerful rechargeable battery with a USB charger. Its super-fast motor prides itself on a low noise output of just 60 dB. The whole clipper has a sleek and ergonomic design that sits perfectly in your hand. With its smaller dimensions, it won't be an issue to trim the hairs in delicate places, such as the ears and around the nose and snout. The clipper is made from IP67 waterproof material, which helps you to use it in the bathroom with no worries.
6. Best Cordless: Petural Cordless Dog Clippers
Cordless clippers make for such a versatile and reliable design that makes the trimming process so much easier, especially for beginners. Without the rigid cord in your way, you can really approach grooming with that flexibility you need. Petural perfected the cordless concept with these high-quality clippers. Its 2200 mAh Li-ION battery gives you an amazing 5 hours of working time with just 2 hours needed to fully charge. A nifty LED display shows you the battery levels remaining as well as the power level. Petural Cordless Dog Clippers feature a powerful 12V motor with a low noise output, with different speed options. The blades combine a stainless steel and ceramic design, guaranteeing ultimate sharpness for any type of coat. Fully adjustable and utilizing several plastic guide combs, the clipper can help you create any sort of fashionable look you want.
7. Best Professional: Wahl Professional U-Clip
Wahl is a brand name in grooming that really needs no special introduction. Their U-Clip Deluxe design is perfect for bringing professional grooming skills into your hands. With a ton of high-end features, it leaves little to be desired. One of the foremost features here is a powerful rotary motor. It can deliver up to 7,200 strokes per minute, making short work of even the thickest dog coat. A corded clipper, it still retains plenty of flexibility that allows you to reach even the tricky places from all angles and makes sure you always have "juice" even when working on a more challenging coat. The kit that comes alongside this clipper is definitely a nifty addition, too: at your disposal are six professional comb guards, scissors, combs, and instructionals! This is a great stepping stone towards professional grooming and will satisfy even more demanding needs.
8. Best for Beginners: AIBORS 12V Dog Clippers
Simple to use and gets the job done- what more could a newbie need? Thanks to the powerful motor of AIBORS 12V Dog Clippers, it cuts through the hair like it's butter and makes the process fast and effortless. You'll get plenty of buzz with a 12V strong motor which provides an output of 7,500 rotations per minute. This also ensures that there won't be any snags or pulls during the grooming! The blades too are fantastic – a combination of stainless steel and ceramics, so the blade stays sharp for a very long time. The blades can be adjusted to your desired length, with four levels available. These are controlled with a nifty and easy-to-use slider that will make the process foolproof even if you're a first-timer when it comes to trimming pet hair. This pack comes complete with four diverse guide combs for total versatility.
9. Best for Multi-Pet Households: CONAIRPRO 2-in-1 Clippers
What happens when you are a proud owner of both a cat and a dog? No need to drain your wallet by purchasing two separate clippers to maintain their coats – with this superb design from Conairpro, you can do two things with one gadget! This superb clipper offers plenty of shearing power, and also has 5 adjustable blade positions for the ultimate trim. Together with it comes an impressive 17-piece kit with all the tidbits that every groomer needs. With this kit at your disposal, you can easily achieve any look that your pet needs, be it a pooch or a kitty. CONAIRPRO 2-in-1 Clippers sport a sleek and ergonomic build, with handy buttons and a wide bottom for an extra-secure grip. This is truly a robust clipper that can take a beating and still stay as sharp and precise as before. And when you hit a particularly wiry coat or some tough snag, your clipper won't let you down. Its powerful 120V rotary motor is strong on its own, but for a big challenge, it features a special turbo button that offers a 15% power boost and that extra kick that is needed. A versatile and reliable clipper, it is ready to tackle any grooming task you throw before it.
10. Best Rechargeable: Yabife USB Rechargeable Dog Clippers
No groomer – professional or otherwise – likes to be left without power in the middle of a job. Not only is it frustrating for you, but for your doggo as well – they can't waltz about with half a coat still untrimmed! That is why a rechargeable dog clipper needs to have a good battery life to be worth its salt. Yabife offers a design that prides itself on a powerful lithium ION battery that can be charged with a USB – quickly and anywhere you are! This dispenses with the tricky cords that can limit your grooming creativity, but without compromising on the performance longevity. Yabife USB Rechargeable Dog Clippers are also waterproof, allowing for quick splashes in the water for a thorough clean-up. A nifty LED screen provides all the necessary information, such as the battery power still remaining, or the level of power selected. The stainless steel and ceramic blade stays sharp even after endless trimmings and can be adjusted to your liking. What is more, the kit comes with plenty of guard combs and other nifty accessories, which brings the professional grooming experience right to your doorstep!
What are the Most Important Features of Dog Clippers?
Grooming your dog is not as simple as just plugging in the clippers and getting to work. There are features that can make it simple – or difficult- to cut your pet's coat at home. In general, the more features your clipper has, the more fluid and versatile the grooming process can be. Here are just a few of the key aspects to look out for
A Powerful Motor
Dog clippers almost always rely on rotary motors. As they operate, these little beasts move the blades of the clipper side-to-side, cutting the fur in the process. But a weak motor can't always give enough strength: an especially wiry or thick coat, snags, or dreads can all stop the clipper dead in place. That is why you should pay attention to the strength of the motor. More robust rotary motors are often reserved for corded clippers, but they make short work of snags and thick coats.
Rechargeable battery
If you opt for a cordless clipper for extra reach and maneuverability, you will likely have to rely on a rechargeable battery. These batteries have their pros and their cons but usually make the clipping much easier, as the cordless design allows you to trim all the hard-to-reach spots with ease. All you need to remember, though, is to start trimming with a fully charged battery!
Guide Combs
On its own, a dog clipper features its adjustable blade and that's it. However, in order to trim different lengths of coats, you will need to rely on guide combs. Most brands offer special sets to come with the clipper, that contains guide combs of all sizes. These allow you to trim your dog's coat to any length you desire. This can be as little as just one or two millimeters, or much more than that. But the thing is that they give you all the options you need, and for any aspiring groomer, that is the key to success!
We are committed to finding, researching, and recommending the best products. We earn commissions from purchases you make using the retail links in our product reviews. Learn more about how this works.

Angela Vuckovic
A proud mama to seven dogs and ten cats, Angela spends her days writing for her fellow pet parents and pampering her furballs, all of whom are rescues. When she's not gushing over her adorable cats or playing with her dogs, she can be found curled up with a good fantasy book.
More by Angela Vuckovic
Published September 19th, 2021 12:00 AM