26 Views
March 22nd, 2020 12:00 AM
We're committed to finding, researching, and recommending the best products. We earn commissions from purchases you make using links in our articles. Learn more here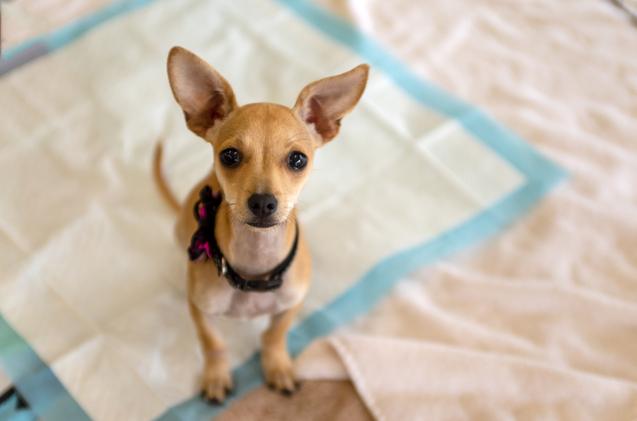 Puppy training pads help your pooch learn where to go potty and keep your floor protected from "accidents" in the meantime. Of course, not all pee pads for puppies are made alike–find out which of them are worth your money!
Puppyhood might be the cutest period of your pet's life, but boy can they be a handful while they are still young. From their inquisitive and energetic nature to teething and training, having a puppy is not all fun and adorableness- there's plenty of work, too. One of the most basic things you'll have to teach your puppy while they're still developing and learning about the world is where and when to go potty. Unless you want to come back home to puddles on your floor and spend years trying to figure out how to get rid of that horrible urine odor out of your carpets, furniture and basically, everything you own, you need to start potty training your puppy as soon as possible.
Needless to say, you'll need every tool at your disposal to make sure that the potty training goes smoothly–and puppy training pads will be a literal life-saver. These pads are designed to be highly absorbent and protective at the same time. Their function is to soak up your pet's pee and keep the surface beneath the pad dry and urine-free. Many pet owners use puppy training pads to aid with the training process itself or as a backup of sorts, to make sure their floors or carpets aren't ruined while they are in the process of housebreaking their dog.
In addition to being an indispensable product for pet parents who are potty training their pets, puppy pee pads have other uses, too- absorbent pads can come in handy for dog owners in a number of situations. For pets recovering from surgery or an injury, for old dogs that are incontinent, or just to make sure your pet has somewhere to go potty if you're working long hours, the usefulness of puppy training pads spans far beyond training purposes and puppy phase. Practical for use around the home, in your car and when you travel, puppy training pads will make your life so much easier–and everything around you clean and odor-free. Of course, while many pee pads for puppies are advertised to be highly-absorbent and leakproof, it's not always the case. There are plenty of factors to consider before buying puppy training pads- if you want to make sure you're getting the best bang for your buck AND that your floors remain unscathed from your puppy's learning curve.
To make sure you'll know how to recognize puppy training pads that deliver on their promises and avoid poor quality pee pads that leak, retain odors and dry slowly, we've put together this buying guide. And, to really cut down on time you'll have to spend on looking for the right type of pee pad to make your potty training easier and more convenient we've included a list of best puppy training pads. Just pick one that fits your budget and preferences- you can't go wrong with any of them!
Editor's Choice: BarkBox Odorless Puppy Pads with Charcoal
These ultra-absorbent, leak-proof pads contain activated charcoal which will completely neutralize the odors, making sure you don't come back home to the overpowering urine smell. To boot, BarkBox unscented pee pads also have attractant pheromones that will entice your puppy to use them even if they prefer going potty outside. Fast-drying, anti-slip, and tear-resistant, these pads offer great value for money. BarkBox Odorless Puppy Pads with Charcoal come in regular, large, and extra extra large size and can hold between 5 and 8.5 cups of liquid.
Runner Up: PETMAKER Artificial Grass Bathroom Mat for Puppies
If your pet is stubborn about pee pads and doesn't feel comfy doing his business indoors, why not trick them with this artificial grass mat? Complete with a hard plastic tray, this odor resistant, the antimicrobial mat will give your pooch the pleasure of peeing on grass without them having to leave the house. While it does work for puppy training, this is not the ideal solution if you need something for the long run–eventually, mats have to be replaced and this can end up being pricey. This grass puppy training pad comes in small and medium.
Customer's Choice: American Kennel Club Fresh Scented Extra Large Training Pads
Ideal for big dogs or pets that have to rely on a pee pad while their pawrents are away at work, these extra-large training pads measure 30 by 28 inches and are designed to provide 24-hour coverage for dogs under 50 pounds. The built-in attractants ensure your pet wants to go potty on the pad, and the fast-drying, leak-proof, highly-absorbent surface ensures there's no mess or foul odors in your home.
Budget Buy: AmazonBasics Pet Training and Puppy Pads
If you need something cheap and convenient to get you through the puppy potty training stage, look no more. With a core that turns liquid into gel, these pee pads will dry quickly and won't leak and mess up your carpets. Even though these pee pads are nothing to write home about, they will do a decent job if you need to train your puppy or to get you through a long car trip with your pet. And with a price tag under $20 for a pack of hundred pads, they are practically a steal!
Best Reusable Pads: Pet Parents Washable Dog Pee Pads
If you're looking to cut down on the use of disposable pet products or simply want something durable and reusable, these washable pee pads are a great choice. Made out of the WickQuick fabric blend which is highly absorbent and fast-drying, these pads have a leak-proof bottom that makes sure that no pee comes through the pad. Machine-washable and budget-friendly, these premium pee pads come in 7 different sizes and are available in round and rectangle shape.
Pogi's Earth-Friendly Training Pads
Need to potty train your pooch but want to do it the eco-friendly way? These scent-free pads are made out of plant-based renewable materials–the core is fluff-pulp harvested from sustainable North American pine and the leak-proof liner is plant-based BioHybrid film. The fact that these pads are earth-friendly doesn't make them any less efficient than the classic plastic pads–they are highly absorbent and have built-in attractants. Pogi's Earth-Friendly Training Pads measure 24 by 24 inches.
With six layers and quilted pockets on the surface of the pad, there's no doubt that these heavy-duty puppy training pads can absorb a lot of liquid and keep it locked inside. The pee turns to gel as soon as it reaches the inner layers and the surface stays dry, so there won't be any tracking and stinkiness to deal with when you use these pads. And with 200 of them in one budget-friendly pack, you'll be covered throughout the training process or post-op recovery. The regular Wee-Wee Pads measure 22 by 23 inches.
Hartz Home Protection Lavender-Scented Odor Eliminating Gel Dog Pads
If you're worried that odorless pee pads won't eliminate the pee odor, try these lavender-scented puppy training pads that combine the power of perfume and flash dry gel technology to make sure the liquids dry quickly and leave no smell behind. Leak-proof and fast-drying, they won't leave room for tracking, smells, or any type of mess. Hartz lavender-scented training pads are available in regular, large and extra large size.
Frisco Training & Potty Pads
Whether you need to line your pet's crate or you're potty training your new puppy, these high-quality budget-friendly pee pads will be your new best friend. Super absorbent and with a fast-drying surface layer, these training pads soak up liquids quickly and lock in that wetness, protecting the surface below them from moisture and unpleasant smells. These potty pads measure 22 by 23 inches, a size that's optimal for most pets.
Simple Solution 6-Layer All Day Premium Dog Pads
In case you need pee pads because you're working long hours and your pet has to go potty indoors in the meantime, or simply have a large pooch who can produce a lot of pee in one go, these thick and highly-absorbent pads with great capacity are a great choice. Thanks to their innovative design that includes 6 different layers in a single pad, they can hold up to 10 cups of liquid without leaking or leaving the surface of the pad soaked. No mess, no smell, and no tracking- even if you have more than one pet using the pad or your pooch is using one for the whole day. Lavender-scented, these premium puppy training pads measure 23 by 24 inches.
When to use puppy training pads
As the very name suggests, puppy training pads are mostly used for potty training puppies. Their highly-absorbent design and convenience of use make them an indispensable tool in the process of housebreaking dogs, but it's not all they are good for. There are plenty of ways you can use puppy training pads, and here some of the most common situations when a pee pad could be a heaven-sent:
Post-op recovery
Your dog might have just gone through a spay or neuter procedure or they might have a surgery scheduled- in either case, going to the toilet will be problematic during their recovery. Even if he is able to walk at all, your pet shouldn't strain himself by going out to pee or poop. For some petite breeds, picking them up is an option (if it's safe for them to be held and handled in the first place) but if your pet is at least bit heavy, lifting them and carrying them outside and back inside will be difficult- if not impossible. A pee pad will allow your dog to do his business indoors, without having to exert himself after surgery.
Incontinence in senior dogs
In their golden years, dogs can experience different health issues and incontinence is one of the many that affect senior canines. In case your pet isn't able to hold it in between walks, you could make sure that there are no wet carpets or soaked sofas by making sure that your pet always lies down on a puppy training pad that will absorb any urine- whether's just minor leaking or a full-blown puddle. You could also use the pad to line their beds in case you're worried about them peeing during the night- fast-drying puppy pee pads are great for this use.
Traveling by car
When you're road tripping with your pet, his safety should be your primary concern- with proper car harness or booster seats, you will make sure they are securely tethered- but the second thing that you should worry about is keeping your car seats clean and dry. Some people prefer using waterproof dog car seat covers to prevent their seats being ruined in case of a potty accident during the drive (and overall mess dogs can make) but a puppy training pad can be a cheaper disposable alternative if you don't plan on making car travel with your pet a regular thing.
Crating
In case your pet has separation anxiety or simply needs to be crated while you're away due to his destructive habits, lining a crate with a pee pad is a good idea. Even though you should never leave your pet inside a crate for hours on end, accidents happen and your dog might have a potty accident even if they're not crated for long. With a puppy training pad as a liner, there won't be any mess to clean up after or residual odor in the crate- and the same goes for carriers and travel crates, too.
Owners absence
If you're working long hours and there's no one home to take your pet out for a walk while you work, it would be smart to leave them a puppy training pad so they could have a spot to go potty if the need arises. Housebroken dogs will "keep it in" even if it means waiting for the better part of the day, so it would be cruel to make them go through that ordeal if you know there's a convenient and a mess-free alternative to taking them out to do their business. A pee pad could come in handy for those days when you know your pet will have to wait a bit longer for your return.
Protecting floors
It's not only pee that puppy training pads could protect your floors from – and pee is not the only type of wet mess our dogs can make. If your pet regularly spills water, place a puppy training pad to keep your floors dry. Similarly, you could keep a pee pad near your front door so you could wipe your dog's paws from snow and mud before entering. Likewise, certain breeds are proper droolers, and this can begin in earnest quite early on. Pads can help here too.
What to look for in puppy training pads
Not all puppy training pads are made alike – in fact, there are some important differences to consider before deciding. The price, the features, the effectiveness: all of these will make a training pad good or bad. Of course, a lot of it has to do with your pup, their breed, and their character traits. Sometimes even the most ordinary training pad will prove to be the ideal selection for your picky pup. Still, it is important to go over all the aspects and to make a careful and thorough choice. Here are the most important features to look in pee pads for dogs:
Absorbency
This is the most important feature – you want a pee pad to be able to hold your pet's urine without leaking right away. Opt for highly absorbent pads with large capacities – some can hold up to 3 cups of urine comfortably! And if you find an offer that also manages to add smell neutralization or attractants, you will have an irreplaceable helping hand while training your pup to go potty.
Drying time
A fast drying top layer will prevent urine tracking and minimize the possibility of unpleasant smells spreading through your home. If a low quality pad fails to absorb the urine quickly or entirely, it can really become smelly and unhygienic, and further deter your pup from using it. Drying time is thus very important – always try to look for training pads that can quickly soak up all that mess.
Attractants
Not all dogs will be too crazy about using the pee pad to go potty – they might be used to going outside only or simply find every other part of the room more interesting to pee on than the pad itself. Also, some pups can be surprisingly stubborn, making training difficult. In this case, attractants are a must: these can be pheromones, ammonia or other dog enticing scents that will make your puppy want to use the training pad. Training pads with attractants can be a true game changer if you are not too successful with other, ordinary pads.
Smell neutralization
Your floors might stay dry when your pet uses the pee pad, but what about the smell of urine? Go for puppy training pads that have odor neutralizing properties or come fragranced to mask the smell – but be warned, these fake perfumes might deter your pooch from using the pad. Still, if you introduced them carefully and early on, your pup will ease into them and the fragrance won't be an issue. But for you it will be a welcome feature – masking that pee smell with surprising ease and putting an end to the nasty and smelly surprises.
Durability
Flimsy cheap pee pads are not always leak proof and can easily rip if your pet is a bit destructive, so be sure to go for sturdier, well made pads that will do the job of holding in the urine and not disintegrate with the slightest tear. Similarly, you can opt for reusable pee pads that can be washed and used over and over. This can be immensely helpful at the early stages of training – saving you plenty of time and money. And thanks to the durability, these pads will remain sturdy even after repeated washings.
No-slip options
In case you plan on using puppy training pads on hardwood floors or tiles, you will definitely need something that won't move and slip around. It ensures safety for both you and your dog. No one wants to accidentally slip on a pad and break something. Some pee pads come with adhesive backing precisely for these situations – the glue won't leave marks on your floors but will keep the pad in place until it's time to replace it. It is a safe, reliable, and smart solution to keep everything as safe as possible.
All in all, puppy training pads are a very important accessory for all dog owners – no matter your level of experience. We all know that having a puppy can be a demanding and challenging experience. These little goofballs have plenty of energy to spare, and they won't hold back from unleashing all of it around the home. However, training them from an early age will help you to form their character for the future. With care and consideration you can shape them into great puppers with superb manners.
Of course, if you neglect to do so, you might end up with plenty of work on your hands – a pup's character is formed early and so can be their habits, too. Luckily, there are plenty of useful accessories today that will help you with this, and puppy training pads are amongst the very best!
We are committed to finding, researching, and recommending the best products. We earn commissions from purchases you make using the retail links in our product reviews. Learn more about how this works.

Angela Vuckovic
A proud mama to seven dogs and ten cats, Angela spends her days writing for her fellow pet parents and pampering her furballs, all of whom are rescues. When she's not gushing over her adorable cats or playing with her dogs, she can be found curled up with a good fantasy book.
More by Angela Vuckovic
Published March 22nd, 2020 12:00 AM