133 Views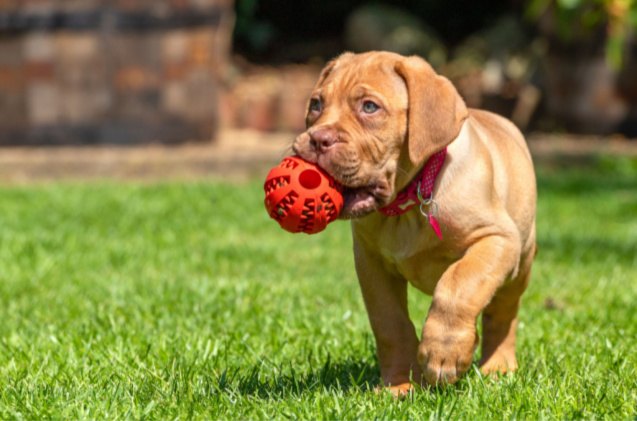 When food is in question, no one gets more eager than a pooch. They can snarf up treats and kibble with dazzling speed – like little vacuum cleaners! This, however, is not a good thing. Eating too quickly can cause bloating, digestion issues, constipation, vomiting, and a ton of other issues. It's imperative for owners to address this issue if they notice their pet is a greedy eater – and one of the possible solutions for it is treat balls. Designed with voracious eaters in mind, they can rapidly slow down the pace of eating and require dogs to complete a challenge before the treats or kibble are out. In just a few days, you can totally correct their habit of fast eating, and set their digestive system in order again. Read on to find the 10 best treat balls on the market and find a perfect match for your pet!
Editor's Choice: Outward Hound Nina Ottosson Treat Tumble
Is your doggo a real voracious eater? If so, remember that it is not always great for dogs to eat quickly and with a great appetite. It might cause some big issues with digestion and weight. This is quite important for treats too. If you want to make your pupper work a bit harder for its treats, this great IQ treat ball can really help. This slow feeder treat ball works for kibble too, as long as the pieces are small enough to pass through the holes. Promoting healthy and paced eating, this ball is great for digestion, but also provides some all-important mental stimulation. Super simple to fill and easy to clean, this treat ball is a nifty little gadget to have at home. When it is lunch or play time, whip it out and treat your pooch.
Pros
Great entry-level puzzle toy
Perfect for super fast eaters
Works with treats and kibble too
Cons
Plastic could be a bit sturdier
Runner Up: EVAN Dog Toy Balls IQ Treat Dispenser
In order to prevent your dog from munching food at lighting speed, utilize this unique IQ treat ball. Simply designed, this treat ball features holes of different diameters – as your doggo plays and tries to find the correct opening, the pace of the eating will also slow down. This not only prevents bloating and digestion issues, but also promotes mental stimulation. Great for those active, intelligent dogs that need a bit of challenge to stay out of trouble. The ball is easy to fill and simple to clean and quite sturdy as well. Great for all dog breeds, it shows us how a seemingly simple design can turn out to be a clever solution for digestion issues!
Pros
Easy to clean
Unique design
Durable
Customer's Choice: Starmark Everlasting Treat Ball
An everlasting treat? That sounds like a dream come true for every dog. This treat ball is not *really* everlasting, but it will come quite close to that! It is ideal for dogs that go through chews in a matter of minutes as it will force them to slow down and work for it. Housed in a unique dispenser, the treat is conveniently placed to be nibbled and chewed on for hours. It provides tons of mental stimulation and interaction, and it is virtually indestructible. On the other hand, it also promotes healthy gums and good dental hygiene. If you have a pupper that can't resist nibbling on furniture or your toes – try this treat ball! It will keep them occupied for quite a while!
Pros
Almost indestructible
Promotes dental hygiene
Great for bored dogs or dogs with separation anxiety
Best Natural Rubber Treat Ball: Feixun Dog Treat Toy Ball
Here is the ideal proof that even the simplest designs can work like a charm! This minimalistic but unique treat ball will give your pet a much-needed challenge before they are able to fully enjoy that tasty treat. This rubber ball has its unique gripping teeth outside, in between which you can place kibble or treats. Taking them out, however, requires a bit of an effort, so the pace of eating them becomes much, much slower. The ball is made from natural rubber materials and is free of harmful toxic ingredients. And, best of all, it can withstand quite a bit of chewing, promoting good dental health while your dog is having fun trying to get the yummy reward out.
Pros
Non-toxic natural rubber
Slows the pace of eating
Simple to clean
Very durable
Cons
Only certain treat sizes will fit
Best Puzzle Treat Ball: Ethical Pets Dura Brite Treat Ball
Another great and nifty little treat ball that seemingly looks easy to figure out, but instead hides a challenge. This TPR rubber treat dispenser ball contains a complex maze inside, through which treats and kibble have to go through to get to your pet, which significantly slows the process and mentally engages your pet. This puzzle treat ball features a specially textured surface for a better grip and more fun, and it is also partially see-through – to better entice your pet, of course! All dogs are bound to love this little teaser ball, as they eagerly try to get those treats to come out.
Pros
Challenging maze design
Holds plenty of treats
Easy to use
Best Treat Ball for Large Breed Dogs: KONG Stuff-a-Ball
Kong's unique Stuff-a-Ball is a treat dispenser that really explains itself. Just stuff this unique toy with the treats of your choice, and let the doggo try and pry them out. It is a ton of fun and mental stimulation, and it also helps with slower eating. This "ball" -– which has squared-off edges – is made from durable and chewy red rubber, and features special slits into which treats are hidden. These can be classic snacks, Kong's special "Easy Treat", or good old peanut butter smeared into the slits. Either way, your big doggo is bound to love the challenge!
Pros
Durable red rubber
Great for large dogs
Promotes good dental hygiene
Cons
Might get messy if you use PB
Best Treat Ball for Destructive Chewers: Jolly Pets Tuff Tosser
This "Tuff Tosser" might look like a regular treat ball, but it hides a secret – it's super durable and made to withstand the gnawing and chewing of an overly enthusiastic pooch. The center hole holds the treats, and while your cunning dog will certainly sniff it – it will take quite a bit of work to get the treat out. The ball is made from durable and safe rubber, with a special Jolly Pets formula that makes it extra enduring and suited for aggressive chewers.
Pros
Extra durable
Great for destructive chewers
Promotes good gum health
Cons
Size might not suit all breeds
Best Adjustable Treat Ball: Our Pets Atomic Treat Ball
Unique designs are always entertaining for our dogs. This atomic treat ball looks like no other! With its pronged design and an adjustable difficulty level, it can offer hours of fun and an adequate challenge for your little fast eater. A special internal layout that can be adjusted will dictate how difficult it is to get the treat. Either way, it should slow your pet down considerably, allowing for more moderate eating and no digestion issues. Super easy to use and to clean, it is moderately durable and can hold a decent amount of kibble or treats. Best of all, it helps with mental stimulation and chases boredom straight away!
Pros
Adjustable difficulty level
Unique layout
Easy to clean
Best Challenging Treat Ball: Pet Zone IQ Treat Ball
Sometimes, our dogs need a bit of a challenge in their daily routine to keep them engaged, entertained, and free from mischievous ideas. Thanks to this interactive and challenging treat ball, you can provide that mental stimulation and slow down the pace of eating. Made from durable and clear plastic, this treat dispenser features an internal maze and a spacious capacity for treats or kibble. To get one out, however, your pet will need to make an effort. This can provide hours of fun and keep them occupied, giving you some much-needed peace of mind. The treat ball is super easy to clean and use, and is moderately durable as well. However, avid chewers might prove to be too much for it as it can crack under a lot of pressure.
Pros
Ideal for intelligent dogs
Challenging design
Easy to clean
Cons
Could be a bit more durable
Best Treat Ball for Beginners: JW Hol-ee Roller
The all-popular Hol-ee treat ball is a fantastic and unique way to give your pet just a slight challenge during eating. This interactive treat ball has medium to large holes in its body and the treats won't take too long to fall out. Still, this is just enough to provide your doggo with a bit of a challenge, fun, and a slower pace while eating. Made from soft, stretchy, lightweight, yet durable rubber, this treat ball can take a bit of a chew and still stay usable after a while. It also comes in various different sizes, so you can find the one that perfectly fits your pet's breed and size. Great to tickle your pet's brain and make daily feeding just a tad bit more entertaining.
Pros
Easy to use
Durable but light
Comes in 3 different sizes
What Are the Biggest Benefits of Dog Treat Balls?
Regular, plain old eating from a food bowl is not at all bad for dogs if their pace is normal and the elevation is adequate. However, the feeding process for dogs can be so much more natural, entertaining, and stimulating when they have to "work" for it. After all, food and treats out in the open can allow them to set a pace that's not beneficial for their health. Treat balls come in to save the day as a fun way to introduce a healthy eating pace, provide mental stimulation to clever dogs that need a challenge, and much more. Here are just some of the benefits treat balls offer to dogs of all ages and sizes!
Mental Stimulation
Treat balls combine a reward with a challenge that's to be completed in order to reach it, which is a match made in heaven for those clever canine brains. Find a little maze ball or a complex labyrinth treat dispenser – either way, your dog will have to make a considerate effort to reach the thing they like most: treats. With that mental stimulation, the boredom of the day is gone, and the mood is set: fun and games!
Slower Eating
Of course, the number one benefit of treat balls is the reduced pace of eating. Most dogs are voracious eaters, and a quick eating pace can cause them many problems. Teach them that a slow, considerate pace is much better for their health, and utilize a treat ball to do so. They'll know a treat is in there, for sure: they can smell it after all. But getting it out takes time, and they will in turn savor the flavor and take their time munching it.
Oral Health
Another great benefit of dog treat balls is better dental health and good oral hygiene. Chewing on a rubber treat ball will massage gums, help remove plaque and tartar, and stimulate blood circulation. Ideal for puppies in teething stages to soothe the inflammation or for adult dogs to help maintain clean and healthy teeth throughout their life.
We are committed to finding, researching, and recommending the best products. We earn commissions from purchases you make using the retail links in our product reviews. Learn more about how this works.

Angela Vuckovic
A proud mama to seven dogs and ten cats, Angela spends her days writing for her fellow pet parents and pampering her furballs, all of whom are rescues. When she's not gushing over her adorable cats or playing with her dogs, she can be found curled up with a good fantasy book.
More by Angela Vuckovic
Published September 27th, 2023 11:08 AM