98 Views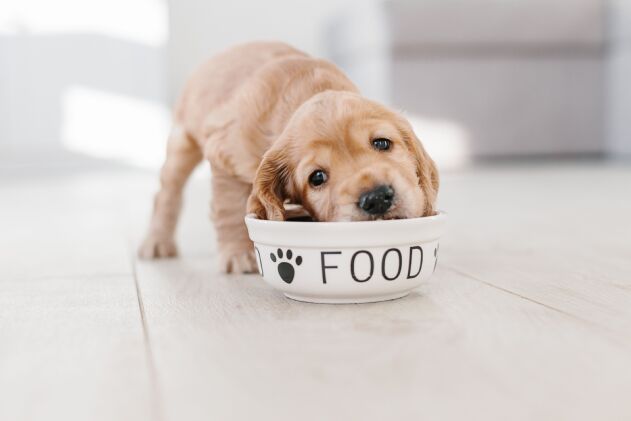 We all have the preconception that dogs are voracious eaters that are always hungry and want more food than they should have. Well, some of them are like that – but usually when it comes to tasty foods that humans are eating and selfishly not sharing with their pets (yes, my dog made me write that). But when they are offered bland ole dry kibble, their enthusiasm can wane a bit. Well, don't be the one to buckle under the pressure of puppy eyes and give them foods they shouldn't have – because there is a solution. Dog food toppers are designed to satisfy the pickiest of eaters and make their owners' lives easier. Stick to feeding them kibble, only enhance it with tasty and nutritious dog toppers that will add a ton of flavor to their meals, and even improve the nutritional profile of their meals. We've selected the 10 best dog toppers on the market to help you find the yummiest option for your picky pooch!
Editor's Choice: iHeartDogs Dog Food Topper
What a great way to support and improve your pet's digestive health while adding a rich, savory flavor to kibble they grew bored of. This grain-free dog topper adds a ton of nutritional value to your dog's food bowl and makes their meals so much more palatable. It is free from gluten, soy, or grains, but contains a blend of superfood fruits and veggies, complete with either cage-free Arkansas chicken or grass-fed pasture-raised Texas beef. To boot, this dog topper contains probiotics that will benefit your pet's digestion and support their overall health. And as icing on the cake, serving this topper is super simple – just sprinkle some over your dog's usual kibble and watch them munch away!
Pros
Added probiotics
Wholesome, healthy ingredients
Pasture-raised beef main ingredient
Runner Up: Herbsmith Kibble Seasoning
Is your doggo always turning up their nose when served plain kibble? That's nothing a bit of Hebrsmith topper can't fix. Their flavor-rich "kibble seasoning'' will make any bland dog food taste like a gourmet meal. In addition to being yummy, this dog topper is also a healthy addition to your pet's meals with just 2 main ingredients: orange and duck! A unique mix, but one that captivates with its flavor and benefits with its nutritional value. It contains no fillers, no grain, no soy, or any other artificial ingredients. That way you are certain that your pet is getting only the best in their food.
Pros
Easy to use container
Freeze-dried raw
Human grade, USDA-inspected duck meat
Just 2 ingredients
Cons
Some dogs dislike the orange flavor
Customer's Choice: Stella & Chewy's Freeze-Dried Dog Food Topper
Freeze-dried dog toppers can be such a great choice for adding some nutritional value to your pet's usual food. The secret is in its preparation: freeze-drying helps preserve a lot of the core nutritional value. It is because of this that the Stella & Chewy toppers are a fantastic option to boost your pet's daily diet. Made with as the main ingredient, this topper has a single source of animal protein that is crucial for the healthy development of your pup. You can choose between cage-free chicken, grass-fed beef, cage-free duck, grass-fed lamb, pork, wild-caught salmon, and cod, or go for cage-free turkey. Grain and gluten-free, this topper is one of the healthiest options on the market and with the greatest variety of available protein sources.
Pros
Rich in protein
Variety of flavors to choose from
Quality meat as the main ingredient
Freeze-dried to preserve nutrients
Cons
Just up to 8 scoops per bag
Best Beef Dog Toppers: Instinct Raw Boost Dog Food Topper
For doggos, beef is an invaluable source of animal protein and other key nutrients, but it also happens to be delicious – that's why it's a sure choice to go for toppers that are based on beef as the number one ingredient. These beef kibble toppers from Instinct are jam-packed with healthy nutrients, thanks to the wholesome, natural ingredients used: healthy veggies and fruits with top-notch, responsibly sourced, all-natural beef and beef organs. That way your pet will get the needed proteins as well as some vitamins, fibers, and other goodies. This supports their digestion while keeping their palate happy and their body in prime health! Soft and easy to chew, these toppers can add some "life" to that bland old kibble. And, of course, you can be certain that they have no artificial ingredients, gluten, or grain!
Pros
Natural beef as the main ingredient
No artificial ingredients
Soft and easy to chew
Nutritious and healthy
Best Chunky Dog Toppers: Blue Buffalo Wilderness Trail Toppers
All dogs are unique, which means they have different preferences. Some like their food dry and crunchy, while others just love it mushy and moist. If your pup falls into that latter category, then these chunky and moist toppers will work like a charm for them. These Blue Buffalo Wilderness toppers are made with only the healthiest and all-natural main ingredients. This variety pack of 12 pieces per box contains both beef and chicken toppers, each one in its flavor-packed gravy – a sure-fire way to turn the old dry kibble into a tasty, palatable feast. Real meat is the number one ingredient, enhanced with vitamins and minerals, and there are no artificial ingredients, or cheap fillers such as corn, wheat, soy, or chicken by-product and meal. Only the best meat for your four-legged friend.
Pros
Makes ordinary kibble very palatable
Chunky bites in gravy
Quality meat as the main ingredient
Boosts hydration
Best Freeze-Dried Dog Toppers: K9 Natural Grain-Free Freeze-Dried Dog Food Topper
How do you make sure that all the nutrients in fresh, wholesome foods are preserved when dog toppers have a long shelf life? Freeze-drying is the secret! These K9 toppers are one of the ideal ways to nudge your picky eater and make their ordinary food a true specialty. These toppers are made almost entirely from meat and come in 5 different flavors: King Salmon and New Zealand grass-fed lamb, New Zealand grass-fed beef, New Zealand grass-fed lamb, New Zealand cage-free chicken, and New Zealand Hoki and beef. This unique mix of meats ensures a fantastic boost of proteins, vitamins, and other essentials. Great for high meat, high protein diet that will keep your dog muscular, lean, and happy – not to mention enthusiastic about mealtime again.
Pros
Great for an all-meat source diet
Great nutritional value
A fantastic source of protein
Clean and healthy
Best Salmon Dog Topper: HOLI Freeze Dried Salmon Dog Food Topper
Salmon can be such an underrepresented meat source in dog food. This is odd since salmon is so rich in protein, omega fatty acids, as well as crude and essential nutrients. This dog food topper from HOLI features freeze-dried salmon as one of the best sources of healthy animal protein for pooches that love fishy flavors. It is super easy to use – just add one tablespoon of this finely ground topper to your dog's regular food and you will instantly make it healthier and more appetizing. This wild-caught salmon is rich in Omega 3 oils and in Vitamin B and will do wonders for your pet's skin and coat. Needless to say, this topper contains no coloring, no preservatives, grains, gluten, or other artificial ingredients. What is more, you can choose from other flavors as well to switch things up, ranging from beef and chicken to lamb liver and turkey.
Pros
Finely ground
Rich in Omega 3
Lean but protein-packed
Freeze-dried for best quality
Best Wet Dog Toppers: The Honest Kitchen Bone Broth POUR OVERS™ Wet Toppers
Wet dog toppers are an ideal way to add some much-needed juiciness to your dog's dry food and boost their hydration along the way. These bone broth meal enhancers are based on a natural slow-cooked stew with chicken meat and healthy veggies as its number one ingredients. With that, you can be certain that only the healthiest nutrients are contained in this pour-over topper. Of course, it is free from artificial ingredients and grains as well. If you had trouble attracting your dog to its usual food, maybe it is time to try this unique wet topper! After all, a sloppy, tasty broth is hard to resist, even for picky canines.
Pros
Hydrating and nourishing
Human grade dog food
Makes food more palatable
Best Dry Dog Toppers: Beaumont Basics Flavors Food Topper for Dogs
One of the main advantages of these unique Beaumont dog toppers is how easy they are to mix in with food. Just sprinkle them over your regular kibble like you are seasoning it, and that's it! That's all it takes to turn ordinary kibble into a tasty and irresistible canine feast. These dry dog toppers are made with natural ingredients and feature various tasty and unique flavors. These include peanut butter, cheddar cheese, chicken, and red meat. A little something for any doggo! Of course, these toppers are grain-free and use human-grade quality ingredients in their formulas. As each of these little jars is enough for 44 servings, these dog toppers could be a good choice if you're on a budget or have more than one dog.
Pros
Works with all types of dog food
Little goes a long way
Four unique flavors
Human grade quality ingredients
Cons
Not for extremely picky dogs
Best Meaty Dog Toppers: Wellness CORE Simply Shreds Wet Dog Food Toppers
There is something about these shredded toppers that doggos simply cannot resist. If you want to really make your pooch as voracious and hungry as can be, try one of these Wellness wet toppers. Made with chicken, beef, tuna, or wild salmon, these high-quality premium shreds will transform any bowl of dog kibble into a five-star dinner. Great for making dry foods moist and juicy, Wellness Simply Shreds are full of crucial nutrients that can be found only in high-quality animal meat. Free from fillers and artificial ingredients, it is a healthy and tasty selection for any dog.
Pros
High-quality meat shreds
Juicy and flavourful
Great for adding moisture to meals
Source of protein
What to Look For in Dog Food Toppers?
When dog food toppers are considered, the options and variations are numerous. They come in many textures and tastes, and you often have to adapt in order to satisfy your dog's personal preferences. Of course, not all dogs are the same, and it might be a process of trial and error before you find the ideal choice for your pet. However, there are some aspects of dog food toppers that you should always look out for to narrow down your choices to the best options.
For dogs to be their best selves, it is crucial that they have a balanced and healthy diet. Dog food toppers need to be packed with protein, fibers, minerals, vitamins, fatty acids, and other essential nutrients. Always check the labels and make sure that only the healthiest, natural ingredients are included, as they are the key source of health.
Just like cats, dogs too can be picky about food because of its texture. Too crunchy or dry, too wet and slushy – many factors can deter them from the bowl in front of them. What's more, senior dogs that have sensitive gums and teeth can also be deterred by crunchy or hard, chewy foods. Luckily, dog food toppers come in a variety of textures and variations. You can choose from those juicy, chunky types, finely ground ones, or even crunchy ones and broths. Just find the version that you know your dog can't resist, and you are set!
In order to ensure that the dog topper of your choice has the right nutritional value, make sure to study the ingredients. It is always best to go for real foods and meat-based toppers, made from human-grade or high-quality chicken, beef, salmon, tuna, or others. These meats are the best source of animal-sourced proteins and other vital nutrients that dogs simply cannot go without. Of course, the best toppers will mix real meat with some veggies and even fruits. This adds fiber too and helps with digestion and gut health. Just avoid ingredients such as grains, soy, gluten, and artificial colorings and preservatives.
We are committed to finding, researching, and recommending the best products. We earn commissions from purchases you make using the retail links in our product reviews. Learn more about how this works.

Angela Vuckovic
A proud mama to seven dogs and ten cats, Angela spends her days writing for her fellow pet parents and pampering her furballs, all of whom are rescues. When she's not gushing over her adorable cats or playing with her dogs, she can be found curled up with a good fantasy book.
More by Angela Vuckovic
Published September 28th, 2023 9:50 AM