358 Views
September 28th, 2022 10:24 AM
We're committed to finding, researching, and recommending the best products. We earn commissions from purchases you make using links in our articles. Learn more here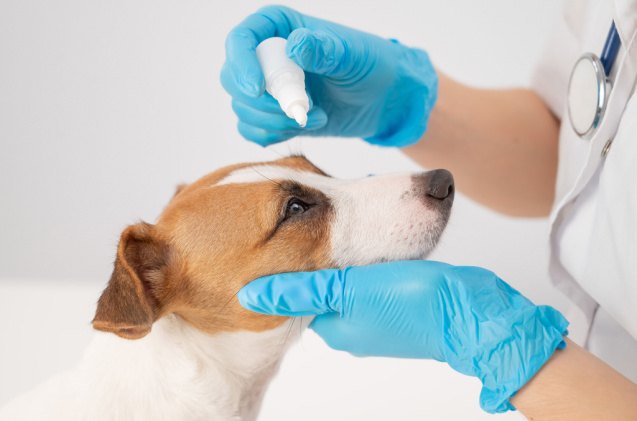 Unfortunately, most dogs will experience some kind of eye issue during their lifetime. Itchiness, dryness, pink eye, eye infections, gunk buildup, and tearing are all very common issues. But there's no reason to panic: the right eye drops for dogs will provide you with a quick and lasting remedy.
Whether it is dry eyes, conjunctivitis, tear stains or anything else that's bothering your pooch, there is a quick solution available – eye drops for dogs. Read on to find out our selection of the 10 best eye drops for dogs. Each one has a unique formula that works like a charm! Say goodbye to eye problems!
Editor's Choice: Vetericyn Plus All Animal Eye Wash
We all know that dogs can have quite sensitive eyes. Tears, gunk buildup, and irritation can be all too common. But good eye drops and eye wash can put an end to these issues. This fantastic, veterinarian-recommended antimicrobial eye wash is ideal for dealing with irritated pet eyes by flushing, cleaning, and caring for them on a daily level. It is a safe and efficient relief for most common eye issues. It is a unique formula that is safe for most pets – from dogs and cats all the way to horses. It is safe to use around the nose and the mouth and is recommended by leading vets. It is non-irritating, non-toxic, and contains no alcohol, steroids, or antibiotics. As such, it is safe for all life stages and virtually all animals! And that makes it great for everyday use around the household.
Pros
Easy to apply
No toxic ingredients
Great for everyday use
No irritation
Cons
Can be difficult to administer
Runner Up: Thomas Pet C Bright - Cleansing & Lubricating Eye Drops
It comes quite in handy to have reliable eye drops on hand that can suit both dogs and cats. This unique formula is designed to provide instant eye relief with a soothing, irritation-free sensation. It helps with itching and irritation that can be common with both cats and dogs, and also supports eye function and general health. The secret of this formula is in the blend of zinc and vitamin C, which soothes the eyes but also helps deal with irritation, itchiness, and discomfort. The drops are administered directly from the little bottle, thanks to a nifty integrated dropper. Ideal for dry and itchy eyes, these drops can bring relief to your four-legged friend in no time.
Pros
Integrated dropper
Efficient zinc and vitamin C blend
Ideal for dry eyes
Soothes irritation
Cons
Takes a while before you can see the results
Customer's Choice: Dr. Goodpet Eye-C All Natural Eye Drops
Every dog can suffer from eye irritation and itchiness at least once in his life. In such cases, it is best to have efficient and reputable eye drops to solve the issue in no time. These Dr. Goodpet natural eye drops are just the thing. Great for relieving minor discomfort and eye irritation, they contain both zinc and vitamin C – a sure recipe for quick relief. This natural solution is easily applied as it contains a classic dropper that allows you to apply the drops exactly where you need to. A great aspect of this formula is that you can use it preventively! It is great as a protective tonic that is ideal for overall eye health. Great for both dogs and cats, it is one of the essential remedies owners should keep in their medicine cabinets!
Pros
Classic and easy-to-use dropper
Can be used preventively
Ideal for relieving irritation
Best Eye Drops for Pink Eye for Dogs: Curicyn Pink Eye Solution
Conjunctivitis – also known as pink eye – can be quite a nuisance in the lives of our dear pets. But this Curicyn formula is an efficient solution. Recommended by veterinarians, it is an extra strong formula that eliminates pink eye and its nasty symptoms. Without any toxic ingredients, steroids, or antibiotics, this is a soothing solution that helps reduce inflammation and discomfort. Sometimes, even a single treatment with this powerful solution is enough to put an end to pink eye. But if it becomes persistent, simply repeat the process. It is safe and easy to apply, acts quickly, and is totally pain-free. In the end, your doggo will be quite thankful – and free from pesky conjunctivitis!
Pros
One time application
Acts quickly
pH Balanced
Easily applied
Cons
Doesn't work as well for more stubborn pink eye issues
Best Eye Drops for Eye Boogers for Dogs: All Pets Eye Wash Drops
Ah, yes, the yucky eye boogers. These are a nuisance for all doggos – and their owners too. And they can be quite tricky to get rid of. But that is nothing some reliable eye drops can't solve. This veterinary recommended solution contains a number of ingredients that are super efficient with this issue. These active ingredients include taurine, boric acid, chlorine ions, sodium chloride, and benzalkonium chloride. They efficiently remove clogging of the eyes, caused by dust, sand, and dirt, and will also relieve the puffiness and irritation of the eye. And when used on a regular basis it is great for reducing the risk of eye diseases. These drops are used once or twice per week, and the results should be quickly visible. Sodium chloride acts as an antiseptic to relieve possible inflammation, while taurine promotes the restoration of the retina and helps eye health in the long run. A fantastic and efficient formula!
Pros
Great for eye gunk and boogers
Restores eye health
Acts as an antiseptic
Relieves irritation
Large container
Cons
Could be challenging to apply
Best Eye Drops for Itching and Irritation for Dogs: Vetericyn Ophthalmic Gel
Dogs can often suffer from irritation in the eyes and the constant itching that follows it. This special ophthalmic gel from Vetericyn is specifically formulated to soothe and help these issues. Safe to use on all animal species, it contains no toxic ingredients, no antibiotics, and no steroids. Due to this, it is both non-irritating and non-sensitizing and recommended by veterinarians. Ideal for soothing itching and irritation that is caused by dust, pollution, dryness, infections, and similar causes. No rinsing is required after application, and the results can be seen quite quickly. The gel is applied 1 to 2 times per day as needed, and will soon do its work. Simple, potent – and efficient.
Pros
Efficient formula that acts quickly
No toxic ingredients
Simple to use
Great for regular use
Cons
Applicator can be a bit big for small breeds
Best Eye Drops for Tear Stains for Dogs: I-LID 'N LASH Vet Ocular Hygiene Cleanser
Dog tear stains are a natural occurrence, but they still look ugly and can cause some issues in the long run. This unique hygiene cleanser is ideal for removing tear stains and keeping the eyes in their prime health. Designed as a daily cleanser for the eyelids, facial folds, and lashes, it can effectively remove any residue, secretions, and staining. After just 7 to 10 days of daily use, it can help new fur grow in – without any stains on it. It contains no bleach, no shampoo, no harmful chemicals, and no antibiotics so it is perfectly safe for your pooch to use. This formula also helps eliminate those nasty eye fold odors and also helps soothe and hydrate both the eyelids and the skin around them. The formula causes no stinging or irritation, and there is no need for rinsing-off. Best of all, the application is super simple, thanks to an integrated metered dose pump!
Pros
Metered dose pump
Soothes and hydrates
Quickly removes tear stains
Cons
Takes at least several days to see the results
Best Eye Drops for Cataracts for Dogs: Plush Paws Products Advanced Lanosterol Solution
In the canine world, cataracts are a major issue that can come with advancing age. They can hamper vision and be quite difficult to deal with. But this professional and advanced formula from Plush Paws is ideal for fighting this common problem. It boasts a nanotechnology delivery system and combines a cataract-fighting power with the classic benefits of antioxidants – a mix that will quickly solve the eye issues your pet has. The formula helps with eye clarity, removes cloudiness, and alleviates symptoms of conjunctivitis, cataracts, blepharitis, dryness, secretions, itchiness, and keratitis. And all that is thanks to its main ingredients: lanosterol and N-Acetylcarnosine. These potent ingredients will make short work of the common eye issues, and can also work great as a preventive, too.
Pros
Potent and efficient formula
Nanotechnology delivery and antioxidant-based formula
Easy to apply
Can be used preventively
Best Eye Drops for Dogs with Antibiotic: Terramycin Antibiotic Ointment
For dogs with eye infections, antibiotics are a great and quick remedy. This ointment is specifically designed with special antibiotics that can be a rapid and powerful cure for irritations, infections, and itchiness of the eye. It is great not only for dogs, but for cats, horses, and other animals as well. Thanks to its professional formula, it can be helpful with conjunctivitis, pink eye, keratitis, blepharitis, corneal ulcers, bacterial inflammations, and many other eye-related problems. It is applied topically to the animal's eye, 2 to 4 times per day, as needed. It is a quick, efficient, and powerful remedy that can put a definitive end to many eye problems that pester your four-legged friend.
Pros
Extra efficient
Very powerful formula
Treats a variety of issues
Good for both cats and dogs
Cons
Might be a bit too challenging to apply
Best Eye Drops for Dry Eyes for Dogs: I-DROP VET PLUS Lubricating Eye Drops
Pros
Efficient and quick-reacting formula
Lubricates dry eyes all but instantly
Preventive role
Non-irritating
What are Some Common Eye Problems in Dogs?
All dog owners have probably encountered some eye-related issues at least once in their dog's lifetime. These issues can range from common and harmless, to rare and very harmful. Of course, with the common issues, many solutions are available, and eye drops for dogs are easily acquired and very useful. With the more serious issues, it is best to always seek help from your veterinarian – and if you're unsure if your pet's eye issues are mild or severe, opt for a consult first rather than going on a limb and using OTC eye drops for dogs.
Over-the-counter eye drops for dogs are great for a variety of common problems. The most common are itchiness, which is often caused by the dryness of the eyelids, accumulated dust, sand, particles, and dirt. Dryness can make your dog scratch profusely, and potentially damage the eye. With these lubricating eye drops, this is quickly resolved.
Eye gunk or eye boogers are another common issue and are caused by infrequent cleaning and accumulation of doggo tears. Left uncleaned, they are a big nuisance. Thanks to these eye drops and ointments, the boogers are gone and the undereye coat returns to its old glory.
Also possible are pink eye, cataracts, and similar issues, which can be treated with more powerful eye drops that contain efficient remedies recommended by vets. In most cases, it is your vet that will recommend you use them. And luckily, almost all of these eye drops for dogs are easy to apply and work in no time!
We are committed to finding, researching, and recommending the best products. We earn commissions from purchases you make using the retail links in our product reviews. Learn more about how this works.

Angela Vuckovic
A proud mama to seven dogs and ten cats, Angela spends her days writing for her fellow pet parents and pampering her furballs, all of whom are rescues. When she's not gushing over her adorable cats or playing with her dogs, she can be found curled up with a good fantasy book.
More by Angela Vuckovic
Published August 15th, 2022 6:36 PM