186 Views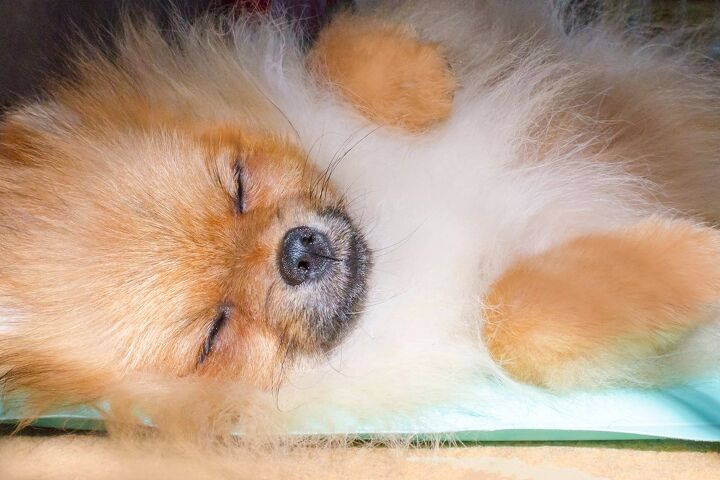 Dog heating pads are a great way to provide warmth and comfort for your pet in the chillier months of the year. Provide them with a nook of their own and guarantee a warm spot at all times – and all that without a lot of fuss!
It's important to make sure your pet is always cozy and comfortable, especially during winter. But this isn't always easy, especially if you have a small dog. Thankfully, convenient dog heating pads are here to save the day. Simple, efficient, and great for providing warmth when the temperature drops, these pads are a versatile and easy-to-use accessory that every dog owner needs to have. Here is our list of the best dog heating pads on the market. Read on and make your choice!
Editor's Choice: Toozey Pet Heating Pad
Pros
UL-certified heating wire
Durable
High safety standards
Cons
The cable could be longer
Doggos can be very vulnerable to low temperatures, even indoors. Dog heating pads are a valuable accessory that every dog owner needs to have. Toozey's design is great in so many ways but most importantly, it helps keep your pet comfy and warm. This electric heating pad has a nifty LED controller that lets you control the temperature, with 6 different heat settings available. Of course, the integrated timer with 4 auto shut-off settings helps keep it safe and reliable. The pad itself is super comfortable and sturdy, with a 7-layer protective design with UL-certified heating wiring in its core. As such, this pad is ideal for puppies, adult dogs, and seniors. It helps soothe aches and relieve pressure from joints, and is simply perfect for that great afternoon snooze.
Runner Up: DEOMAN Pet Heating pad
Pros
Safety shut-off feature
Durable
Great size
Dogs spend a lot of time indoors. When it comes wintertime, however, there might be a struggle to find them a comfy and warm place to lie down. This great electric dog heating pad is here to solve this problem. With its extra-large size, this heating pad will be great for any size dog – and big enough for dogs up to 70 lbs! Of course, this pad comes with an auto shut-off feature that prevents overheating and ensures safety. Its 6.6 feet cord is specially protected with 100% wrap-around bendable steel alloy, which prevents bored doggos from chewing through it and electrocuting themselves in the process. The heating is controlled with a practical adjustor, with high and low levels for ultimate comfort. And, of course, the pad features unparalleled durability – combined with exceptional softness.
Customer's Choice: RIOGOO Pet Heating Pad
Pros
Removable cover
Great safety standards
Durable
Great choice of sizes
All dogs – no matter how thick their fur is – can get chilly when it's cold outside. And that is why every doggo will love a heating pad of their own! This great pad was made with a 7 layer structure, both for comfort and protection sake. Heating is done with a special UL-approved heating wire that has a special sensor inside to prevent overheating and your dog getting burned. Adjust the settings with a special controller that allows a 1 to 12 hour time setting with an auto shut-off feature. The wiring is, of course, protected with durable alloy, so no chewing will harm it. Another great feature here is the removable polyester cover, which can be easily taken off and washed to keep the pad clean and fresh. This dog heating pad is overall a great solution for senior doggos, puppies, pregnant pets, recovering pets, or any doggo that just loves a comfy and warm snooze.
Best Waterproof Dog Heating Pad: PETNF Pet Heating Pad
Pros
Multiple size choices
Durable build
Waterproof
Flame retardant materials
Cons
Can benefit from higher temperature settings
Here's another unique design that covers all the essential aspects that a dog heating pad needs to have. With plenty of sizes to choose from, this pad is great for almost all dog breeds and sizes. You can also choose between three neutral color options to match your interior! That's some great variety, but what about the pad itself? Well, this design is great. It features a multilayered build, with flame retardant and waterproof materials. For an electric heating pad, these aspects are crucial. The wiring is covered by chew-resistant alloys, so even the most persistent chewers won't be able to break through. The heating controller has 6 different levels, as well as a timer for greater adjustability. Once the timer is done, the pad shuts off. What a great way to add to safety. And best of all, the cover is fully washable, allowing you to keep everything clean and fresh-smelling even with daily use.
Best Self-Warming Dog Heating Pad: Furhaven Pet Products - ThermaNAP
Pros
Safe no-electricity design
Machine washable
Insulated self-warming core
Tons of patterns available
Possibly the best way for your dog to take a nap is the ThermaNAP! Because there's no better thing than a warm, cozy snooze. Designed as a safe, electrics-free pad, this product features no cables and controllers. Instead, it perfectly captures your pet's bodily heat, retains it, and provides heat through its self-warming insulated core. How perfect is that? This creates a perpetual warm surface that will heat your pet as long as they are lying on it. And, of course, this all gives you some important peace of mind, as there is no electricity to worry about. All of this is thanks to the special polyester fiber batting core that is insulated and perfectly retains heat. The pad itself is easy to store, carry and is fully machine washable for that continual freshness.
Best Timer Dog Heating Pads: BurgeonNest Pet Heating Pad for Dogs
Pros
MET approved heating wire
Removable outer cover
5 time level settings
It is very important for a dog heating pad to have a reliable timer. It allows you to choose a time setting and know that the pad will auto shut off – and having that peace of mind means a lot. This BurgeonNest dog heating pad emphasizes that design. Their controller allows for 5 time level settings and that way you can perfectly adapt to your needs, without worrying. The pad itself is made from 7 layers that are arranged in a way to provide your pet with comfort but to stay durable as well. At the core is MET-approved heating wire, surrounded with flame retardant and waterproof materials for the ultimate safety. The cord is covered with a dual steel alloy, preventing any biting and accidents. Another great feature is the removable cover. Thanks to a quality zipper, you can quickly remove the outer cover and machine wash it, keeping your dog's little nook always smelling fresh!
Best Large Dog Heating Pad: Feeko Pet Heating Pad
Pros
Very soft and comfy FleeceCover
Great controller
Large sizes
Cons
Just two colors to choose from
Designed to provide your pet with the ultimate comforts at home, this heating pad is proven to drive away the wintry chill! This pad is perfect for those larger dogs that need some extra space: the design is offered in both large and extra-large sizes. On the outer surface of the pad is the special FleeceCover ultra smooth and soft cover, with IP68 waterproof material inside. In total, there are 7 layers inside, with UL-certified heating wire at the very center. The multifunctional controller allows for 6 temperature levels, from 80 to 130 Fahrenheit. Another great feature is a nifty timer, which ranges from 4 to 24 hours! The cord itself is covered with stainless steel chew-resistant alloy, preventing all dogs from nibbling on it. Overall, this is one of the best pads out there, and one that your doggo will certainly approve of!
Best Outdoor: K&H Pet Products Original Lectro-Kennel Outdoor Heated Pad
Pros
Hard ABS plastic
Removable fleece cover
Good size choices
This original, convenient, and reliable design is perfect for always keeping your pet warm and at all places – even outdoors. And that makes perfect sense, because when you are out on the deck or in the yard, both in summer and winter, your dog will be by your side, and lying down on the ground leaves them exposed to the cold. But not with this great pad. Made with a durable ABS plastic exterior, it is great for any type of surface, and will withstand the wear and tear of outdoor use. It features an internally regulated 80W thermostat, and a 5.5 feet long cable. There is no controller in this design: the thermostat responds to temperature changes and will warm to your pet's natural body heat. This MET-certified pad comes together with a special removable soft fleece cover, helping keep everything clean and fresh. Overall, it is a great design for those outdoor afternoons with your pet!
Best Indoor: RIOGOO Pet Heating Pad
Pros
Reliable design
UL-approved wiring
7-layer design
The weather outside is perfectly snowy. The ideal time to read a book by the fire. But what about your dog? The floor is chilly, and the draft is everywhere when you are a short pupper! A reliable heating pad is a perfect choice. Riogoo is a brand that perfected the indoor dog heating pad design, and utilizes all of the tried and tested features. The pad is made from 7 special layers, with a UL-approved heating wire in the center, surrounded by refractory wool and insulating PVC material. This gives it both a fire retardant and waterproof aspect. Also available is a reliable controller that ensures you can set up a timer between 1 to 12 hours, and adjust the heat settings from 80 to 130 degrees Fahrenheit. A versatile, safe, and by-the-book design that leaves little to be desired.
Best Extra Large: Fejapa XXL Large Pet Heating Pad
Pros
XXL size
Reliable design
Good safety measures
Cons
Just two heat level settings
A tiny doggo won't have an issue resting on a heating pad. But what about the super big boys? This extra-extra-large design from Fejapa caters to large breed dogs. Measuring 20 by 33 inches, this pad will comfortably house even the biggest of dogs. A six-layered design with a reliable 2.5mm heating wire at the core will provide plenty of comfort and warmth. The heating pad can generate from 80 to 125 degrees Fahrenheit, with low and high heat settings at 25 and 50 watts respectively. The pad is water-resistant, while its cord is covered with a steel alloy to prevent chewing. What a great way for your big doggo to stay warm as well.
What to Look for In Dog Heating Pads?
Dog heating pads are such versatile and efficient accessories, that you can make an endless list of their benefits and great features. But what are those key features that every dog heating pad needs to have? Knowing what to look for will make sure you get the very best design – and a heating pad tailored to your dog's unique needs.
Temperature regulation
No heating pad would be ideal with the ability to regulate temperature. Luckily, most of the designs come with integrated controllers that help choose from the lowest to the highest temperature settings. Find the one that works best for your pet!
Auto Shut-Off
Once you find that ideal temperature setting, you don't have to fear overheating. Most designs come with timers and auto shut-off features! That way, the pad turns off after a while, giving you the needed peace of mind.
Chew-resistant cable
We all know that doggos can't resist nibbling on things. This is especially true for puppies in the teething process. They just want to chomp everything. But chomping on an electric cable can be fatal. That is why high-quality dog heating pads have special chew-resistant, steel alloy cables that cannot be penetrated. That is an added dose of safety that is very important!
We are committed to finding, researching, and recommending the best products. We earn commissions from purchases you make using the retail links in our product reviews. Learn more about how this works.

Angela Vuckovic
A proud mama to seven dogs and ten cats, Angela spends her days writing for her fellow pet parents and pampering her furballs, all of whom are rescues. When she's not gushing over her adorable cats or playing with her dogs, she can be found curled up with a good fantasy book.
More by Angela Vuckovic
Published September 25th, 2023 8:52 AM