251 Views
October 18th, 2022 10:56 AM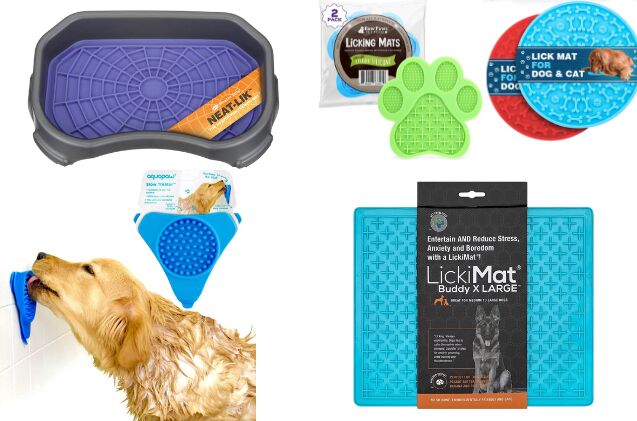 Designed to help slow your pet's eating and provide mental stimulation, lick mats are textured mats with different ridges and groves over which you smear soft foods and let your pet put in some work to reach them. You can use peanut butter, wet canned foods, yogurt, mashed banana, applesauce – whatever works for your pooch and can be smeared across the lick mat. You can even freeze the mats with the food inside for a refreshing summertime treat!
Of course, lick mats come in many shapes and sizes, and while it seems that there's not much difference between brands and designs, there are important variations that you should consider, such as durability, size, and material safety. To help you find the best option for your pet, we've rounded up the best lick mats on the market today – read on to learn more!
Editor's Choice: Mighty Paw Dog Lick Pad
Lick mats are a fantastic way to slow down fast eaters, alleviate stress, and keep a pooch busy, and this particular design excels at all of those aspects. The secret is in the 4 uniquely textured quadrants that offer varying levels of engagement and difficulty: the Easy quadrant is great for quick training rewards, the Fun quadrant acts as a slow feeder and provides enrichment, the Anxiety Relief quadrant can provide stress relief, and the Distraction quadrant is meant to keep your dog occupied for a good little while. This lick mat is made from BPA-free silicone that's completely dog safe, has suction cups on the back for a firm grip on any flat surface, and it's also dishwasher safe for effortless cleanup. All you'd want from a lick mat for dogs and more!
Pros
4 different textures and levels of difficulty
Made from pet-safe, BPA-free silicone
Strong suction cups for a secure hold
Can be frozen
Dishwasher safe
Cons
Not for aggressive chewers
Runner Up: Lukito Feeding Mat
If you're worried about the lick mat's ability to stay stuck to a flat surface, consider this design which features 77 suction cups on its back to ensure it will firmly stick to tiles, floors, meta – or any flat surface, really. Made with food-grade, BPA-free silicone, this lick mat has four separate textures to increase mental stimulation and make the experience more fun for your pooch, and can be frozen for cool treats in the summer. Perfect for engaging a bored dog, help redirect their attention and alleviate stress, and of course, slow down their eating – simply smear their favorite treat all over the mat and watch them work for the reward.
Pros
2 lick mats included in the set
Dishwasher-safe and BPA-free
Different textures on one mat
Can be used for frozen treats
77 suction cups for the firmest grip on flat surfaces
Cons
Can slip around on hardwood floors
Customer's Choice: Hyper Pet IQ Treat Lick Mat
Whether it's a generous serving of peanut butter, a dollop of refreshing yogurt, or some of your dog's favorite wet food smeared over this mat will be the perfect way to serve delicious treats for your four-legged bestie. The determination and the focus needed to lick the yumminess out of the textured surface of the mat are bound to keep your pet engaged, so this type of activity is perfect for restless dogs, dogs with anxiety, or simply pooches that gobble up their treats too fast to really enjoy them. The lick mat is well-made and durable, BPA and PVC-free, and fully dishwasher-safe. It is also made locally in the United States and comes with a 90-day limited warranty for pet chewing.
Pros
Great for beginners to lick mats
Keeps your pet occupied
BPA and PVC free
Can be washed in the dishwasher or frozen
Made in the USA
A limited warranty that covers chewing
Cons
No suction cups or other options to keep the mat in place so it slides around
Best Lick Mat for Large Dogs: LickiMat Buddy X Large
The majority of lick mats are designed to be somewhat of a "universal size", as in they are meant to be suitable for small and big dogs alike. However, that's not always a realistic description, especially when you have an extra large breed dog – who could easily flip over or pick up a mat that's too small for them. This is why this XL lick mat is such a great option for those big doggos – it's so large that it can even be used as a group feeder. It is made from food-grade rubber and is microwave and freezer safe.
Pros
Ideally suited for large dogs
Can be used for group feedings
BPA, PVC, phthalate, and silicone free
Even texture across the surface
Cons
Hand wash only – cleaning can be a hassle
Best Lick Mat for Small Dogs: Raw Paws Lick Pad Mat
Sure, you can smear some yummies on a portion of a regular lick mat for your petite pooch to enjoy, but if you want a smaller one that is more appropriate for your pet's size, this is the one to go for. Not too tiny to be messy but just big enough for your pet's treats to be evenly distributed, this paw-shaped lick mat is a perfect choice if you need something to distract your pet – e.g. during a bath, while you clip their nails, or if you want them engaged and occupied with their food. Made from BPA-free silicone, this lick mat has strong suction cups that will keep it firmly in place.
Pros
Perfect size for small and medium dog breeds
Cute paw shape
Sticks firmly to flat surfaces
BPA-free and dishwasher safe
Money-back guarantee
Best Lick Mat for Bath Time: Aquapaw Lick Mat for Dogs
Does your dog get squirmy when it's time to take a bath? Nothing works better than bribing them with a treat – stick this lick mat to the bathroom wall or shower glass, smear some PB on it (or your pet's favorite soft treat), and watch them be laser-focused on licking out the yummies while you're free to bathe them without any interruptions. Clever and effective! This lick mat will stay firmly in place thanks to 3 large suction cups on the back, and the deep ridges are perfect for a variety of foods. It is BPA-free, dishwasher safe, and can be used in the freezer.
Pros
Ideal for bath time
Deeper ridges for a variety of foods
Sticks for hours on the bathroom wall or shower glass/tiles
Suits dogs of all sizes
FDA-grade, BPA-free silicone
Dishwasher and freezer safe
Cons
Doesn't distract all dogs during bath
Best Lick Mat for Messy Eaters: Neater Pets Neat-LIK
Sure, the idea of lick mats sounds great – unless you have a messy eater, and you already know that, somehow, that soft spreadable treat is bound to end up all over your kitchen floor or god knows where. Don't worry, you can still treat your pet without having to deal with the mess, thanks to this clever design that combines a classic lick mat with a raised tray to keep their food contained and your floors clean. The mat is easy to remove from the tray (for humans), but will not slide or shift while your pet is using it – and it also happens to be made from food-safe and non-toxic TPE that is recyclable.
Pros
Tray raises the lick mat above the ground and contains the mess
Keeps dogs busy without the mess
Food-safe and non-toxic materials
Sturdy and tough
Cons
Mat is not dishwasher safe
Best Lick Mat for Travel: Kululu Portable Dog Lick Bowl
Whether you want to keep your pet occupied during travel because they are anxious in a new environment or simply want them engaged while you're focused on driving, this portable lick bowl is the way to go. It can be placed on the car window to make those long road trips more bearable for your dog, and since the sides are raised unlike with a regular mat, you don't have to worry about your pet making a mess in the car. The strong suction cup on the back will make it easy to stick this lick bowl on any hard flat surface and it can even be used as a water bowl on the go. It is made from BPA-free, food-grade silicone and is freezer and dishwasher-safe.
Pros
Ideal for travel
Multiple purposes – from water bowl to lick bowl
Strong suction cup
BPA-free, food-grade silicone
Can be cleaned in the dishwasher
Cons
The ridges could be deeper – licking treats off the bowl is too easy for some dogs
Best Lick Mat for Puppies: MooonGem Dog Lick Pad
The eagerness of puppies is hard to beat – when they are offered peanut butter or any soft treat, they'll try to snarf it up in seconds and end up with a messy face. That's why lick mats for puppies are a great idea, as they'll force them to slow down, keep them engaged, and contain the messiness (as much as possible with puppies). This particular set of two round lick mats is small enough to suit puppies of all size breeds, and features strong suction cups so it can be stuck to floors, walls, bathroom tiles, and even a fridge – any flat surface will do. Once your puppy is done with the licking, simply pull off the lick mat and put it in the dishwasher for effortless cleanup.
Pros
Smaller size perfect for puppies
2 lick mats and a silicone spatula for smearing included in the set
Adheres to any flat surface for up to 24 hours thanks to suction cups
Food-grade, BPA-free silicone
Dishwasher and freezer safe
Benefits of Lick Mats
Are lick mats for dogs just another pet industry gimmick or can they really benefit your pet? Like many innovative pet gadgets, for some, lick mats can be a tremendous help and for others, they simply won't do any wonders. The key is knowing your pet's needs and personality so you could make the right decision! Here are the main benefits lick mats provide to dogs – if your pet struggles with any of the issues described below, a lick mat might be just what they need.
Licking releases pleasure-causing endorphins in a dog's brain, which makes them feel relaxed, at ease, and creates a feeling of comfort. If you have a dog that's dealing with stress or anxiety, introducing a lick mat as a way to serve their treats can help alleviate their symptoms and induce a sense of calmness when they are agitated.
Helps distract dogs from bath time, nail clipping, grooming, etc.
Nothing keeps a dog's attention like some tasty food! If your pet dislikes being groomed, having their nails trimmed, or taking a bath, smearing some peanut butter or pate-like meaty food on a lick mat is a great way to redirect their focus from the task at hand and keep them relaxed throughout the process. They'll be engaged with treat licking while you're free to brush, bathe, and groom them!
Improves digestion through slow feeding
Greedy eaters don't just make a mess – they have issues with digestion due to fast eating. This is often very true for treats or special foods, as dogs get more eager about something that's considered a delicacy and can try to snarf it down in seconds. By offering them those special treats on a lick mat, you are forcing them to slow down and savor the flavors – the food is "trapped" between ridges and grooves and they will have to lick for a good while before they get all of the food out.
We are committed to finding, researching, and recommending the best products. We earn commissions from purchases you make using the retail links in our product reviews. Learn more about how this works.

Angela Vuckovic
A proud mama to seven dogs and ten cats, Angela spends her days writing for her fellow pet parents and pampering her furballs, all of whom are rescues. When she's not gushing over her adorable cats or playing with her dogs, she can be found curled up with a good fantasy book.
More by Angela Vuckovic
Published October 11th, 2022 3:02 PM