460 Views
10 Best Outdoor Toys for Dogs
We're committed to finding, researching, and recommending the best products. We earn commissions from purchases you make using links in our articles. Learn more here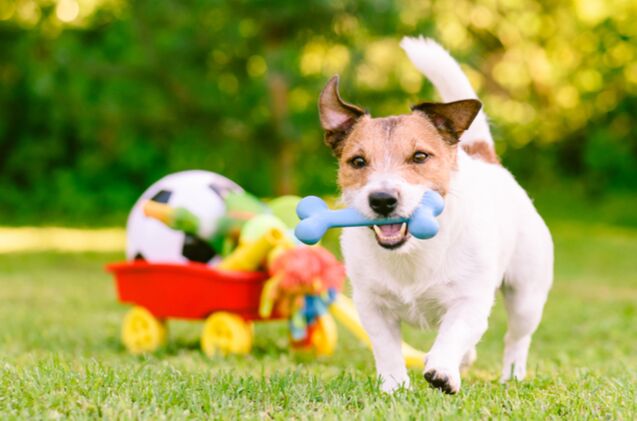 Nice weather means only one of two things in your pet's mind: walkies in the sun or an outdoor playing session! Dogs love playing outside with their owners or on their own (if they live in a home with a securely fenced yard), and let's be honest – some quality time with our four-legged bestie in the fresh air does us good, too. But, it's not always easy keeping your pooch entertained outdoors, at least not without tiring out yourself in the process. This is why it's important to have quality outdoor toys on your hand! Weather-resistant, tough, and durable, these dog toys provide ample fun for your pet without being worse for the wear after frequent outdoor use. We've rounded up the most entertaining, most durable outdoor toys to help you narrow down your choice – and make sure you and your pet are making the most out of sunny days this year.
Editor's Choice: Jolly Pets Romp-n-Roll
Strong, durable, but most importantly – loads of fun to play with, this hybrid ball-and-rope design leaves no pooch indifferent! Tug it, throw it, launch it, carry it – it even floats on water. Perfect for all kinds of outdoor adventures, be it a game of tug of war in the backyard, playing fetch in the doggie park, or having fun at the beach or at the pool. The ball is made from signature JollyFlex material which never deflates, even when punctured, and the woven rope is thick and strong, so you can rest assured that your pet's outdoor shenanigans won't best this design. Jolly Pets Romp-n-Roll comes in various sizes and colors to suit dogs of all breeds and ages.
Pros
Extremely durable
Multiple modes of playing
Comes in various sizes to suit any breed
Made in the USA
Cons
Not for extreme chewers that could destroy the rope unsupervised
Runner Up: ZippyPaws Rope Gliderz
If your pet is one to chase after anything and everything, this one's for you. It's like a frisbee, but better! Made from real mountain climbing rope and sturdy nylon material, this flying disc is lightweight and durable at the same time, meaning it can be easily thrown a great distance without much effort and that it will stand up to wear and tear of frequent use. Available in three bright, vibrant colors, Rope Gliderz is easy to spot in any terrain, be it a grassy lawn in your backyard, sandy beach, or the woodland terrain on a hike. Their universal size and light weight make them a good choice for any size dog!
Pros
Lightweight but durable
Great for playing fetch
Flies far when thrown
Vibrant, easy-to-spot colors
Cons
Can be torn by an aggressive chewer
Customer's Choice: Nerf Dog Tennis Ball Blaster
Owners whose dogs are at their most energetic when spending time outdoors need to be inventive to keep their pooches engaged and truly tire them out before coming back to the house. Well, Nerf Dog Tennis Ball Blaster helps you do just that without exhausting yourself in the process! With the ability to skyrocket tennis balls as far as 50 feet with one click of the trigger, this ball launcher will keep your pet occupied and your arm rested and free to scroll through social media (or you know, whatever you do while waiting for your pet to come back with their proud catch). This tennis ball gun launcher comes in various sizes and with one or more balls in the set to match any canine's exercise needs.
Pros
Launches balls as far as 50 feet
Various sizes and sets to choose from
Dogs of all ages and breeds love it
Playing fetch without putting stress on your arm
Cons
Fits only special Nerf tennis balls, not regular ones
Best Outdoor Toy for the Beach: PetSpy Dog Training Ring
Sand under your feet, the ocean, you and your four-legged best friend – there's only one thing missing to make the day complete. A fun toy! This set of two training rings that can be used to play fetch, tug of war, or train your dog to jump is a perfect addition to any beach day. Easy to pack, lightweight, and super durable, they won't take up much space in your beach bag and they'll easily withstand everything your dog throws at them. To boot, they also float on water, so you can throw them in the water for your pet to retrieve – and get some extra exercise swimming.
Pros
Comes in a set of two
Durable and strong
Various ways to play with
Floatable
Cons
Can be damaged when tugged on aggressively
Best Outdoor Toy for Tug-of-War: DIBBATU Spring Pole Dog Rope
Your dog is a fan of tug of war, but your wrists not so much? We've got you. This spring pole dog rope is designed to give your pet all the excitement of playing tug of war without you having to actually be involved in it. This 16 feet long cord is strong and tough, and can take all the pulling and tugging your pet will certainly give it. Wrap it around a branch, tree, or wood beam on your deck, loop, and pull it snug. Attach the dangly rope on the end of the cord and watch your pooch go bananas!
Pros
Great for hands-free game tug of war
Tough and durable
The retractable cord can help your pet build muscle
Keeps your pet engaged
Cons
The knotted rope on the end can be destroyed by an aggressive chewer
Best Outdoor Toy for Fetching: Chuckit! Classic Ball Launcher
Not everyone has a great throwing arm – but that doesn't mean you can't throw a mean ball for a game of fetch! With a little aid from Chuckit! Classic Ball Launcher, your pet's tennis balls will be soaring through the sky and you will barely lift a finger. You don't even have to bend over to pick up the ball every time, as this launcher also doubles as a ball scooper. Once you get the hang of it, there'll be no stopping you (much to your pet's joy). Available in different lengths, this ball launcher suits dogs of all ages and activity levels, as different lengths mean different throw distances, so you can adapt to your pet's preferences.
Pros
Easy to use with great results
Works with standard tennis balls
Various lengths available
Cons
Scooping up balls can be tricky
Best Outdoor Toy for Puppies: Bark N Bounce
While puppies are all up for playing fetch or tug of war, their stamina doesn't quite match their energy levels at their young age. This interactive ball, however, will help keep them occupied and engaged at their own pace, so they can spend their energy without being completely floored after an outdoor play session. Made with the proprietary Rebound-O-Last material, this ball is bouncy, pliable (your puppy can carry it in their mouth), and it always bounces back, so it will be difficult for a dog to rip or puncture it. But its best feature is the fact that it makes funny, human-like sounds that entice puppies to chase after the ball, nudge it, and play for hours on end.
Pros
Small ball measures 3.75" in diameter (for dogs under 20lbs)
Entertaining and interactive
Durable and safe
Makes funny sounds
Cons
Smaller puppies won't be able to carry it around
Best Outdoor Toy for Active Dogs: GoDogGo Fetch Machine
Think playing fetch, but you're sipping your drink on the deck while your pet is having the time of their life. Everyone's happy thanks to an automatic ball launcher! This "fetch machine" is remotely controlled, holds 17 larger or 23 smaller balls, and has multiple distance settings which allow you to launch balls at different distances to keep your pooch on their toes. You can even set time intervals for the launch (4, 7, or 15 seconds) to fully customize and automate the whole process. What's better yet, this dog ball launcher doesn't need to be plugged in to work – it runs on rechargeable batteries – so you can take it with you wherever you go.
Pros
Great for dogs that need a lot of exercise
Fully automatic and remote-controlled
Can be customized to meet your dog's exercise needs
Runs on rechargeable batteries
Cons
You need to train your dog to safely use it
Best Outdoor Toy for Summer: Peteast Splash Sprinkler Pad
While not technically a toy, this sprinkler pad is definitely something your pet will want to play with – and have tons of fun doing so! Perfect for cooling down in the dog days of summer, this sprinkler pad connects to the hose and produces water sprays, creating a splashing pool for your dog to play in and get some much-needed refreshment. Made from PVC material, free of BPA and phthalates, this sprinkler pad is both tough and safe to use by pets.
Pros
Durable and long-lasting
Helps pets cool down in the summer
Fun and practical
Easy to store away
Cons
Can be punctured if your pet has long claws
Best Outdoor Toy for Large Dogs: KONG Jumbler Ball
If you're in the market for an outdoor toy your large breed dog won't grow bored of, try KONG's Jumbler Ball in the L/XL size. Inside it is a tennis ball and a loud squeaker that tumble around when your dog picks up the toy, enticing them to play – and since there's a cleverly designed handle that allows your pet to carry it around in their mouth with ease, they won't hesitate throwing it and shaking it around. The toy stands up well to rough play and the strength of big dogs, but it's not indestructible – if you have an aggressive chewer on your hands, supervised play is a must.
Pros
Fun and clever design
Extra large size
Squeaks and tumbles
Handle for an easier grip
Cons
Not for aggressive chewers
How To Keep a Dog Entertained When Outside
Whether you have an athletic dog or a couch potato pooch, coming up with ways to keep them entertained and active when spending time outside isn't always an easy feat. I mean, throwing a ball kind of gets old after a while, you know? Luckily, these days, there are plenty of toys that can keep a dog entertained and engaged, both indoors and outdoors. From those that require your (active) participation in the playtime to fully automated solutions that exercise your pet while you can sit back and relax, there's an option to suit any pet and their owner. But, apart from arming yourself with various toys, you can also try out these fun activities to make outdoor time extra fun for your pet.
It doesn't take a lot to create a small obstacle course in your backyard, and training your pet to jump through hoops or over poles isn't just a good exercise – it will provide mental stimulation and strengthen your relationship with your pet, too. Who knows, if both of you like it, you might even want to try out competing in dog sports!
If you love cycling, why not include your pet? For those that have athletic breeds that need tiring out, there are various special leashes that allow them to run by your side so they can enjoy both your company and some quality exercise. On the other hand, if your pet is lazy or just isn't able to keep up, consider bicycle carriers and trailers – they'll get to tag along and enjoy the scenery without exerting themselves.
Low-impact but highly entertaining, a day at the pool or at the beach might just be what your dog needs. Swimming is a great form of exercise, but more so a great way to let off steam and relax for dogs that truly enjoy being in or around water. Just don't forget to be safe when on the water with your pet – a lifejacket can be a literal lifesaver for any dog but is absolutely necessary for dogs who can't swim really well.
We are committed to finding, researching, and recommending the best products. We earn commissions from purchases you make using the retail links in our product reviews. Learn more about how this works.

Angela Vuckovic
A proud mama to seven dogs and ten cats, Angela spends her days writing for her fellow pet parents and pampering her furballs, all of whom are rescues. When she's not gushing over her adorable cats or playing with her dogs, she can be found curled up with a good fantasy book.
More by Angela Vuckovic
Published December 7th, 2023 5:28 AM