703 Views
We're committed to finding, researching, and recommending the best products. We earn commissions from purchases you make using links in our articles. Learn more here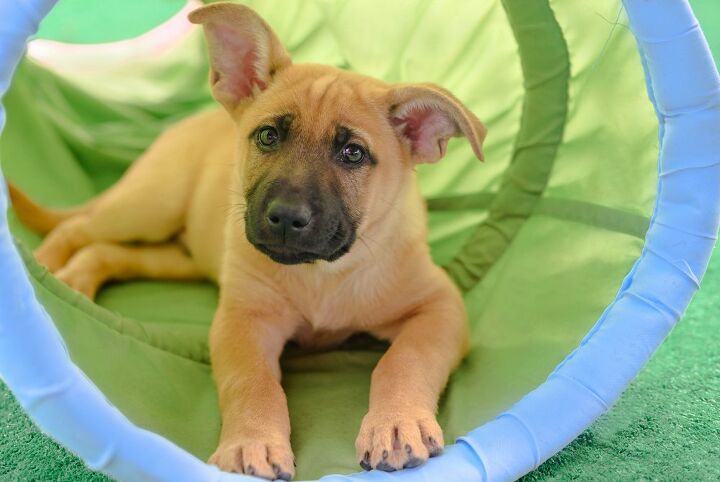 Dog tunnels are an indispensable part of an agility training routine but can also be a fun accessory for playtime. Read on to find out which dog tunnels are the best on the market!
Keeping an active, intelligent dog entertained and occupied is sometimes a challenge – that's where dog sports come into play. Dog agility training is a great way to help your pooch burn off extra energy, keep his mind sharp, and deepen the bond you two have through shared activity and time spent together. And eleven if you don't have plans to take your pet out to competitions, agility training can still be a fun activity for you two to do together – all you need is some spare time and agility equipment. Dog tunnels are the perfect starting point for beginners and an indispensable piece of equipment for pros – take a look at our selection of the best dog tunnels on the market.
Editor's Choice: DEStar Dog Tunnel
Pros
Suits most dog breeds
Durable and well-made
Comes with poles and a carrying case
Available in two colors
Cons
Not for professional agility training
Whether you're looking to try out agility sports with your pet or just want a simple dog tunnel for them to play in, this versatile design will do the trick. Made from premium quality 190T tear-resistant polyester fabric, the tunnel can withstand your dog's claws and it's also easy to clean. The tunnel measures 55.12" (4.6 ft) in length and has a standard diameter of 24" that will suit most breeds and has 2 added additional straps at both sides to prevent slipping. In addition to the tunnel, you'll also be getting ABS poles for agility training, 2 L-shaped metal stakes to stabilize the tunnel when it's used outdoors, and 3 nifty carrying bags to store this collapsible dog tunnel and its accessories when you want to put it away or pack for a trip.
Runner Up: Houseables Dog Tunnel
Pros
AKC and NADAC compliant
Waterproof material
Sturdy and stable
Portable – carrying case included
AKC and NADAC compliant, this dog tunnel is modeled after tunnels that are used in obstacle courses at official dog sport events, so if you are looking to train your pooch to compete, this is a great choice. Measuring 18 ft in length and with a 24" diameter, it will suit the needs of most dog breeds as well as match the exact measurements of official agility course tunnels. The tunnel is made from lightweight but durable 600D woven Oxford Dacron material, which is both waterproof and tear-proof. You can use this tunnel indoors or outdoors – there are downward-angled, anti-rust zinc plated 7" stakes that insert through the metal grommet tabs around the tunnel base to make it stable when used outside. This tunnel is collapsible, comes with its own carrying case, and is available in two colors.
Customer's Choice: HDP 18 Ft Dog Agility Training Open Tunnel
Pros
AKC compliant
Durable scratch-resistant fabric
Stakes for stability
Carry case included
Cons
Doesn't hold up well to continuous use
You can't go wrong with the basics! This dog tunnel features standard measurements (18 ft in length and a 24" diameter) that will suit the needs of most dogs and puppies and will closely resemble the actual tunnel that will be used at agility competitions – if your goal is to train your pooch and not just play, this simple dog tunnel will be a good option as it is AKC compliant. Made from durable intertwined woven oxford Dacron, it will stand up well to your pet's claws when they are running through it and will be easy to keep clean. There are 8 short stakes for extra stability, which go through steel grommets to ensure the tunnel doesn't slide on the ground. To boot, it also has its carry case so you can take it on the go!
Best for Agility: CHEERING PET Premium Dog Agility Equipment Set
Pros
Multiple options to choose from
Easy to customize
Provides fun playtime or training for agility
Easy to store away
If you are looking to train your pooch to compete in agility sports, this beginner dog agility equipment set is a perfect place to start! To be precise, there are 5 sets to choose from to adapt to your needs: the most basic one includes a connectable classic dog tunnel and a "blind" tunnel (tunnel with a chute), while the 7-piece set is the most advanced and contains one standard tunnel, one blind tunnel, two dog jumps, dog hoop, pause box, and weave poles. The tunnels are circa 4 ft long (each) and have a diameter of 23". Of course, each set comes with one (or more) carrying bag to keep everything neatly stored away when not in use.
Best for Play: Midlee Dog Agility Chute Tunnel
Pros
Interesting chute design
Keeps dogs engaged and active
Perfect for playing or training
Suits most dogs
Cons
Might be cramped for large and extra-large breeds
Your pooch doesn't have to be talented for sports to be able to enjoy everything dog tunnels have to offer! In fact, dog tunnels can be a great way to play with your pet and help them burn off extra energy in an easy and fun way. This design is called a chute tunnel or a blind tunnel, as it starts off as a regular tunnel but halfway turns to a chute – increasing the fun levels so much more. The tunnel is 24" in diameter, about 32" (2.6 ft) long, and the chute is about 152" (13 ft) in length, so overall it translates to standard dimensions that suit most dog breeds perfectly. It comes with stakes to keep it grounded and a carrying case.
Best for Small Dogs: Cossy Home Collapsible Dog Tunnel
Pros
Different sizes to suit small breed dogs
Durable construction and materials
Great for playtime or training
Stakes included
Cons
Doesn't come with a carrying case
For most small breed and toy breed dogs, the standard, AKC-compliant dog tunnels are a bit too big, which can spoil their fun. Designed for the needs of puppies and small dogs, this collapsible dog tunnel has all the good qualities of its bigger counterparts, only scaled down to the size that fits petite pooches better. It comes in two sizes: 78" (6.5 ft) in length and 17" in diameter, or 118" (9.8 ft) long with a diameter of 19.6". Made with durable polyester fabric and with steel springs, it comes with stakes to make it more stable when used on the ground.
Best for Medium Dogs: Cool Runners Agility Lightweight PVC Dog Training Tunnel
Pros
High-quality, durable materials
Mildew-resistant and UV-resistant
Perfect size for medium breed dogs
Adjustable
When you think of agility, the first breeds that come to mind are probably the Border Collie or the Australian Shepherd, which are both medium-size dogs. If your pooch falls within the same weight category as medium breeds (24 to 57 pounds), this type of tunnel will be just right for their needs. Made from a PVC material that's UV-resistant and mildew-resistant so it can handle frequent outdoor use, it has an 8-inch pitch and extends to 15 ft to suit your dog's needs and increase the challenge if needed and the 24" diameter of the tunnel makes it perfectly suited to medium breed dogs. Thanks to the sturdy build, it doesn't need stakes or bags to keep it in place.
Best for Large Dogs: Pacific Play Tents Institutional Play Tunnel
Pros
Extra-large for big breeds
Durable and tough materials
Hardened steel springs
Collapsible and easy to store
Cons
No sandbags or stakes included
Big dogs – especially those that are really big – can find the standard size dog tunnels a bit too cramped for their comfort. But with some out-of-the-box thinking, you can easily find the ideal dog tunnel for your large breed dog – like this one, which was originally meant to be used by kids! However, it still ticks all the boxes that quality dog tunnels should: it is sturdy, durable, and spacious enough. It is made from Polyester Dacron 600x300 weave fabric with extra heavy-duty construction so it can really take a beating, and measures 9 ft in length with a 28" diameter which is more than enough for even the largest dog breeds such as Great Danes to comfortably go through. Easy to clean and collapsible, it comes with its own carrying case for portability.
Best with Obstacles: XiaZ Obstacle Agility Training Starter Kit
Pros
Various obstacles and agility equipment
Universal tunnel size
Easy to store
Great for energetic dogs
Cons
Not suitable for large dogs
For those dogs that need a little bit more of a challenge to stay entertained and engaged, this agility training kit is heaven-sent. In addition to a tunnel, you'll be getting a pause box, jumping ring, adjustable high jump obstacle, and weave poles – more than enough to keep any energetic doggo occupied for hours on end. The additional equipment is made from lightweight but sturdy ABS and metal, and the tunnel is made from durable and low-maintenance polyester fabric. As the dimensions of the tunnel are 70" (5.8") with a diameter of 24", it will suit most dogs with ease. Even though there are plenty of pieces with this set, they are all quite easy to assemble and disassemble, and with added carrying cases, you'll easily store everything away when not in use.
Best with Sandbags: Better Sporting Dogs 16 Foot Dog Agility Tunnel with Sandbags
Pros
Sandbags ensure sturdiness
Suited for most breeds
Comes with a carry case
Durable polyester
Dog tunnels are no good if they are flimsy – they need to be able to stay in place while your dog is running through them. Some use stakes that are pushed into the ground, but that's not always doable, which is why many dog owners prefer using dog tunnels with saddlebags or sandbags instead. The saddlebags are located on both sides of the flap which goes over the tunnel and are filled with sand, thus keeping the tunnel firmly in place without distorting its shape. The tunnel itself measures 16 ft in length with a 24" in diameter and is made from 180T polyester which is durable and lightweight. The saddlebags can hold up to 15 lbs of sand each and have a wide mouth for easier filling.
What to Look for In Dog Tunnels
Dog tunnels are simple constructions, but still, there are a few things to consider before choosing one for your pet. In addition to the quality of the materials, you should pay attention to the following:
Dimensions
If you want to compete in agility, your best bet is to go for an AKC-compliant dog tunnel that will have the exact measurements of the ones used at competitions, which is between 10 and 20 feet in length, with a diameter of 24" (a margin of error is 1" or 2"). Otherwise, make sure that the dimensions suit your pet's needs: adjust the diameter to their size (most do well with 24", but extra small and extra big need tweaks) and pick the length that you think will work best for their energy levels.
Stability
Dog tunnels are usually made from lightweight polyester with steel or plastic springs, so they are not the sturdiest on their own. If you are using it outdoors, which the majority of people do, you can pick between stakes or sandbags. Stakes are inserted into the ground through grommets at the base of the tunnel to keep it stable, and sandbags are filled with sand and rest at the sides, connected with a strap that goes over the tunnel, ensuring it stays firmly in place.
We are committed to finding, researching, and recommending the best products. We earn commissions from purchases you make using the retail links in our product reviews. Learn more about how this works.

Angela Vuckovic
A proud mama to seven dogs and ten cats, Angela spends her days writing for her fellow pet parents and pampering her furballs, all of whom are rescues. When she's not gushing over her adorable cats or playing with her dogs, she can be found curled up with a good fantasy book.
More by Angela Vuckovic
Published December 11th, 2023 10:48 AM