56 Views
April 20th, 2021 12:00 AM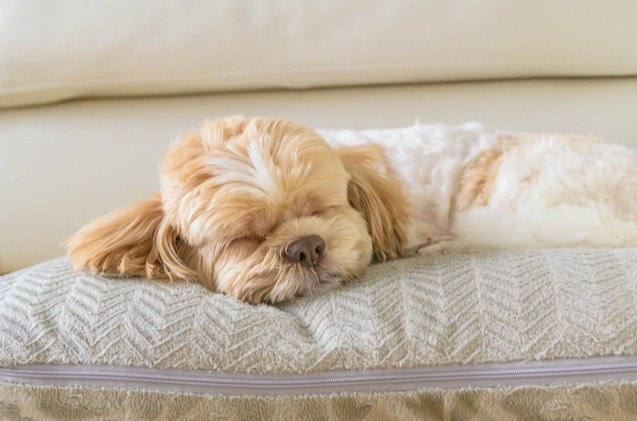 Dog pillows are a great alternative to your living room sofa or the hard floor- those that are well-made give your pooch ample napping space while providing proper support for their back and joints. Read on to learn which dog pillows will give your furry bestie a good night's sleep!
Rest, relaxation, and comfort are the very important parts of a healthy daily life for your pooch. Just like you enjoy snoozing and lying back in a comfy chair, so does your pet! Our furry friends deserve to be spoiled and making sure your pooch is cozy is pretty high on the pampering list. And what better way to surprise your pupper than with a comfy, specially designed dog pillow that will make his naps feel like snoozing on a cloud? These affordable, stylish, and above all comfortable accessories will allow your pet to get some quality nap time that will not just feel good- but be actually beneficial for their joints and spine, as the best dog pillows make sure to offer proper support for napping canines.
Dog pillows are not only good for snoozing, though- senior pets will benefit greatly from these comfy accessories. A quality dog pillow can take away the pressure from the joints and the back and relieve pain for dogs with aching bones. Dogs with old age ailments such as aching joints, arthritis, and those that find movement painful and difficult will greatly benefit from orthopedic pillows. This, in turn, can boost their mood, and make them much happier- and their quality of life significantly improved.
Another great thing about dog pillows is that they can look great in the apartment and don't have to stick out like a sore thumb. They can even be a great way to create a cozy, inviting area that will perfectly include your four-legged friend into the everyday activities in your family without clashing with your interior design. Choose a stylish, decorative pillow that will fit in perfectly with the rest of your furniture, and skillfully tie in the room to create one big comfy area.
If your pupper is a notorious snoozer and likes to stretch out, a pillow will be the best choice. It encourages natural posture and is a much better option than the hard ground. Furthermore, a dog pillow leaves the rest of your furniture – like sofas and chairs – free from hairs and dirt. You can always splurge on a stylish dog sofa or go for a specially designed dog bed, but in most cases, a budget-friendly yet well-made dog pillow will be more than enough to keep your pooch happy.
Of course, there are a lot of design details that go into a perfect dog pillow, and many different choices out there that cater to different needs. From simple to orthopedic, from cheap to expensive – we go over all of them in order to deliver this list of the best dog pillows on the market. For breeds small and large, puppers young and old, there is a perfect comfy pillow out there that will make every day that much more comfortable. Read on to find that ideal match for your pet!

1. Barkbox 2-in-1 Memory Foam Dog Bed
This therapeutic gel memory foam donut pillow bed and crate lounger is not only a comfortable bed for your dog, but it also looks great and is easy to maintain. The removable bed cover is water repellent and machine washable, making it easy to address any accidents or messes.
Not only can this bed be used as a standalone bed in your home, but it's also a great size and style to fit into your dog's crate, adding a little extra comfort to their space.
It comes in 3 different sizes and 5 neutral colors and patterns which are sure to complement the décor in any room. The cushion itself is made from therapeutic, pressure-relieving gel memory foam, which works to comfort your dog and relieve joint pain, body aches, hip dysplasia, and arthritis. It's a great choice for older dogs, larger dogs (which are more prone to joint pain) and those that are recovering from illness or injury.
2. Super Value Dog Pet Bed Pillow by Majestic Pet
This is how a stylish pillow looks like! This pillow from Majestic Pet is exactly that – majestic. A deluxe option, it boasts a high-quality high loft polyester stuffing which is also hypoallergenic. Fully machine washable, the whole pillow is simple to clean and maintains its fluffy form for a long time. You are given an option of over 20 different designs and patterns, so you can perfectly combine this pillow with your own style. This is an affordable and eco-friendly option that will last you a long time.
3. SSAWcasa Cuddler Plush Pillow
Sometimes, the best products are those that combine the best of two worlds. This ultra fluffy plush donut pillow bed is a great example. While essentially a pillow, this design also incorporates raised sides that give it its bed-like form. For pooches that like to be snug while they sleep, these are a dream come true! Also, these donut beds are great for small breeds due to their dimensions. Featuring an anti-slip bottom for added safety, this pillow is also fully washable and easy to maintain. Its ultra soft PP cotton fill will ensure maximum comfort and optimal coziness!
4. FurHaven Snuggly Tufted Pillow
FurHaven is a brand well known for high-quality pet accessories. This comfy pillow is a great addition to their assortment. A basic, straightforward design, it covers all the important aspects and maintains a low, affordable price tag. It boasts a great tufted design, which prevents the soft filling from dispersing, and thus maintains its form and provides continued comfort and lifts the pressure from the joints. It is also machine washable. One great thing with this pillow is the sheer amount of available options. Many sizes from x-small to jumbo, and a lot of diverse colors and designs- there's a match for any pooch.
5. MidWest Quiet Time Deluxe Ombre Pillow
MidWest proves that simple can be good too! Boasting simple yet practical features and an affordable price tag, this bed is a favorite with many pet parents. This rectangular pillow finds that perfect middle ground, carefully balancing all the important features and ensuring that everything is in perfect balance. It is sufficiently soft and fluffy, without being too thick, and it features a great ombre design cover that perfectly hides any possible stains. Furthermore, this pattern easily blends into your home design, doubling as a nice and fashionable feature. And the best thing of all? It is machine washable.
6. Big Barker Orthopedic Dog Pillow
Do you have a big boy or girl fur baby? Then the Big Barker just might be the dog pillow for you. This comfortable orthopedic dog pillow has a 7-inch memory foam and comfort foam pillow under the cover, so it will shape to your dog's body and create superior comfort for them. It also won't lose its shape by being squished down on the daily like traditional dog pillows which makes it perfect for long-lasting comfort that your pup will love.
The best part? The Big Barker has been scientifically proven to help lessen pain and increase mobility in pets after being used for just 28 days. It also has a 10-year warranty, which is just about as long as your pet's life, and it won't flatten over time. It comes in large, extra-large, and extra-extra-large for all the big furballs in your life as well as a variety of micro-suede covers that are easy to wash.
7. Poohoo Plush Pillow Bed
For all of you willing to splurge a bit on your pet – this Poohoo plush pillow is the way to go. With some premium, high-quality features, and top of the range materials, this pillow has all the important aspects perfectly covered. With a medium thickness, a sturdy nonslip bottom, and durable fuzzy material, this pillow combines comfort and durability. Machine washable and safe for the dryer, this pillow is remarkably easy to clean. Choose between a classic brown color and a stylish pink version.
8. Frisco Tufted Pillow Bed
This great tufted pillow from Frisco is easily one of the best choices on the market and offers the optimal lounging experience for your pet. It features a highly durable modern chenille jacquard fabric that is easy to clean and quite tough. On top of that, the cover is easily removable for quick machine washing. Its densely packed polyester fiber filling is perfectly comfortable while retaining its shape. This lightweight pillow also has an added handle so you can quickly store it away when it is not in use. It might be a bit pricey, but it is definitely worth the investment. Let your pooch snooze in style!
9. Petmaker X-Large Cushion
If you have a pampered pooch, then this faux fur snugly pillow will definitely meet their high standards. While the upper pillow is made with a satiny soft faux fur surface, the bottom of the pillow is equipped with a non-slip fabric base so no matter how exciting your dog's dreams get they will stay put on top of this plush pillow of comfort. The pillow is constructed with a pillow tuck quilting technique that helps to improve the durability of the pillow and to have the pillow retain its shape. The whole pillow can be tossed in the wash when there has been a little too much sleep slobber on the pillow. While it comes in a couple of colors we think the chocolate is your best bet for hiding any paw print stains. You can order the pillow in three different sizes: medium/large, extra large and jumbo!
10. Top Paw® Plaid Pillow Pet Bed
This Top Paw pillow is a great example that not all pillows need to be thick and fluff to provide comfort. This medium thickness pillow perfectly spreads out your pet's weight and offers the perfect amount of softness. And even though it doesn't have a removable cover, it is still machine washable. One cycle and your pet's bed will be good as new! And on top of that, this pillow features a stylish plaid design that will complement most interiors.
What to look for in dog pillows
At first, the choice may seem simple- what's there to think about when you choose a pillow for your dog? But many owners fail to take into account some very important details that can completely change the function of a pillow. Age, breed, and size of your pooch are really big factors that decide what type of pillow they need. Their usual habits are also good to remember. There are many details that can make things either simple or complicated down the road. If your pet has a long and shaggy coat, try opting for an easy to clean pillow in order to avoid that nasty accumulation of loose hairs. The same goes if your pup has a tendency to muck everything up. There are so many possibilities and variations when you think about it! This is why we made a small summary of the most crucial aspects of dog pillows, so you can choose according to your pet's needs.
Washability
With textile dog accessories, ease of cleaning often comes as the number one priority. These accessories are often quick to get dirty – either from loose hairs, from muddy paw prints, or spilled food and liquids. This is all normal when you have a dog – but it is not always easy to clean. Whenever possible opt for a machine washable and/or dryable pillow with a removable outer cover. This will make cleaning easy and simple, allowing you to maintain a clean and healthy household for both you and your pet. Pillows without a removable cover are difficult to clean and can lead to a clear lack of hygiene as the dirt accumulates over time.
Filling
The inside of the pillow is what makes it good or bad. Usually, these are fluffy and comfy polyfill materials that do a good job of retaining their shape and offering maximum comfort. But – it can always be better. That's why there are special orthopedic pillows filled with unique memory foam. This type of pillow fill is great for old dogs with arthritis and aching joints, but also for puppers who are recovering from surgery. It will help your dog maintain a natural and healthy posture while alleviating the pressure from all key points.
Size
Of course, the dimensions of a dog pillow are the number one detail you have to take into account. If you have a large dog, go for the biggest dimensions. The general rule of thumb is to always take a pillow that is larger than you need it to be. That means your pupper will have plenty of space to stretch out if they wish. Anything else and the purpose of a dog pillow is defeated. You can also find pillows that have the perfect size to fit on your sofa or lounge chair. This gives your pet a comfortable place near you but also protects the furniture.
Thickness
Believe it or not, a pillow too thick and fluffy might not be the very best solution for your dog. If your pet is too tiny, or you have a senior pooch, the thickness might not be good for them. Getting on and off from it might be too difficult and make your pooch avoid his new nap spot. The middle ground between thick and flat would be the best option. Also, some fluffy pillows may flatten over time, so you can take that into account as well.
Durability
As with all dog accessories, durability comes as a great priority. Many dogs – puppies especially – will have a tendency to chew, nibble, and scratch accessories that are around them. You will want to opt for durable materials whenever that is possible. Double stitching, oxford cloth, and thick textiles will often survive most of what your pup throws at it. They will also be better at withstanding the general wear and tear of everyday use. And in the long run, this is very important.
Benefits of dog pillows
One of the major advantages of dog pillows we need to mention is the health benefit. Not only can they be a comfortable spot for sleeping, but dog pillows also have great orthopedic and therapeutic advantages. We all know that senior dogs tend to suffer from various issues relating to hips, back, and joints. If you opt for a memory foam orthopedic pillow, you can greatly alleviate these issues for your pet. Memory foam is a specific design that carefully conforms to the body of your pet, reducing pressure and evenly distributing their weight. And for senior dogs – this can be a life-changer. And even if your pet is hale and healthy, a pillow can still be a great boon to them. Don't allow your pet to sleep and snooze on the hard ground – even though they might seem cool with that, you need to realize that it might lead to issues at a later stage. And these issues are just the ones we mentioned above – arthritis and joint issues.
You can also make sure that your own furniture stays clean (and unoccupied) if you offer a suitable alternative to your pet. No more need for special sofa covers, hair removal, and long cleaning sessions. Once you train your pet to use their comfy pillow, your furniture will stay clean and spotless. It's a win-win situation for everyone involved!
We are committed to finding, researching, and recommending the best products. We earn commissions from purchases you make using the retail links in our product reviews. Learn more about how this works.

Angela Vuckovic
A proud mama to seven dogs and ten cats, Angela spends her days writing for her fellow pet parents and pampering her furballs, all of whom are rescues. When she's not gushing over her adorable cats or playing with her dogs, she can be found curled up with a good fantasy book.
More by Angela Vuckovic
Published April 20th, 2021 12:00 AM