468 Views
10 Best Dog Monitor Cameras
April 29th, 2021 12:00 AM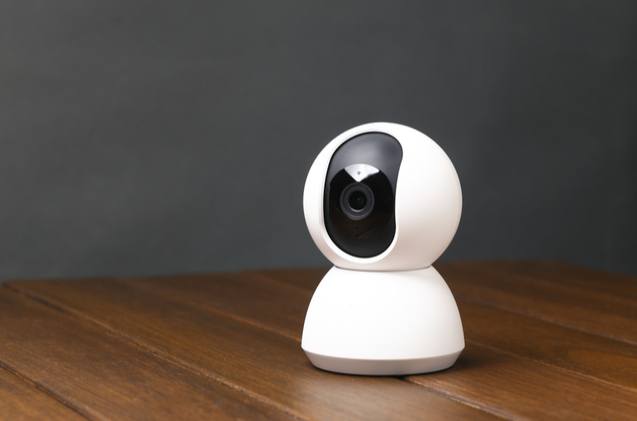 Dog monitor cameras help keep your pet safe when you're away and give you much-needed peace of mind. To make sure you'll be getting your money's worth out of the pet camera you pick, we've rounded up the best dog monitor cameras the market has to offer.
No pet pawrent likes being away from their four-legged bestie. Unfortunately, someone has to earn the moolah for those treats and kibble, which means that most dog owners have to leave their pets behind for hours- day in and day out. To help ease the separation, they turn to the latest technologies and the perks that are offered. Dog monitor cameras offer people the possibility to keep an eye on their pet wherever they are, and, depending on their design, can provide additional features such as treat dispensing or night vision, to name a few. All you have to do is use an app on your phone to access the camera footage and remotely control it- it's incredibly convenient. Whether you're at the office or out for drinks with friends, you won't have to worry about not knowing what your furry friend is up to.
But while some might think that dog monitor cameras are just a novelty or another silly pet gadget that will end up gathering dust after a few weeks of use, it's far from the truth. Dogs with separation anxiety, puppies, seniors, dogs with special needs or those with any kind of behavioral issues: they should be monitored and, in some cases, reassured through remote communication with their owner when they are alone in the house. The rapid development of technology in the pet industry allows people to rely on these devices to solve a number of common issues that have been impossible to handle (or at least, not so conveniently) before. While a pet camera might seem like a pricey investment to make, when you have in mind that it can replace a dog sitter, preserve your furniture from your pet's destructive chewing, or simply send cute pics of your pet straight to your phone- it's clear that it would be money well spent.
However, there are literally hundreds of dog monitor cameras out there. From the budget-friendly versions and cheap knock offs to pricy gadgets with a ton of additional perks, there is a match for everyone's needs–which can make it so much more difficult to actually find what works best for your pet and you. To help you figure out what to look for in pet cameras and which offer the best value for money, we've put together this comprehensive buying guide. Read on to find out what pet camera features are essential and which are not, and take a look at the top 10 dog monitor cameras for different budgets and preferences.
There's a good reason why Furbo has been one of the most popular choices on the market for years–it combines a mid-range price tag with high-end design and superior performance. This dog monitor camera is not just a device that lets you keep an eye on your pet with a 1080p FULL HD Camera with night vision- it comes with all of the bells and whistles. This includes barking alert, treat tossing option, 2-way audio, as well as many fun camera features available through the app.
2. Victure 1080P FHD Pet Camera with WiFi
If you want something cheap and simple, Victure pet camera will do the job for you. This compact pet monitoring camera records footage in 1080p HD and stores it onto a micro SD card with up to 64GB capacity. The WiFi connectivity lets you remotely control the camera, so you'll be able to pan and tilt the video for a full view of the space–this camera has a 355 degree horizontal and 100 degrees vertical rotation range so there are no blind spots. It also boasts night vision and 2-way audio for communication with your pet.
3. SKYMEE 8L WiFi Pet Feeder
This pet camera doubles as a smart feeder- you can both check up on your pooch and serve them their daily meal all through one device. Not only that this saves you money, but it's also great if you don't have much space for pet gadgets in the apartment! The camera is 1080pHD with night vision and 2-way audio feature, and the feeder holds up to 8L of kibble in its container for multiple meals. This pet camera and feeder is suited for small breed dogs.
4. WOpet Smart Pet Camera
Compatible with Alexa and your smartphone both, this smart pet camera will make remote control a breeze whether you're in the house or at the office. The full 720p HD camera boasts a wide-angle view and night vision for perfectly clear viewing at all times, and you can even take cute pics through the phone app and share them directly to social media! And with 2-way audio and treat tossing function, you'll pet will definitely love it as much as you do!
Keeping an eye on your pet can be a real hoot with this owl robot! Designed to resemble the face of an owl, this treat-dispensing toy will quickly become your pet's favorite little gadget, but yours as well: the eyes of the robot are actually two 1080p full HD pet cameras with 4x zoom and night vision which will allow you to always monitor your four-legged friend no matter the time and place. The robot can be moved around the house through a smartphone app, and you can also snap and record video remotely.

What makes this pet monitoring camera so loved by pets, however, are not the fancy tech specs such as battery life of up to 8h or 2.4Ghz WiFi connectivity- but, rather, the fun functions it has. SKYMEE Owl Robot will shoot up kibble or small treats at your pet (and on your command), it gives a great game of chase or hide and seek as it reacts to your pet's movements and behavior, and it has a two-way audio mode so it allows your pet to hear your voice when you're away. In others words, your dog won't be able to keep his paws off this little gizmo!
Does your dog need more exercise or gets easily bored when you're not around? Use Petcube Play 2 to entertain him remotely- and keep up with his antics! The built-in laser will have him chasing around and tilting his head in wonder- and you can control it yourself or set up autoplay mode. This device features a wide view 1080p full HD video camera, 4-microphone array with 2-way communication and of course, connectivity to the free Petcube app for remote control.
This all-in-one pet camera and smart feeder will let you see your dog, talk to him, and feed him all by using the same app and one device. Highly customizable with different trays and programmable portions, this handy little gadget will fit any dog's diet. And, when your pet is not nibbling on kibble (or during his mealtime, too) you can use the HD camera to view and record your pooch's adventures.
Keeping a close eye on your doggo can be a challenge – especially if you have to leave them alone at home why you work. That's why a good dog monitor camera is a necessity for most pet parents, and Conico Pet Camera fits the bill if you want something budget-friendly, reliable, and practical to use. Future forward, this pet monitoring camera features everything from high-definition video to voice controls and more. You can remotely control this pet camera through iOS or Android apps on both your phone and tablet or use it with Alexa. The 1080HD camera boasts 350°Pan 100°Tilt, and 8X Zoom as well as night vision up to 32 feet in the distance.
Another nifty feature is the motion tracker and sound detection, both of which can be used to notify you if your pet is up to no good. And if he is, you can rely on two-way audio to send across your message and let your pupper know you're keeping an eye on him. With this quality pet monitoring camera, you can get a true "big brother" experience!
Not everyone needs the bells and whistles of high-tech pet cameras, so why should they pay the extra $$$ for it? However, even if you want a camera that offers a bit more than just viewing privileges, there are options. In case you need a pet camera under $50 that will let you watch your pooch day and night (with infrared vision), communicate with a 2-way audio feature and get notified when there's movement in front of it, this budget-friendly pet camera is a perfect match.
10. Petcube Bites 2 Wi-Fi Pet Camera
Redesigned and improved, Petcube Bites is a treat-dispensing pet camera that is ideal for dogs that need more interaction when they are alone. From the fact that it spews out treats when prompted to the remotely controlled laser function for playtime, this camera will definitely keep your doggo away from your shoes when you're at work. And, you'll get to see (and hear!) how much fun your pet is having through the camera's 1080P full HD video function.
Do You Need a Pet Camera?
Even though it's undeniable that every dog owner that spends at least some time out of their house on a regular basis could find a pet camera useful, it doesn't mean that the dog monitor cameras are a necessity for everyone.
If your pet suffers from separation anxiety or strongly dislikes being on his own in the house, a two-way communication camera could help soothe him and reassure him while you're away. By hearing your voice through the speakerphone, your pooch will not feel as alone which could potentially help lessen his nervousness and ease them in the time they need to spend alone. Similarly, if your pet is being destructive in your absence, whether due to anxiety or simply because they are mischievous, a command over the speakerphone could be all it takes to put a stop to their bad behavior. You don't have to worry anymore about coming back home from work to a huge mess or ruined valuables.
Dogs with special needs, or those in high-risk categories such as senior dogs, should be monitored for changes in behavior, seizures, or symptoms that could indicate health issues. This can be impossible when you also have to work long hours, so having a dedicated pet camera that records footage you can review could make all the difference for your dog's wellbeing.
In the end, you might just be curious or really miss your pooch while you're away. That's a valid reason to get a pet camera, too! Not only that you'll be able to spy on your furry companion and figure out what he's doing when no one is around to keep an eye on him (or so he thinks!) but you'll also get to talk to them, toss them treats, take pictures and get notifications about their activity straight to your phone. Dog monitor cameras can really make you feel like you're not spending that much time away from your pet- and make it the same for them, too.
Types of Dog Monitor Cameras
Before you start looking if the camera is checking all of your boxes in terms of design, functionality and price tag, it's important to narrow down your search by settling on a specific type of dog monitor cameras. This will both make the search easier for you and help you get exactly what you need- nothing less, nothing more.
2-way pet cameras
The idea behind two-way pet cameras is to allow you to communicate with your pet and not just monitor them through the lens. These pet cameras can have either two-way audio communication or video chatting feature, so you can either talk to your dog and hear what's happening in return, or both chat and watch your pooch go bananas when he sees and hears you through a small screen.
Treat dispensing pet cameras
The only thing that could make up for your absence is a nice yummy bribe. Your pet might prefer your company to snacks (or you believe so) but having a crunchy treat to nibble on will certainly lessen their frustration and sadness. Pet cameras that dispense treats allow you to give your pooch a snack and show them you care even when you're away at work.
Pet cameras with lasers
In case you have a dog that bores easily and not even interactive toys seem to keep his attention, dog monitor cameras with a built-in laser feature could be just what you need to make sure your pet is engaged and entertained without you in the house. The laser function can be pre-programmed or controlled via smartphone but either way, chasing that elusive red dot is a great way to provide indoor exercise and mental stimulation for your dog.
Outdoor dog cameras
You might have a securely-fenced backyard your pooch has access to when you're working, and you'll want to know what he's up to when no one is around. Whether it's to keep up with their potty behavior for health-tracking reasons or just out of curiosity, an outdoor dog monitor camera will do the trick for you. These pet cameras usually have no bells and whistles but are tough and weatherproof to make sure you can safely use them outside of your home.
2-in-1 pet cameras and food dispensers
Similarly to the treat-dispensing cameras, these dog monitor cameras will give your pooch a tasty reward in your absence. However, instead of flinging a treat (or a couple) for your dog to fetch, these pet cameras double as food dispensers and can be programmed to serve a meal to your pet at a previously set time. And when your pet is not snarfing up kibble, you can rely on the same gadget to give you all the perks of a regular pet camera–such as smartphone notifications, HD video and so on.
What to Look for in Dog Monitor Cameras
Once you figure out which perks you can live without and which seem like they would make your life infinitely easier, you'll have no problem settling for a specific type of dog monitor cameras. But even when you know what type matches your needs and preferences, there are still important factors to consider before buying- not every pet camera will give you good value for money, so look close before getting your credit card out.
Space compatibility
Where are you going to put the camera? Make sure that it has pan, zoom, or tilt possibility so you can get the full view of the space where it's at and not just a part of the room. You should also decide if a pet camera that can be hung on the wall is a better fit or if you need something to put on your desk.
Remote control
Most (if not all) dog monitor cameras come with WiFi connectivity and a native smartphone app you connect them to in order to remotely control the camera's functions. Before you pick out a dog camera, be sure to take a look at the app it comes with (download it for free in the app store) and see if the options and perks are something you would appreciate, if the interface is polished and intuitive… In short, anything that could make a difference for you!
Budget
Not everyone can afford to splurge big on pet tech, and the fact that your budget is limited doesn't have to mean you have to settle for inferior quality. Dog monitor cameras can cost anywhere between $30 to $400 so there's a match for anyone's budget. With a little bit of research, you'll have no problem finding a decent pet camera in your price range.
We are committed to finding, researching, and recommending the best products. We earn commissions from purchases you make using the retail links in our product reviews. Learn more about how this works.

Angela Vuckovic
A proud mama to seven dogs and ten cats, Angela spends her days writing for her fellow pet parents and pampering her furballs, all of whom are rescues. When she's not gushing over her adorable cats or playing with her dogs, she can be found curled up with a good fantasy book.
More by Angela Vuckovic
Published April 29th, 2021 12:00 AM