39 Views
Best Harnesses For Miniature Huskies
August 31st, 2021 12:00 AM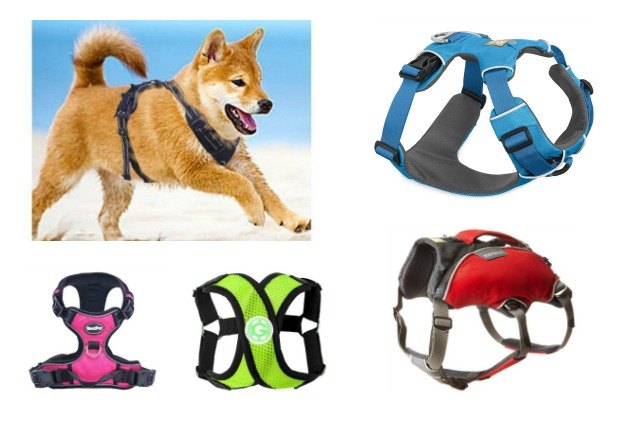 Miniature Huskies are smaller versions of the Siberian Husky, so they love to pull. A harnesses is a smart choice for your pooch – that's why we've compiled a list of the best harnesses for Miniature Huskies.
They like to wander, and though they're smart, they're sometimes too smart to listen to their human! Miniature Huskies are great family pets, but need training and protection as they are prone to wander. These harnesses help make that job a bit easier.
1. Editor's Pick: Ruff Wear Front Range Harness
We love the durability of Ruff Wear and they know that a no-pull harness is the best for doggies and their humans. This one is comfortably padded and bears weight in the places a husky was designed to carry it, so it's a perfect fit.
2. Runner Up: PET&CUDDLE Dog Harness
Durable, easy to put on, and comfy to wear, this padded dog harness will be a great choice for your Miniature Husky. Thanks to two metal leash attachment points on top of back and front of the chest, you can use this dog harness while training to prevent pulling: simply attach a leash with two clips on both, and once your dog pulls the leash, they'll be simply turned around to face you. A quick way to realize there's no point in tugging on the leash! There's also a padded handle on the back of the harness for easy access and additional control if need be. Made from durable nylon with soft padding, this dog harness comes in pink or black and in small, medium, and large size.
3. Best No Pull: 2 Hounds Design Freedom No Pull Dog Harness
Well-made and ideal for everyday use, this sturdy dog harness is made from durable nylon webbing with Swiss velvet lining to present discomfort and chafing and high quality stainless steel hardware to withstand all the wear and tear. The patented control loop on the back is modeled after the popular Martingale design, meaning it will tighten the leash ever so lightly around your dog's chest to give them a warning to stop pulling. Perfect for those Miniature Huskies that are somewhat of a furry Houdini in the making, this no-pull harness comes in 8 sizes from extra small to extra-extra large and in 19 colors to choose from.
4. Best for Training: Kurgo Tru-Fit Smart Harness
Fully adjustable and suited for training, this smart harness is perfect for daily walking and light adventures. Thanks to the 5 adjustment points, you can perfectly tailor the fit of the harness to match your dog's unique type, and you can also adjust the control level to suit your dog's training level: you can either attach the leash to the back clip for a more relaxed walk or add a leash to the front clip as well to have more control over your dog's movements. Made from durable nylon webbing with a soft padded chest, it also features a reflective trim for improved visibility in low-light conditions. This starter leash comes in black, blue, and grey and 5 sizes from extra small to extra large.
5. Best for Hiking: Rabbitgoo No-Pull Dog Harness
These adorable no-pull harnesses from Rabbitgoo are designed with 2 separate metal leash rings. The front chest ring is perfect for dog training and to stop overly enthusiastic dogs from pulling (which Huskies generally are), while the back ring allows more freedom when jogging and hiking. If you are walking a dog that is a known flight risk, or you are travelling somewhere where you are unsure and want to take an extra precaution, you can double up and use 2 leashes, each on a separate ring.
The harness is fully adjustable with 4 individually adjustable straps. This makes it easy to fit your dog properly and prevent discomfort or the risk of slipping free. Padded cushioning protects your dog's chest, throat, and belly while the breathable mesh helps to keep your dog cool on hot summer days. The harness also includes a handle on the back to better control your dog when necessary and reflective strips to make it easy for you and your dog to be seen at night. This no-pull dog harness is one of the more popular choices with over 100,000 pet owners singing it praise. It is also available in 14 colors and 4 sizes so any Miniature Husky can find a perfect fit in no time.
6. Best for Running: ThinkPet No Pull Harness Breathable Sport Harness
Designed for adventurers- and Miniature Huskies are nothing if not always ready for adventure- this sport harness is escape-proof and durable. Perfect for hikes or regular walks around the block, this harness has reflective fluorescent straps so your pooch will be visible even in the evenings and early mornings. Made from premium nylon, this harness can take a pounding and still look brand new, and the extra thick yet breathable inner layer of soft mesh will make your pet comfy while they are on the leash. With two metal rings, both on the front and the back, you can have more control over your pet's movement if needed, and there is also a sturdy top handle you can use to have a firm grip on your dog in the case of an emergency. There are 12 designs to pick from and 5 sizes ranging from small to extra-extra large to ensure a snug fit for any size pooch.
7. Best Basic: PetSafe Easy Walk Deluxe Dog Harness
Miniature Huskies can be stubborn, and can be leash pullers- but a specially designed harness such as this one will quickly put a stop to this behavior. The patented Martingale loop and front chest leash attachment give you complete control and gently steer your pet towards the direction you want them to go. There will be no more choking, gagging, or your pooch all but ripping your arm off! While unusual, the design with quick-snap shoulder and belly straps is particularly easy to put on your pet, and since it's less coverage, it is more breathable and comfy to wear to your pooch. Available in 4 color combos: apple and black, ocean and black, rose and black, and steel and black, this no-pull nylon harness comes in small, medium, and large size.
8. Best Bling: Expawlorer Rhinestone Harness
Look, some of those miniature Huskies are downright Divas and they want to be treated as such. That's where this sparkly rhinestone harness does the job–looks adorable but also helps them from pulling and being easier to keep from wandering.
9. Honorable Mention: Neewa Running Harness
Your little bit may not have the endurance that a full-sized husky would, but that doesn't mean they wouldn't love to be a running partner–on a smaller scale. This harness is in traditional 'h' shape and is padded to give comfort to chest and belly without all the pull. It's easy to put on and super easy to care for with the durable fabric.
10. Also Consider: Gooby Choke-Free Step-In
This unique design means less pull and more comfort for your miniature Husky when out and about. It has four adjustable straps for perfect fit, is lined with super soft suede for maximum comfort and comes in several colors.
What types of harnesses are there? What are the differences between them?
There are various harness designs out there, each with its pros and cons, but the most popular are the front clip harness, back clip harness, dual clip harness, step-in harness, and daypack harness. As the name suggests, front, back, and dual clip harnesses have different type of leash attachment styles: one is attached at the front and is more suited for training, the back clip harness gives a leash-trained dog enough freedom, and the dual-clip design gives you both of these options available, to use separately or at the same time. The step-in harness differs from the standard types of harnesses which are put over the pet's head as it unbuckles for your pet to step in, making for an easier and faster process of putting the harness on. Lastly, daypack harnesses are popular for outdoor adventures or dog sport training as they can either add weight for a training or be used to pack necessities for a hike, such as treats, toys, and similar accessories.
What should I consider when choosing harnesses for my Miniature Husky?
A Miniature Husky is a designer dog, so it means that each pooch is unique- especially size-wise. So the first thing to pay attention to is the size of the harness: measure your pet's body to get the exact dimensions to match them to a harness size for a snug but not too restricting fit. Another important feature is the material of the harness, as you want something comfy and breathable, but still durable and escape-proof, so materials such as leather or nylon are a good choice. In addition to choosing a style that suits your preferences, be sure to consider small details that could make or break the choice for you- features such as reflective trimming, safety handle, etc, can be of real help for some pet owners.
Additional resources:
We are committed to finding, researching, and recommending the best products. We earn commissions from purchases you make using the retail links in our product reviews. Learn more about how this works.

Published August 31st, 2021 12:00 AM