190 Views
Best Toys For Your Miniature Husky
September 9th, 2021 12:00 AM
We're committed to finding, researching, and recommending the best products. We earn commissions from purchases you make using links in our articles. Learn more here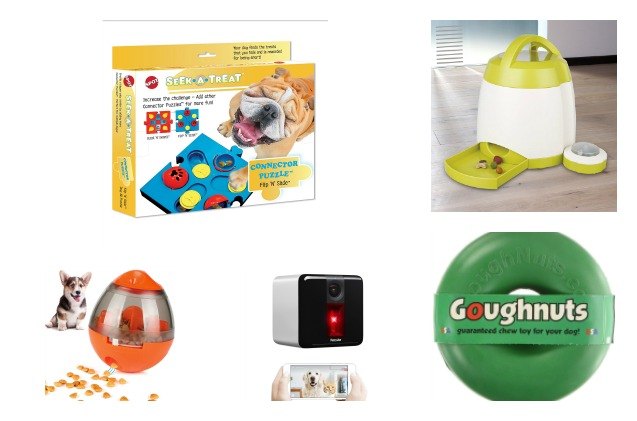 The toys this breed plays with have to challenge their mind and be durable, so we've put together a list of the best toys for Miniature Huskies.
Miniature Huskies are entertaining and engaging, but like their larger Siberian Husky relatives, they get bored quickly and are prone to wanderlust. Smaller dogs often equal smaller toys, and to a degree, this is true. But, your Miniature Husky may get bored with the average chew bone, so you need to keep them enticed and engaged.
1. Editor's Choice: GoughNuts Extreme Chew Ball
You will most likely still want a ball or two for your Miniature Husky as they love to play with you and fetch is one of their favorites. But you'll need a ball that'll hold up to its strong jaws and teeth, so you'll want one like this. The GoughNuts Ball is guaranteed for life and comes in 5 color options: red, orange, green, black with yellow or red spots.
2. Runner Up: GoughNuts Rubber Chew Tug
This tug/chew toy is also from GoughNuts, and again, virtually indestructible. That's important with a Miniature Husky because they often, in their play, take that challenge to destroy very seriously. Perfect for puppies who are teething, parents who want to play or just gnawing during that few minutes of downtime, it was designed just for dogs 10-40 pounds.
3. Best Treat Ball: Pet Zone IQ Treat Ball
The Pet Zone IQ Treat Ball will keep your miniature and super active husky mentally stimulated and physically active while they play. It will help to enrich your pet's quality of life by giving them something physical to work on while working their brain at the same time! Huskies and other active dogs have a tendency to scarf down their food which isn't good for their digestive system. The Pet Zone IQ Treat Ball slows down their earring and helps reduce bloating and improve their digestive system. It's also a bit cleaner than other slow feed dog bowls and snuffle mats.
The best part about the Pet Zone IQ Treat Ball is that you can adjust the difficulty as your dog learns. Once they learn how to roll the ball to get the treat out, you can make it harder so they can keep working and honing their skills. There are 2 sizes available- 3" and 4" – so the toy fits dogs of any shape and size. It is also easy to clean, which makes it the perfect toy for both your pet and you!
4. Best Sounds: Wobble Wag Ball
You may have seen this on television and wondered if it was really as engaging and entertaining as it looks. We're here to tell you that it is- with over 40,000 reviews and a rating of 4.2 stars on Amazon, this innovative dog toy is among the most popular options out there. It's hard to describe the sound you hear as anything else but 'wobbly,' and it definitely engages your Miniature Husky simply with small nudges. It's not incessant, so it doesn't annoy them–but it has just the right amount of weird movement and sound to captivate them into playing for quite a while.
5. Best Fun Design: Zeus Bouncing Bulldog Toy
On the same lines of the Wobble Wag Ball, the Zeus Bouncing Bulldog toy engages your pet with simple touch or on its own in an unpredictable way that will delight, entrance and drive your Miniature husky crazy. It barks, shakes and rolls to engage and has a machine washable cover.
6. Best Squeaky: VANFINE Dog Squeaky Toy
Miniature Huskies have strong teeth and jaws and chewing can be their jam, particularly if they're bored. Make sure it doesn't turn into destruction by redirecting their attention to something even more fun to gnaw on: a challenging, almost indestructible, beef-flavored squeaky toy. Yup, this design has it all, from tantalizing taste to sounds and texture that dogs love. It even comes in a few different shapes so you can tailor it to your pet's preferences when it comes to toys and chewing: cube, football, magic ball, and cylinder. Made from natural rubber, this squeaky chew toy is not just super durable, but also completely safe for your pet to chew on. The size is a match for medium and large dog breeds- which means it's just right for your Miniature Husky and their chompers!
7. Best Motivation: Outward Hound Dog Tornado
This is an intermediate level toy that will most likely be just perfect for your Miniature Husky. Treats can shoot out like a tornado, but your dog has to make that happen with spinning, and figuring out how to do so will keep her entertained and motivated. It's rugged and durable, and is available in various difficulty levels.
8. Best Eco-Friendly: Ethical Pets Seek-A-Treat Toy
Another toy that will reward your pup for making good and smart choices, this treat puzzle will also have him flipping away to try and find that next treat. It's made of eco-friendly materials, is durable and motivating and you can connect pieces to give more challenge.
9. Best Interactive: Nina Ottosson by Outward Hound Challenge Slider Interactive Treat Puzzle Dog Toy.
It's no secret that Miniature Huskies are smart cookies that get bored easily, and if your pet has already grown tired of his current toys and doesn't seem entertained much by regular choices, then it's time to up the stakes. Dog puzzles come in different difficulty levels and Nina Ottosson by Outward Hound Challenge Slider Interactive Treat Puzzle Dog Toy is categorized as advanced. The goal here is to have your pooch discover treats under the sliders, which can be moved in certain order to reveal the yumminess inside. This might be a bit too challenging for most dogs, but if your pet has already figured out the basic dog puzzles, this is the one to go for.
This interactive puzzle toy is made of BPA, PVA, & phthalate-free plastic, and has no removable parts to ensure your pet's safety. It is easy to clean with soap and water and can hold a cup of food inside the compartments- meaning that it can also be a good choice for those voracious eaters that eat their kibble too fast.
10. Best Tech: Petcube Play 2 Wi-Fi Pet Camera
And if you're really going to go there, why not give yourself some entertainment too? This Interactive WiFi Laser Toy is great for your dog because you can use it when you're there or away. When pet parents are gone is typically when pups get the most bored and destructive, so this interactive laser toy lets you watch your dog chase the laser endlessly and remotely. It lets you talk through the speaker so your dog still can have instructions and acts as a 1080p video monitor as well.

Published September 9th, 2021 12:00 AM