96 Views
November 16th, 2021 12:00 AM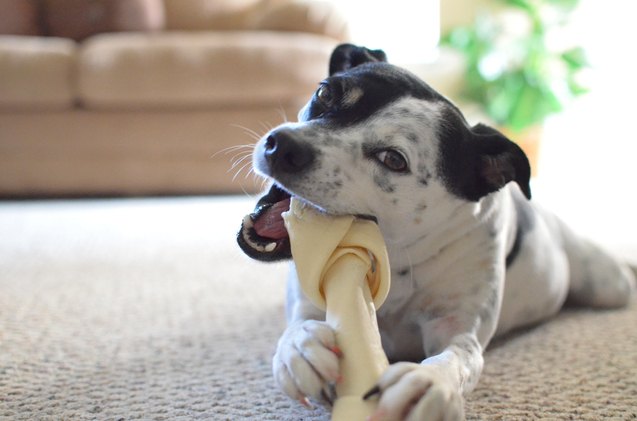 Dog chews help occupy your pup, give them an outlet for their innate desire for chewing, and keep those canines sparkly clean. There are tons of options to pick from, though, so we've selected the best dog chews on the market to make your choice easier!
Following your shoes or sofa legs, dog chews are the next favorite thing for pooches to gnaw on. But there are soooo many to choose from! Deer antlers, bones, dental chews, rawhide, dehydrated fruits, and veggies, etc- how is anyone supposed to pick the right one? Each pooch is different, so their preferences (and chewing abilities) will vary. Some doggos go bananas for the flavor of rawhide, others get an upset stomach after nibbling it. Natural dog treats are healthy for your pooch, but some picky eaters will simply turn up their noses at a cheese chew or a dehydrated sweet potato. This is why it's important to start with what your dog really likes and then go from there.
Our guide on choosing dog chews will help you make an informed choice of treats for your pooch- something that's healthy, safe, and best of all, super yummy for your four-legged bestie. Read on to learn more about the origin, ingredients, and safety of dog chews and our handpicked selection of the best dog chews currently on the market.
1. Editor's Choice: Mighty Paw Yak Cheese Chews For Dogs
Guilt-free, healthy, yummy, and made from 3 natural ingredients only- these cheesy chews will have your dog's tail wagging in no time! Mighty Paw Yak Cheese Chews For Dogs are made from milk (yak and cow), lime, and salt, and there are no chemicals, additives, preservatives, or gluten in them. Not even lactose- the curing process removes it! So if you have a pooch with a sensitive stomach or you are mindful about your dog's diet and want only natural treats, these are the ones to go for. The hard consistency of these chews makes them quite long-lasting and suited for enthusiastic chewers, as well. Rich in calcium and protein, these healthy dog chews suit pooches up to 75 lbs.
Pros
Healthy and protein-rich
Only 3 ingredients
No chemical additives
Long-lasting
2. Runner Up: Dingo Wag'n'Wraps
Made with real chicken and pork, these chew treats are designed for picky pooches that don't find natural treats appealing. Enhanced with natural smoke flavor, these treats, however, will have your picky doggo salivating at the sight of them! The chewy center with real chicken inside is wrapped with premium rawhide, making for a lasting and delicious chew that will help keep tartar at bay. Available in a slim version that suits all dog breeds and large size suited to bigger dogs, Dingo Wag'n'Wraps has a match for any pet's needs.
Pros
Tasty smoky chicken flavor
Help keep teeth clean
Will keep your dog occupied
Cons
Contains artificial flavors and coloring
3. Customer's Choice: Rachael Ray Nutrish Soup Bones
These chews are a favorite with so many dogs for a good reason: the chewy exterior of the treat combined with the tender meaty center simply hits the spot for our four-legged besties. Cooked in the USA with premium quality ingredients- no meat by-products or artificial flavors- these chews come in 3 flavor options. Beef and barley, chicken and veggies, and turkey and rice, and in each case, meat is sourced from farms in the USA. No need to worry about contamination of the meat when it is raised within strict guidelines! These tasty chews are suited to small, medium, and large breed dogs alike- everyone can enjoy these soup-flavored treats.
Pros
US farm-raised meat
3 flavors to choose from
Meaty tender center
Cons
They don't last very long
4. Best for Dental Hygiene: Whimzees Brushzees Large Natural Dog Dental Treat
One of the best things about chew treats and chew toys is that they help promote better oral hygiene while being a reward to your pet- the best of both worlds if you please. These particular dental chews are designed specifically to battle plaque buildup by preventing it and helping minimize the damage already done, so it doesn't come as a surprise that they are veterinarian recommended and VOHC accepted (Veterinary Oral Health Council). To make sure every pooch can reap the benefits of these dental chews, they are made with no artificial colors, flavors, preservatives, gluten, or meat so even dogs with food allergies and sensitive tummies can get to enjoy the taste of these chews- and the sparkly white pearlies that they leave behind.
Pros
No artificial colors, flavors, preservatives, gluten, or meat
Prevent and reduce tartar buildup
They freshen breath
5. Best for Aggressive Chewers: Pawstruck Natural Knee Cap Dog Bones
You don't have to have big chompers to be an aggressive chewer- some dogs gnaw on their toys and treats so destructively that rarely anything lasts them more than a few hours. And not just that- they are frequently at risk for an upset stomach or intestinal blockage because they chew off more than they should have- or something that they shouldn't have been chewing on in the first place. If your dog is too enthusiastic with chews, try this natural alternative: beef knee caps. Made in a USDA-inspected facility from cattle born and raised in the USA, these beefy treats are perfectly safe for your pooch to munch on. Slowly baked, these knee caps are full of flavor but also very tough to destroy into bits- they just might give your aggressive chewer a bit of a challenge.
Pros
Long-lasting
Completely natural
Made from USA-raised cattle in a USDA-inspected facility
Cons
High-fat content, can be too greasy
6. Best for Puppies: N-Bone Puppy Teething Ring Chicken Flavor
Ah, the "beauties" of the teething stage: nothing is safe, not your shoes, not your furniture, heck, not even your legs! A durable chew treat is an excellent way to redirect your enthusiastic puppy to try and soothe their gums on something you approve of, for a change. N-Bone Puppy Teething Rings are designed to entice and engage your tiny doggo into a chewing session: the shape and the chicken flavor make these teething rings irresistible. To make these even better for puppies, they are enriched with calcium, and essential fatty acids such as DHA, which is essential for healthy cognitive development in puppies. Made in the USA, these treats are meant for puppies over 12 weeks of age and 5lbs of weight.
Pros
Helps relieve teething pain and soreness
Enriched with calcium and DHA
Tasty and durable
Cons
Not for sensitive tummies
7. Best Rawhide: Pet Factory Beefhide Chip Rolls
Rawhide treats are somewhat controversial because they can be dangerous if treated with chemicals, but natural rawhide made from locally grown cattle is a good choice for dogs that are not aggressive chewers (as they can bite off larger chunks that could cause intestinal blockage). If your pooch is a moderate nibbler, they'll enjoy these natural and nutritious chip rolls, made from American beefhide in the USA while following strict GFSI food quality standards to ensure these chews are healthy and digestible. To boot, they are peanut butter flavored- no doggo can say no to that!
Pros
Natural, USA-sourced and made beefhide
Peanut butter flavored to entice picky eaters
Long-lasting
Cons
Not for aggressive chewers or dogs with sensitive stomachs
8. Best on a Diet: BRUTUS & BARNABY Sweet Potato Dog Treats
Not all chews are suited for dogs on a weight management plant- even when they are natural, they can be high in fat or calorie count. These natural treats are a perfect way to reward your pet without worrying about them getting some extra fluff as they are made from a single natural ingredient- sweet potato. Thick slices of sweet potato are dehydrated to preserve all the essential nutrients and antioxidants, but also to give them a chewy texture that will keep your pooch occupied with gnawing. With zero fat or sugar and with plenty of fiber instead, these chews will promote better digestion and won't mess up your chonky pet's diet.
Pros
Tasty and long-lasting
Low-calorie count
Single natural ingredient
9. Best for Small Dogs: Native Pet Yak Chews for Dogs
Petite pooches need size-appropriate chews- a big bone to gnaw on will be too big of a challenge for their tiny teeth. These cheese chews are an excellent compromise as they are challenging enough so they last a while before your small dog snarfs them up completely, but small enough to allow them to really get in there and enjoy the chewing process. Made from pasture-raised yak and cow's milk, salt, and lime juice, these chews are completely natural and healthy to boot. Rich in protein but free of grains, lactose, and other potential allergens, these cheese chews make a good choice for small dogs with tummy issues, too.
Pros
Small but durable
Made only with 4 natural ingredients
Good for dogs with food sensitivities
10. Best for Large Dogs: Earth Animal Large No-Hide Dog Chews
If you have a large or a giant breed dog, you're probably feeling like you're in a pickle when it comes to choosing dog chews: what most dogs could gnaw on for hours on end, your big doggo could swallow in a bite. That is why these jumbo-size dog chews are a perfect solution for all those extra-large pooches out there: the chew is 11" long for hours of nibbling and chewing your pet can finally enjoy. To boot, this no-hide treat is a healthier alternative to rawhide and it is made with only 6 natural ingredients- salmon, brown rice flour, agar-agar (vegetable gelatin), organic eggs, olive oil, banana powder, and pineapple stems. Hand-rolled in Pennsylvania, these treats are not just tasty and fun, but they are healthy as well!
Pros
Large size- 11" long
Made from 6 ingredients only
A natural and healthy alternative to rawhide
What to Look for in Dog Chews
Finding that perfect dog chew can be a daunting task- there are literally thousands of options out there! From rawhides to dental treats to cheese chews and everything in between, there are plenty of options to choose from, but you have to make sure to pick with care if you want only the best for your precious pooch.
Origin
There's been a lot of controversy about dog treats made in China or from ingredients from China because of adverse effects dogs have been having- from melamine contamination to a possible link to Fanconi syndrome- so most pet parents try to steer clear from treats that are not made in the USA. If you are worried about dubious ingredients and want only treats produced with the highest standards of safety in mind, opt for locally produced ones or those that use meat from South America, Australia, or New Zealand. These countries are strict about producing the highest quality meat so you usually don't have to worry about chemical processing or contamination.
Type
There are all kinds of chews out there, so it's up to you to figure out which one is right for your dog. Natural dehydrated chew treats are always a good choice as they are low-fat and healthy, long-lasting chews or durable chews are meant for aggressive chewers, dental chews help keep oral hygiene up to standards, and so on. There are also chews meant for different breed sizes or life stages, so make sure that you get a chew appropriate for your pet's chompers. You don't want them breaking off a tooth on a more challenging chew or choking on one that is too small for them to gnaw on!
Ingredients
It's not only the source of the ingredients that matters. Even if treats are produced locally in the USA, they can still be unhealthy for your dog. Avoid edible dog chews that are full of additives, conservatives, and artificial ingredients that could irritate your pet's tummy, and rather opt for natural, limited ingredient dog chews that are much healthier and easier to digest.
We are committed to finding, researching, and recommending the best products. We earn commissions from purchases you make using the retail links in our product reviews. Learn more about how this works.

Angela Vuckovic
A proud mama to seven dogs and ten cats, Angela spends her days writing for her fellow pet parents and pampering her furballs, all of whom are rescues. When she's not gushing over her adorable cats or playing with her dogs, she can be found curled up with a good fantasy book.
More by Angela Vuckovic
Published November 16th, 2021 12:00 AM