258 Views
February 25th, 2022 12:00 AM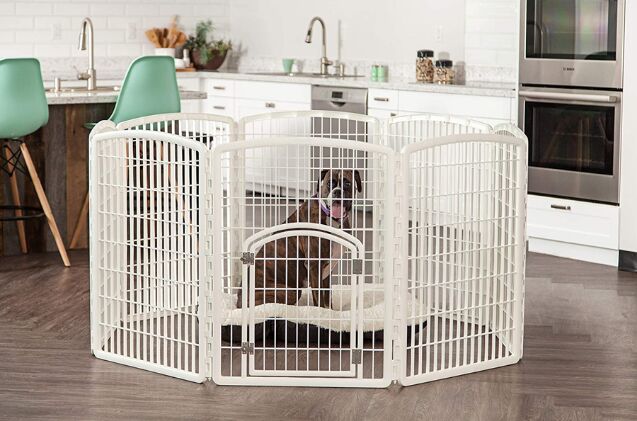 Dog exercise pens help keep energetic dogs safe both indoors and outdoors. Easy to store and super practical, these dog exercise pens are great to have around!
It's no secret that dogs can sometimes be a handful. When those zoomies hit, your pet will be all over the place. It is crucial to keep them safe during that time, and one of these exercise pens can help with that. Foldable and easy to assemble, they prevent your dog from bumping into furniture or wandering out of the yard while still providing plenty of room to stretch, move, and exercise. Check out our list of the best exercise pens on the market and find the one best suited for your needs.
1. Editor's Choice: Amazon Basics Foldable Metal Dog and Pet Exercise Playpen
Not all dog owners are able to rely on a spacious fenced-in yard or a nearby park. That's why an exercise pen is such a handy accessory to have in your home. You can provide your doggo with a safe and enclosed area to take in the fresh air and stretch out – without worrying! Amazon Basics relies on a great design to provide your pet with a safe space for play. These exercise pens come in sizes from XS to L and can be suited for all dog breeds. Ideal for both outdoor and indoor areas, this pen is made from durable metal with a rust-proof black finish. The design is foldable and easy to store and is secured with two sturdy latches. No tools and no hassle! Besides, with 8 connected panels, you can really use your imagination and create various shapes that are suited to your (and your pet's) needs.
Pros
Foldable and easy to store
Versatile shapes
Several sizes to choose from
2. Runner Up: New World Pet Products Foldable Metal Exercise Pen & Pet Playpen
When exercise pens for dogs are considered, it is important to have adjustability. This unique design from New World products is aimed at delivering exactly that with its room for customization. With 8 connected and hinged panels, it allows you to create several shapes, from circular enclosures to square pens. This exercise pen is made from durable, high-quality metal and is coated with a black rust-preventive e-coat for greater weather resistance. Of course, it is great for the yard and for the house too. Included in the offer are special ground stakes to help you secure the pen more firmly to the ground when it's used outdoors. And thanks to the numerous size options on offer, this exercise pen is great for puppies and adult dogs alike.
Pros
Versatile design
Ground stakes for added stability
Rust-proof
3. Customer's Choice: Ruff 'n Ruffus Portable Foldable Pet Playpen
Even indoors, you might need an exercise pen. This is especially important if you have several dogs of different energy levels or a small puppy that might get hurt or accidentally squished. This portable exercise playpen from Ruff 'n Ruffus is ideal for the indoor area but can be used outside as well. Made from durable and waterproof materials, this 8-panel playpen is totally foldable and fits snuggly into a nifty carrying case. This means that you can take it to the park or to your friend's house if needs be. It has a roomy zippered door at the front for easy entry and exit, and a removable zippered top for extra shade from the sun or protection from the rain. The whole design is super lightweight, but it is still stable enough to be used anywhere. Added is the mentioned carrying case, as well as a nifty collapsible food bowl to make traveling all the easier.
Pros
Easy to store and carry
Zippered front door
Durable and waterproof materials
Cons
Not for playing without supervision
4. Best Foldable: MidWest Foldable Metal Dog Exercise Pen
Whether you're using your dog's exercise pen in the house or in the yard, it is important to have the ability to store it conveniently and without hassle. This MidWest foldable design is ideal for this. It is a roomy, stable 8-panel exercise pen without a door and with sturdy securing latches. This design is ideal because it gives you the needed versatility to choose the shape you want, but it also collapses and folds out of the way in just moments – without any tools! The panels are made from high-quality tough metal, covered with a special e-coat that prevents rusting and endures the elements. If you happen to use it outside, you are provided with special ground anchors for extra stability. Also on offer is a version with a front door for added convenience.
Pros
Easily folded and stored
Durable construction
Ground anchors for stability
Various sizes and versions to choose from
Cons
Might lack stability indoors
5. Best Indoor: DONORO Portable Dog Playpen
Not all exercise pens are made for the outside. While this Donoro playpen is certainly great for the outdoors when the weather is sunny, it will be much better when used indoors. This unique fabric pen is made from super-tough 600D Oxford material, which makes it weather-resistant, but also makes it able to resist all those pesky doggo bites. If you happen to use it outside, no worries – this pen has breathable mesh windows for improved ventilation and a removable roof for sunshade. At the front is a large zippered door for quick and easy entry. At the bottom is a thicker, more durable, and waterproof material, which won't leave your pet exposed to the cold flooring. All in all, this is a very versatile design suited for any situation you choose.
Pros
Spacious zippered door
Breathable mesh windows
Quite durable
6. Best Decorative: IRIS USA 8-Panel Pet Playpen with Door
Guests are over? Doggos are becoming restless? It's time for a time-out? This decorative indoor exercise pen will help with any of these situations without sticking out like a sore thumb. The first thing to notice is the stylish, elegant design that will seamlessly match your living room, bedroom, or kitchen. This is a foldable and convenient exercise pen with 8 interlocking panels, made from extra-tough commercial-grade plastic material. Thanks to the interconnecting full-length rods, you can quickly and without any hassle disassemble the pen and store it neatly wherever you want. When set up, the pen relies on sturdy steel latches and a convenient front door for easy entrance. The base color is stylish white, but you can also go for a more elegant black. For added stability, there are included rubber pads to prevent any skidding. This entire unit measures 63.0 x 63.0 x 34.3 inches, and there are no other sizes available. This makes it great for small and medium doggos, but larger breeds might need a better solution.
Pros
Stylish and decorative
Sturdy full-length hinges
Easy to store
7. Best Heavy Duty Dog Exercise Pen: Bosely Heavy Duty Foldable Dog Playpen
Dogs can be rowdy – no doubt about that. They can also be full of energy and quite strong. A weaker, flimsy exercise pen can stand no chance against a determined pooch. This Bosely pen is great for the more "vivacious" dogs thanks to its heavy-duty and robust design. It is made from thick, high-quality metal piping, which is coated to make it weather-resistant and rust-proof. Each of the 8 panels included has curved sides, which also adds to integrity and strength. In short, this exercise pen is bound to endure anything! Of course, these panels are modular so you can assemble them in the shape that is best suited to your needs. A tall front door makes entering convenient for your pet. When not in use, the pen can be folded and stored somewhere safe. Perfect for some outdoor lounging in a safe area.
Pros
Extra tough
Rounded edges for extra safety
Modular design
Cons
Front doors are somewhat narrow
8. Best Enclosure: Pet Trex Foldable Metal Exercise Playpen
An exercise pen needs to provide plenty of space for exercise – cramped pens simply won't do. This design allows for a lot of free space within the enclosure-type exercise pen: your pet won't have any trouble stretching, moving, and jumping about. And they will be protected all the while. This design is made from tough metal with a special satin black electro coat finish that helps with durability, weather resistance, and rust. A wide front door helps with easy entry, and the double latch access makes for a secure fit. It also comes with ground stakes for some extra stability when used outside. When not in use, this exercise pen is super easy to fold down and store virtually anywhere you'd like. Simple, efficient, and easy to use.
Pros
Easy to fold out of the way
Durable and spacious
Sturdy and stable
Cons
A bit flimsy when used indoors
9. Best Metal: HONGFENGDZ Dog Fence Playpen
When you need some extra stability and durability, nothing beats a good old metal construction. This great exercise pen for dogs is made from high-quality coated metal, ensuring its toughness and resistance to the elements. Made from 8 portable panels, this pen is easily assembled and can later be folded equally simply. A moderately sized front door allows your pets to easily enter and exit, and is secured with sturdy latches when closed. With absolutely no tools needed for the assembly, this exercise pen is great for both the indoors and outdoors, and can even be packed in the car for your next camping trip!
Pros
Modular design
Heavy-duty build
Secure front door
10. Best Portable: X-ZONE PET Portable Foldable Pet Dog Cat Playpen
Isn't it great to have the ability to take an exercise pen wherever you go and include your furry four-legged friend in your next adventure without having to worry about their safety? This superb design allows you exactly that. Made from heavy-duty 600D Oxford fabric, this exercise pen is easy to fold and carry wherever you are. A set of mesh windows allows for air circulation, and a detachable roof protects from direct sunlight. The front doors are zippered and roomy, and also offer a lot of air circulation. Great to have tucked away in your car for your next adventure.
Pros
Breathable mesh windows
Portable
Protects from the elements
What are the Benefits of Dog Exercise Pens?
An exercise pen for dogs might seem like a mundane accessory, but its benefits are numerous. When you consider all the positive traits and unique features, you will realize why every dog owner needs to have one of these in their home. These are just a few of the many benefits of dog exercise pens.
Protects your pet
Puppies and overly-energetic dogs might need some extra protection in the house or in the yard. An exercise pen is ideal for this. It keeps a puppy safe from accidents and other bigger dogs, and it prevents energetic doggos from making a mess or something worse.
Prevents running off
Dogs can be quite inquisitive and mischievous, no doubt about that. If you don't own a fenced-in yard, letting your dog out of the house can end in disaster. Given half a chance, some dogs might run away and get lost or hurt. An exercise pen or enclosure helps keep your pet safe even if you don't have a fenced-in yard.
Gives you some free time
Dogs require a lot of work and attention. Letting them run around freely all over the place can require your undivided attention. But once you tuck them into an exercise pen, you can finally breathe easily and rest. This accessory gives you a bit of peace of mind and some free time to focus on your own needs.
We are committed to finding, researching, and recommending the best products. We earn commissions from purchases you make using the retail links in our product reviews. Learn more about how this works.

Angela Vuckovic
A proud mama to seven dogs and ten cats, Angela spends her days writing for her fellow pet parents and pampering her furballs, all of whom are rescues. When she's not gushing over her adorable cats or playing with her dogs, she can be found curled up with a good fantasy book.
More by Angela Vuckovic
Published February 25th, 2022 12:00 AM