101 Views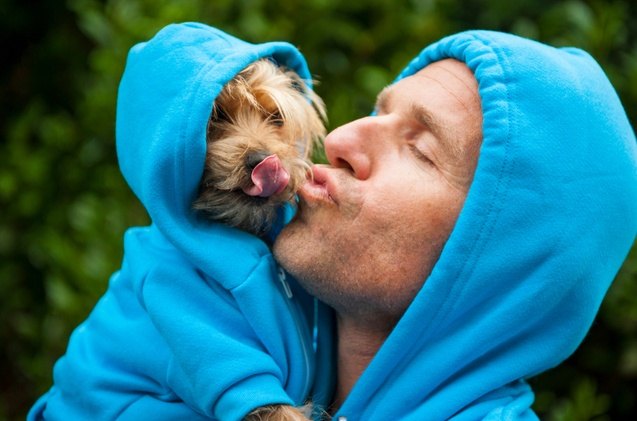 Dog hoodies are not just a fashion statement for trendy canines: they keep your pet warm and snug when it's cold outside. Take a look at our selection of the cutest high-quality dog hoodies and pick something nice for your four-legged friend!
Many pet parents love dressing up their pooches (even when their furballs don't share their enthusiasm for clothes), but pet clothes are about more than fashion. In some cases and for some dogs, clothing is not optional- it keeps them warm and protected from the elements. Of course, there are still plenty of options to choose from depending on your needs and preferences, so both convenience and style get to play a part in your choice of your dog's outfits. For cold-sensitive dogs and those that live in areas where winters are cold, dog winter jackets or coats are the answer. In the case where you just want to keep your pooch protected from pesky rainfall, go for adorable and waterproof dog raincoats. And in cases where your pet needs a layered outfit for added warmth or something lighter than a coat that will still keep him warm during chilly autumn and winter days, dog sweaters and dog hoodies are the answer.
What are the benefits of dog hoodies?
Dog hoodies are particularly practical if you need something that's easy to clean, warm, soft, and that offers a bit of extra protection around the neck and head area, which is important when the winds are strong and biting. Not unlike hoodies that you'd wear, dog hoodies are made from cotton and polyester-type fabrics, and often designed in a way that resembles popular human fashion to double the cuteness factor – you can wear a matching sweatshirt to your pet's which is undeniably adorable as it gets. There are different thicknesses of the fabric, too, ranging from thinner hoodies ideal for autumn evenings to those that will make your pet feel cozier even when it's wintertime. Of course, when you choose, you'll have to consider different factors, from the length of your pet's hair to his chubbiness, to the weather you'll be having when he's wearing the hoodie. There are many more features to look into when picking the best dog hoodies for your furry bestie – so much so that it can be tiresome finding the ones that give you the best bang for your buck and make your pet feel warm and comfy at the same time.
To help you narrow down your choice, we've rounded up the best dog hoodies for dogs of all shapes and sizes. From fluffy and cute to budget-friendly and fashionable, you can find a match for every preference on our list! And if you need some advice on what features to look for to ensure you're getting the right kind of dog hoodies, we've got you covered as well, with our comprehensive buying guide.
1. Editor's Pick: EXPAWLORER Dog Hoodie
Cute, affordable, and practical, this dog hoodie has everything you and your pet need. Made from a polyester polar fleece, this hoodie is soft, warm, and snuggly. The hoodie is designed to be loose and comfortable, so your pooch won't mind having it over his head. Ideal for walks, it has a built-in O-ring that you can attach the leash to without needing a harness or a collar. This dog hoodie comes in black, grey, blue, purple, red, and pink color and in sizes from extra small to extra, extra large.
2. Runner Up: Fitwarm Knitted Pet Hoodie
This pullover-style dog hoodie is stylish and comfy both! With ribbed elastic legs, it is easy to put on and doesn't feel uncomfortable to wear. The fabric is soft, warm, and machine washable – you can even tumble dry it on low. To make things even better, this hoodie has a leash hole, so you can safely attach the lead to the harness beneath the clothes. This knitted hoodie is available in grey and beige and in sizes that range from toy breed compatibility to matching the size of larger pooches such as Chow Chow.
3. Best Fleece: EXPAWLORER Fleece Dog Hoodie
Are you a dog mom for life? This cute and silly fleece lined dog hoodie lets all your pooches friends know that his dog mom loves him to the fire hydrant and back. The hoodie's black design is classic but it still has a bit of a rock and roll edge for those cool dogs. It comes in a variety of sizes- from extra small to extra large- so you can fit all your puppies no matter their size. If you aren't sure which size your dog would wear or they are on the border of sizing, the brand recommends ordering a size up.
The EXPAWLORER Fleece Dog Hoodie is made with 65% cotton and 35% polyester so it will keep your pup warm and dry. It is perfect for cooler weather or for use in the winter time during your daily walks. EXPAWLORER also has some additional designs to choose from with cute and funny sayings, giving your dog an entire wardrobe to work off of each day.
4. Best Everyday Wear: Casual Canine Basic Dog Hoodie
Looking for something that is just an everyday staple for your pup? This simple cotton hoodie by Casual Canine is a great addition to your dog's wardrobe. It comes in a variety of colors such as navy, red, black, grey, pink, and silver. In fact, chances are that you and your pup will have matching hoodies and can even twin it on your way to the dog park or your daily walk around the block. They also come in a variety of sizes from extra small to extra large so each dog can be kept warm and toasty on cold days.
The Casual Canine Basic Dog Hoodie is made with 100% cotton so it will keep your dog warm but not overheated. It is the perfect sweater for when the temperatures dip in the fall, before they start warming up in the spring, or even for warmer climates in the winter. It is completely machine washable making it easy to keep clean, and the elastic "wrists" keep it snug and secure while your pup is on the move. It is must-have for your stylish doggo.
5. Best Trendy: Hozz Dog Clothes Red Buffalo Plaid Trendy Dog Hoodie
Who's the coolest pooch on the block? This trendy dog hoodie will make your doggo stand out- and tell everyone what their favorite thing in the world is. With 'hey, wanna play?' written on the back, it'll be hard to resist throwing a ball, after all! Made from lightweight, soft, and stretchy polyester, this practical dog hoodie can be worn throughout the year as it's not too bulky or too warm- just right for crispy cool autumn afternoons and moderate climates. With an elasticized waist and a leash hole on the back, this hoodie is also super easy to put on- your pooch will be ready for a walk in no time. The hoodie is also machine washable for ease of cleaning and comes in small, medium, and large size.
6. Best Dress Up: Impoosy Pet Dog Prisoner Hoodie
Who let the dogs out, who, who, who? Ideal for Halloween or daily wear if you like your pet wearing fun and quirky outfits, this "prisoner" hoodie will tell everyone that your good boy might not be a perfect little angel like he seems to be. Only fair to out them after they chew your favorite shoes or dig out the garden beds! Made from durable and breathable cotton, this lightweight hoodie will not be the best choice if you want something warm for winter, but it is good for layering and autumn wear. Machine washable, stretchy, and comfy, this dog hoodie will be a great alternative for a costume if your pooch is not too keen on wearing complex getups for the spooky season. Impoosy Pet Dog Prisoner Hoodie comes in sizes from XS to XL but will fit only small breed and toy dogs ranging from 2 to 17 lbs.
7: Best Plaid: KOOLTAIL Plaid Dog Hoodie
Lumberchic anyone? This simple yet eye-catching hoodie is a great way to make your dog stand out in the doggie park without breaking the bank. The soft and breathable material, vibrant colors, and practical details such as leash opening make this hoodie popular with pawrents. Adorable and affordable, this plaid dog hoodie comes in blue, white, or red and six different sizes from extra small to extra, extra large.
8. Best Full Coverage: XPAWLORER Fleece Warm Dog Hoodie
In case you need a hoodie for cold weather, this faux sherpa suit with a high collar hoodie is a good choice it will keep your pet warm and snug as a bug. The collar-hoodie has a drawstring cord on the edge, so you can adjust it to fit your pet and stay in place – whether that's around the neck or covering your pet's ears. This hoodie is available in small, medium, and large – but the sizes run small.
9. Best Lightweight: Ellie Dog Wear Zip Up Adventure Light Grey Dog Hoodie
Do you want to go twinsies with your doggo? Then you can't go wrong with this classic grey zip up hoodie! Unlike most dog hoodies that are pulled over your pet's head, this one is far easier to put on and a great choice for dogs that are reluctant to wear clothes in the first place, as it zips up in the front just like your standard zip up hoodie. The design is harness-friendly, so you can put it over the harness and attach the leash through a small hole on the back- easy peasy and you're ready for a hike in no time! The hoop and loop pocket on the back is not only for show, either, as it is sealable and you can put treats or some other on-the-walk necessities in it. Made from cotton and spandex, this hoodie is soft, pleasant to wear (even in the colder days), and machine washable. It comes in sizes from extra small to extra large so most pooches will easily find a fit.
10. Honorable Mention: SCENEREAL Pet Dog Hoodie
Warm and practical, this hoodie for dogs is made from polyester-type fabric that's soft, elastic and holds its shape well even after some wear. It is easy to put on, comfy to wear and has a small hole on the back to put the leash through. Durable and cute to boot, this pet hoodie is a good choice. It comes in two colors – pink and blue – and sizes small, medium, large, and extra large.
Hoodies vs jackets: which to choose
There are so many pet products on the market that it can be difficult discerning what your pet actually needs and what would be unnecessary or a poor choice. Those varieties are quite noticeable when it comes to pet fashion and all those cute stuff you get to choose from, but when it comes to practicality, you might be stumped as to what outfit is the right match. Some dog clothes are meant for "show" only, such as Halloween costumes, and others are tailored to give your pet the comfort and convenience above all else. But when it comes to dog jackets and coats vs dog hoodies and sweaters, the main factor that confuses pet owners is the level of warmth their pet requires and if their outfit will be adequate for the weather.
The first things to consider are your pet's coat type, size, and body weight. Generally speaking, dogs with thick, furry, double coats might not need any kind of clothes in the winter, despite the cold – their own hair serves as insulation and adding more layers to it could actually lead to overheating. Dogs with thicker hair or longer coats might not need a heavy, padded jacket to stay warm in the low temperatures, and a lightweight vest or a hoodie will be a more suited match. The same goes for chubby dogs – if your pet has a layer of fat protecting him, it's likely that a sweater or a hoodie will be more than enough to maintain optimal body temperature during winter. (That doesn't mean that your pet should be obese- even if the extra fluff comes in handy when it's chilly outside.)
On the other hand, petite dogs, dogs with short hair, and lean and fit pooches are those that will need an extra layer of insulation in cold weather. Some tiny and short-haired dogs such as Chihuahuas, Min Pins, or Italian Greyhounds might even shiver indoors when the temperatures drop, let alone outside. For these extremely cold-sensitive dogs, a dog hoodie can be worn when they are inside, or as an additional layer underneath a jacket when they're out on a walk. They will need all the extra warmth they can get, so a hoodie is especially convenient, as it will keep their head and neck area snug and protected from the chill.
Lastly, you'll have to consider the climate in your area- winter weather is not the same in California and Canada, after all. In some cases, where temperatures in the colder months of the year stay above zero, it's likely that a thick winter jacket will be too much for most dogs, and a warm hoodie will prove to be just what they need to stave off the cold on your daily walks. Similarly, in areas where winter weather is more extreme or where snow is common, dog hoodies fail to meet the standards when worn on their own. In these cases, dog hoodies are whether worn in combination with a coat or a jacket or in conditions where only light protection is needed (e.g. in a car or inside your home).
Features to look for in dog hoodies
Picking out a hoodie for your pet is not that difficult when you know what to pay attention to. Otherwise, it's easy to get carried away by all those bright colors, cute designs, and fun prints and lose sight of other more important features such as durability and convenience. And while dogs might not know much about fashion, they'll certainly know to make a difference between a warm and comfy hoodie and that made of poor quality materials that chafe and don't offer enough insulation. That's why you have to pay attention to the details beyond the style of the hoodie, such as:
Materials
There are various things to look for in hoodie materials: they should be durable, easy to clean, soft to touch, and offer enough warmth for your climate/pet's needs. Unfortunately, not all dog hoodies are well-made, and a great deal of the materials are cheap synthetics that won't warm up your dog or feel good against the skin- not to mention that they're notoriously difficult to wash and look worse for the wear in no time. Cotton-based fabric, either 100 percent cotton or cotton-poly blend is usually the type of material that is the best choice for dog hoodies. These fabrics can be washed in the machine (some dried in the drier, too), they are soft and snuggly, and most importantly, offer the right amount of insulation (there are varying options to choose from).
Sizing
You don't want the hoodie to feel too tight for your chonky doggo or be oversized so your petite pooch is tripping over the sleeves! To make sure that your pet won't mind wearing the hoodie and will feel comfortable in it, you have to get the size right – not too small, not too big. Luckily, dog hoodies come in all sizes, from those meant for toy breeds to matches for giant dogs. But, even so, sometimes the sizing is off- what counts as large, for instance, might fit a Doxie or a Pekingese instead of a Lab. To prevent this, be sure to measure your pet properly and compare with the dimensions of the hoodie. Use a tape measure to get their chest and neck circumference, and measure their length from the point where the neck meets the shoulders to an inch or two before their tail base.
Ease of putting on
The last thing you want is a hoodie that's complicated to put on – especially if your pet is not a big fan of being dressed in the first place. Unlike dog jackets, though, dog hoodies are rarely buttoned up or zipped up- they just go over your pet's head and you pull through their front legs through the sleeves. This might sound fussy, but after a few goes, it will take you seconds to get your dog ready for a walk!
Leash access
In most cases, pawrents are looking for dog hoodies that will keep their pets warm during chilly autumn and winter walks, and if that's the case with you- it's essential that you make sure that the hoodie is adjusted for this purpose. Not all dog hoodies have openings for leash, and if you use a harness as most do, you'd have to DIY your way through the hoodie, which would probably ruin it. Instead, opt for dog hoodies that either have a built-in D-ring to attach the leash or some form of access to connect the harness and the leash through the hoodie itself.
How should I put a hoodie on my dog?
Most dog hoodies are pullovers, which means that you'll have to start with pulling them over your pet's head. If your pooch is scared of this, scrunch up the hoodie so it is folded to the neck opening and hold the treat in the center so your pet will stick the head through the hole on their own. Then you just slide the rest down and place their front legs, one by one, in the leg openings. And that's it- you're all done and ready to enjoy a nice walk with your doggo!
Do dogs like wearing hoodies?
No two dogs are alike, which means what might be perfectly fine for some could be dreadful for others. Naturally, this also means that some dogs love wearing cute outfits and others throw a tantrum when they see you holding a dog coat in your hands. In general, hoodies are lightweight, stretchy, and comfy to wear so most dogs don't mind them- but if you have a skittish dog, opt for a zip up design that doesn't involve pulling the hoodie over the head.
How to measure the size of my dog for a hoodie?
Most dog hoodies come with detailed measurement so you can double check to secure a perfect fit, as there are many different dog body shapes out there. Most will require the circumference of your dog's neck, chest, and back, as well as the length of the body from shoulders to the part above the tail. The easiest and most precise way to measure your dog for clothes is to use a measuring tape.
Additional resources:
We are committed to finding, researching, and recommending the best products. We earn commissions from purchases you make using the retail links in our product reviews. Learn more about how this works.

Angela Vuckovic
A proud mama to seven dogs and ten cats, Angela spends her days writing for her fellow pet parents and pampering her furballs, all of whom are rescues. When she's not gushing over her adorable cats or playing with her dogs, she can be found curled up with a good fantasy book.
More by Angela Vuckovic
Published March 4th, 2021 12:00 AM