14 Views
November 26th, 2021 12:00 AM
We're committed to finding, researching, and recommending the best products. We earn commissions from purchases you make using links in our articles. Learn more here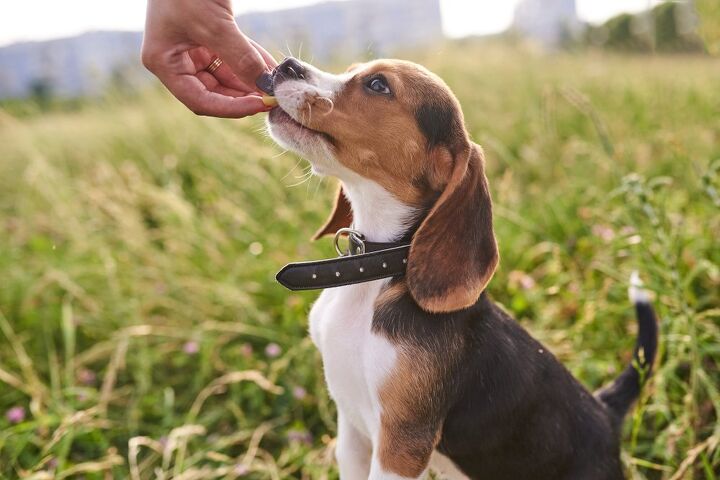 Puppy treats are not just a way to pamper your pooch, but a great aid in positive reinforcement training. To help you find the healthiest and yummiest puppy treats out there, we've rounded up the best the market has to offer.
While puppies are sweet, cute, and a never-ending source of joy, puppyhood is not just about fun- it's about learning, too. In those first months of their life, puppies learn how to be on their best behavior and it's up to you to set up those essential foundations for their future. Basic obedience training, potty training, learning commands- all of these learning processes are made easy when there's a yummy reward there to speed up the process and give your pet a goal to put in hard work for.
Puppy treats are an excellent way to reward your pet for a job well done, but not all of them are made alike. There are plenty of treats out there that are laden with fillers and artificial ingredients, so it's up to you to find puppy treats that are tasty yet actually good for your young pooch to munch on. To make your choice easier, we've selected the best puppy treats on the market right now.
1. Editor's Choice: Fruitables Healthy Dog Treats Pumpkin & Apple
Puppy treats should be healthy, easily digestible, yummy, and small enough for a puppy- and these crunchy baked treats check all of these boxes. Made from natural ingredients and then oven-baked, these puppy treats come in a few different formulas to satisfy every picky puppy's taste: pumpkin with creamy bananas and cinnamon, crispy bacon and sweet apples, pumpkin and blueberry, pumpkin and cranberry, pumpkin with southern pecans and vanilla, or pumpkin with sweet apples and cinnamon. Honestly, you'll be drooling at these, let alone your puppy! With only 8 calories per treat, these healthy, well-balanced puppy treats contain no artificial flavors, preservatives, or colors, as well as no corn, soy, or wheat. Produced in the USA, these treats come in 7 oz or 12 oz bags so there'll be plenty of yummies to go around.
Pros
Made in the USA
Natural ingredients
8 calories per treat
2. Runner Up: Spot Farms Chicken Apple Sausage Healthy All Natural Dog Treats
All-natural and made from human-grade ingredients in the USA, these soft, chewy puppy treats contain only the good stuff inside. Made from USDA-approved, antibiotic-free chicken raised on family farms in Kentucky, apples, honey, brown rice flour, and spices, these sausage-tasting dog treats are made to meet high USDA standards for human consumption. They are slow-cooked in small batches with all the nutrients and aromas locked in. Free of fillers, artificial flavors, preservatives, colors, corn, wheat, soy, and meat by-products or waste, they are chock full of natural flavors that puppies love. They are a bit calorie dense, though, at 28 calories per piece, so reward your doggo in moderation!
Pros
Human-grade ingredients
USDA approved
No artificial ingredients
3. Customer's Choice: Wellness Natural Pet Food Grain-Free Crunchy Puppy Bites
Just because you're on a budget doesn't have to mean that you can't find healthy puppy treats for your four-legged bestie! Free of grains, meat by-products, corn, wheat, soy, gluten, artificial colors, flavors, or preservatives, these crunchy petite treats are made from whole fruits and veggies including superfoods like blueberries and sweet potatoes for an antioxidant boost, and different types of meat: lamb or salmon or chicken. Made in the USA and specially formulated for puppies under 1 year of age, these crunchy yummy treats are also enriched with essential fatty acids, such as EPA and DHA, which are essential for healthy cognitive development. Talk about help with the training process- inside and out!
Pros
Affordable
Enriched with EPA and DHA
Healthy ingredients
Cons
Not for sensitive stomachs
4. Best for Training: BIXBI Pocket Trainers
It's no secret that dogs respond best to positive reinforcement training methods. When you use treats to coax and motivate them, they'll learn basic commands much quicker and the whole process is much more fun, both for you and your pet. These tiny, delicious treats make a perfect training aid as they fit in your pocket, come in a few different flavors doggos adore, and with less than 4 calories per treat, you can dole them out, guilt-free, without worrying about your pooch gaining a bit of fluff for being a good boy or a girl. Moist and soft, these tantalizing treats are made without artificial preservatives or flavors, gluten or grain, and come in 4 flavors: peanut butter, salmon, chicken, or bacon.
Pros
Small size great for training
Less than 4 kcal per treat
Soft texture
4 flavors to choose from
Cons
Not really for picky eaters
5. Best for Teething: N-Bone Puppy Teething Ring Chicken Flavor
The teething stage is a challenging one: when adult teeth start replacing baby ones, their gums become sore and itchy, so puppies try relieving their discomfort by chewing anything and everything they get their paws on. Teething treats are designed specifically to provide a tasty and stimulating way to relieve teething pain, and these chicken rings are one of many puppies' faves. Challenging enough for those curious chompers and fortified by EPA and DHA for healthy cognitive development, these chicken-flavored treats contain no wheat, corn, or soy and instead rely on natural ingredients to satisfy your puppy's refined palate.
Pros
Soothes sore gums
Yummy flavor
Provides hours of entertainment
Enriched by EPA and DHA
Cons
Not for sensitive stomachs
6. Best for Sensitive Stomachs: Portland Pet Food Company All-Natural Dog Treat Biscuits
Puppies are still developing, and more often than not, their tummies are easily upset by the wrong food. Too fatty, filled with additives, or cheap fillers like corn or wheat, and puppy treats can be the cause for sudden bouts of diarrhea or upset stomach. These natural treats are made with wholesome, easily digestible ingredients and are a great choice for those pooches that have a sensitive stomach. Sourced and baked in the USA from quality ingredients, these treats are free from gluten, wheat, and grain and do not contain GMOs, BHA, BHT, preservatives, artificial colorings, or artificial anything. Available in gingerbread, bacon, or pumpkin flavor, these tasty natural dog biscuits will have your puppy wagging their tail!
Pros
Natural and wholesome ingredients
3 flavors to choose from
Crunchy and easily breakable
7. Best Natural: Dog Chits Lamb or Bison Lung Fillets for Dogs
While lamb or bison lung might not sound too appetizing to you, your puppy will go bonkers for them- and not only that, but these treats are super healthy in addition to being yummy. Made with a single ingredient (lamb or bison lung) and cooked to exactly .6% moisture to ensure a chewy texture without crumbliness, these puppy treats are high in protein and low in fats. To boot, there are no artificial ingredients, fillers like corn or wheat, or harmful ingredients. Just natural meaty goodness for your pup to enjoy! Farm-grown and minimally processed in the USA, these natural lung fillets are a great choice for teething puppies or as a healthy reward for a job well done.
Pros
Single ingredient
High in protein and low in fat
Completely natural
Cons
Might be too hard for some puppies
8. Best Freeze Dried: Pupford Freeze-Dried Training Treats
Freeze-drying is a great way to make sure that natural ingredients stay unspoiled for a long time without losing any nutrients or flavor in the process. Naturally, this makes freeze-drying an excellent way to make meaty treats and kibble for dogs as they can enjoy all that protein and nutrients without any of the mess- or the risk of eating raw. These puppy treats are completely guilt-free as they are completely natural, made from a single ingredient, and have less than 1 calorie per treat. You can dole them out during training or use them to treat your pooch just because- no need to worry about harmful ingredients or weight gain. There are 5 flavors (or ingredients, to be more precise) to choose from: chicken, rabbit, liver, salmon, and sweet potato so anyone's taste can be met.
Pros
Single ingredient
5 flavors to pick from
Less than a calorie per treat
9. Best for Dental Health: Minties VetIQ Dog Dental Bone Treats
It's important to set a good oral hygiene routine from your dog's earliest days- not only it will be easier to keep to the routine if they are accustomed to it from a young age, but you'll also be able to prevent a myriad of oral health issues if you start caring for your dog's teeth early. In addition to brushing, dental puppy treats are another way to keep your pet's breath smelling fresh and stave off tartar buildup. These treats contain 5 completely natural breath-freshening ingredients- alfalfa, parsley, fennel dill, and peppermint- and have a unique texture that helps mechanically clean the teeth' surface. The chewy texture allows your puppy to really bite into the treat so all the bumps and divots can easily reach those hard-to-clean spaces. Free of wheat, corn, or soy, these USA-made treats are suited for all puppies under 40 lbs.
Pros
Prevents plaque buildup
Freshens breath
Tasty and free of fillers
10. Best Biscuits: Riley's Organics – Peanut Butter & Molasses Organic Dog Treats
There's nothing sweeter than the classic dog biscuit- while some puppies prefer the chewy texture of soft treats, the crunch of a biscuit is what gets a many puppy's tail wagging. These dog biscuits are not just yummy as they get, but they are also made from organic, human-grade ingredients to boot. Made only with 5 ingredients: organic peanut butter, organic oat flour, organic oats, organic peanut flour, and organic molasses, they are a great choice for pet owners that are mindful of their pet's diet and want only natural, non-GMO ingredients for their puppy. Certified by USDA, these treats are free of sugar, salt, artificial ingredients, as well as wheat and corn.
Pros
Human-grade ingredients
Crunchy texture
Organic, non-GMO ingredients
What to Look for in Puppy Treats?
While the choice might seem simple, it actually isn't. Picking out puppy treats shouldn't be an impulsive choice because, in addition to their role in training, treats can help set a good foundation for your pet's future diet. If they are used to healthy, nutritious food from the get-go, instead of a canine version of junk food, it will be easier for you to ensure that their diet is healthy and well-balanced throughout their life. These are the most important factors to consider to make sure that your four-legged baby is being rewarded only with the best stuff!
Avoid artificial ingredients or fillers
The golden rule of choosing dog food of any kind, including puppy treats, is to steer clear of dubious and potentially dangerous ingredients. In puppy treats, the ingredients that SHOULDN'T be on the list are artificial flavors and colors, propylene glycol, corn syrup, xylitol, chemical preservatives such as BHA/BHT, and MSG. Ideally, the treats should also be free of cheap fillers such as meat meal and meat by-products, corn, wheat, and other stuff that doesn't nurture your pet but instead can negatively affect their immunity and health in the long run.
Go for natural and/or human-grade ingredients
The best puppy treats are made from natural, premium-quality, or human-grade ingredients. Check labels for non-GMO, wild-caught, or free-range raised meats, and organic vegetables, and fruits. Another good option is freeze-dried or dehydrated dog treats, such as jerky, freeze-dried organs, or sweet potato, apples, etc. This method of processing doesn't involve any artificial ingredients and it actually perfectly preserves all the important nutrients for your pet to benefit from.
Size matters
Puppies are just babies- they don't have their adult teeth yet, and they can't always enjoy the full-sized pet treats the same way an adult dog would. Go for size-appropriate treats made for puppies specifically to make sure that they can chew and swallow them without any issue. Even if you have a large breed puppy, it's better to go for puppy-formula treats as the ingredients are adapted to the needs of growing dogs- just opt for the larger size if applicable.
Tailored to your pet's needs
Most puppy treats are meant to be used as a reward, whether just for the sake of it or as a training aid, but there are puppy treats that are formulated to address specific issues, such as bad breath or teething. If your pooch is chewing everything in their sight, teething treats can help soothe their painful gums and give them something yummy to gnaw on rather than your shoes or sofa legs. Similarly, dental puppy treats prevent plaque build-up and neutralize odors that cause bad breath.
We are committed to finding, researching, and recommending the best products. We earn commissions from purchases you make using the retail links in our product reviews. Learn more about how this works.

Angela Vuckovic
A proud mama to seven dogs and ten cats, Angela spends her days writing for her fellow pet parents and pampering her furballs, all of whom are rescues. When she's not gushing over her adorable cats or playing with her dogs, she can be found curled up with a good fantasy book.
More by Angela Vuckovic
Published November 26th, 2021 12:00 AM