52 Views
Best Wheelchairs for Dogs
August 12th, 2021 12:00 AM
We're committed to finding, researching, and recommending the best products. We earn commissions from purchases you make using links in our articles. Learn more here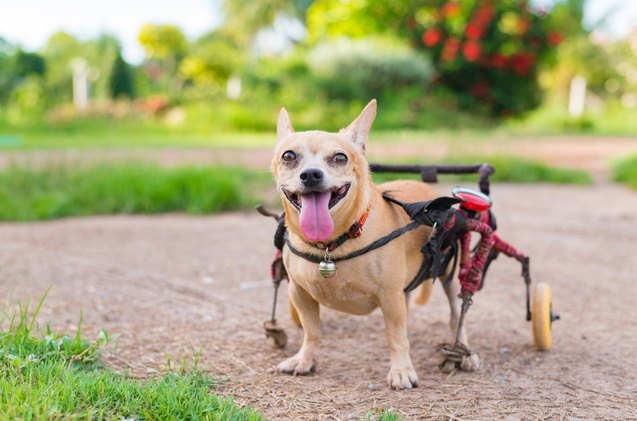 To help you choose the best mobility aid for your four-legged best friend, we've rounded up the most popular and best-reviewed wheelchairs for dogs.
Being a pet parents means being there for your four-legged companion through thick and thin, no matter what life throws at you. This includes unforeseen health complications, such as mobility issues, which can be a result of an accident, a breed-related problem, or simply something that comes with old age. A few decades back, if a dog had lost the use of his legs, the common decision was to euthanize, as people believed that impaired mobility or the complete loss of it would dramatically lower the quality of their pet's life. Luckily, that's not the case today- wheelchairs for dogs can help your precious pet regain their mobility, and lead a happy and fulfilled life for years to come. Wheelchairs for dogs come in various types and models, to better suit different mobility issues, and can be a solution for all dogs–regardless of their size and age. Even dogs with total mobility loss have a chance at life with these mobility aids. So, if your pet needs a little (or a lot of) help to be able to move around, don't despair. A properly fitting wheelchair will transform their life for the better!
Of course, not all wheelchairs for dogs will be an instant match for your pet's needs. Some wheelchairs are designed to offer support for dogs who lost the use of their hind legs, others are versatile and can be used for both front and hind legs, and some are meant to offer full support to quadriplegic dogs. The type of your pet's mobility issue is what will dictate your choice of a wheelchair. Then, there's the question of size. A wheelchair that's too large or too small for your dog will be uncomfortable and won't want or be able to use the wheelchair properly. Once you settle on a model, make sure to correctly measure your pooch to ensure their new ride will be a comfy and snug one. This is especially important for dogs that have total mobility loss, as they will spend most of their time in a wheelchair. Also, you should always pay attention to that the wheelchair you are choosing is suitable for the type of terrain you have where you live–it's not the same if your pooch is going to be gliding on sidewalks most of the time or strolling through grass and sand, for instance.
Wheelchairs for dogs represent a second chance at life for many dogs–so it's important to get it right. Whether you have a senior dog with aching joints that needs help to move around pain-free, a small breed dog with a back injury, or a paralyzed pooch that has no use of his legs, there is a way to give them a happy life. To help you choose the best mobility aid for your four-legged best friend, we've rounded up the most popular and best-reviewed wheelchairs for dogs.
1. Editor's Pick: Best Friend Mobility Large Dog Wheelchair
Designed and tested by a K9 orthopedic surgeon, this lightweight adjustable cart for dogs with mobility issues is a great fit for larger canines. If your dog measures 20 to 26 inches when standing from the floor to the top of their back at the hindquarters, this wheelchair should be a perfect match. The widest part of the cart is 21 inches wide, so if your pooch has extra fluff, be sure to measure their width, too, to ensure the construction won't rub and squeeze them. With wheelchairs, it's all about the right fit, as it ensures both comfort and safety!
The aluminum frame is light but sturdy, and it won't rust if exposed to the elements. Needless to say, this is the ideal combination, as you can rest assured that your dog's new wheelchair won't be difficult to pull around, and that it's durable enough to be used outdoors and indoors, during all seasons of the year. Also, the 14" all-terrain pneumatic wheels will give your pooch the ability to walk by your side wherever you are, from city streets to rugged nature trails. For comfort and security of your pooch, the Best Friends rear support wheelchair features a deluxe neoprene harness (both front and rear) and padded shoulder support.
2. Runner Up: SYLPHID Gen. 4 Collapsible Dog Wheelchair
Made to support small breed dogs after injury or loss of mobility in their hind legs, this modern and high-quality pet wheelchair is tailored to their unique needs, both when it comes to size and overall fit. The original dimensions of the wheelchair, in this case, might not be the most precise way to determine if it will be a match- as its construction and harness supports are fully adjustable to fit various small breed sizes. The height and width of the cart can be modified to fit dogs that are 9 inches to 13.8 inches tall, with hip measurements from 5.5 inches to 6.7 inches.
The lightweight aluminum frame in combination with deluxe neoprene harness and padded shoulder support ensures perfect comfort while your pet is pulling the cart. This is particularly important for smaller dogs who wouldn't get the range of mobility they need if they needed to rely on a heavier construction. Owing to the smooth plastic wheels, SYLPHID Gen. 4 Collapsible Dog Wheelchair is ideal for city sidewalks and urban environment.
3. Honorable Mention: K9 Carts The Original Dog Wheelchair
You can't go wrong with the OG of wheelchairs for dogs. This particular mobility aid was designed over 50 years ago by a veterinarian and has been a pet parent favorite ever since. Throughout the years, the design was perfected and every little detail thought of. The body of the wheelchair is made from polished aircraft-grade aluminum that is arguably the most lightweight material for mobility aids- that's also quite rugged and durable. Winter or summer, small dog or a big dog, the comfort and compatibility are guaranteed. K9 Carts The Original Dog Wheelchair comes in 5 different sizes, from extra small to large and accommodates dogs that weigh under 16 pounds up to those that weigh 80 pounds.
Also, the design of this wheelchair is versatile, so it can be used both as a walking cart and with your dog's hind legs suspended in the comfy foam-lined cable leg rings. This means that senior pets with weakened rear limbs, dogs recovering from operations or injuries, as well as dogs with amputated rear legs or complete loss of mobility in them can all use this cart with the same success.
4. Best for Small Breeds: Walkin' Wheels Dog Wheelchair for Small Dogs
Made from durable and lightweight extruded aluminum, Walkin' Wheels cart is easy to maneuver but offers the right support for your pet's body. This particular size is meant for small breed dogs- which are often susceptible to back injuries, such as Daschunhds, Pugs, French Bulldogs, and others that weigh between 11 and 25 pounds. The wheelchair is fully adjustable in length, width, and height so you can ensure a comfortable fit regardless of your pet's body type. And don't be fooled, there are significant variations between dogs categorized as small: Walkin' Wheels Dog Wheelchair can be adjusted to fit leg heights from 3 inches to 15 inches, all within the 14-pound range this cart is a fit for.
The textured, dense foam wheels with rubber treads all suitable for use on all terrains and will make sure your pooch can enjoy being outside and strolling around whether it's on concrete or on the beach. To boot, you can even choose the color of the wheelchair- pink, blue, and camo pattern are the available options.
5. Best All-Terrain: Best Friend Mobility Quad 4 Four Wheel Full Support
Most mobility carts on the market are rear support pet wheelchairs, but sometimes a pooch needs a helping hand for a bit more than that. Dogs that have forelimb or both forelimb and hindlimb disabilities need a different type of wheelchair- Best Friend Mobility Quad Support is specially designed for these mobility issues. Whether your pet has little or no mobility in all of his four limbs, their life doesn't have to lack the enjoyment of being mobile, as this full support cart will make sure they're not feeling left out from the daily routine. And it goes for all types of conditions, too- the all terrain polyurethane wheels work great in the great outdoors and city environment both.
The combination of stainless steel and lightweight aluminum guarantee a light yet sturdy wheelchair and the padded neoprene harness offers security and comfort. This four-leg wheelchair comes in 4 sizes- extra small, small, medium, and large.
6. Best Adjustable: Two Wheels Adjustable Dog Wheelchair
Inexpensive yet functional, this dog wheelchair is fully adjustable to accommodate dogs of almost any size. Not only that it can be tuned and tailored to your dog's unique measurements with ease, but there is also a great selection of overall fits. This wheelchair comes in 7 different sizes, from the smallest XXS that supports dogs that weigh from 2.2 to 11 pounds all the way up to their largest model, that can be used for dogs that weigh from 44 to 110 pounds. Within each of the categories, you can make sure your dog's specific body type is getting the support it requires by tweaking the aluminum frame and the neoprene harness as they're both fully adjustable. There is even a custom size meant for Corgis and Doxies to accomodate for their long bodies and short legs.
To boot, this wheelchair also comes with a belly band, a must for dogs with spondylitis (removable if your dog doesn't require the additional spine support.) Having in mind its budget-friendly price tag and fantastic features, it's undeniable that Two Wheels Adjustable Dog Wheelchair provides great value for money.
7. Best for Large Breeds: Walkin' Wheels Dog Wheelchair for Large Dogs
Aimed at the large breed market, this wheelchair is an excellent choice for dogs that weigh between 70 and 180 pounds. And yes, that's an impressive scope, but it's easy to see how one dog cart can fit perfectly such a diverse group when you have in mind how adjustable it is. Within the same weight limit, this dog wheelchair is available in 5 different heights: 14 to 16 inches, 17 to 20 inches, 21 to 22 inches, 23 to 25 inches, and 26 to 30 inches. This way, all big dogs are accommodated, from a chubby pooch with short legs to large breeds that are tall and lean.
Lightweight but sturdy, Walkin' Wheels wheelchair will give your pooch the mobility boost they need for years to come. And the foam wheels with rubber threads make sure that all those walks they get to have can be done on different types of terrain. The adjustability and customization options are very impressive- so much so that there are different designs to choose from- your pet's cart can be blue, pink, or boast camo print.
8. Best Budget: SYLPHID Adjustable Dog Wheelchair
If your budget is limited but you still want to make sure your pet gets the best there is, SYLPHID wheelchair is the perfect compromise between the two. Affordable but high-quality, this wheelchair for dogs with rear legs mobility issues will make sure your pooch gets around without your help. If there's some mobility left in the hind legs, this wheelchair will help them walk with ease and still maintain muscle mass, and if there's no mobility at all, comfy stirrups will prevent their rear from dragging.
This wheelchair is made from durable aluminum and has a 3D soft harness, special leg guard and hanger, all designed for maximum comfort. The wheelchairs are sleek and ideally suited for dogs who are not going to go on big adventures in the country- indoor use and outdoor use on flat surfaces are recommended. It comes in five sizes, for dogs between 4.5 and 77 pounds, so no pooch will be left out from having a chance at affordable mobility aids. Each of the five size categories has different heights, too, ranging from 8.7 inches to impressive 25.5 inches. Also, you get to choose between two finishes–blue and red.
9. Best Customizable: SURPCOS Adjustable Dog Pet Wheelchair
Another budget-friendly option but this time for petite pooches only, the SURPCOS wheelchair will fit dogs from under 10 pounds to those up to 44 pounds. The height is adjustable, as well, and you can make sure that your pet's body shape gets the proper support and a comfortable fit, rather than just hoping that a universal model will give them what they need. The leg stirrups and the harness are also customizable for a snug fit that will be just right and won't feel constrictive when your dog is rolling around on his new cart.The wheels on this ride are unique, as they are very silent and shock absorbent and your pooch will glide with ease on this cart. This will come in handy especially when your dog is indoors and using his new set of wheels, as they won't be loud even if you have hardwood floors.
While it may lack some bells and whistles, this wheelchair is still a fantastic choice: it's lightweight, durable, and quite comfortable for use. If you have a tight budget but still want your elderly pet to enjoy his golden years with the same ease or the vet bills have drained your budget for a mobility aid, it doesn't have to mean you have to settle for something less than good for your precious pooch.
10: Best for Sitting: Best Friend Mobility SitGo Dog Pet Wheelchair Revolution
The SitGo is truly a revolutionary product as it further increases the range of mobility dogs can have with a wheelchair. As the name suggests, this wheelchair for dogs allows your pet to sit down comfortably while using a wheelchair- they can even lie down without having to be "unlatched" from the harness first. The collapsible structure will conform to your pet's movement and ensures unparalleled mobility, which is great both for dogs with total loss of mobility in their hind quarters and those that still have a bit of feeling in their legs.
The other features, such as lightweight aluminum frame and comfortable harness, are all up to Best Friend Mobility standards, but the added perk of being able to sit and lie down while still in a wheelchair definitely makes the SitGo stand out among other wheelchairs for dogs.
As for the size inclusivity, The SitGo wheelchair comes in four sizes- extra small, small, medium, and large. The supported heights for each are 9 to 14 inches, 13 to 17 inches, 16 to 20 inches and 20 to 29 inches.
Types of Wheelchairs for Dogs
As a mobility assistive device, a dog wheelchair needs to be as customized as possible. It's not that a wheelchair has to be bespoke, but there are various factors to consider to make it tailored for your pet's unique needs. This means the size has to be just right, the design has to provide the proper support and to match your dog's handicap or special needs. The first step in making sure that your pooch is going to have the right mobility aid is knowing which type of wheelchair he needs.
Front support wheelchairs for dogs
As the name suggests, these types of wheelchairs are meant to support the front of the dog's body, while he uses his rear legs to push the cart forward and move around. The wheels are located at the front of the cart, and your pet's body is supported by straps, leaving the rear free to do the work. Mostly, dogs with genetic anomalies or those that have survived accidents are the ones that need front support. If your dog has issues with the functions of his front legs, this is the type of wheelchair they need.
Rear support wheelchairs for dogs
This is the most common type of dog wheelchairs. They are meant to be used for dogs who have lost all or most of the use of their hind legs. Rear support wheelchairs keep their behind supported and rely on your pet's upper body power to allow him to wheel himself around with ease. The wheels are in the back of the cart and the front is constructed to keep your pet's upper body in balance and unrestrained. This way, your pooch can overcome the fact that his lower body is weak or paralyzed and get to enjoy walks, playing and everything a dog without mobility issues could.
Full support wheelchairs for dogs
Sometimes, a pooch needs a bit more than a little boost to regain his mobility- or at least in some aspects. Dogs who have a cerebrovascular disease or have lost the use of all four limbs in an accident or due to a congenital anomaly cannot move on their own. Similarly, dogs with spinal injury or recovering from a spinal surgery could require the use of full support wheelchair during their recovery. Full support wheelchairs for dogs are also known as quad wheelchairs, as they have four wheels, two in the front and two in the back, connected by a central part that supports your pet's torso.
How to Determine the Right Size of Dog Wheelchair
Wheelchairs for dogs come in all sizes, and you should be able to find a mobility aid for your pet regardless of your dog's breed. Mobility issues know no bounds–small, medium, large or giant pooches can all be injured, paralyzed, or experience limb weakness that would require them to use a wheelchair. However, a wheelchair needs to be customized to suit the needs of your dog and getting one for them based solely on their breed or general size would probably end up being a poor match. Comfort is a huge factor for dogs who are in wheelchairs because if something is too tight or too loose, too high or too low, your pet's wheelchair will be a source of irritation rather than a life-changing aid. Essentially, their wheelchair should feel like an extension of their own body, as much as it is possible.
To make sure that the wheelchair is really the right size, you will have to measure your dog thoroughly. The first thing you'll need to do is to locate the so-called fold of the flank- which is a thin flap of skin that stretches between your pet's hind leg and his torso. Then, measure from the bottom of their paw to the lower edge of the fold of the flank. In case your dog is overweight, the fold of the flank will sag lower than it would usually, so pull it up to its normal position when measuring. Use a measuring tape or a yardstick and make sure your pet is in an upright position- if they are not able to stand up, place them lying on their side while you do the measuring. In addition to this measurement, you will have to determine the width of your pet's chest, and the chest to tail length (body length). If a particular wheelchair model requires any other measurement for a perfect fit, it will be stated in the description, but it's not often the case.
Another important measure to consider is your pet's weight. Every wheelchair has a different weight capacity and it's important to check if the wheelchair you chose will support your pet without risk of malfunction.
What to Look for in Wheelchairs for Dogs
Once you know what type of dog wheelchair your pet needs to be able to move around again, as well as what size will suit them, you might think that your work is done and you're ready to make a purchase. However, there are a few more important factors to consider before making the final decision. Read on to find out what features to look for in wheelchairs for dogs- and ensure you find a perfect match for your pampered pooch.
Quality
In most cases, a wheelchair will become an indispensable part of your pet's lifestyle and routine, which means that it will have to be well made enough to withstand heavy-duty use. Not only that a quality wheelchair will last longer and give you good value for your money, but it will also ensure that there won't be any mishaps or accidents due to poor quality wheelchair coming apart during use. So even if it means shelling out a bit more money than you'd hoped to do, it's definitely worth the investment to get a higher quality wheelchair for your dog.
Cost
While you might be tempted to go for the option that saves you a few bucks, a wheelchair is definitely not an item you can afford to cut costs on. However, it doesn't mean that you have to for the most expensive option or go over your budget- there is a quality match for almost any budget. The prices of wheelchairs for dogs vary greatly, but so do the needs of canines. If you need to be frugal, just make sure that the wheelchair is sturdy and comfortable enough- and compromise bells and whistles rather than on quality and functionality.
Terrain compatibility
One of the main goals of using a pet wheelchair is to help your dog enjoy his usual routine, whether it's a walk to the park or running around in the backyard. This is the reason why the terrain compatibility of wheels is an important thing to check before buying. It's not the same if your dog is going to wheel around the beach or play on grass and stroll on city sidewalks. Luckily, different types of tires are available, so there really are no obstacles for a pooch with a wheelchair- whether it's snowing outside or a bumpy road ahead. When possible, pick off-road or all-terrain tires to make sure there are no limits to where your pet can have access to. Basic plastic tires are only a good choice if your pet needs a wheelchair on a temporary basis or you walk your pooch only in places where there are only flat walking surfaces.
Ease of maintenance
If your dog has mobility issues, they'll be using a wheelchair most of the time, especially when you're outdoors. This heavy-duty use doesn't only require a quality construction, but it also means that a wheelchair should be easy to clean. From dirty wheels to mucked up straps, there will be plenty of parts to clean, so make sure your job isn't too difficult. Ideally, all parts of the wheelchair should be washable and removable for cleaning- so your pooch can always look his best, even after a day of messy running in the sand or a post-rain ride in a muddy street.
How to get my dog used to a wheelchair?
While a wheelchair will benefit your pet and improve their mobility, it's still a big step, one that often comes after an accident, injury, or due to debilitating illness. So it's safe to say that it will take a while for your pet to get used to this new situation in more ways than one! Wheelchairs can be noisy and uncomfortable if you don't adjust everything properly from the first go, so let your pooch take things step by step. Before putting your pet in a wheelchair, let your dog sniff it and get acquainted with this new gadget, while you reward their interest in it. Be sure to coax them with praise and copious amounts of treats whenever they are in the wheelchair- so they would gradually start associating their wheels with all the good stuff.
How do dog wheelchairs work?
There are three types of dog wheelchairs: rear support, front support, and full support dog wheelchairs. Rear support wheelchairs are designed to provide support to dogs that have paralized or very weak hind legs by keeping their rear area of the body lifted so they can use their front legs to freely move around. Front support wheelchairs are the opposite, as they are meant for dogs that can't use their front legs so they allow your dog to use hind legs to push the wheels that are located in the front of the body and regain mobility back. For dogs that have lost the use of three or all four of their limbs, full support wheelchairs are the only option- these have four wheels, two in the front and two in the back. However, be aware that your pet's front limbs have to have some strength in them to move this type of wheelchair.
Can my dog go to the bathroom with a wheelchair?
Yes, your pet can eliminate while in a wheelchair. While squatting to pee or poop might not be feasible, they can still spread out their legs and do their business without having to get out of their wheelchair and without making a mess in the process. The waste will hit the floor without ending up on their legs or on the wheelchair itself.
Additional resources:
We are committed to finding, researching, and recommending the best products. We earn commissions from purchases you make using the retail links in our product reviews. Learn more about how this works.

Angela Vuckovic
A proud mama to seven dogs and ten cats, Angela spends her days writing for her fellow pet parents and pampering her furballs, all of whom are rescues. When she's not gushing over her adorable cats or playing with her dogs, she can be found curled up with a good fantasy book.
More by Angela Vuckovic
Published August 12th, 2021 12:00 AM