85 Views
December 28th, 2021 12:00 AM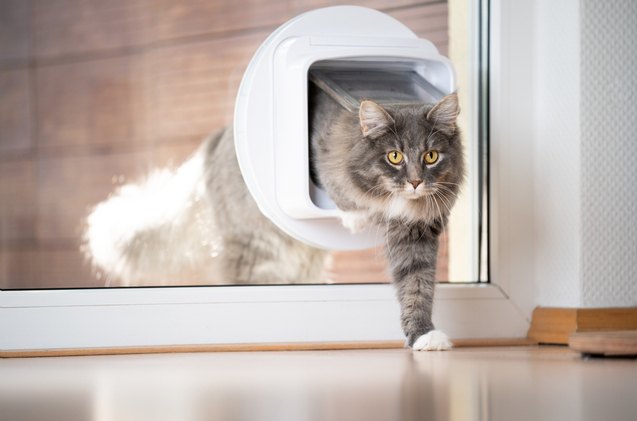 Cat doors give your cat the freedom and the independence they crave without compromising on the convenience – they can come and go as they please and you don't have to act as their butler all of the time.
Everybody loves cats. Or at least they should. Kitties may be aloof and independent, but they are also sweet, affectionate, and make great companions. Even so, no one can deny that kitties can be quite willful creatures. They love to roam, explore, and have access to all the hidden places in the house. Cat doors, portals, and tunnels are an ideal way to allow your cat the freedom of movement through and in and out of the house without having to keep your doors always open. This is especially important for the bathroom – your cat can do its business even when the bathroom is closed.
Cat doors come in all shapes and sizes. They are usually flaps, but can also be tunnels, portals – and simple holes in the wall. As each one has its pros and cons, it can be quite a challenge to pick out the perfect one for you and your cat. To help narrow the search down, we are bringing you the 10 best cat doors on the market.
1. Editor's Choice: PetSafe Interior Cat Door
Kitties always roam from spot to spot in your home. When they aren't lounging, that is. Interior cat doors such as these from PetSafe are an ideal way to give them freedom of movement. And the doors can be kept closed all the while. This superb design combines efficiency and simplicity and does the trick perfectly. It features a robust and durable plastic frame that can be mounted quickly and easily with just four screws. The hole is covered with a thick tinted plastic flap that won't let light in. Thanks to a nifty 4-way lock, you can control when your kitty can come and go. And, thanks to the ideal size, your curious doggo won't be able to snoop through the hole!
Pros
4-way locking system
Designed for cats up to 15 pounds
Tinted flap
2. Runner Up: Purrfect Portal Cat Door
Portals are doors, too! This unique design adds a quirky flair to your home and allows all your cats to easily navigate from room to room whenever they want. Purffect Portals are designed as a hole in the wall that won't stand out or ruin the ambiance in your home. The sturdy plastic frame easily fits onto any door or wall you have and can be installed in just a few minutes. Shaped like a kitty's head, it draws the eye as a lovely little detail of your home. But most importantly, this nifty design allows you to close the doors – say, from the bathroom – without locking your cat inside! When business is done, she can walk right back out!
Pros
Suits both solid doors and hollow core doors
Sturdy and made to last
Foolproof installation
Cons
No way to close it off when needed
3. Customer's Choice: EGETOTA Flap Cat Door
This great flap cat door from Egetota is a design that covers all the bases and offers a reliable passage for your feline friend. Thanks to the adjustability and the portal design, it can fit any solid or hollow-frame door. Even so, it is easy to set up: the sturdy plastic frame is held in place with four long screws. The dimmed flap boasts a special magnet for quick and accurate closing, as well as a mute brush that offers some much-needed soundproofing. One of the great features of this cat door is its 4-way lock. Depending on the needs, you can lock them completely, or just in one direction. This means that your cat can enter a room, but not exit – and vice versa.
Pros
Comes in 3 sizes
Versatile design fits hollow core and solid doors
Magnet closing
Mute brush
Cons
Can be difficult to follow installation instructions
4. Best Magnetic: CEESC Magnetic Pet Door
This cat door really comes packing all sorts of important features! Robust and reliable, this door is the ultimate kitty passage! The first thing to notice is the extra thick and sturdy plastic outer frame which is ideal for any type of door and wall. This door boasts a unique 4-way locking system. With its rotating knob, you can quickly select the locking mode you want: in only, out only, in and out freely, or totally locked. The flap features a magnet for quick and easy aligning and also has a fixed groove for a weather-proof brush strip. This brush adds insulation, soundproofing, and keeps at bay dust and smells. All you want in a cat flap- whether for outdoor or indoor use!
Pros
4-way locking system
Magnetic flap
Can be used for indoor or outdoor access
Cons
The lock could be stronger
5. Best for Screen Doors: OWNPETS Screen Cat Door
Screen doors are a true life-saver in the summer! But can you put a cat door on them without ruining them? With this smart and simple design, you now can! A thin and lightweight plastic frame is easily attached to the screen door with small screws, giving it the important stability it needs. Since screen doors are naturally flexible, an added magnet on the flap helps keep the cat door stable and closed. The plastic flap features a paw print mesh cutout for air circulation and also boasts two parallel slide locks. It is made from sturdy ABS material, ensuring that it withstands all bumps and scratches. A great solution that doesn't let insects get in but allows your kitty to roam around.
Pros
Doesn't let insects through
Easy to install
Magnetic closure
Lockable
6. Best with a Microchip: SureFlap Microchip Cat Flap
Microchips are a great safety measure that helps you positively ID your furry friend. And they are a great addition to these unique cat doors. SureFlap offers these selective doors: thanks to the ID sensor, they can recognize up to 32 microchips and open only when your kitty wants to enter. This prevents stray pets and neighborhood tomcats from waltzing right into your home. The frame is made from robust plastic and is quite bulky, and also features a simple 4-way lock as an extra feature. Thanks to the clear plastic flap, the light will be let in, and you can also observe what happens on the other side. Simple, robust, and super efficient!
Pros
Learns up to 32 RFID microchip identities
Can keep other animals out of your home
Battery-powered
Cons
Not big enough for chubbier cats
7. Best Wall Cat Door: The Kitty Pass Entry Cat Door
Who said that cat doors are intrusive and bulky? This peculiar cat tunnel door is an imaginative design that adds a unique detail to your home while still allowing your feline companion to walk freely from room to room. Great for both walls and doors, this cat tunnel is shaped as a cartoonish cat head and is simple and elegant. With no flaps and no locks, this tunnel door is the simplest way to offer a passage for your pet. The opening is smooth, circular, and wide, and super easy to pass through. Installation is also quite straightforward and can be completed in minutes with some do-it-yourself ingenuity. If you require a simple solution and want a lovely detail in your house, look no further than this Kitty Pass tunnel.
Pros
Cute design
Straightforward and simple to use
Can be mounted on walls or doors
For cats up to 20 lbs
8. Best for Indoors: Juegoal Interior Shaped Cat Portal
Portals are perfect for indoor cat passages. When you want your doors closed, a portal is great for allowing your cat to still move from room to room. This unique design comes in a quirky and cute cat shape – complete with paws and whiskers! With two sides, it is easily installed on any door and wall, and requires nothing more than a hole in the wall and a bit of your time! Funny and stylish, it will fit perfectly into a bathroom or a kid's room and will allow air to circulate as well. Portals such as this one are the simplest and most efficient solution besides cat flap doors!
Pros
Easy to install
Can be mounted on walls and doors
Cute design
Cons
Too big if you have a curious dog
9. Best with Grooming Brush: CATHOLE Classic Model with Grooming Brush
Now here's a piece of truly smart designing. This unique concept aims to save some precious time for all the busy folk! This isn't just a simple portal cat door: thanks to its oval shape and added brushes, it will act as an efficient brush for your cat's coat – every time it passes through! This fused bristle brush is totally removable and keeps everything hygienic and clean. If you find yourself too busy to groom your cat every day – this cat door will help you stay on track. The frames are made from crafted Baltic birch wood that fits ideally with any ambiance and is quite sturdy as well. Of course, it installs quickly and easily. A true two-in-one design, this brush-cum-portal is one of a kind and a valuable asset for every cat owner!
Pros
Brushes your cat
Easy to install
Can be installed
Customizable
Cons
Can be too snug for some kitties
10. Best Telescoping: Baboni Pet Door for Wall
Sometimes, a bit of extra sturdiness is all that's needed. If you have a robust door or a wall, this cat door will do the trick. A real heavy-duty design, this telescopic door will fit almost any door or wall. It is made from metal steel and aerospace-grade aluminum, ensuring maximum durability. It features a dimmed double flap for extra waterproofing and insulation. It also protects from those pesky drafts. As an added safety measure, you are provided with a slide-in protective screen, which prevents any unwanted guests from entering or exiting. These Baboni cat doors are easily the most heavy-duty out there and will work perfectly for stucco, brick, wood, or any other surface. Thanks to the size, they are ideal not just for cats – but small dogs as well.
Pros
Fits any wall or door between 4 ¾ and 7 ¼ thick
Durable and energy-saving
Comes in 3 sizes
Do I Need a Cat Door?
As a cat owner, you were probably wondering whether or not cat doors are necessary in your home. Of course, at the end of the day, they are not necessary per se. But when you consider all the advantages they bring, you will quickly understand that they are a valuable accessory to have in your house.
For example, when the bathroom is closed but the kitty needs to do the business, you will be roused by the scratching and meowing. And then you need to get up – often during the night – to open the doors. Of course, leaving the doors open all the time is not ideal: you risk drafts, smells, and dirt escaping through. In this case – and many similar ones – a cat door comes as an invaluable helping hand.
Cat doors give your feline friend a much-needed dose of independence in the home. They can move freely from room to room and even venture outside if that is an acceptable option for your area. Still, you have all the necessary control over their movements. Most cat doors rely on a 4-way locking system that allows you to finetune the directions your cat can take. Portal cat doors on the other hand are much simpler and are a great choice for multiple rooms. Just put one on each wall you want and forget about closing and opening the doors.
Some advanced cat door designs rely on microchip ID in order to let your cat pass. This prevents any strays or curious neighborly kitties to barge right into your home. If that is a problem you experienced before, these doors are ideal for you.
In the end, it's clear that a cat door – in whatever shape and size – is a great thing to have in the house. It gives you some much-needed peace of mind and lets you focus on crucial daily tasks. And, of course, your cat will absolutely love the independence a cat door gives them!
We are committed to finding, researching, and recommending the best products. We earn commissions from purchases you make using the retail links in our product reviews. Learn more about how this works.

Angela Vuckovic
A proud mama to seven dogs and ten cats, Angela spends her days writing for her fellow pet parents and pampering her furballs, all of whom are rescues. When she's not gushing over her adorable cats or playing with her dogs, she can be found curled up with a good fantasy book.
More by Angela Vuckovic
Published December 28th, 2021 12:00 AM