165 Views
February 9th, 2022 12:00 AM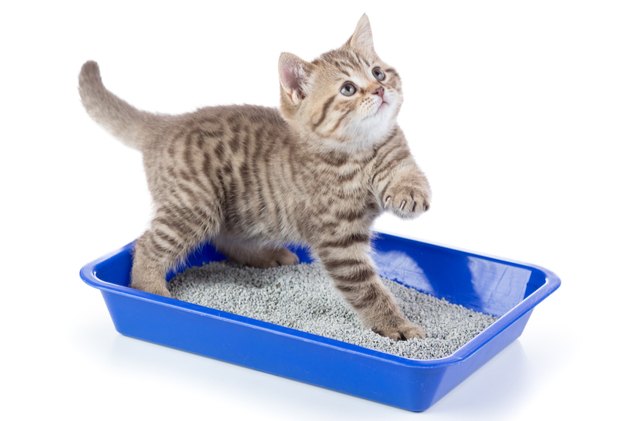 Check out our comprehensive guide on best cat litter the market has to offer: from clay and crystals to wood to grass and wheat, we've covered all of the popular choices.
When it comes to the supplies that you need to keep a cat happy and healthy, litter definitely comes to mind. But what you might not realize if you're new to being a cat parent is the fact that there are a lot of different litters you can choose from. And, while you might think that you can just pick the first litter you come across at the store, or the lowest priced option, the truth is that it might not suit your kitty's preferences, and that could be a problem. So, shopping with care and being aware of the various litters that are out there is wise, as it can help ensure you will select the one that your cat won't have a problem using.
Catering to your finicky feline's whims isn't always easy- and choosing the best cat litter can be a taxing process. Cats are notoriously picky when it comes to their toilets, ranging from those who prefer only one type of litter boxes, to those that will pee and poo outside the litter box if the litter is not to their liking. Needless to say, it's important to get the litter just right, otherwise, you're in for trouble. However, choosing the best cat litter is not as straightforward as it seems. The market offers a variety of litter types, and discovering your kitten's preference can be a big challenge. We're here to make that choice simpler – with this list of top 10 best cat litters on the market.
1. Editor's Choice: ÖKOCAT Natural Wood Clumping Litter
Prefer the texture and the efficacy of traditional clumping litter but worry about the safety and the toxicity of clay litters? This next-generation, plant-based, premium clumping cat litter ensures easy scooping and a mess-free litter box without using any harmful or potentially dangerous substances to achieve this. The secret is in the the special wood fiber they use in this litter, which has many benefits: it naturally prevents enzymes from bonding with pee and poo to stop the creation of odor, it absorbs liquids on contact for easily scoopable lumps, and it produces virtually no dust thanks to the fact the wood fiber was de-dusted for a cleaner litter. A perfect solution if you're looking into healthier, more sustainable alternatives to classic clumping litter, this wood litter is biodegradable, compostable, free of artificial fragrance, synthetic chemicals, toxic dyes, and GMOs.
2. Runner Up: Frisco All Natural Grass Clumping Cat Litter
If you want a "green" alternative to regular litter, you can't get more green than grass. This innovative clumping litter is as natural as they come, meaning no added scents and artificial ingredients- and it's biodegradable to boot! Made from 100% grass, this fine litter is ultra absorbent and easy to clean. Scooping is not an issue when you have solid clumps, which is the case with grass litter. And, as an added bonus- there's no dust to deal with when you use it! Your cat will also love this type of litter – the grass base will provide a more natural feeling. Just watch as those instincts kick in!
3. Best for Budget: Purina Tidy Cats LightWeight 24/7 Performance Clumping Cat Litter
You can't beat this clumping litter when it comes to lightness. Since this Purina Tidy Cats litter is lighter by half when compared to its competitors, it's also more economical and easier to lift, which can mean a lot if you're a senior or are not able to carry heavy items. Additionally, unlike most litters that are sold in bags this one comes in a convenient jug that's easy to pick up and handle. The odor control system -TidyLock Protection and Ammonia Blocker- works to minimize unpleasant smells. Highly absorbent and fast clumping, this fine litter is suitable for multi-cat households, too.
4. Best for Multi-Cat Households: ARM & HAMMER Clump & Seal Platinum Cat Litter
When it comes to cat litter, odor control is one of the most important criteria. Especially if you keep the litter box somewhere outside the bathroom or have more than one cat. No one wants to be sniffing whiffs of cat poo and pee throughout the day- not even the cats themselves! This is why the ARM & HAMMER formula with 10% more odor eliminators than usual is such a hit with cat pawrents. They guarantee their litter can be scent-free for 7 days- which is A LOT. The best thing is that there are no fragrances in the litter to cover the smells- this litter simply eliminates them rather than mask them. That means that no artificial fragrances will deter your cat from using the litter – and you won't have to constantly worry about cleaning it!
5. Best Natural Choice: Naturally Fresh Walnut-Based Multi-Cat Quick-Clumping Cat Litter
Dust-free, low tracking, biodegradable, clumping and highly absorbent… What's not to like? This type of cat litter is made from the fibrous material sourced from walnut shells, so it is completely natural and eco friendly. Unlike some natural litters, though, walnut litter is quick-clumping and it is excellent at odor control. In fact, many kitty pawrents claim that it's truly superior in the smelliness department! The only catch is that it's a bit more expensive than your average litter – but everything to keep the cat happy and the house clean, right? In no time, it will be crystal clear that this natural clumping litter is worth every penny.
6. Best Scents: Frisco Multi-Cat Clumping Cat Litter
Have multiple cats in your family? No problem! This clumping litter was specifically designed to be used in "high-traffic" boxes. Low dust and low tracking, this litter is available as unscented or in three different fragrances: lavender fields, tropical breeze, and fresh scent. A type for every feline and feline parent's preference! Despite which scent (or no-scent) option you choose, though, you can rest assured there won't be any issues with unpleasant smells. Each has a unique deodorizing system that neutralizes the smell of cat waste.
7. Best Biodegradable: sWheat Scoop Multi-Cat Natural Wheat Cat Litter
Made from ground wheat, this innovative cat litter is fully biodegradable and an eco-friendly alternative to standard litters. You might think that wheat is not as absorbent or practical as other types of cat litter, but you'd be wrong. The natural starch makes it fast-clumping, and this litter boasts long-lasting odor control that neutralizes odors. It's actually quite efficient, and the fact that it is completely plant-based makes it that more impressive. The only downside is that if your cat is allergic to gluten, they might turn their nose up at this grain-based litter. Jokes aside, though, consider this if you have a kitten or a cat recovering from surgery- this type is recommended for the fact it is both completely natural and efficient.
8. Best Sustainable: Petfive Sustainably Yours Natural Sustainable Multi-Cat Litter
If you're on a hunt for an eco-friendly cat litter that would make your pet's potty habits better for the planets but don't want to compromise on quality, look no more. Petfive Sustainably Yours Natural Sustainable Multi-Cat Litter is made from natural materials that are biodegradable, sustainable, and renewable – corn and cassava. The unique combination of these plant-based materials isn't just environmentally friendly but makes this litter super efficient too. The corn is specially prepared and has odor-neutralizing properties, whereas the high levels of starch in cassava make this litter clump fast and well. Ideal if you want a natural, healthier alternative to dated clay clumping litter!
Since these materials are fully biodegradable, you can flush the scooped-up poop or pee and flush it down the toilet, making clean up a minimal hassle. Petfive Sustainably Yours Natural Sustainable Multi-Cat Litter comes in packs of 13 pounds and is available in regular, large grain option, or odor plus option.
9. Honorable Mention: Feline Pine Original Cat Litter
This chemical and clay free litter is made from 100 percent natural pine. It produces no dust and it is low tracking, so it is ideal for messy cats. Not to mention the fact that you won't have to worry about respiratory issues, especially if you have a cat that's sensitive to litter dust. This is a non-clumping cat litter, though, so not all cats might be thrilled with it. On the other hand, the pine is a great odor-neutralizer and waste is easy to scoop, so you are definitely going to be a fan.
Types of Cat Litter
For kitties who do their business indoors, the sky's the limit. There are as many types of litter as there are finicky kitties. From super-absorbing to natural and eco-friendly, various choices are available to pet parents and their feline friends. While it does sound pawesome to have all those choices, it can quickly become overwhelming, ESPECIALLY if you are a newbie. How the heck are you supposed to know if what your cat likes to cover her poop with? Well, while no one can guarantee that your cat will like the type of litter you choose from the first use, there are some pointers that could help guide you to the right decision for your pet's needs.
Below are a few of the types of litter that are available, along with some their main features and their pros and cons. By keeping this information in mind while you shop, you might find it a lot easier to narrow down your many options to those that are most likely going to work for both you and your cat. Remember, you want to select a litter that your cat will feel comfortable using, but you also want it to be easy for you to clean daily. Plus, something that controls odor really well and doesn't track dust everywhere will also be helpful for you when it comes to keeping your house clean.
Also, keep in mind that it might take a bit of trial and error to find the litter that will work for you and your cat. Reading a product's label can give you insight into what a particular litter has to offer, but you won't really know how effective it is until your cat starts using it. For example, you might buy a litter because it claims to control odor extremely well, only to find that it actually doesn't. And a litter box that is too stinky might deter your kitty from using it—something that you definitely don't want! Or, a product might claim to be a low tracking litter, but once you put it to use, you might discover that your kitty's paw prints are all over the floor, there's dust on her face after she goes in the box, or there's litter on the floor around the box because it actually tracks a lot.
Although it might be a bit frustrating at first, finding the right litter is important. And once you have selected a product that gives you and your cat what you need, you can just stick with it without needing to think about it anymore.
The first thing you have to consider is the fact that there are different types of materials used to make cat litter. Not all of them will suit your cat's preferences, no matter how popular or common they are. Some have an artificial base, enhanced with fragrances and chemicals, while others are eco friendly and are made from completely natural components. Now, your cat can prefer either one, but the options are still there to be considered. Here are most (if not all) types of litter material you can choose from:
Clumping clay
Some would say that clumping clay cat litter is the most common type out there- and it's mostly because it's affordable and practical to use. Clumping clay litter is made from bentonite clay and it works by, as the name suggests, clumping to a solid mass when in contact with liquids. So, when your cat pees in the clumping clay litter, it won't spill all over, but rather turn into a clump that is easily scooped out of the litter box. This results in fewer smells and less mess, especially if the clumping clay litter is one of the scented ones (usually lavender or similar notes). Needless to say, the simplicity of this system makes clumping clay quite popular as it makes for a zero effort litter cleaning while still being affordable to boot. However, it's not all ideal with clumping clay, otherwise, there wouldn't be a need for any other type, would it?
Clumping clay litter is not biodegradable and eco-friendly pet parents won't be able to use it. It's also heavy to cart around and can be very dusty. There is a potential health risk, as well, since airborne particles of dust that comes as a part of the deal with clay litter can irritate your pet and even cause asthma in some cats. And if you have curious dogs in the house, clumping clay litter is a big NO-NO big if your dog helps himself to cat poop and eats litter with it, it can cause serious problems with their intestines.
Non-clumping clay
These are non-bentonite clays that do not clump in contact with urine. Without the benefits of clumping and with the remaining dust inhalation issues, non-clumping clay is rarely a favorite with pet owners.
Silica or crystal litter
The so-called silica crystal gel litter is made from silica beads that are ultra-absorbent and good at odor control. They are also completely dust free, so the mess is minimal. The only two downsides of silica litter are that it's pricey in comparison with other types and it can be dangerous if ingested. Some cats tend to clean their paws after going to the toilet, and tiny beads can get stuck between the pads, resulting in them licking and swallowing the silica. In the long run, constant ingestion can cause health issues. Another potential issue that could bother some pet parents is that silica beads are far from a natural and eco friendly choice. If you want an ecological choice and natural materials for your cat's toilet, you might want to look at other litter types.
Pine
The lumber scraps used to create this type of litter are treated beforehand to eliminate any potential toxins or allergens that could endanger your pet. Pine litter is usually in the form of pellets, although it can be roughly crushed or in granules. Even though non-clumping or minimally clumping, this eco-friendly litter is a popular choice. The pine scent is naturally deodorizing, and the low-tracking qualities of timber appeal to pawrents as well. Of course, pine litter is quite pleasant for your feline friend to use, too. It feels more natural in terms of scent and texture, and that can be just the helping hand you need when your cat is getting used to using a litter box!

Corn or wheat
Corn or wheat are somewhat less common options for natural biodegradable litter, but they can be a fantastic option for some cats. They are low-tracking, good at odor control, keep the mess to a minimum as they are low tracking, and they don't produce dust. The only catch is that your feline friend might be allergic or sensitive to corn or wheat and using this type of litter could trigger an allergic response. Still, this type of litter is perhaps the most natural and eco-friendly choice you can make: it mostly relies on zero chemicals and is totally friendly to nature and your pet both.
Recycled (news)paper
Old newspapers, anyone? A few decades ago, shredded newspapers were the litter of choice for most, as there weren't (m)any options back then. However, despite the variety that is available to pet parents today, recycled paper is still a strong contender in the litter market. The reason for this is that this type of litter is absorbent, affordable, low-tracking, and dust-free. As the recycled paper can be compressed into pellets or granules, though, the performance will vary due to the lack of clumping properties. The not-so-great odor control (paper soaked in urine is not the best scent in the world) might require more frequent cleanings to keep the stinkiness in check.
Wallnut shells
This is a fairly new type of cat litter but has already garnered a following, especially among eco-conscious pet owners and those who simply prefer natural litter. The litter is made from the shells of walnuts that would otherwise be thrown away. The shells are crushed to get the right texture, either coarse or fine. Surprisingly enough, the walnut shells are naturally quite absorbent and clumping, which makes them great at odor control and low-tracking. The potential issue is only the price tag- this is one of the priciest litters.
The choice of material is closely connected to texture or feel which also need to be considered- maybe your kitty prefers the slicker materials or chunkier pieces of litter, or they might be in the club of cats that only cover their poop if the litter is fine. Finally, there is the issue of the, well, smells in the litter. This is particularly important to cat owners who live in tiny flats or simply have small bathrooms and need to place the litter somewhere else. Of course, while you might prefer your cat's poop being covered with lavender-scented litter, your pet might not share the same preference. There are unscented litters for felines with sensitive noses, scented in various fragrances for those who don't mind it, and even some that contain odor-neutralizing properties, so all parties are usually happy.
Choosing the Right Cat Litter
Well, now that you do know what types of cat litter are there, does it mean you're ready to make a decision? Umm, not so fast. While your kitty might want you to base all of your decisions on their preference only, it doesn't mean that you should. After all, you're the one that will be scooping the poop, so you do get a say! Don't let Fluffy convince you otherwise. All jokes aside, there are other important considerations when it comes to choosing the best cat litter in addition to your cat's preferences.
For instance, your cat might like a certain type of clumping litter that makes a lot of dust – which is not good for their health, and not particularly natural either. In these cases, it is best to transition your cat – step by step – to a healthier alternative, such as dust free litters. Similarly, some litters are notorious for their tracking properties, and you certainly don't want to see cat litter all over the place. So, while your cat's opinion of the litter will be a dealbreaker or a dealmaker, you should make sure that the litter is also up to your standards before offering it to your pampered pet. After all, it's all about getting used to it!
Also, you want to look for a choice that won't put a terrible strain on your budget and force you to resort to improvised solutions or low quality litters. Going for the priciest option if your budget can't support that in the long term might not always pan out – it is best to settle for a mid-range solution with decent qualities unless you're able to splurge on your posh pet.
Once you narrow down the type of the litter you know or think would work best for your four-legged companion, it's time to hunt down the brand that delivers on its promises. Luckily- you won't have to look far, as we've prepared a comprehensive guide on best cat litter the market has to offer. We've only selected the best of the best cat litters, so you can rest assured that hundreds and thousands of cat parents were happy with these particular brands. All that remains is to pick one!
We are committed to finding, researching, and recommending the best products. We earn commissions from purchases you make using the retail links in our product reviews. Learn more about how this works.

Angela Vuckovic
A proud mama to seven dogs and ten cats, Angela spends her days writing for her fellow pet parents and pampering her furballs, all of whom are rescues. When she's not gushing over her adorable cats or playing with her dogs, she can be found curled up with a good fantasy book.
More by Angela Vuckovic
Published February 9th, 2022 12:00 AM