25 Views
Top 5 Gotta-Have-'Em Cat Toys
We're committed to finding, researching, and recommending the best products. We earn commissions from purchases you make using links in our articles. Learn more here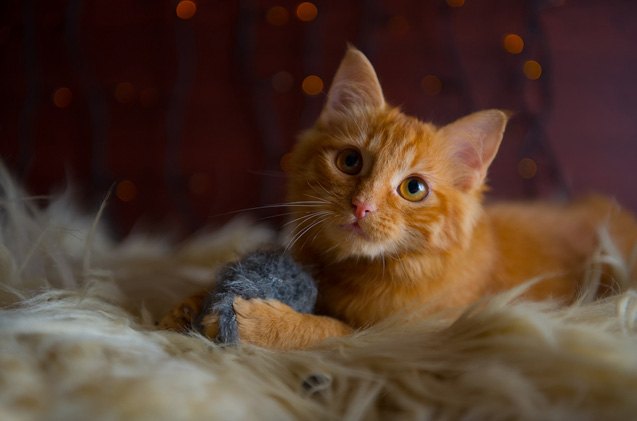 Shopping for your cat is often more fun than shopping for yourself! If you're in a spending mood, check out our top 5 picks for must-have cat toys.
Play is an important part of your cat's day, as it's a form of exercise and it allows your cat to expend his energy while pretending to take down prey. Both kittens and adult cats benefit from playtime with you, and from having plenty of toys to interact with when they're alone. Plus, watching your cat play is a great way to see just how athletic and agile these animals really are.
There are loads of cat toys to choose from, but below is a list of five essentials to get started.
Feathered Wand: Pet Fit For Life
One of the most basic cat toys, and one of the most beloved by felines, is a simple wand with feathers on the end. Your local pet supply store should have plenty of options, including wands with strings of varying lengths and those with small stuffed animals on the end, such as birds or mice.
These are meant to encourage the predatory drive in your kitty, and he'll be happy to jump and pounce to dig his claws into his prey. Pet Fit For Life has several great options to choose from, including wands with interchangeable attachments to keep your cat stimulated.
Catnip Toys: Yeowww! Stinky Sardines
Catnip is a plant that contains a natural chemical that is attractive to felines. Many toys contain dried, crushed catnip as a way to encourage play. Some kitties become relaxed when they sniff catnip, while others get energized, and still others may have no reaction at all.
If your kitty likes catnip, check out Yeowww! catnip toys, which are stuffed with organic catnip that's safe for your pet. These and other catnip toys come in a variety of shapes and sizes so you can find the ones that your kitty likes best (we like the Stinky Sardines!).
Treat Dispensing Toys: Kong Cone Toy
Treat dispensing toys are a great way to stimulate your kitty's mind because he needs to figure out what he has to do to get the treat out of the toy. Some of these toys are quite elaborate because they involve challenging puzzles. Others, like those from Kong, are easier for your kitty to figure out.
The type of treat dispensing toy you get will depend upon your cat and what he prefers. Some kitties will simply ignore these puzzles and just beg you for food instead, while others will be happy to take on the challenge.
Electronic Toys: Petlinks Mystery Motion
Electronic cat toys could be a great way to give your pet the playtime he needs even if you're too busy. Petlinks has created quite a few toys that are sure to keep your kitty occupied, such as the "Mystery Motion" toy. Other options include remote controlled mice that you can move from a distance.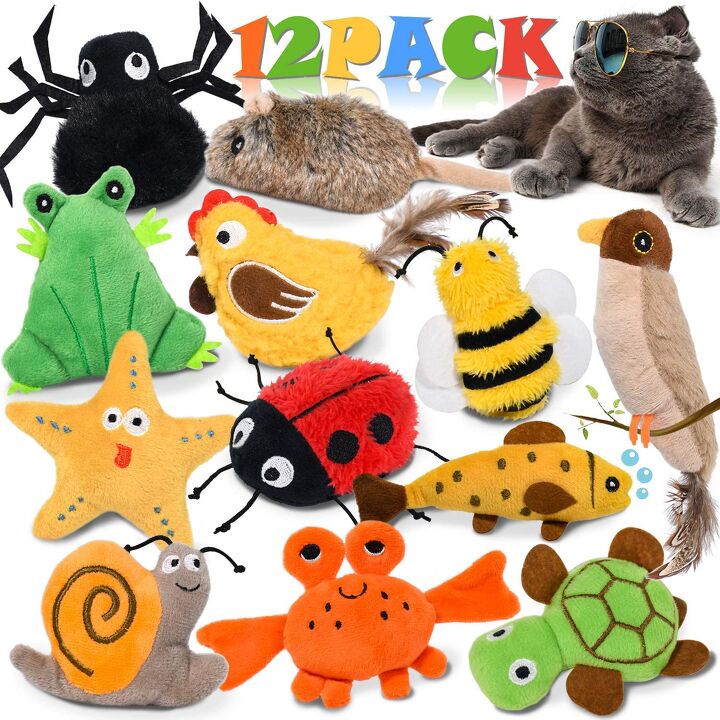 With all of the high-tech cat toys and expensive options out there, sometimes all your kitty really wants is to chase a ball around the house or play with a stuffed mouse. This set of 12 assorted cat toys has plenty of options for your pretty kitty to play with. What's more, is that each one is infused with catnip so you can work on your cat's hunting instincts by hiding them around the house and letting them find them. You will definitely want to have a few of these around, as you can leave them in clever hiding places for your cat to find even when you aren't home so that he can combat boredom.
This assorted pack of stuffed cat toys comes with animals such as a bird, frog, ladybug, honeybee, spider, chicken, and of course the classic mouse. Some of the characters crinkle while others squeak, making playtime for your kitten even more fun. They are made of natural plush as well as tear-proof stitched embroidery so you don't have to worry about your cat choking on the small pieces. Keep your kitty safe, happy, and healthy with a set of fun toys they can pounce, chase, and bat around.
Only choose toys that are safe for your cat. Avoid dangerous objects, such as paper clips, rubber bands, plastic bags, string, ribbon, and anything else that could be swallowed and pose a health hazard. Put potentially dangerous toys, such as wands with strings, away after you're done playing with your pet.
Remember, playtime should be fun, it should help your cat release his energy in a positive way, and it should be a great bonding experience. Every kitty is different, so figure out what toys your pet prefers and then reap all of the benefits of a regular playtime routine.

Lisa Selvaggio
Lisa Selvaggio is a freelance writer and editor, and our resident cats-pert, with certifications in pet nutrition and pet first aid. She enjoys producing content that helps people understand animals better so they can give their pets a safe and happy home.
More by Lisa Selvaggio
Published April 8th, 2021 12:00 AM