92 Views
Feline Favors to Calm Your Cat
February 10th, 2022 12:00 AM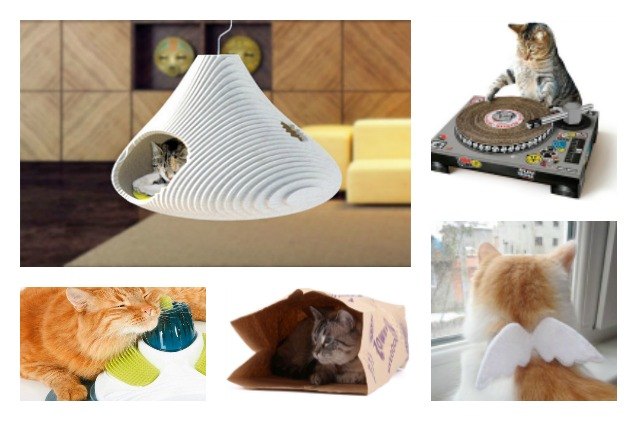 Cats have a secret agenda. Somewhere between rubbing against your legs and world domination, they plan to destroy everything you own. To avoid utter chaos, here are some cool cat products to appease your diabolical kitty.
1. Editor's Choice: Hip Cat Scratcher
Who says cat scratchers have to be boring? This old-school DJ turntable-turned-cat-scratcher will have all your party peeps waving their hands up in the air and first pumping to the mad beats of your kitty's claws. Get your groove on!
2. Runner Up: Pseudo Angel
Give your cat the illusion that s/he is an angelic feline with these cute-as-heck angel cat collars. You can choose between three sizes, small, medium and large, as well as choose from a handful of different colors such as white, black, red, blue and more.
3. Best Feeder: Torlam Elevated Cat Bowls
Create an ergonomic dining experience for your precious kitty with this wall-mounted raised feeder. It's functional and cute! This versatile bowl is available in five different finishes and is a great investment if you're looking to prevent any accidental spills or older cats from having to bend down to their food.
4. Best Cat Bed: Cat-A-Comb
If you have a few extra dollars to spare, why not splurge on your fur-baby? After all, no regular cat bed will do for your picky puss. Let them dream of world domination in peace in this beautifully designed hanging cat cave.
5. Best Toy: Pawaboo Cat Toy
While the days of playing with your cat are far from gone, this toy will definitely keep your little tiger entertained for hours while you're out of the house. Also available in a wide range of colors, set this toy to either the fast or slow setting and watch as a small electronic mouse moves about playing hide and seek with your cat.
6. Best Compact: Space Saving Cat Hammock
For the cat who loves to be near you, even when you eat, this cat lounger is purrrrr-fect. Fitting neatly underneath your existing dining/kitchen chairs, it's easy to clean, durable, and occupies less space than a bed. A win-win in our book! Cat Crib has plenty to go around.
7. Best Tower: Go Pet Club Cat Tree Furniture
This castle is excellent for a household of many cats – or just one who can't decide where to park his butt. This castle will have your cat feeling like he's the alpha tiger in the middle of the jungle. It is a bit on the expensive side, but if you're all about spoiling your animals, or live in a multi-pet household, you can't go wrong with this luxurious tower.
8. Best Litter Box: Good Pet Stuff Hidden Litter Litter Box
This blooming hidden litter box is the perfect example of how you don't have to sacrifice style for functionality. It looks like a real clay pot, but holds a large-sized litter box inside… and it even comes with a real plant on top.
9. Best Window Seat: TRM Deluxe Pet Cat Window Seat Perch
This window seat is key to the ultimate lazy lion experience. Once you install it, your cat will never leave – much to the dismay of passing birds. Its large surface area measures 24.1 x 12.2 x 2.6 inches and secures easily to your windowsill. Whether you want your cat off your furniture or simply want to give them a place to get some shut-eye in the sun, this is a simple yet effective product.
10. Best 2-in-1: PetFusion Ultimate Cat Scratcher Lounge
You gotta love when furniture serves a dual purpose: not only is it a great horizontal scratching post (great for older cats who can't stand on their hind paws), but it's also a great place to just relax and hang out. Plus, we're loving the fancy figure 8 design.
11. Best Massager: Catit Senses Massage Centre
That's the spot! This massager is a great toy for the adult cat in your house who loves to rub up against everything, as well as the teething kitty who needs to get his bite on.
12. Best Catnip: SuperCat Catnip Caves
Everyone knows that cats like to get themselves into small spaces, especially if they're made of cardboard or paper. But these are not your ordinary brown paper bags. Be prepared for a seriously cray-cray cat when you introduce these catnip-infused little caves to them.
We are committed to finding, researching, and recommending the best products. We earn commissions from purchases you make using the retail links in our product reviews. Learn more about how this works.

Published February 10th, 2022 12:00 AM