32 Views
December 31st, 2020 12:00 AM
We're committed to finding, researching, and recommending the best products. We earn commissions from purchases you make using links in our articles. Learn more here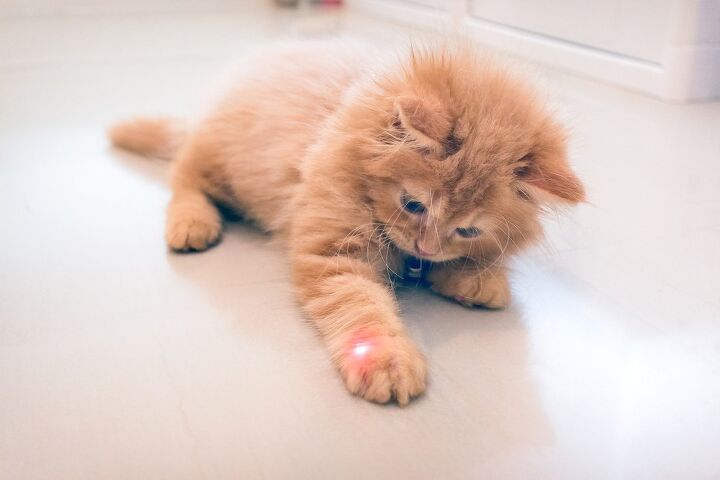 When you think of the different types of cat toys that are available, you might think of laser pointers that make kitties super excited to play and catch the red dot. But what are some of the things to think about before you buy one of these toys? And what are some of the best options out there when it comes to laser toys for cats? We've got you covered with some helpful information below, along with a list of some of the many products out there that we think are worth looking into when you start shopping for your pet.
Why Are Cats So Interested in Laser Toys?
Your kitty is a natural hunter, so she has an instinct to hunt down prey. Even if she lives totally indoors, she still wants to be able to get the feeling of taking down prey, and she also wants to feel the thrill that comes with knowing that she won the chase. But instead of animals like mice or birds, your indoor kitty can use toys to get this sense of accomplishment.
Playtime is important for cats of all ages, so whether you have a kitten, an adult cat, or a senior, providing a variety of toys that stimulate the mind and keep your pet physically active is necessary. Not only does your kitty exercise during play, but she also lets out her energy in a positive way. Experts recommend giving your pet plenty of opportunities to play throughout the day, either solo or with you, so that she can avoid boredom, frustration, stress, anxiety, etc.
So, the bottom line is this: your kitty is a hunter by nature, and she needs to be able to unleash that inner hunter daily. Toys, from mice and balls to puzzle toys and feather wands, can achieve this. And laser toys can also help. But there are some pros and cons that come with the use of laser pointers, so before you start shopping for one of these toys, just keep that in mind so you can ensure your cat is happy.
The Pros and Cons of Laser Toys for Cats
First off, as you probably already guessed, this is a great toy to use when you want to entice your kitty to run around and get some exercise. If your pet has become bored with using the same toys all the time, and you have tried purchasing other types of toys but she doesn't seem interested in them for long, you can try adding a laser toy to the mix. Often, the little red dot that moves swiftly across the floor or wall is enough to grab your cat's attention and get her ready to chase, stalk, and pounce. And, again, when your kitty is physically active, it also helps her release excess energy and get some much-needed mental stimulation.
Another reason why people enjoy using laser toys is because they are a good way to have an interactive play session with your cat. Just like you can use a wand with a bunch of feathers on the end to get your kitty's attention and get her running around the room, chasing the feathers and jumping after them, you can do the same with a laser pointer. Plus, it's simple to grab a laser pointer and use it to play with your cat even while you're relaxing or tired because it takes minimal effort on your part.
Unfortunately, there are some drawbacks to think about before you use a laser toy to play with your cat. The main one is that there isn't any real way for your kitty to actually catch the dot, and this can be frustrating for her. After all, like any hunter, she wants to get the sense that she was able to achieve her goal. Imagine chasing something down over and over again, but never getting the satisfaction of winning. That's what can happen to your kitty, and it might even lead to negative, destructive, or compulsive behaviors.
The good news is that there are some strategies that you can use to make the most of a laser toy and keep your kitty content. One would be to make the red dot land on one of your pet's toys that she can then pounce on, grab, bite, and kick. This can make her feel as though she caught her prey after all. You might even point the red dot on some treats that she can find at the end of the play session. Letting her find and eat the treats might be another way to make her feel like a successful hunter. And yet another tactic you can try is simply switching to a different type of toy before you end your play session. A feather wand is a good example of a toy that you can switch to when you want to let your kitty have the chance to grab her prey and take it down effectively.
How to Safely Use a Laser Toy When Playing with Your Cat
Laser toys can be safe when they are used correctly. Below are some tips on how to use these products safely.
Only purchase those laser toys that are designed to be used around pets and people. And make sure you never point the laser beam directly into your cat's eyes, as doing so might cause damage to her vision, especially if it is done for longer than just a moment. It's also a great idea to only let adults in your family use a laser toy, as children won't know how to use one correctly and safely.
In our list of laser toys below, you'll see that there are some that will work automatically, without you needing to point the laser yourself. One thing to keep in mind is that you need to read the directions carefully to ensure that these are used safely and correctly. Like other laser pointers, they might end up shining into your kitty's eyes by accident, so you may decide that you want to stick with the types of toys that you're in total control over.
Laser Toy Playtime Tips
As we mentioned above, if there's nothing for your cat to actually pounce on and successfully hunt down, she might redirect her energy in a negative or destructive way, such as fighting with other cats in the household, damaging your furniture, or attacking your feet. So be sure to end your play sessions by using an actual toy that she can grab. In other words, don't make the laser toy the only one you use for an entire play session.
Fun laser toy sessions can be a good way to help your energetic kitty release her energy when she would otherwise be bored, so take some time to interact with your pet daily. Shining the laser up a cat tree will probably entice her to climb, and shining it into a box might also be a fun way to get your kitty to jump into and out of it while hunting down the red dot.
If your kitty is overweight, a laser toy, just like so many other toys for cats, can be a nice way to encourage her to exercise more. Just go slow and work at your pet's pace. You don't want to overdo it.
Whether your kitty is fit or overweight, when playing with a laser toy, she might get overly excited, so it's also a good idea to provide her with breaks, while also keeping the play sessions short (such as 15 minutes or less).
There Are Different Types of Laser Toys for Cats
Like so many other kinds of cat toys on the market today, there are various types of laser toys available. The classic handheld pen or pointer is easy to use, and it keeps you in total control. You can keep one in your pocket to have it handy throughout the day, and you might even use it to redirect your kitty's attention in a positive way if she's doing something she shouldn't be doing.
Some laser pointer toys require you to hold down a button to keep the red dot going, while others have an on/off button that can make the toy even easier to use. It's up to you to decide which type you prefer.
You can also find laser toys that you can set up on the floor or on a piece of furniture so it will do the job of moving the red dot around for you. This might be a convenient option if you're often too busy, or if you want to give your kitty something to play with when you aren't home. But, again, you want to be sure to use these products correctly, set them up carefully, and ensure that they are made with your cat's safety in mind.
Side note: Alternatively, you can use a flashlight that creates a small beam on the floor if you don't want to use a laser.
7 Laser Toys That Can Get Your Cat Ready to Play
Below is a list of seven laser toys that are available for purchase when you want to add this to your cat's collection of toys that are fun to play with every day. We've provided some descriptions to help you make the right choice when shopping for this type of toy, but be sure to also read the product labels carefully, especially when it comes to using these toys safely.
1. Ethical Pet Laser Exerciser Original 2 in 1 Dog & Cat Toy
The Ethical Pet Laser Exerciser Original 2 in 1 Dog & Cat Toy is a basic laser pointer and LED flashlight in one handy product. You can point the red dot or the light at the wall or the floor when you want to grab your pet's attention and get her ready to play.
This toy is considered safe for humans and animals, but be sure to never point the laser into an animal's or a person's eyes (read the label carefully to be aware of the caution statements on the packaging). Also, you can use this product indoors and outside, and batteries are included, which is always convenient.
If you like the KONG brand, it is worth checking out their Laser Cat Toy. This is easy to use when you want to entice your kitty to get some exercise by chasing the red dot. This toy works like any other laser toy for pets, so you just point it wherever you want the red dot to appear, whether that's on the wall, on the floor, or on the cat tree.
What's nice about this particular product is that it's shaped to be easy to grip and hold. And the batteries are replaceable. Just be sure to read the packaging carefully to learn how to use this toy safely. As is the case with all laser toys, avoid shining it directly into anyone's eyes.
3. Frisco 2-in-1 Laser & LED Light Cat Toy
The Frisco 2-in-1 Laser & LED Light Cat Toy is easy to use and compact. It features a red laser light, as well as an LED light with three modes, which are steady, strobe, and pulse. This means you can use this toy in a different way for every play session with your cat, or you can figure out which mode(s) your kitty prefers most and go with that. All you have to do is press a button the appropriate number of times to select the LED light mode you want, or use the laser button by holding it down. Then, point the laser or light in the direction you want.
Batteries are included, and they are replaceable. Be sure to turn this product off when you are not using it, don't point the laser into anyone's eyes, and keep in mind that adult supervision is required when you're using this toy.
4. SmartyKat Loco Laser Cat Toy
The mouse-shaped SmartyKat Loco Laser Cat Toy is designed to encourage your kitty to exercise, as well as satisfy her hunting instinct. And it contains recycled plastic, so it can be a good choice if you want to go with something that features some eco-friendly materials.
Batteries are included, so you can start using it right away, and the batteries are replaceable. But it is important to read the warning label on this product first, as it states that even brief direct contact of the laser with the eyes can lead to damage. It also warns not to use it on or near reflective surfaces.
5. PetSafe Bolt – Automatic, Interactive Laser Cat Toy – Adjustable Laser with Random Patterns – 2 Play Modes
The PetSafe Bolt is an automatic laser cat toy that has a Class IIIa laser that is considered safe for pets. It can be set up to work on its own so your furry friend can play when you are busy, or you can use the manual mode to interact with your cat when she plays with it.
This product shines the laser and moves it in patterns across your walls and floors for 15 minutes. Also, you can adjust it to control where you want the laser to point. Then, it turns off on its own so your cat won't be over-stimulated. You will need to use 4 AA batteries, which are sold separately. And this product comes with a 1-year warranty.
6. PetSafe Zoom – Automatic, Interactive, Rotating Laser Cat Toy with Two Lasers
Another automatic laser cat toy from PetSafe is the Zoom, which features two lasers that create exciting patterns to grab your pet's attention. This product might also be a better option if you have more than one kitty that you want to keep entertained and active.
Basically, it sends the two Class IIIa laser beams around the floor in unpredictable ways to inspire your cats to chase the red dots. Then, it shuts off automatically after 15 minutes so your kitties can take a break (this also ensures it can save the battery power as well). It operates quietly on three AA batteries that are sold separately, and it comes with a 1-year warranty.
7. PetSafe Laser Tail – Automatic, Moving Laser Cat Toy – Interactive and Engaging Laser Game for Hands Free Play
Finally, there's the PetSafe Laser Tail. This is yet another automatic option when you want to let your kitty play with a laser toy when you are too busy. This product makes a red dot move around the floor, creating fun patterns that can grab your pet's attention quickly.
Like the other PetSafe automatic toys on this list, it also features a Class IIIa laser, but what's different is that the base will move around on the floor, while the laser "tail" follows. Basically, the laser will move in a different direction than the base, so your cat will be intrigued and want to figure it out. Then, after 10 minutes, it will turn off automatically. It runs on three AA batteries, and it comes with a 1-year warranty as well.
Do you think your cat would like a laser toy? Which one would you try first?

Lisa Selvaggio
Lisa Selvaggio is a freelance writer and editor, and our resident cats-pert, with certifications in pet nutrition and pet first aid. She enjoys producing content that helps people understand animals better so they can give their pets a safe and happy home.
More by Lisa Selvaggio
Published December 31st, 2020 12:00 AM