506 Views
Best Swim Gear For Your Dog
October 28th, 2021 12:00 AM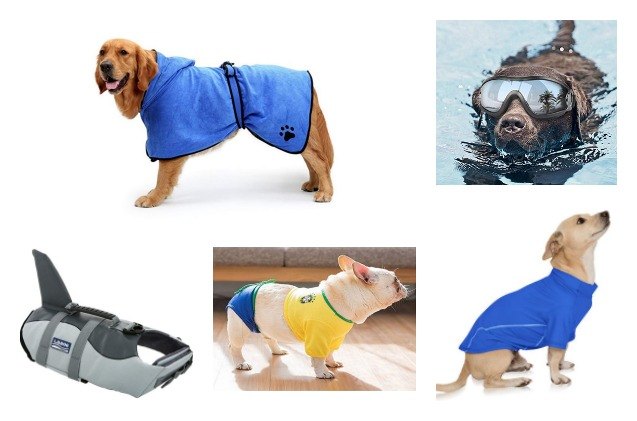 Not sure what your pup will wear as he struts his stuff along the beach? No worries; we've found the best dog swim gear that are bound to make all the tongues wag!
You're not the only one who's worried about what you'll look like in a swimsuit. Imagine how hard it must be for our furry, four-legged friends when it comes to finding that special suit that makes them look sweet as they strut on the beach!
But there's no need to fret, as we've found 10 dog swim gear that are sure to fit the bill no matter the beach (or pool, or rainy puddle) your dog will be four-footing it on.
1. Editor's Pick: Fitwarm Leopard Dog Bikini Beach Suit
On the beach, style is everything! Your little lady pooch can now feel all the glamour with this cute and unique swimsuit designed for dogs. It is made with quality materials, consisting of 95% polyester and 5% spandex. This means that chafing and skin irritation will be non-existent. Soft and lightweight, this doggo-bikini is perfect for the summer months, especially on holidays and in outdoor activities. They come in various sizes, and can fit almost all medium and small dog breeds. Also, thanks to their size, they can be great for cats and other small pets as well – anyone can become a glamorous beach goer with one of these stylish bikinis. You get to pick from 2 styles: leopard print or rainbow.
2. Runner Up: Explawer Beach Body Hawaiian Shirt
Your pooch will have all the bitches drooling with this hot Hawaiian shirt from Explawer. It has a velcro fastener for easy in and easy out, and it's machine washable and quick dry so your doggo will always be ready for those hot beach dates! Thanks to its design and easy fit, this classy Hawaiian shirt is ideal for small to medium dogs, and even for cats and other small pets. What's not to like?
3. Best Towel: Bone Dry Embroidered Microfiber Towel
What's the number one priority for dogs at the beach? It's staying dry! After a quick swim, it is important that your dog doesn't stay soaking wet for long, especially if the weather is cold. This perfect beach towel is just the thing that's needed. Designed for pets, it is made from ultra soft microfiber which makes it extra absorbent. The towel measures 44 by 27.5 inches, and is ideal for small and medium dog breeds. Thanks to its lightweight and compact size, it is great to carry in your beach bag and always have close at hand. And it's not just great for drying – it is ideal for keeping your furry friend warm when the sun hides behind the clouds and the temperatures drop.
4. Best Hat: Happy Hours Pet Visor Hat with Ear Holes
Beach time is fun time – no doubt about that! But you and your pet need to be prepared in order to fully enjoy the summer time. The sharp glare of the sun can be very uncomfortable for your pupper's eyes, and can even cause damage over time. This unique pet visor cap is great for keeping your dog's eyes in the shade. The cap is made from durable oxford cloth and lined with soft cotton for comfort, and this combo ensures that the hat is comfy to wear and endures the elements. The cap has nifty ear holes and a sturdy visor at the front. It's size makes it great for all small breeds – which are most vulnerable to the hot summer sun. This pet visor comes in a pretty floral design, which can help make your pet the star of the beach.
5. Best Drying Coat: Obi & Willow Dog Drying Towel Coat
Swimming is super fun while it lasts. But what happens when your doggo is out of the water? No matter the season or the temperature, it is never a healthy option to let your dog dry out on its own. Sitting with a wet coat can quickly lead to a cold and a runny nose. This superb dog bathrobe coat is one of the essential swim gear accessories for any dog: it helps them stay dry, warm, and cozy after the swimming is done. And it gives you peace of mind. Great for when the temperatures drop, it is the perfect way to quickly dry out your dog without risking their health.
Made from super-absorbent cotton toweling it will wick away moisture and help insulate your pet while they dry- and quickly at that. Additionally, to help you speed things up, Obi & Willow Dog Drying Towel Coat comes with two drying mitts that allow you to quickly absorb any moisture, mud, or dirt from your pet's paws.
6. Best Lifejacket: Dog Mermaid Life Jacket
Is that a mystical mermaid in sight? No, that's just your doggo having a good old swim! This unique and funny life jacket designed for dogs won't fail to bring out the smiles from everyone on the beach. The faux mermaid scales make protective gear look cute and whimsical while the life jacket still does its job of keeping your dog afloat. It is made from 600D oxford nylon outer and EPE pearl cotton foam inner, and is extra durable and buoyant – but still lightweight. The design boasts a variety of handy implements, such as the quick release safety buckle, a carrying handle, and a D-hook so you can attach the leash to it. This life jacket is great to have on the beach, as it will keep your dog safe and help them in the water. Coming in a variety of sizes and two colors (pink or blue), it is great for dogs of all breeds.
7. Best Water Shoes: QUMY Waterproof Anti-Slip Dog Shoes
Beach time can be so much fun for your dog. But not all beaches have that golden sandy surface to walk on. Some are filled with pebbles and stones, which can be tricky to navigate, sharp on the paw pads, and easy to slip on. All of this is a potential threat for your dog's sensitive paw pads, not to mention it can lead to an injury, especially in senior dogs. However, these comfy anti-slip shoes can prevent all that. They are made from rugged and waterproof materials, and feature an elastic band for a tight fit. On the bottom are special rubber soles that will cushion any surface your pet walks on. The shoes are adjustable thanks to the two straps, which are also reflecting – meaning that you will easily spot your dog even in darkness. Now you and your four legged friend can enjoy every surface and any type of beach, with zero worries!
8. Best Googles: NVTED Dog Sunglasses Dog Goggles
Sunglasses don't just make your pooch look cool- they offer much-needed protection for those peepers! When you're on the beach, there are so many things that could irritate your pet's eyes, even if they are not sensitive by default: whether it's sand, harmful UV rays, or salty water, none of these things feel nice when they get into your pet's eyes. NVTED Dog Sunglasses Dog Goggles are a great choice for swimming or a day at the beach as they are comfy to wear but offer plenty of protection.
Shatterproof, waterproof, and anti-fog lenses keep UV rays at bay while ensuring great visibility on sunny days, and the frame itself is lined with cushioning for a snug but comfortable fit. These glasses are also easy to put on as they fasten with an elastic and adjustable nylon ribbon, and will fit most medium and large dog breeds. Another great design feature here is the chin strap. Designed to provide your doggo with a secure fit, it connects firmly beneath the jaws so you don't have to worry about anything falling off during all that running around and swimming.
9. Best Sunshirt: PlayaPup SunShirt
Yes, even dogs need to worry about SPF, and in this swim shirt from PlayaPup, they'll be covered…literally. It offers SPF 50 and blocks 98% of harmful UVA/UVB rays that can take their toll on your doggo too! And your pet is bound to love this comfy shirt, as well. It is made from a high quality 4-way stretch fabric, which means that it will fit easily and snugly regardless of your pet's body shape. The shirt is made with flat lock stitching, ensuring superior quality, and it is also soft and very comfortable to wear – not to mention that it makes perfect beach clothes too, as it's quick drying. This shirt comes in all sorts of unique colors, allowing you to match your dog's style, and you can also choose from plenty of size options to make sure any pooch has a proper fit.
10. Honorable Mention: Queenmore Dog Life Jacket
Sometimes we have to forsake fashion for functionality, and when it comes to safety, that happens. But it doesn't have to with this shark dog life jacket from Queenmore–function, form and FUN all in one great life-jacket for your dog! No holding them back from the surf now!
What are the benefits of swim gears for dogs?
Not all doggos are natural born swimmers! While most of them will be able to handle the shallows, some will need guidance and a bit of assistance. That's where swim gear comes in handy! Accessories such as life vests or inflatables can greatly benefit your pupper and improve their abilities in the water. Of course, they'll enhance the safety as well. Other tidbits, such as sunglasses, waterproof shoes, shirts, bikinis, and towels, will also be so valuable on the beach. Some dogs can really feel the effects of the heat and direct sunlight. And swim gear will be a great boon in these times. Both in the water – and on the beach.
What to consider when choosing swim gears for my dog?
When choosing the right swim gear for your pupper you will need to consider mostly their size, breed, and their abilities in the water. Smaller dogs can be more vulnerable to heat from the sand and the pebbles, and might have difficulties outside the shallowest portions of the water. They'll be the first to benefit from swim gear. Some breeds will be natural born swimmers, but the tiniest ones – especially if they have short stubby legs – will need a lot of assistance. Of course, take into account the location you're visiting. Seas can be warm and enjoyable, or cool and gloomy. Make sure your dog will be warmed up, dry, and safe in every environment.
How to measure the size of my dog for swim suits?
When measuring your dog for any type of apparel, there are a few points you can't overlook. Firstly, you want to measure their top line, especially if a shirt is in question. This is their general length, and is measured from the base of the neck, down to the start of their tail. Next up, it's important to measure their girth, or the circumference of their chest. Combine these measurements with their height, their neck girth, and their breed, and you will be able to pinpoint the size your pupper will need, based on the charts that the manufacturer provides.
How can I make my dog more comfortable with swimming
Most dogs will have that natural instinct to swim as soon as they are near water. You'll know it by the cute little leg kicks they make. But that won't make them comfortable in the water or excellent swimmers – your help might be needed! One of the great steps you can take is make sure your dog has a life vest on. This gives them a needed sense of security, and allows you to hold them on the water's surface, making things easier. The boost of confidence might serve your dog well. Also, make sure you are not in a crowded spot that could make them anxious. And always start in the shallows. As your pet gets more comfortable, you can progress to a slightly deeper part of the water.
We are committed to finding, researching, and recommending the best products. We earn commissions from purchases you make using the retail links in our product reviews. Learn more about how this works.

Published October 28th, 2021 12:00 AM