116 Views
December 30th, 2021 12:00 AM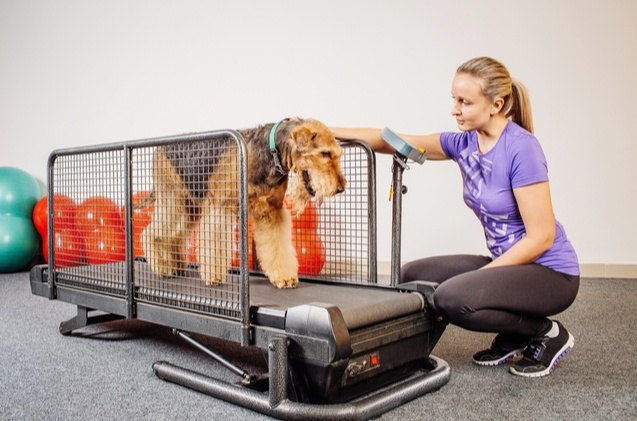 Dog treadmills can give your pet some much-needed exercise but don't require you to keep up with them while they do so. In case your dog requires more activity that you can provide on your own, this type of dog exercise equipment will be ideal.
The importance of exercise for your pet's overall well-being is undeniable. Regular physical activity will keep your dog healthy, fit, and improve the quality of his life, but what if you can't provide it–or at least, not as much as your dog needs? Many pet owners work long hours and simply lack the time needed for their pet burn off energy and meet their daily walking goals. In other cases, a dog owner might be prevented from taking their dogs on long walks, hikes, or a run around the block due to injury or health issues that don't allow them to be as active and mobile as their pooch needs them to be. And while it is completely understandable that life can get in the way, it still doesn't change the fact that your pet needs to exercise to stay healthy and in good form, so how can you make up for it without having to put more strain on your already tight schedule?
Dog treadmills are one of the most efficient solutions for meeting your dog's physical activity demands from the comfort of your home. They offer various levels of exercise to ensure your dog is not overworked–or still not getting enough daily movement--and can be a great way not just to supplement your dog's daily walks, but also to help your pooch lose weight or recover from an injury or a medical procedure. There are many benefits to dog treadmills, but it's not always easy figuring out which one of them should you buy. To boot, they are not cheap so it's additionally important to do your homework before you settle on one: you want something that's a good value for money and fits your dog's (and your own!) unique preferences.
To make sure you can distinguish dog treadmills worth your money from those that offer less than they could, we've put together a short guide that tells you what to look for in this type of exercise equipment in the first place. After all, there are a lot of factors to consider when you're shelling out big $$$ to pamper your pooch! Once you figure out what perks and features you want in a treadmill for your pet, just hop on to our list of best dog treadmills to find a perfect match for your budget and preferences both.
1. Editor's Choice: Go Pet Petrun Pr700 Dog Treadmill
In case you're looking for a convenient way to exercise your petite pooch, the Petrun Pr700 is a great choice. Designed to offer the right type of physical activity for dogs that weigh up to 44 pounds, this treadmill has a running area that measures 28 inches by 16 inches. The platform is low enough for every short-legged, small-statured dog to find it comfy to get on to, without any additional boost needed. The speed of the treadmill can be changed (remotely or manually) so both young energetic dogs and pets recovering from an injury can find this treadmill a perfect match. The range is 0.6 to 7.4 miles per hour.
2. Runner Up: Goplus Dog Treadmill
Is your dog easily distracted during exercise time? The detachable high-quality Oxford cloth sides on the Goplus treadmill help to keep your pet focused by blocking out anything that may be going on around them. The treadmill itself measures 21" x 49" with a 14" x 38" running belt, making it the ideal size for medium or small dogs. The adjustable height and built-in transport wheels make it easier to customize the location and set-up, allowing you to make it work in any space.
This treadmill offers 12 different modes. It can be controlled using either the 1.4" LCD display attached to the treadmill itself or the wireless remote control. This includes multiple speed and timing functions, depending on your dog's individual needs.
Anytime that you are using a treadmill with your dog, safety is a top priority. The treadmill is equipped with a safety key that will stop the treadmill instantly if it is pulled out. There is also an immediate stop button available if you notice that your pet is in danger, allowing you to respond immediately.
3. Best for Small Dogs: SHELANDY Pet Treadmill
Perfect for small and medium sized dogs, SHELANDY Pet Treadmill gives you the opportunity to exercise your pooch indoors without breaking the bank. For a fraction of a price for professional dog fitness equipment, this safe and practical treadmill for pets will give your dog space to shed that extra fluff and get back into shape again. The size of the running area is 40" in length and 17" in width, making it suitable for doggos that measure 25" in length themselves (not counting that wagging tail!).
The incline can be set between 5 and 9 degrees, and the running speed adjusted to your pet's level of physical preparedness: those paws can run at a pace between 0.5 to 7.5 MPH. For safety precautions, this pet treadmill also features an auto shut-off option: it will turn itself off after 30 minutes of exercise. There is also a leash-style attachment with a harness attached to keep your dog securely in place and away from any trouble while the workout is in progress.
4. Best Budget: PETSITE Dog Treadmill for Small and Medium Dogs
If you're looking for a safe and affordable treadmill for small to medium sized pups, the PETSITE Dog Treadmill is a great option. It is also suitable for cats. This pet treadmill will keep your dog healthy, active, and help them to lose weight. It is a great option if you live in colder climates where you are indoors most days allowing your pet to exercise without being too exposed to the elements.
There is a double safety mechanism that helps keep your dog safe while getting his daily exercise. The safety key on the console can be pulled out at any time to automatically stop the treadmill. There is also an off button on the LCD screen. There is a bar to attach a leash to as well, which adds additional protection for your pup. The LCD screen shows speed, time, distance, and calories and there are 12 different modes for speed and time. . For easier movement, this treadmill boasts built-in wheels and also has 3 adjustable heights to meet the needs of different breeds. On top of that, this dog treadmill is really easy to assemble – the whole installation takes about 20 minutes.
With quick assembly and three adjustable heights, it's a great option for pets of different sizes as well as for smaller spaces. You'll have your furry friend moving in no time.
5. Honorable Mention: dogPACER Minipacer Treadmill
A budget-friendly option, dogPACER Minipacer proves that a treadmill doesn't have to be expensive to deliver a great performance. With a controllable speed that can be set up from 0.5 to 7.5 miles per hour (in 1 mph increments), it will offer a customized exercise experience to young and senior pooches both. The computerized interface even offers different pre-programmed workout options you can choose from, The running surface that measures 38 inches by 16 inches makes it suitable for small and medium-breed dogs.
The slope is adjustable, too, from 0% to 15%, and there are both pre-set and customizable programs you can choose to make the workout rally tailored the way you want it to be. Despite being quite powerful and designed for intense exercise- which explains the 6.5 HP engine- this treadmill for dogs is really quiet and runs as smoothly as possible. The maximum weight capacity of the treadmill is 150 kg or 330 lbs, so it's safe to say that any pooch can safely use it.
Dog treadmills or human treadmills: which should you choose?
You might be wondering if the home gym you never really used could somehow be repurposed to give your dog the physical activity he needs. I mean, after all, how different can a human and dog treadmill be? Not surprisingly, many pet owners think that dog treadmills are just scaled down human treadmills, rebranded to squeeze out more money out of their bank account and that if they already own a treadmill, they don't have to get an additional one for their dog. However, as it turns out, more than enough to make human treadmills a poor match for your dog's needs. They might look similar, but their design is not suited for canines–in fact, human treadmills can be a serious safety risk for pets.
Here are the reasons why you should think twice before getting your dog on a human treadmill–and deciding against it in the end:
The speed of the treadmill
Dogs and humans have a different stride and find different running speeds challenging. You might break a sweat on your treadmill, but your dog could find it a breeze even on the higher settings, or, alternatively, find even moderate speeds too challenging. It all depends on your dog's breed and size! Needless to say, small and big dogs can't use the same type of treadmill and will need something tailored to their dimensions and stamina levels. With dog treadmills, you'll get the customization you require, but human treadmills offer no such perks.
The dimension of the track
It's just plain ole math: two legs have a shorter and narrower gait than four. Human treadmills are not comfortable enough, sometimes even for petite pooches, as their design was meant to accommodate two feet and not a dog with a long stride and a naturally different gait. The way dogs run involves more leaning to sides and extending their rear and front legs in a manner that usually requires a longer track than we'd need.
Motor and ventilation issues
When you were looking to buy a treadmill for your home gym, you probably didn't think about if the position of the motor will be a hazard–because you don't have any fur that can be caught up in it, nor do you shed that much that the hair could go through ventilation and cause the motor to malfunction. For your pooch, though, the situation is different. That's why dog treadmills are designed with all those little details taken into account: the position of the motor and the protection around it are made with fur in mind. No risk of anything getting caught where it shouldn't be!
Sounds and vibration
It's more likely than not that your pooch will need some time to get used to the idea of using a treadmill. The noise of the motor and the vibrations it produces will scare your already vary pooch and maybe even put them off the idea for good! Even if your pet is not timid, the vibrations can make it difficult for him to get the workout he needs. Dog treadmills are designed to be ultra-quiet and produce less vibration to make pooches feel more comfortable during exercise.
What to look for in dog treadmills
The fact that dog treadmills are designed to suit the needs of canines doesn't mean that each dog treadmill will be a perfect fit for your pet. Dogs come in all shapes and sizes and the design of dog treadmills should be as customized as possible- to fit your pet's size, age, and activity requirements.
Belt dimensions
What works for a petite Pekingese won't work for a chunky Lab, that much is clear. Check if the size of the treadmill, or the belt to be more precise, is a good fit for your dog's dimensions. A good rule of thumb is that the running surface should be twice your dog's body length. This gives ideal proportions for any type of stride and gait.
Weight compatibility
Your pet's overall size and weight are the primary factors to consider when choosing a dog treadmill for them. A lot of pets need to use the treadmill because of weight loss to begin with, so it's easy to see why the compatibility is important. All manufacturers list the weight maximum their treadmills can handle, so you shouldn't have any problem checking if the one you've got your eye on is sturdy enough for your chunky doggo.
Adjustability
It's not the same if you need a dog treadmill for a large, young, energetic pooch or to help a senior stay in form after an injury. The treadmill you choose should not be too challenging for your dog but it shouldn't fail its purpose of giving them a good workout, either. Ideally, the treadmill will have adjustable speed settings so you won't have to guess if the speed it offers is a match for your dog's stamina and build: you can customize it to work for him.
Different intensity levels for weight loss
In case you are getting your dog a treadmill to help him lose weight, you'll want it to deliver a challenging workout that will help shed that extra fluff in no time. Dog treadmills with an incline work great in this case: it's just like running up a hill. It is way more challenging than a regular flat dog treadmill, and it will give your chubby cherub something to pant about.
Size and portability
OK, we've already covered that the treadmill should be size-appropriate in terms of its dimensions and weight capacity. But that was related to your pet's requirements; this is about yours. Before you get your credit card out, be sure to double-check if the dimensions of the treadmill fit the space, too. Most pet parents prefer dog treadmills that can be folded or easily dismantled to be stored, as having the option to put the treadmill away when it's not used–and not worry about not having enough storage space for it–is extremely convenient.
How long should my dog be on the treadmill?
The time spent walking on a treadmill will vary from dog to dog – it's not the same if you have a young, energetic large breed dog that needs a bit more exercise and a senior pooch trying to stay in shape. Generally speaking, 20 to 30 minutes of walking on a treadmill is more than enough for most dogs. Of course, it is not the minimum of time spent, just the maximum – if your dog is out of shape or older, you can start with 5 to 15 minutes of walking.
How do you introduce a dog to a treadmill?
As it is usually the case with new things in your pet's routine, the key is patience and taking it slow. First, start by letting your pet investigate and sniff out the treadmill, when it's turned off, and try to lead them onto the walking surface and walk them on a leash – the treadmill isn't running yet so they'll get the chance to see it's nothing scary or unusual. This should take a few days until your pet is comfortable with the treadmill, and then you can try the same with the treadmill turned on at the lowest speed. Again, be patient, take small steps and use treats and praise to reward your pet's time on the treadmill. Gradually increase the speed as your pet gets used to the treadmill and masters walking on slower speeds until you reach the point you want.
Can a puppy go on a treadmill?
If your puppy is 6 months or older, sure they can! The process of adjustment is the same as it is with adult dogs (start with the treadmill turned off and take it from there), but you'll remain at slower speeds instead of increasing the speed with time. It's important not to go overboard with their walking and running time as their joints and muscles are still developing.
Are good treadmills safe?
When well-made and used properly, dog treadmills are perfectly safe to use. What's important is to make sure you follow all the safety precautions and take it slow, so you wouldn't risk your pet getting injured or exhausted. Consult with a vet or an experienced dog trainer if you are unsure how to properly and safely use a dog treadmill according to your pet's age and breed and make sure you buy a quality treadmill that's been tested for safety and stability.
Additional resources:
We are committed to finding, researching, and recommending the best products. We earn commissions from purchases you make using the retail links in our product reviews. Learn more about how this works.

Angela Vuckovic
A proud mama to seven dogs and ten cats, Angela spends her days writing for her fellow pet parents and pampering her furballs, all of whom are rescues. When she's not gushing over her adorable cats or playing with her dogs, she can be found curled up with a good fantasy book.
More by Angela Vuckovic
Published December 30th, 2021 12:00 AM