215 Views
March 19th, 2020 12:00 AM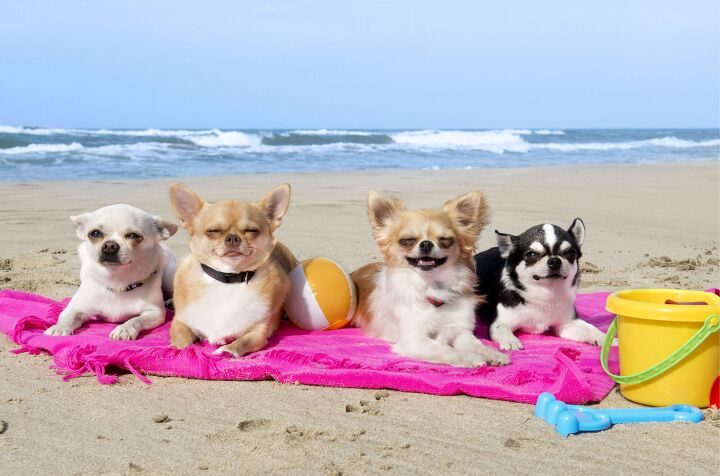 Dog sunscreen protects your pooch from harmful UV rays and it's a must for some categories of dogs. Read on to learn more about which pooches need dog sunscreen and how to choose the best one for your pet.
You might be surprised to learn that pets also need to wear sunscreen when they are out in the sun–overexposure to harmful UV rays can be just as dangerous for your four-legged bestie as it is for you. Dogs can get sunburn or even certain types of skin cancer, not unlike people, and they require protection. So, when you're out adventuring in the dog days of summer, you should lather up both yourself and your dog with sunblock! Of course, it doesn't mean your dog has to go around all greasy with dried cream on his hair. In most cases, your dog's coat will be protection enough from sun rays, so it's the sensitive, bare areas you have to pay attention to: a dog's nose, ears and belly are the most exposed to the UV rays and are the parts of the body that should be covered in sunscreen before you head out. It's important to note, though, that not just any sunscreen would do. If you thought that you can share a bottle of sunblock with your furry bestie, you're sorely mistaken. What is safe for your skin doesn't necessarily have to be safe for a dog. There is specially formulated dog sunscreen you should get, as it is formulated to be safe and effective for canines specifically.
Dog sunscreen is made with dog-safe ingredients that won't irritate their sensitive skin and has a protective factor that blocks UV rays and prevents them from doing damage. The sunscreen shouldn't contain zinc oxide or para-aminobenzoic acid (commonly found in human sunblock) because they can be toxic to dogs if ingested–and that can happen easily as we all know how pooches like to lick themselves. The SPF factor of the dog sunscreen can vary as it is difficult to translate the same values to the world of canines and because they are mostly made from natural ingredients.
While protection from UV rays is important, not all dogs will require sunscreen–or at least, not as much coverage. The particularly vulnerable groups are dogs with light fur and light skin, as well as hairless breeds. In other cases, protecting the nose or wearing sun-protective clothing will do the trick. Lastly, if possible, the best way to protect your pet from UV rays is to avoid taking them out during the parts of the day when the sun is at its strongest. When that's not an option, make sure to take preventive measures.
Dog sunscreen has to tick a lot of boxes–from safety to effectiveness to ease of applying, and it's not always easy finding the perfect match. To help you find the sunblock your dog needs to safely be out in the sun, we've rounded up the best dog sunscreen on the market, with options available for every preference. Read on to learn more!
Epi-Pet Sun Protector Spray for Pets
This non-greasy, non-oil dog sunblock is the perfect solution for a mess-free, effortless application. It can easily be sprayed all over your pet's body (even if they have hair) without worrying about it mucking up their coat. This veterinarian-formulated dog sunscreen protects from UVA and UVB rays, and it's water-resistant as well. It's perfect for a great day on the beach–it also dries fast so no need to worry that sand will stick to your pupper. To boot, this is the only FDA-compliant dog sunscreen on the market, so it's a great choice all around- even the experts think so!
Beach & Dog Co Canine Sunscreen
This all-natural formula is free of all potentially toxic ingredients such as zinc and titanium oxide, benzophenone, and oxybenzone. Instead, it relies on the power of nature to protect your pet from harmful sun rays: the formula includes ingredients such as coconut oil, shea butter, aloe vera, grape seed oil, bentonite clay, and many others. It will both moisturize your dog's nose, ears, and sensitive skin areas and prevent sunburn. Easy to apply and convenient, this sunscreen comes in the form of a sunscreen stick that you can always carry with yourself when reapplication is needed.
Petscreen Moisturizer and Sunscreen for Dogs
Convenient, effective, and reasonably priced, this dog sunscreen is a great choice for pets that need protecting their noses, paws, and smaller sensitive areas of the body. The formula is free of preservatives, aloe vera, and octyl salicylate but contains naturally nourishing ingredients such as vitamins E and B and coconut oil. The sunscreen can be applied to a wet body and is water-resistant and lick proof once it's on the skin. This dog sunscreen has the equivalent protection of SPF 15.
If you have a pooch that burns easily and want to have some form of sunscreen always on hand, these "sunwipes" are a perfect option. They fit every bag and the application is effortless- wherever you are, just pull a wipe or two and wipe down your pooch with it for instant protection. The wipes are moistened with a non-greasy dog sunscreen so it's easy to equally distribute all over your pet's body in just a few strokes. The SPF equivalent of these sunwipes is 15, which is a standard for the market.
As the name suggests, this pet sunblock is as handy as they come! It is designed to protect those cute as a button noses from being sunburnt, all the while helping moisturize the skin and repelling bugs. Of course, you can apply this balm to all parts of your pet's body that need protection. It is completely natural and relies on the power of plant-based ingredients such as carrot seed and raspberry seed for its sun-blocking properties, and other herbs and natural butter for complete skincare in the summer months.
Sit.Stay.Forever. Organic Sunscreen & Moisturizer for Dogs
This completely natural dog sunscreen is free of all harmful ingredients such as zinc and titanium dioxides, benzenes, octisalate, octylenes, homosalate, and octinoxate. It uses oils with known high SPF instead, to create a unique formula that will protect your pet from the damaging effects of sunlight. The list includes coconut oil, olive oil, raspberry seed oil, carrot seed oil, hemp seed oil, and shea butter. As a result, this sunscreen is easy to apply and absorbs well once on the skin–and a little goes a long way. To boot, this natural, vegan dog sunscreen is fully waterproof as well.
Warren London Dog Sunscreen Spray
This spray-on sunscreen is not just easy to use but super effective, too. Made in the USA with safe and non-toxic ingredients, it contains natural aloe vera so it moisturizes and conditions at the same time. This is a non-oily, non-greasy formula and it won't stick on your pet's fur–and it dries in seconds so it's lick-proof, too. If your pet is not a fan of being sprayed on, just spray some onto your palms and distribute over his body or rub in their nose, ears, and belly.
My Dog Nose It Moisturizing Sun Protection Balm
Soothing and protective, this balm is made with all-natural ingredients and it is a quite effective dog sunscreen. The formula will moisturize and heal dry and cracked snouts, all the while offering protection from UV rays when applied on nose, belly, or ears. It's easy to apply (just rub some on your fingers and apply to vulnerable areas) and water-resistant, so it is ideal for pets that like to go for a swim in the summer heat!
Petkin SPF 15 Doggy Sun Mist
In case that convenience is the factor that concerns you, you can't go wrong with this dog sunscreen mist. The spray offers instant protection from the sun's rays–just spray and rub it in and you're ready to go. It will keep your pooch protected for hours- and the level of protection it offers is the equivalent of SPF 15 in human products. Mess-free application, budget-friendly price, and effective protection–everything you want in dog sunscreen. Oh, and you'll love the coconut and vanilla scent this dog sunscreen leaves behind!
Chris Christensen Ice on Ice Conditioner with Sunscreen
Is your pooch a show dog? Then you still need to protect him from the harmful UV rays while he's strutting his stuff for judges–but it's understandable that their appearance has to remain a factor. That's why this sunscreen leave-in conditioner is ideal for those pooches with white fur and skin- it will untangle their fur, give their coat shine and a beautiful finish, while also making sure that the UV rays don't harm them while they're outdoors. Perfect for competitions in the summer!
Do dogs need sunscreen? Dangers of UV rays for dogs
By now, it's clear that dogs do need sunscreen–but not all dogs need it nor will you use it in the same manner. Dogs that have pink and light skin, dogs with light hair, short coats, or hairless breeds are the most endangered group and will have to wear sunscreen in the summer. The part of the body that needs to be covered with a protective dog sunblock is the bare one- the nose, the ears, and the abdomen are the most exposed to the harmful UV rays. In cases of dogs that have no hair, such as the Chinese Crested or Xoloitzcuintli for example, all of the bare parts of the body should be protected by sunscreen. In all other cases, focusing on the most exposed areas will be enough. To make sure that dog sunscreen is effective, you'll have to apply it properly.
Spray or smear the sunscreen on the skin and try to prevent your pet from reaching the area for at least 10 to 15 minutes until the product is properly absorbed. If your pet licks it off, paws it off or rubs off the sunscreen in any way before it has a chance to work its way into the external skin layer, it will all be for naught. For the same reason, it's recommended to go for a waterproof formula if you are taking your pet for a swim–contact with water can lower the effectiveness of a regular sunscreen.
But why all this fuss? I mean, dogs haven't worn sunscreen before and it was all good? Unfortunately, as the ozone layer is rapidly thinning, the UV radiation that reaches the Earth is now more harmful, both for us and for our pets. Combine that with the fact that we now know more about the effects of sun rays on dog's skin than we did before, and it's clear why more and more experts are recommending the use of dog sunscreen. When dogs with sensitive skin are left vulnerable to the effects of UV rays, they can develop a range of issues, from mild to severe.
The first and most common danger of not putting dog sunscreen on your pet is the risk of them getting a sunburn. The burnt skin will become red, itchy, and flaky and will cause discomfort to your pet- and will require OTC creams or home remedies to be applied to speed up the healing process and minimize the irritation. But, sunburn can be the least of your problems. If your pet is in the group that has higher sensitivity to sun (paler skin, less or no hair to protect it) and is consistently exposed to harmful UV rays, it will put them at risk for skin cancer. Not unlike humans, dogs can also develop skin cancer because of overexposure to sun's radiation, so putting a layer of protection between the sun and your pet's skin can turn out to be a literal lifesaver in the long run.
What to look for in dog sunscreen
You might know what makes a good sunblock when you're picking out one for yourself, but the rules of the game slightly change when it comes to dog sunscreen. As we've mentioned before, some ingredients that are perfectly safe for us humans can be toxic to our pets, so it's important to pay attention to the formula. Additionally, what's practical for you to apply might not be as convenient for your furry bestie–so be sure to check if the sunscreen ticks all of your boxes before you buy!
Types of application
Dog sunscreen comes in different forms to make sure it's easy to apply whatever your pet's needs are. Your choice will depend on if you want to efficiently cover their whole body or just need to protect smaller areas. Dog sunscreen creams are the traditional choice as they are readily available and convenient to apply if you are using it on the smaller parts of your pet's body. However, if you need something for whole-body coverage, creams are a messy affair, so it's better to opt for sunscreen wipes or spray. Sunscreen wipes are a good choice for something that you can always have on hand but are usually not as effective and require more frequent re-applying. Dog sunscreen sprays are a mess-free, convenient solution, especially when you need to protect body parts with your pet's fur on them or their whole body. Not all pets like the sound of sprays, though, so be sure to take that into account. Lastly, there are dog sunscreen sticks that resemble deodorant: just rub some on your hands and spread it on your pooch.
Effectiveness
Dog sunscreen is usually made from natural ingredients that have known UV ray blocking properties, such as essential oils or natural butter such as shea or cocoa. Ideally, the formula will combine more than one active ingredient to offer complete protection: read the label carefully to check if it offers both UVA and UVB protection, what is the sun protection factor, and how often it needs to be reapplied to stay effective. Also, you should make sure to go for waterproof dog sunscreen if you're out on the water with your pooch–a splash in the pool or a dip in the lake will ruin the effects of sunscreen unless the formula is resistant to water.
Safety
It can't be stressed enough that the safety of your pet should be what concerns you the most–when you're looking to protect them from harsh UV rays, you should make sure that the product you use doesn't contain toxic ingredients that could cause anything from skin reactions to poisoning if ingested. Sometimes, people will use baby sunscreen on their dogs thinking that the formula is gentle and safe enough for pets but that's far from the truth. If the sunscreen contains zinc oxide or para-aminobenzoic acid (which it often does), then it's not safe for your pet to use.
We are committed to finding, researching, and recommending the best products. We earn commissions from purchases you make using the retail links in our product reviews. Learn more about how this works.

Angela Vuckovic
A proud mama to seven dogs and ten cats, Angela spends her days writing for her fellow pet parents and pampering her furballs, all of whom are rescues. When she's not gushing over her adorable cats or playing with her dogs, she can be found curled up with a good fantasy book.
More by Angela Vuckovic
Published March 19th, 2020 12:00 AM