138 Views
February 24th, 2022 12:00 AM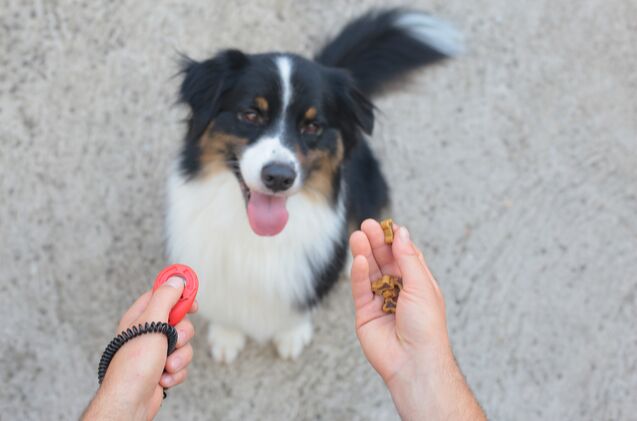 Whether you are trying to teach your puppy some basic manners or want to improve your adult dog's skills, clicker training can help you get great results. Take a look at our selection of the best dog clickers on the market – and their pros and cons.
The best way to teach your pooch basic obedience, tricks, and commands is to rely on positive reinforcement methods. This means that, instead of punishing your pet for doing something they shouldn't have, you would ignore the unwanted behavior while offering a reward for a job well done, in an effort to encourage your dog to continue repeating that behavior. But that's just the very basics – a great way to up your dog training game is to add cues to the mix. Also called mark and reward training, clicker training uses a sound to mark exactly what behavior is being rewarded, helping you condition and train your dog more efficiently than just using praise and treats on their own.
Dog clickers are, of course, the go-to tool for clicker training. These tiny gadgets can make a world of difference in your training routine: they produce a clicking sound when you push a button, signaling your pet when they have done something you want them to, and after a while of mark and reward training, they will become a cue for a repeat of that same behavior.
Even though the design and the idea behind dog clickers are quite straightforward, there are various types of dog clickers on the market to cater to everyone's personal preferences. Take a look at our hand-picked selection of the best dog clickers we've found on the market – and start clicking your way to a well-behaved pet!
1. Editor's Choice: PetSafe Clik-R Dog Clicker
Compact, ergonomic, and easy to hold, this clicker training tool will be a joy to use. On the back is a stretchy finger band that makes sure that you won't lose it during training and that you can use it wherever you are. It's small enough to fit on your finger, and it produces a clear, soft click that's loud enough to give the cue but not as loud to bother a skittish pooch (or a sensitive neighbor). And just to make things more fun, this clicker comes in two bright, vibrant colors: blue and purple.
Pros
Two color options
Finger band
Soft click
Cons
Not loud enough for some dogs
2. Runner Up: COA Whizzclick
Why opt for just one type of audio cue when you can have the best of both worlds? This ingenious little tool will make sure you can always clearly communicate commands to your pet as it combines a clicker with a whistle – hence the name Whizzclick. This is great for training even at a distance, e.g. when practicing recall as you can rely on the whistle to be far-sounding for situations where a clicking sound just wouldn't cut it, even though it produces a clear and loud click. To boot, you'll also get a free training guide with tips and easy-to-follow instructions so you can start off clicker training on the right foot.
Pros
Combines whistling and clicking sound
Ergonomic design
Comes with a free training guide
Cons
Clicker too soft-sounding for some pets
3. Customer's Choice: OYEFLY Dog Training Clicker with Wrist Strap
This teardrop-shaped clicker with a simple push button is easy to use and easy to keep by your side thanks to the adjustable wrist strap. The wrist strap clips on, but the wire-like form allows it to adapt to any size wrist without feeling restricting or uncomfortable. The set includes two clickers in different color combos, so you can always have one on hand, whether you're at home or on the go. Available color options include black and water lake blue, blue and white, and red and blue. This clicker produces a crisp, clear sound your pooch will have no problem registering during training.
Pros
Set includes 2 clickers
Adjustable wrist strap
Various color options
Cons
Can be too loud for skittish dogs
4. Best with Target: Terry Ryan Clik Stik
Wanna teach your four-legged besties some cool tricks to show off in the dog park? Look no further! The Clik Stik is an all-in-one clicker and retractable target stick that allows you to use clicking cues and point at a specific target at the same time, freeing up your hands and allowing you to do complex dog training tasks with a single tool in hand. You can use Click Stick to teach targeting, contacts and weave poles, send-away or go-outs, heeling, and plenty of other fun tricks. The pole handle can be extended from 6" to 23" and the clicker is loud and clear. This innovative clicker comes with a belt clip so you can always wear it on you for instant access.
Pros
All-in-one design with retractable target stick
Perfect for complex tricks
Pole extendable up to 23"
5. Best with Retractable Clip: Mighty Paw Dog Training Clicker
Improving upon a simple design, this dog clicker has a seemingly small addition that actually makes a big difference – a retractable clip. Instead of limiting you to attach the clicker to a specific spot (e.g. your finger or belt), this design allows you to clip it anywhere you'd like – treat pouch, bag, leash, belt loop, poop bag holder, etc. As it is attached to a retractable cord, you can simply pull it without having to remove it from the attachment point, making it less likely for you to misplace it. And, if you don't always need a retractable clip, there's also the alternative option – it comes with a wrist lanyard you can use instead of the retractable clip. The clicker produces a crisp, distinctive sound your pooch can pick up on even in a busy dog park.
Pros
Interchangeable attachment options
Retractable clip for flexibility
Crisp, clear sound
Cons
Ring loop could be better quality
6. Best Multi-Pack: SunGrow 7 Dog Clickers with Wrist Bands
Whether you have a pack of pooches, dog training is your vocation, or you simply tend to lose tiny dog clickers all of the time, this multi-pack is the best choice for you. Put one in your bag, one in your car, one in your jacket pocket, in the kitchen, or in the living room – so you can never have to miss a training opportunity just because you can't find the clicker. It includes 7 dog clickers in different colors (black, white, pink, red, green, blue, and yellow) hanging from a bright yellow adjustable wrist band so you always have one of these nifty training aids on hand. Loud enough to get your dog's attention but not as loud to scare them, this dog clicker makes a clear, effective sound.
Pros
Includes 7 clickers
Adjustable wristband
Loud and clear
Cons
The quality could be better
7. Best Training Kit: AMZpets Dog Training Set
Clicker training seems like a great idea but not sure where to start to get the best results? This all-in-one clicker training kit has you covered. In addition to the clicker with a wristband, this kit includes an in-depth puppy training guide that will teach you all the tricks of the trade when it comes to rearing a happy, well-behaved dog. Better yet, it tells you exactly how to get the most out of the training tools that come in the kit, including both the dog clicker and the door training bells used for potty training puppies. In addition to the dog clicker, door training bells, and a training book, you'll also get a treat pouch to store your training "ammo" – those tasty training bribes will make the process much smoother.
Pros
All-in-one training kit
Bonus treat pouch
Loud, crisp clicker
Cons
The bells are a bit flimsy
8. Best with Loud Click: StarMark Clicker Dog Training System
You might have already tried using a clicker and it wasn't loud enough for your dog, or you already know your hard of hearing pooch will have trouble picking up on audio cues that are not clear and loud enough – in that case, this is the dog clicker to go for. Simple but efficient, this teardrop-shaped clicker makes a surprisingly loud and crisp sound that's guaranteed not to go unnoticed. It doesn't come with a wrist band or a clip, but it has a hole at the top you can attach a lanyard if you prefer. And hey, even if you lose one because you didn't attach it to a lanyard, no big deal – this pack includes 5 clickers to make sure you never find yourself without a clicker when you most need it.
Pros
Loud and effective
Pack includes 5 clickers
Simple to use
Cons
No attachment option included
How Do Dog Clickers Work?
Clicker training, or mark and reward training, combines audio cues and marks with a reward such as praise and treats to encourage positive behaviors in dogs. Dog clickers produce a clicking sound that marks the behavior or action, and when combined with positive reinforcement, give your pet a signal that they'll get a reward for doing it. For example, if you want to teach your pet to sit, you would give them the command, then use the clicker at the moment they execute it, and follow the click with a treat and praise.
While this is the gist of it, dog clickers can be used in various ways to help with dog training. Lure training relies on dog clickers to, well, "lure" your pet into doing something you want them to, so the clicker acts as a lure as it signals the treat. This should be transitioned from, as the final goal is to have your pet follow a command without having to reward them all the time. Dog clickers can also be used for shaping, which involves teaching your pet complex behaviors, such as multi-step tricks. With a clicker, you can "dissect" the trick into smaller parts by giving clicker cues, taking your pet step by step through the trick until they master it.
It's important to note that dog clickers are not a magic wand – they won't work unless you combine them with rewards, whether it's dog treats or praise. They improve standard positive reinforcement training methods, but can't replace them completely. With that being said, dog clickers are a fantastic training aid for most pet owners, as they ensure clear communication between the dog and the owner, provide consistency in training (the same can't be said for your tone of voice), help break down complex behaviors into simpler tasks, and give help you structure the training sessions more accurately. On top of that, they are so easy to use and incorporate into any training routine – what's not to love, really?
What to Look for in Dog Clickers?
Even though the concept behind dog clickers is simple – after all, it's just a mechanism that produces a clicking sound – there are various different designs to choose from. Some might work better for your particular needs than others, so it's best to consider all of the factors before settling on a specific dog clicker.
The first and the most important thing to look out for are the size and the shape of dog clickers. It all comes down to what's most comfortable and convenient for you to hold in your hand – rectangular, oval, round, big, or small. There's also the question of the attachment on the dog clicker, as you don't want to lose this practical but oh-so-tiny training tool: you can opt for a finger band a wrist strap for something that is worn on the body or go for a lanyard, D-ring, or clip-on if you want to attach the clicker to your belt, bag, or even wear it around your neck.
Finally, consider the clicking sound itself, as it is the most important thing, training-wise. If your pet is a senior that doesn't hear well anymore, or if you have a puppy that's finding it difficult to focus, go for louder clickers. Alternatively, if your pet is skittish or you don't like noisiness, a dog clicker that has a softer clicking sound will work better for you. There are also dog clickers with adjusting sound types if that's what you prefer – it's all the same when it comes to function, it just boils down to what works best for your unique situation.
We are committed to finding, researching, and recommending the best products. We earn commissions from purchases you make using the retail links in our product reviews. Learn more about how this works.

Angela Vuckovic
A proud mama to seven dogs and ten cats, Angela spends her days writing for her fellow pet parents and pampering her furballs, all of whom are rescues. When she's not gushing over her adorable cats or playing with her dogs, she can be found curled up with a good fantasy book.
More by Angela Vuckovic
Published February 24th, 2022 12:00 AM