327 Views
Best Collars For Your Pomsky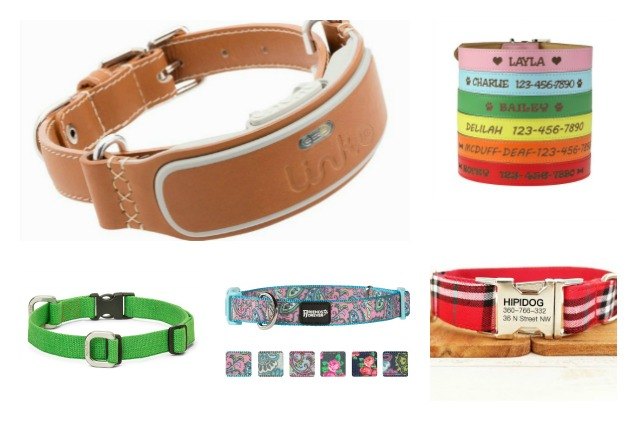 You want to outfit your furbaby in the best, and collars are of utmost importance. This best collars for your Pomsky list is going to be your go-to!
Because Pomskies are a relatively new cross-breed, there really isn't a way to tell just how big your Pomsky is going to be. Ranging from 18-45 pounds on average, you'll most likely use a small/medium collar, and you'll want to be mindful of the double coat Pomskies have.
1. Editor's Choice: Timos Dog Collar
Leather and chain collars can sometimes be too tough or rigid. For certain dog breeds – especially the smallest ones – these materials can cause discomfort and even chafing. This soft collar is a great alternative! Timos Dog Collar is made from breathable high density polyester with super soft webbing. This material offers plenty of flexibility while remaining tough and very resistant. It also boasts a high quality metal buckle with the quick release design and a sturdy D-link for the leash. One of the best features of this design is the super attractive print. You can choose from 18 stylish and eye-catching prints that range from classic patterns to colorful floral spreads. Made with heat transfer printing, these designs are not going to fade out over time! A lightweight, breathable, and non-chafing collar that is bound to stand out in the crowd!
2. Runner Up: Good Paw PU Leather Light Collar
Your Pomsky is bound to get into some activity, and these pretty leather collars have cool holographic designs that will go along with the ride. They're practical with stainless double-d rings for rust resistance and the PU leather won't bleed on your pup's coat.
3. Best Personalized: Custom Catch Personalized Leather Collar
We love the idea of these collars–embroidered with pertinent information so tags getting lost isn't an issue if your Pomsky tends to roam as is in their husky DNA.
4. Best Reflective: GoTags Reflective Personalized Dog Collar
If you are looking for a comfortable and durable nylon collar that will also work to keep your best friend safe while you're out and about, GoTags has a great solution. The highly reflective material on this collar will make it easy to spot your Pomsky, even in the dark of night.
Personalized embroidery stands out against the reflective material in your choice of 15 embroidery thread color options. The collar comes in 5 different colors and the highly adjustable sizing will help you to make sure that the collar fits properly on your dog as they grow.
Unlike many other personalized collar options available online, GoTags collars are manufactured in the United States. Each collar is made with smooth edges for your pet's comfort and a strong, durable stainless-steel D-ring for attaching a leash and any additional identification tags. A plastic quick release buckle makes it easy to remove your dog's collar if necessary, in the event of an emergency.
5. Best Nylon: TagME Reflective Nylon Dog Collar
Staying bright and visible in the dark is very important when you are out with your furry friend. Night walks can be relaxing and satisfying, but dangerous as well. Without proper visibility a lot can go wrong, especially with a dog that's as small as a Pomsky. Thanks to the special reflective material, collars such as TagME Reflective Nylon Dog Collar can be easily seen in the dark. This collar boasts two parallel lines of the special reflective thread which ensures easy distinction and high visibility. The collar itself is made from premium high density nylon, which is extremely tough but flexible as well. Thanks to the special clasps, this collar is fully adjustable to whatever size you need, and the added quick release buckles make for an easy setup. A sturdy and strengthened metal D-ring allows for plenty of pull on the leash. TagME collars come in 12 highly bright and visible colors, and plenty of sizes as well!
6. Best Leather: Braided Leather With NamePlate
If you love the look of a nameplate, and want the durability of braided leather for the husky part but with some softer dainty that we love Pomeranians for, this is a great option. The text is lasered so it won't fade with time, and the inner padding is super soft for your doggo's neck.
7. Best Waterproof: Tanpie Genuine Leather Dog Collar
Nothing is as stylish as real leather! Tanpie Genuine Leather Dog Collar is soft, breathable, waterproof, and very elegant. Thanks to the specially designed inner cloth layer, the collar sits snugly and comfortably on the dog's neck and eliminates all chafing. This cloth is also waterproof, so the moisture won't affect the leather layer. This quality and durable leather is soft and flexible, yet almost impossible to tear. It shows a nice and classy finish and comes in several unique color combinations so you can make sure your Pomsky is always fashionable. The design is strengthened with extra stitching, and boasts durable metal fittings for both the leash and the adjustment. Thanks to the great adjustability and plenty of size choices, this leather collar is a great solution for any size Pomsky.
8. Best Light-Up: MASBRILL Light Up Dog Collar
When you are out and about with your four-legged friend, safety is paramount! There is a lot you can do to make your pet safe, and visibility during night is one of the most important things to take care of. Thanks to the LED design that utilizes high quality flat optical fibers, this collar is up to 50% brighter than all other designs on the market. Thanks to this brightness and a range of easy-to-spot colors, MASBRILL Light Up Dog Collar will definitely make you and your dog illuminated in the dark. For convenience, the collar can be charged with an USB cable. With just one charge you can rely on up to 15 hours of continuous use. Made from durable polyester, this woven collar is light and breathable, and totally waterproof. And if you really need to keep an eye out for your dog, you get three distinct modes of operation to choose from! Talk about convenience!
9. Best Rechargeable: LED Rechargeable Nylon Collar
One more way to keep track of the wanderlust in your Pomsky is to ensure you can see him, particularly at night. This LED rechargeable collar does the job and looks cool too! We love that it helps you find your dog if need be, but also helps others see and keep your dog safe while you're out and about. It retails for $18.99 and comes in tons of sizes.
10. Best Buckle: HipiDog Personalized Nylon Collar
A neat way to ensure information stays with your dog is to put it right on the hook–no more jingle-jangle of tags in the middle of the night! (Just me?) There are tons of colors and patterns to choose from and each one is handmade with double-stitching for durability and craftsmanship.
How tight should a collar be?
A dog's collar shouldn't be too tight nor too loose. If the collar is too close to your pet's skin, it could chaffe and irritate their skin, and even cause hair loss and thinning, or choke your pet. Too loose, and the collar will slip right over their head and they're free to run away- so it's crucial to find that sweet spot between too loose and too tight. As a rule of thumb, you should be able to fit two fingers between your pet's neck and the collar, no more no less.
How should I place a collar on my dog?
Unhook the collar and place it on your pet's neck. If it's an adjustable dog collar with side-release or quick buckles, clasp it and then move the straps to adjust the fit. In case it's a belt-style collar, adjust it as you would your own belt: loop the one end of the collar through the buckle, adjust, and clasp. Easy peasy! Just make sure that you leave a little room for comfort and you're all set for a walk.
How to clean a dog collar?
Dog collars come in many different materials so the method of cleaning will depend on the material- the only thing that remains the same is the fact that you should be using gentle, pet-safe cleaning products. White vinegar diluted with water is a great choice for leather or synthetic materials, whereas cotton and natural materials can be scrubbed with mild dish detergent to get out the grime and dirt. Once the collar is washed, leave it to dry flat, and in the case of genuine leather, condition before putting it back on your pet's neck.
Additional resources:

Published July 9th, 2021 12:00 AM