63 Views
February 24th, 2022 12:00 AM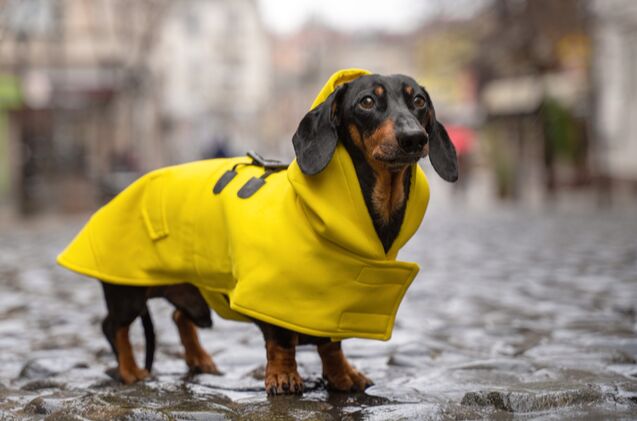 Dog jackets are not just a fashion accessory – their main purpose is to keep your pet dry, warm, and comfy in the cold weather. These are some of our favorite dog jackets for dogs of all breeds and sizes!
Who says that doggos can't wear vests, sweaters, and jackets? In fact, not only that they can, but they should! When chilly weather starts creeping in, it is crucial that you keep your pet protected. You two can enjoy the majestic landscapes of winter and the melancholic moods of autumn without fear of your pet catching a cold on one of your long walks. These special dog jackets are designed exactly for this: they keep your dog warm and insulated, comfy and dry, and will not cause any discomfort at all. Here is our list of the best dog jackets on the market, so take a look!
1. Editor's Choice: Kuoser Cozy Waterproof British Style Dog Vest
When the winds start biting, there is no reason to keep your doggo cooped up indoors all the time. Just give your pet a cozy jacket and you can brave any weather in the park! Kuoser's design stands out as one of the best on the market. This pet jacket is made from wind and waterproof polyester, with a good part of cotton too! It has a warm filling inside, a soft inner layer, and a rugged and protective outer surface. This British-style jacket has a tall collar to protect your dog's exposed neck from the cold wind, and it also covers the tummy, rump, and chest as well. This ensures that your doggo is safe and sound from the wind! Best of all, these stylish jackets come in various patterns of plaid – and plaid is never out of fashion!
Pros
Great variety of sizes and colors
Protective collar
Secure velcro fitting
Cons
Rump could be more protected
2. Runner Up: Vecomfy Fleece and Lining Dog Hoodie
Let it snow, let it snow, let it snow! No need to dread the cold when you can embrace its charms and head out to the park for some snowy playtime. Your dog can come too, especially if outfitted with one of these Vecomfy warm jackets. These jackets are made with super soft and warm fleece lining on the inside, a polyester filling for added insulation, and smooth, waterproof polyester fabric on the outer surface. As such, they are ideal for bundling up your doggo cozily and giving them much-needed warmth. This jacket comes complete with a hood that can come in handy if there's heavy snowfall outside! Leg holes have elastic fittings for better insulation and a comfier feel, and the vest jacket is buttoned up on the belly so it's easy to put on. The extended back part keeps the rump secured as well. Thanks to a variety of size choices, these jackets are great for all dog breeds!
Pros
Fleece-lined and warm
Protective hood
Easy to put on
Cons
The sizing is a bit off – smaller than expected
3. Customer's Choice: EMUST Winter Dog Coat
EMUST's winter jacket is designed in such a way that it efficiently covers your dog's chest, belly, neck, and rump. It is made from quilted polyester fabric, which ensures durability but also good insulation, which is important for cold weather. Additionally, this design has a lot of handy features. It is secured with sturdy velcro and features a special slit on the back for your collar D-ring. A zipper on the back allows you to use a harness at the same time, and a special reflective strip on both sides will ensure that your pet is visible even in darkness. The collar has an elastic band at the end, ensuring a tight fit and good insulation, and the extended back will cover your pet's rump for better protection from the weather. All in all, this is a design that really covers all the bases effectively!
Pros
Turtleneck style
Reflective strips
Quilted fabric
Durable
Cons
Somewhat thin, best for milder climates
4. Best Loft: Kurgo Loft Jacket Dog Coat
Loft jackets are all about good insulation and resistance to the elements. And Kurgo's design really excels at this. This brand is one of the most recognizable names in the pet care industry, and its quality is clearly visible. It is made from water-resistant, windproof, microtomic ripstop material and has sufficient insulation to keep your pet warm and protected without causing overheating. These vests are reversible – you can choose the color and the thickness for either autumn or winter! It also has a back opening for your pet's harness and a reflective strip for extra visibility. One great feature here is the flexibility and lightweight of the vest. Your pet won't lose its mobility or be constrained. This makes it an ideal jacket for active, outdoorsy dogs. And in combination with your pet's favorite sweater, this jacket can be the ideal winter wear!
Pros
Athletic fit for ease of movement
Ripstop material
Waterproof
Quilted design
Reversible
5. Best Fleece Dog Jacket: Gooby Fleece Vest Dog Sweater
When it comes to insulation and warmth in winter, nothing beats fleece! It is one of the coziest choices and can protect you from winds and cold weather like nothing else. This Gooby design relies heavily on the fleece, and as such, it is an ideal dog jacket for the autumn months. Made from 100% polyester, this fleece jacket offers incredible insulation, keeping your pet's core warm even when the winds outside are howling. This jacket has a unique pullover look, fitting snugly to your pet's body and ensuring ample protection for the neck, chest, tummy, and rump. A nifty D-Ring fitted on the back allows you to attach a leash and keep everything under control. Another unique feature is a bottom opening design, allowing your pet to do their business without losing warmth. Being made from fleece, this jacket is fully machine washable which is incredibly convenient. And thanks to the variety of sizes, this jacket is a good fit for any dog breed!
Pros
Cozy and soft
Bottom opening feature
Great insulation
Outer D Ring
Cons
Could have more belly coverage
6. Best for Snow: QBLEEV Warm Dog Coat
It's not all that easy to keep your dog warm in cold weather, especially if they have a short coat. But this winter dog jacket from QBLEEV is a great solution for those cold-sensitive pooches. It does everything to keep your pet as protected as possible and warm even in the coldest weather. It is made from thick, wind-resistant, and waterproof nylon on the outside, with a thick fleece lining on the inside. With plenty of insulation, it keeps your pet's body cozy and warm. Another great feature is a thick and tall faux fur collar, which ensures that all the warmth is kept inside. Other nifty features include a quick-release buckle, a hidden leash hole, and reflective stripes for better visibility. This brand made special efforts to elongate the back part so that the jacket covers your pet's haunches and rump almost entirely.
Pros
Easy to put on
Extra cozy and protective
Thick fluffy collar
Haunches are covered
7. Best High Collar: KYEESE Dog Jacket
A dog jacket for windy weather needs to have a proper high collar to keep the warmth in and your pet snug as a bug. Here's a great example of how to do a great jacket with a tall collar. It is made from very durable and thick polyester on the outside and has a fluffy, furry fleece lining on the inside. This makes it especially soft and warm, and not to mention – windproof. And that's just the beginning as this jacket has tons of cool features such as a high furry lapel that almost covers your dog's cheeks. On the back are several handy pockets for tidbits, and a hole for a leash or a harness. The jacket has a hook and loop closure on the back, which makes putting on and taking off so easy. The rump and haunches are properly protected as well. The only downside of this design is that the chest and the belly are somewhat exposed.
Pros
Fluffy fleece lining
Very high collar
Easy hook and loop fastening
8. Best on a Budget: Pedgot 2 Pieces Fleece Lined Warm Dog Jacket
Are you a proud owner of two doggos and want to save some money? Then here's an ideal offer – a fantastic jacket that comes in a 2-piece set. A great way to stick to the budget and take care of both your dogs. These are true autumn/winter dog jacket designs! They are made from durable premium polyester fabric on the outside, with a cozy and warm inner fleece lining. One of the great features here is the fleece-lined hood that will keep your pet's head and ears protected. Some breeds can have very sensitive ears, and the hood comes as a great benefit. Furthermore, the jackets have elastic bands on the leg openings, ensuring that no warmth escapes needlessly. They are buttoned up on the stomach, and that makes for fairly easy putting on. And besides all this, they are still amply waterproof and resistant to weather, and are lightweight as well! And with a solid choice of sizes, they can fit almost all dog breeds!
Pros
2 jackets in a set
Fleece-lined hood
Great fit thanks to elastic bands
Easy to put on
9. Best Waterproof: Didog Waterproof Dog Winter Jacket
Winter weather usually guarantees plenty of slush and water, not to mention the snowfall. All that falling snow will melt on your pet and make them all wet if they are not protected properly. Thanks to this waterproof jacket design, that will not be an issue for your pet. This Didog jacket is made from windproof, waterproof, and splashproof fabric, which is thick and very durable. On the inside is a soft cotton layer to keep your pet insulated and warm as well. With such a layout, you can easily take your pet outside even when it's heavily snowing! Besides all this, there are some great features added as well. The close-fitting design makes sure that the jacket clings to your pet's body, and a warm, furry high collar will protect the neck. Reflective strips ensure plenty of visibility in darkness, while added D rings allow you to attach a leash or a harness with ease. All in all, this robust and efficient design is easily amongst the best dog jackets on the market!
Pros
Well-made and durable
Warm high collar
Close-fitting design
Good for rainy and snowy conditions
Cons
A bit challenging to put on in a hurry
10. Best Premium: Carhartt Firm Duck Insulated Dog Coat
Carhartt ranks amongst the very best brands when it comes to protective outdoor clothing, both for pets and humans – and this jacket designed for dogs proves it! This premium quality dog jacket is made with 2-ounce firm-hand 100% ring-spun cotton and has a quilted nylon lining for added warmth and plenty of insulation. Furthermore, this jacket is coated with a special water repellent, the "Rain Defender", which causes light rain and snow to bead up and simply roll off the jacket! A velcro hook and loop closure make for super simple putting on and taking off, and a corduroy-trimmed collar protects the neck and can be tucked out of sight when not in use. All in all, this is some premium quality for your good boy – if you want the very best cold weather protection for your pet, here's the ideal choice.
Pros
Rain Defender water repellent
Extra tough cotton duck canvas
Fits snuggly
What to Look for In a Dog Jacket?
If you want to make sure that your pet is perfectly protected when the weather is rough, then there are several factors to keep an eye out for. Firstly, there is the material. Look for the most protective fabrics, such as polyester, cotton, and fleece. A dog jacket needs to be insulated, and these materials are best in this role. The outer surface material should be waterproof and windproof, while the interior should be fluffy, warm, and insulating.
Next, you should consider the overall design and fitting. A dog jacket needs to cover all the vital areas of your dog's body. This includes their haunches, rump, belly, chest, and neck. If most of these are exposed, then you risk your pet's health. The very best dog jacket designs will cover all of these parts.
Of course, you should also look for additional features. It is great when a dog jacket is multifunctional, making walks in challenging winter weather all the easier. Popular features that can come in handy are velcro hook and loop fittings, reflective straps, elastic bands, furry high collars, and D-rings for leashes and harnesses. With all these in place, your doggo will be fully outfitted for a cold-weather adventure!
We are committed to finding, researching, and recommending the best products. We earn commissions from purchases you make using the retail links in our product reviews. Learn more about how this works.

Angela Vuckovic
A proud mama to seven dogs and ten cats, Angela spends her days writing for her fellow pet parents and pampering her furballs, all of whom are rescues. When she's not gushing over her adorable cats or playing with her dogs, she can be found curled up with a good fantasy book.
More by Angela Vuckovic
Published February 24th, 2022 12:00 AM