31 Views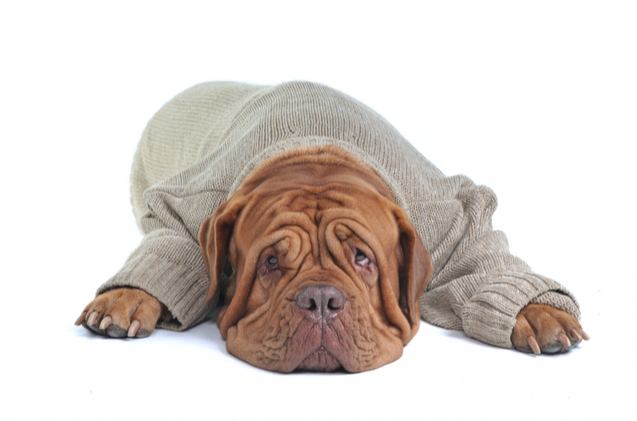 Large dog sweaters keep our big four-legged companions warm and cozy when the weather gets cold. Read on to learn more about how to choose the perfect fit, fabric, and design for your furry bestie's comfort!
When the temperature drops, your pooch feels it too – especially if they have a short-haired coat. Not all pooches are naturally equipped to deal with winter, and many of our four-legged companions will require our assistance to stay warm and ward off health issues during extreme temperatures. Snow, freezing cold, rain, and even autumn chilly evenings can all be cause for dressing your dog in season-appropriate clothes. And despite what some may think, even large breed dogs are not excluded from this! They might be big, but that doesn't mean it's more difficult for them to get cold. There are plenty of factors that impact your pet's tolerance to cold, including things such as body fat, age, and activity levels. A big dog with a short coat and low body fat is no less cold than a tiny Chihuahua is!
The same way your pet is at risk of overheating in the summer, cold weather also brings a myriad of potential health issues with it: from aching cracked paws to hypothermia, there are a range of problems that could occur if you fail to shelter your pooch properly. This includes everything from ensuring they stay inside, preferably in a cozy warm bed, to protecting them from harsh winds and low temperatures even if it's only for a quick walk around the block. Of course, this means adequate protection for their paws, winter clothes and even other accessories, such as dog hats. As for the clothes, depending on the weather conditions in the area you live in, you might need to clothe your pooch in anything from a lined weatherproof winter jacket to a light jersey dog hoodie.
Large dog sweaters are a perfect choice for autumn and mild winter, and a quality sweater can keep your companion perfectly toasty without the need for heavy-duty coats. Sweaters can be just knit or lined with a fleecy interior for superior warmth and comfort, making them a great choice for the more cold-sensitive big pooches. And in some cases, sweaters can be used even in harsh weather conditions – as a layer of warmth underneath a windbreaker vest or a waterproof coat. In addition to helping your pooch stay warm in the winter, large dog sweaters can also be a great way to make your pooch look even cuter than he already is (if it's at all possible) by choosing some quirky or stylish designs.
If you're unsure which sweater would make a perfect fit for your pet's needs, size, as well as your budget – you're in luck. We've rounded up the most popular large dog sweaters and any pawrent can find a match for their precious pooch on our list. Just scroll on and pick the one you think your pooch will look cutest in!
PetRageous Designs Carle's Cable Knitted Dog Sweater Jacket
This pullover style dog sweater is warm, stylish, and easy to put on – everything you'd want it to be! It's ideal for dogs that don't like dressing up because it closes with two velcro straps – no fuss no sleeves, no nothing. The gorgeous cable knit exterior is lined with faux lamb's wool that will keep your pupper toasty even when it's quite cold outside. This doesn't mean that the sweater is bulky- the European cut on the belly part of the sweater leaves plenty of room to keep potty breaks clean. To boot, this large dog sweater is machine washable and dryable, so it will be easy to keep spotless!
Simple, affordable, and very warm, this chunky cable knit sweater for dogs will have your pooch look lovely and feel cozy, too! The sweater is made from high-quality terylene which is soft to the touch and retains warmth very well. It features a convenient high collar that is elastic and can be rolled down if your pet doesn't need additional protection around the neck. Either way, there is a hole for leash access, so wearing the sweater with the collar up won't be a problem when you're going on walks. The sweater is available in beige, dark blue, pink, and red.
Chilly Dog Boyfriend Dog Sweater
The Boyfriend sweater is one of the most popular designs on the market – and it's clear why. Not only that it's absolutely gorgeous, but it also boasts superb quality. This dog sweater is hand-knit by artisan knitters from the highlands of South America from "100% natural, renewable and non-allergenic organic wool". This choice of material ensures that the sweater is perfectly warm but still breathable. Even the dyes are plant-based and completely natural, so you can rest assured that there are no chemicals or synthetic materials used whatsoever. Ideal for dapper doggos!
BINGPET Turtleneck Dog Sweater
Who said that you have to break the bank to get good quality stuff? This budget-friendly dog sweater is made of high-quality acrylic yarn that will keep your pooch warm and cozy and also washes great- you can toss this sweater in the washing machine without worrying it will come out two sizes smaller. This cute dog sweater also features leash access on the back, so your pet can wear a harness or a collar under it. Choose between bone, paw, or reindeer applique – or penguin design if you're feeling festive.
PetRageous Designs Baxter's Basic Dog Sweater
No frills doesn't mean no style – in fact, some would argue it's the complete opposite. This big dog sweater is a great choice if you want something simple and sweet for your four-legged bestie. It is made from a soft and warm acrylic material in classic pullover design, and it comes in three basic colors: red, olive green, or blue. It can also be machine-washed and dried, so maintenance is a breeze. The only downside is that there's no leash access hole, so you can only really use it with a collar.
Fitwarm Turtleneck Knitted Dog Sweater
With long sleeves for all four legs and a high turtleneck, this sweater is all about coverage. There's no chance of wind bothering your pooch when he's snug as a bug from snout to tail! The fabric used to make this sweater is a mixture of polyester and spandex which makes it soft, stretchy and easy to clean (you can wash it in the machine). Be warned, though: if your pet is not used to wearing clothes, dressing him in this long-sleeved sweater will be a hassle.
HOMIMP Argyle Dog Sweater
Cute and cheap – and it still does the job! If you're on a tight budget, this practical polyester sweater will be just what your wallet recommends. But it doesn't mean your pet will be disappointed, either: the sweater is warm, comfy, and looks great (pick between pink argyle and blue argyle pattern). There is a hole to attach the leash, too, so you can pair this sweater with either a harness or a collar with ease.
Frisco Dog Cable Knitted Sweater
Another basic yet elegant design, this affordable cable sweater by Frisco will make your pooch look like a bonafide furry fashionista! The timeless pullover cut combines with the classic knit cables on the back is always on trend, but it also ensures a snug, cozy fit that will keep your pet warm. It can be machine-washed and tumble dried so the maintenance is as easy as it comes. Choose between six colors: teal, red, cream, light pink, grey, and navy.
PAWCHIE Classic Dog Sweater
The rhombus pattern in grey and pink combo or red and black variation will look smart on any pooch. This pullover dog sweater doesn't just look great, either, but it also boasts design and quality far beyond its price tag would indicate. With slightly elasticated low hem and turtleneck it will ensure a snug and comfortable fit for any pooch. There's also a hole on the back for attaching the leash – great news for pets that use a harness. And to make things even better- this cute dog sweater is also machine washable!
Chilly Dog Deer Shawl Sweater
If you have a pet that's always dressed according to the latest trends, this boho dog sweater is a must-have for his wardrobe. The native motifs and the vibrant color combination will definitely make your pooch stand out in the dog park! To boot, like all Chilly Dog sweaters, this one is also of finest quality: hand-knit by Quechan Indians from pure 100 percent wool. As a result, it will keep your pooch warm even when it's freezing outside (you'd be hard-pressed to find a warmer and more insulating natural material than wool). Be cozy in style!
Dog winter clothes: which type to choose
When it comes to appropriately dressing your pooch for the weather conditions, there are plenty of factors to consider. After all, every pooch is unique! Many people mistakenly think that large dog breeds don't require additional protection from the weather elements, except in the most extreme situations, but that couldn't be further from the truth. Same as petite pooches, big dogs also need to wear winter clothes in certain situations. Here are some of the factors that could indicate if your dog requires additional winter protection:
Coat type
Don't let your pet's size fool you: if their coat is fine, they'll be shivering outside in no time! Dogs with double coats have the most advantage in this scenario as they were bred for colder climates and their insulating fur means that they won't need any help to deal with the freezing temperatures. The list of large breed dogs with double coats includes Bernese Mountain Dog, Akita, Siberian Husky, Shetland Sheepdog, Great Pyrenees, and many others. However, if your pooch doesn't have a second layer of fluffy fur under his guide hairs, you might want to consider investing in some winter gear.
Despite the length of their hair, dogs with a single coat usually require some form of clothing when the weather dictates it. Long and medium-length hair definitely provides a bit more warmth than short-hairs that barely create a barrier between the outside world and your pet's skin. So, in the case that the climate in your area is mild and winters don't mean temperatures below freezing, windy conditions, snow, etc. your pet will probably do well with just a sweater on. It will act as a protection from harsh winds and offer a bit more warmth, just enough to keep your pooch toasty but not too warm. On the other hand, if your pet has a short-haired coat and the weather gets ruff in the colder months of the year, a sweater can only be of help indoors or as an added layer of insulation worn under a dog vest or a light winter jacket.
Body fat percentage
While obesity is never a good thing, being slightly chunkier means that your pooch will deal better with the cold. For dogs with a naturally thin build, cold tolerance is significantly lower than for those large dogs that have a layer of fat to keep them warm. So if you're unsure how cold is too cold for your pet, take a look at the scales: their weight might be contributing to the way they experience the winter.
Age
It shouldn't come as a surprise that age also plays a role in your pet's sensitivity to the cold. Puppies and seniors are bound to be more vulnerable to the effects of freezing temperatures, as their bodies don't have the strength of a big adult pooch. Both puppies and seniors don't have the same ability to regulate their body temperature in a way a healthy adult dog does. Old dogs are particularly sensitive to colder weather if they happen to have issues with their hips or joints, which is a common issue for senior large breed dogs. Cold can significantly exacerbate the symptoms of arthritis, so in addition to making sure your pet wears warm winter clothes, you might want to invest in a heating pad to keep pain and discomfort at bay.
So what does all this mean when it comes to your choice of winter clothes for your pet? By considering the factors above, you should be able to gauge your pet's sensitivity to the cold fairly easily. In the case they don't fall into the category of big dogs that require extra warmth and insulation in the winter (healthy, adult, active dogs with thick coats) a simple dog sweater will be all it takes to keep them sheltered during walks. On the other hand, if they are in their golden years, or have a short coat that makes them feel almost bare in the face of wind and snow, either a sweater with lining or a winter jacket would be a better choice.
What to look for in large dog sweaters
When you're choosing a sweater for your four-legged companion, there are a few things you need to pay attention to if you want to make sure you're getting a perfect match. These important factors include:
Size and fit
When shopping for large dog sweaters, it's important to be aware that large breeds come in different shapes and sizes. If you want to make sure that the size is right for your pet, carefully measure them (manufacturers usually leave tips on how to do that to get relevant dimensions for their product).
Material
The material of the sweater will indicate how warm it is or how easy it is to clean. For chilly autumn evenings, indoor wear, or cold-tolerant pooches, cotton jersey is a fine choice. In case you are looking for a heavy-duty dog sweater that will keep your pooch warm and cozy, wool and wool blends are the ones to go for. Lastly, poly-blends can go either way depending on the other materials in the mix and their quality- it's best to check reviews by other pet parents if you're unsure about warmth or maintenance.
Maintenance
Large dog sweaters need to be easy to clean- as it is too easy for a pooch to mess them up in the first place. Ideally, the sweater would be at least machine washable if not machine dryable as well. Steer clear from those that are labeled as wash delicate or wash by hand as they will be impossible to keep clean.
Design
From closure type to coverage, there are plenty of design factors to keep in mind when choosing. Be sure to check if there's appropriate access for your preferred type of leash accessory (harness or a collar), and that the sweater is easy to put on. The rest will mainly depend on your personal preference, such as style itself.
We are committed to finding, researching, and recommending the best products. We earn commissions from purchases you make using the retail links in our product reviews. Learn more about how this works.

Angela Vuckovic
A proud mama to seven dogs and ten cats, Angela spends her days writing for her fellow pet parents and pampering her furballs, all of whom are rescues. When she's not gushing over her adorable cats or playing with her dogs, she can be found curled up with a good fantasy book.
More by Angela Vuckovic
Published June 16th, 2020 12:00 AM